The year the culture wars colonised sport
Football, cricket, Olympic gymnastics… no sport is now safe from woke politics.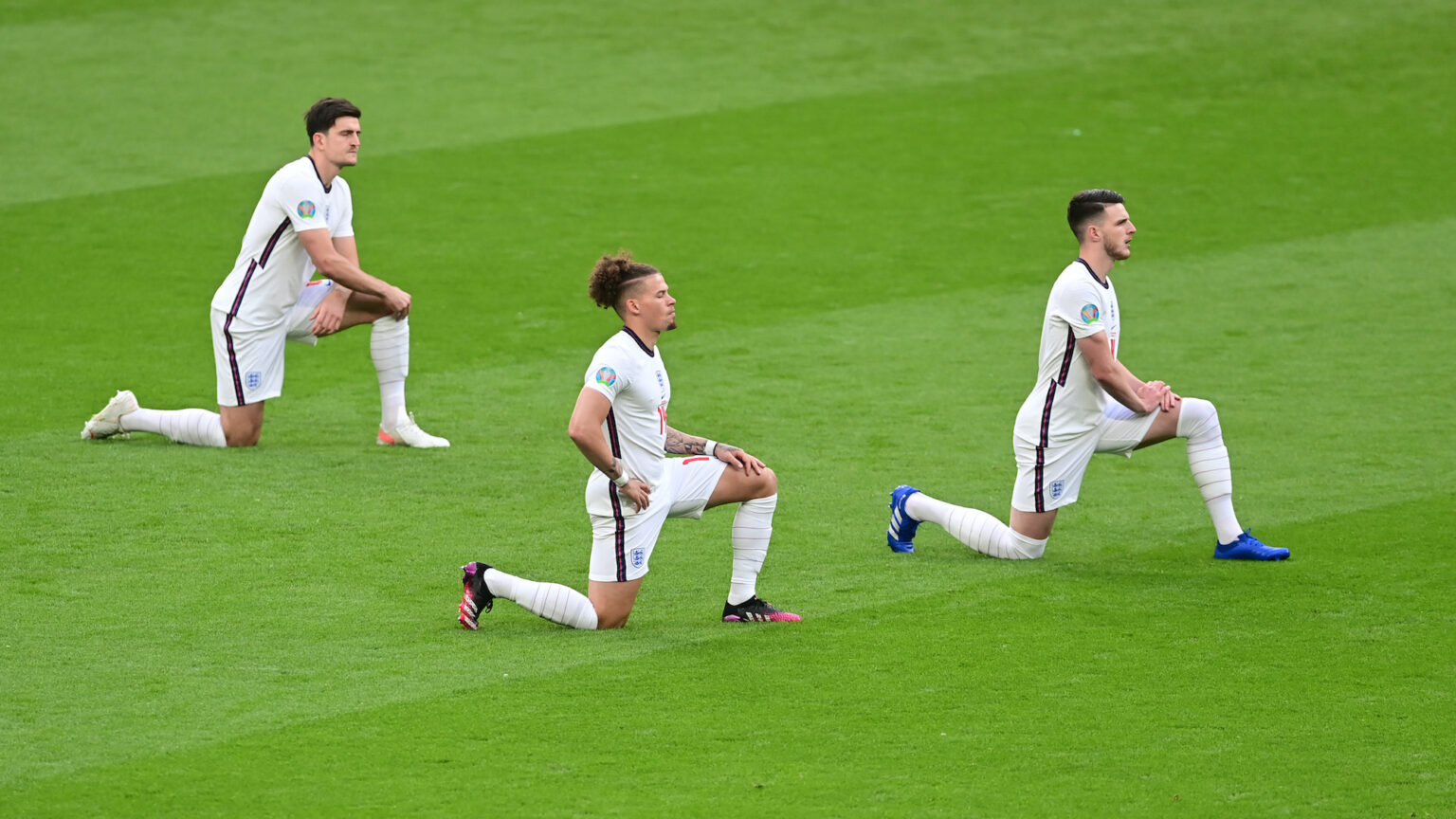 Are you a regular spiked reader? Then please consider making a Christmas donation. You can do so here. Thank you!
In 2021, the culture wars thoroughly colonised all of our favourite sports.
Nowhere was this clearer than in football. The people's game was rife with woke politics this year, as it was last year. Players are still 'taking the knee' before each game, more than 18 months after the murder of George Floyd and the Black Lives Matter protests, which first inspired all the knee-taking. The kneeling still frequently features as a highlight alongside shots and saves on Match of the Day, in case we hadn't got the message yet.
Not everyone buys into the idea that football's primary purpose is to promote the Black Lives Matter movement – not least those who watch football, many of whom have grown tired of all the virtue-signalling. This was made abundantly clear when England fans booed the taking of the knee in the run-up to Euro 2020. Some fans carried on the booing at the tournament itself.
The woke were not happy about this. For BBC football pundit Gary Lineker, the boo boys were 'part of the reason why players [were] taking the knee'. And the Euros then provided a perfect opportunity for fans to be told, over and over again, that they were a bunch of awful racists.
At the Euros, the England team mounted their best run at a major tournament since 1966. But for many commentators, the culture war, not the pitch, was where the action was. After England's devastating loss on penalties to Italy in the final, a handful of racist tweets were held up as proof that England's oikish football fans were dyed-in-the-wool scum, in need of re-education.
The summer of sport that followed provided plenty more podiums for woke posturing. At the Tokyo Olympics in July and August, the trans issue muscled its way into view. New Zealand weightlifter Laurel Hubbard, who was born male, was allowed to compete against biological women despite having some quite obvious advantages.
Predictably, much of the media championed Hubbard as a heroic trans trailblazer. When critics questioned whether it was really so progressive to allow a biological male to take the space of a qualified female athlete, much of the press leapt to Hubbard's defence.
The BBC went as far as to publish a 3,000-word article about this 'reluctant history-maker', charting Hubbard's road to Tokyo. Following a predictable backlash to the article, BBC Sport's social-media team then threatened to report naysayers to the police for spreading 'hate'. In the end, Hubbard performed poorly.
As some were celebrated with no regard for their talent, one incredibly talented sportswoman was celebrated for quitting the competition prematurely. US gymnast Simone Biles, the greatest gymnast of all time, pulled out of a number of Olympic events citing mental-health reasons. She suffered an unfortunate bout of the 'twisties' – that is, feeling a disconnect between her mind and her body.
Her temporary loss of nerve was tragic, for herself and the US gymnastics team. But for the media, quitting made Biles a hero. She was showered with praise for being open about her weaknesses and for putting her wellbeing above her sport. She was even named Time magazine's athlete of the year. In 2021, it seems, you could win without even taking part.
A few unfortunate sportsmen found themselves on the wrong side of the culture wars this year, however. And for this, they were shown no mercy. That some of them were hauled over the coals for things they said while they were teenagers showed just how much the harsh world of cancel culture has been imported into the world of sport.
Just think of poor Ollie Robinson, the England cricketer who was suspended from the international game because of 'offensive' tweets he wrote when he was a teenager. Or Marc Bola, the Middlesborough footballer charged by the FA for 'aggravated misconduct', over an allegedly bigoted tweet he sent when he was a wise, old 14.
That even the genteel sport of cricket was overcome by identity politics this year showed how deep the rot now goes. What began with former Yorkshire cricketer Azeem Rafiq's shocking allegations of racism at his old club soon descended into unseemly cancellation campaigns.
Cricketing legend Michael Vaughan was dropped as a commentator by the BBC and BT Sport because of an allegation, made by Rafiq, that he made a racist comment over 10 years ago – an allegation he vehemently denies. Rafiq himself was then brought down when anti-Semitic comments he made years ago were unearthed.
There was just too much identity politicking in sport this year. Too much right-on crusading. Too much cancel culture. And it came at the cost of the sport itself, which at times felt almost secondary to the woke propaganda.
But sporting greatness is not dead yet. England has a competitive and driven national team heading into the World Cup next year. Then there's tennis prodigy Emma Raducanu, about to take her next steps. Despite a valiant attempt by woke commentators to claim the mixed-race player's fairytale win at the US Open as one in the eye of 'racist' Britain, her stunning achievement cancelled out the noise.
So let's kick the culture wars into touch in 2022, and get back to enjoying the sport.
Paddy Hannam is editorial assistant at spiked. Follow him on Twitter: @paddyhannam.
To enquire about republishing spiked's content, a right to reply or to request a correction, please contact the managing editor, Viv Regan.