Simone Biles and the cult of the quitter
Time has named Biles its Athlete of the Year. That is bonkers.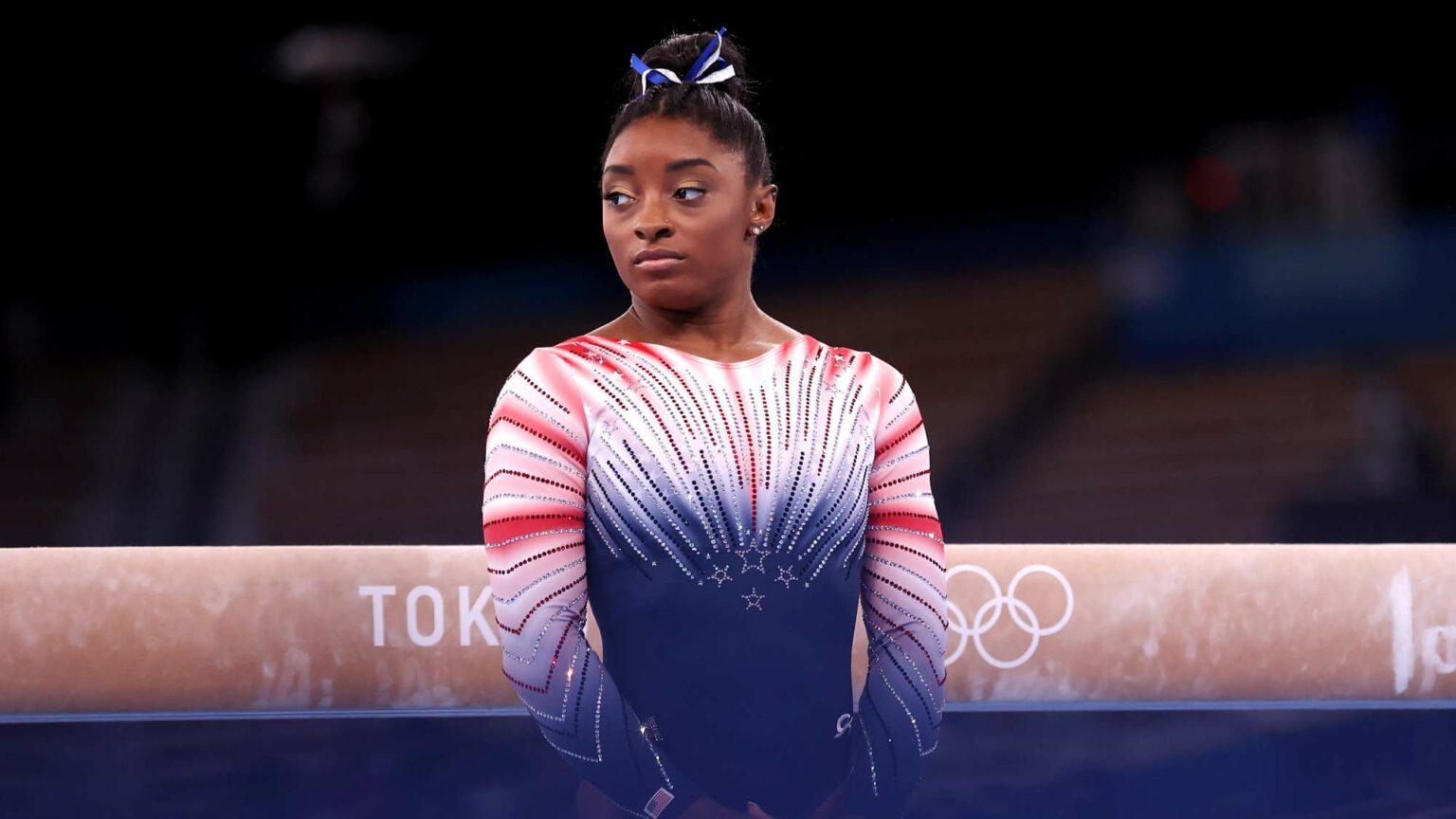 So, Time's Athlete of the Year is someone who quit. I don't mean 'quit' in the pejorative sense. I mean it in the literal sense. Simone Biles, the brilliant, highly decorated gymnast, 'stopped doing something', which is the dictionary definition of quit. At the 2020 Olympics in Tokyo in July, she 'stopped doing' the gymnastics, after suffering a bout of 'the twisties'. That is, she quit. And yet now Time has put a halo around her head and named her the most inspiring sportsperson of the year. Time to take down all those motivational posters saying 'Winners never quit and quitters never win'. Because in the weird 2020s, quitters do win.
The problem here is not Biles. She did seem to suffer a disorientation at the Olympics. On 27 July, as she soared above the vault, she became confused. The twisties, they call it, when a gymnast feels a disconnect between their mind and their body. Her darting eyes suggested she was even unsure how to land. That's bad. It's understandable she decided to call it a day. She had been expected to waltz off with five golds from Tokyo but in the end she got just one team silver and a bronze in the balance beam. No, the problem isn't the fact that Biles quit – it's the cultural elite's sanctification of her quitting, their transformation of it from a moment of untypical fear and failure into a holy lesson about the virtue of fragility. This elite validation of giving up is far scarier than the twisties.
No sooner had Ms Biles packed her gym bag back in July than the opinion-shaping set was bombarding her with garlands of praise. 'Simone Biles' withdrawal is more impressive than winning', declared one observer. I look forward to using that line next time I fail to finish a project on time. 'I think you'll find that my failure to complete the work is more impressive than if I had completed it…' A writer for the New York Times celebrated Biles for 'rejecting stoicism'. Stoicism – the endurance of hardship without complaint – is the great no-no in this era in which we're meant to constantly confess to feelings of frailty. In which we are forever being invited to rely on others rather than ourselves. In which we're told we need therapists, lifestyle gurus, influencers and the state just to get from one day to the next. Stoicism has virtually been pathologised. It's those who think they have the internal resources to make it through tough times who are seen as the real loons these days.
But isn't stoicism central to sport, especially to the elite level of sport Ms Biles is engaged in? Apparently not. Michelle Obama congratulated Biles for quitting when she tweeted: 'Am I good enough? Yes I am.' Ms Obama says this is 'the mantra' she practises daily. I'm sorry, but first of all I don't believe that. You don't get from the South Side of Chicago into the upper echelons of law and eventually into the White House by waking up every day saying, 'You know what? I'm enough.' I would wager that Ms Obama frequently thought the precise opposite: 'This isn't enough. I want more.' Secondly, this mantra of enoughism would be a death knell to competitive sport. The whole point of elite sport is to never feel satisfied; to push yourself harder every day. It's written into the very motto of the Olympics: Citius, Altius, Fortius – faster, higher, stronger. If the therapeutic elites typified by Ms Obama had their way, it would be 'That's fast, high and strong enough, thank you. Let's leave it at that.' How thrilling.
Now, Time has spelled out just how dangerous, not to mention hyper-narcissistic, this cult of quitting can be. Time celebrates Biles essentially for being selfish. Really. Its gushing piece heaps praise on Biles for making clear 'the importance of prioritising oneself and refusing to succumb to external expectations'. 'With the eyes of the world upon her', Biles reminded people to think about 'what they owe themselves', says Time. This all feels darkly neoliberal. Me, me, me. To hell with the old virtues of loyalty and solidarity and – whisper it – self-sacrifice in the name of a greater cause, whether that be sporting spectacle or just helping out in your local community. No, 'prioritising oneself' overrides it all. That's what will win you accolades from Time and the globalist set – putting yourself before others.
Imagine if this cult of self-prioritisation was applied across society. Imagine if firefighters or refuse collectors or builders or midwives – the kind of people who keep society going – were to elevate their feelings over their work, over their calling, over their sense of duty. Our world would grind to a halt. The truth is that it is very often the negation of the self, or rather the folding of the self into something bigger, something more important and good than our own petty concerns, that lays the groundwork for social solidarity. A society in which everyone was prioritising themselves rather than considering 'external expectations', in which we all constantly thought about what we 'owe ourselves', would be a very depressing place. It would be debased, atomised, fragmented. The beatification of St Simone the Quitter sends a very worrying message to the next generation.
Time rather gives the game away with its emphasis on self-prioritisation. This sheds a lot of light on why so many in the elite, including even a former inhabitant of the White House, praised Biles for quitting. It's because they spied in her self-prioritising act the kind of sharp-elbowed machinations that are necessary in their world. The cult of the self is essential to these movers and shakers in globalist cliques. But to the rest of us who must strike up social bonds and networks in order to survive and thrive, it feels entirely alien to obsess over what we 'owe ourselves'. We know that our freedoms and comforts, our right to enjoy the good life, are bound up with other people's. We know that our happiness as individuals is intertwined with the social connections we build and move within. We prioritise others and in the process we strengthen ourselves. The virtues of courage, commitment, stoicism and hard work – these are infinitely preferable to waking up, looking at the harsh world outside your window, and thinking to yourself: 'Nah, I'm enough. I'm staying in bed.' Keep the posters up after all: quitters never win.
To enquire about republishing spiked's content, a right to reply or to request a correction, please contact the managing editor, Viv Regan.