There was no 'outburst' of racism after the Euro final
We now know that just 34 vile racist messages were sent by people in the UK.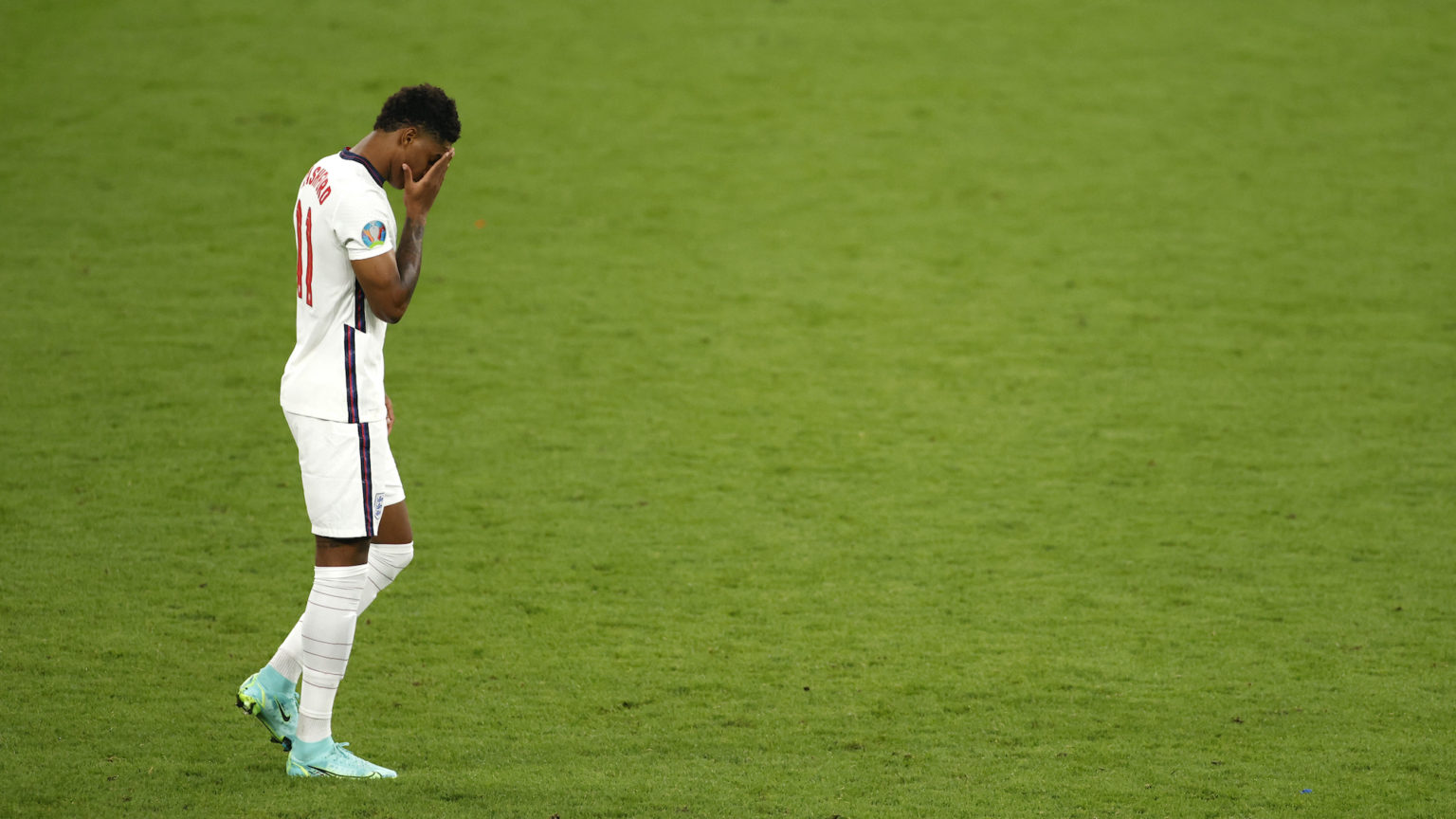 Thirty-four. That's it. That's the number of potentially criminal racist messages that were sent to black England footballers after the Euro final by people from inside the UK. Thirty-four. Everyone in possession of a moral compass knows that's 34 too many. Receiving just one racist message can be distressing. And yet there's no denying the disconnect between the reality of the racial abuse that followed England's loss to Italy and the presentation of it in political and media circles. The reality was that a minuscule mob of arseholes said some horrible things to black footballers. The presentation of it was as hard proof that England remains a rotten country full of yobs and plebs whose hearts and minds have been corrupted by racist Brexit, racist Boris and the racist press. We now need to examine this disconnect, this warping of reality by the new elites, and ask ourselves if this is its own form of foul prejudice.
Casting our minds back to the days after the Euro final, we could be forgiven for thinking England came to be in the grip of a racist pogrom. Three black England players — Marcus Rashford, Jadon Sancho and Bukayo Saka — missed their penalties. England lost. And within hours there was febrile talk of a racist backlash coming from those dark, no doubt Brexity corners of the country. Reports of the three players being bombarded with hate messages triggered days of media discussion. England's black players faced a 'racist outburst', declared the New York Times. We witnessed 'the vile depths of Britain's racism', said a writer for the Independent. It wasn't just a 'small minority' of fans engaged in racism, insisted one commentator. No, 'this is England', where racist 'thuggishness' is now a 'national trait'. Then, a mural of Marcus Rashford in Manchester was daubed with graffiti — racist graffiti, everyone said, from the NYT to Sky to the BBC — and anti-racist campaigners took to the streets to campaign against this wave of hatred sweeping the land.
A couple of weeks later, and we have a better understanding of the truth of what happened. There was no wave of racial hatred. There was a tiny, ridiculous trickle of it. If the events following the Euro final showed the 'vile depths' of British racism, then we should be very pleased with ourselves as a nation. Because racism in this country clearly isn't very deep at all. The UK Football Policing Unit has been investigating the hate-speech incidents in the wake of the final and it has judged that 207 online comments were potentially 'criminal' — that is, they could be said to be stirring up racial hatred. Of these, just 34 originated from within the UK, leading to 11 arrests. The vast majority — 123 — came from people overseas. What's more, it turns out the defacing of the Rashford mural was not racist. The graffiti said 'Shite in a bucket, bastard', with a cock and balls pointing at Rashford's mouth. Infantile, sure, but not racist.
The difference between the reality of what happened and the discussion about it is vast. We witnessed a species of hysteria in the days after the final. Seemingly rational commentators became convinced, despite a dearth of evidence, that they live in a horrible racist country. It felt like paranoia in the ranks of the establishment — columnists taking to their keyboards and Twitter accounts to fret over the armies of racists lurking in Brexit Britain. Campaigners went on to the streets and took the knee over something that did not happen — there was no racist graffiti on that mural. People came to believe the opposite of the truth. It isn't a minority who are engaged in racial hatred, they said — it's everywhere. We now know that it was a minority, and an infinitesimally small, statistically insignificant one at that.
It was, as I argued on spiked at the time, a moral panic. It confirmed just how much the woke elites are in the grip of regressive identitarianism and beholden to the misanthropic belief that racial hatred is widespread and that it falls to good, well-educated people 'like us' to expose it. Years of imbibing the divisive creeds of identity politics has convinced many in the establishment that the masses are a backward throng and that racism, neo-colonial attitudes and nostalgia for Empire are rife across the land. They aren't, of course. This vile racist country exists only in the minds of the cut-off elites. In the real world, racism has massively declined in the UK in recent decades and a vanishingly small number of people think you have to be white to be a Brit. In the real world, just 34 people in Britain sent truly vile messages to black footballers — it is in the febrile imaginations of those who spend far too much time reading critical race theory and not enough talking to ordinary people that the whole country went into a spasm of racial hatred after that final.
This is the irony at the heart of this most recent moral panic over racism — the panic revealed far more about the prejudices of our supposed betters than it did about the prejudices of ordinary football fans. It is their contemptuous view of the population as a racist mob in waiting, as gammon, as always being just one Sun editorial away from turning into an animalistic force, that led them to believe that a handful of social-media messages added up to proof that racial hatred is a 'national trait' in this godforsaken land. The aftermath of the Euro final confirmed that racism is a dying prejudice in this country; it also confirmed that the elite's classist disdain for ordinary people is getting worse.
Brendan O'Neill is editor of spiked and host of the spiked podcast, The Brendan O'Neill Show. Subscribe to the podcast here. And find Brendan on Instagram: @burntoakboy
To enquire about republishing spiked's content, a right to reply or to request a correction, please contact the managing editor, Viv Regan.