The spectacle of Laurel Hubbard is an insult to women
The media deserve a medal for their breathtaking dishonesty.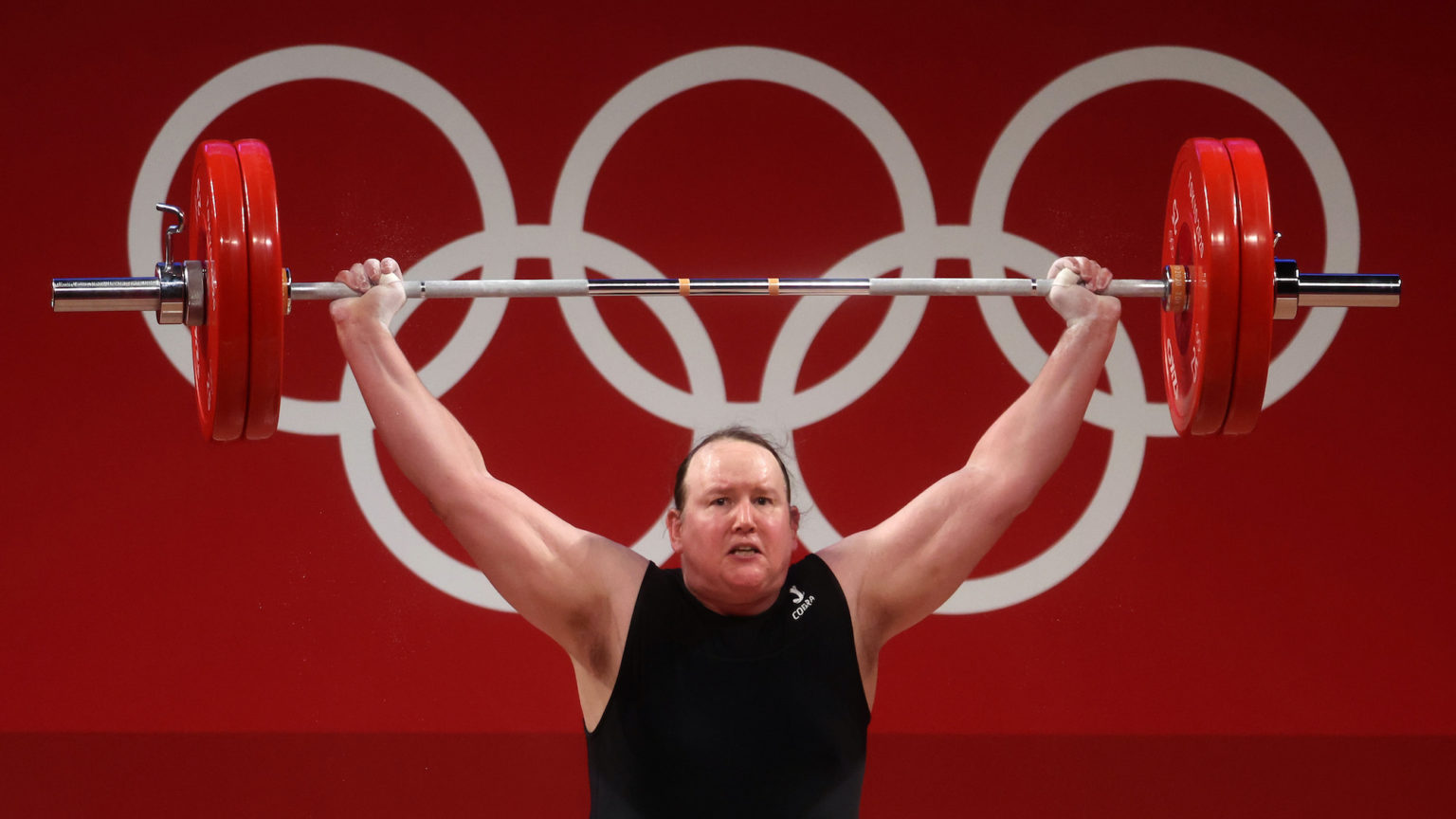 The media are going for Olympic gold in the truth slalom, skilfully swerving around uncomfortable facts and deftly dodging their duties to their audiences.
Take journalist Joshua Surtees' gushing profile of 43-year-old male weightlifter Laurel Hubbard for the BBC. After nearly 20 years competing against men, Hubbard retired from male sport, declared himself trans, shifted to the women's category and then qualified for the Olympics. Astoundingly, this is allowed under International Olympic Committee (IOC) guidelines. These permit males to compete in female events if they have identified as transgender for four years and have testosterone levels below 10 nanomoles for a minimum of 12 months (the average testosterone level for women ranges from 0.3 to 2.4 nanomoles per litre).
Surtees chose to describe Hubbard as a 'reluctant history-maker', positioning him as a victim of a transphobic media circus. In reality, Hubbard is a mediocre male athlete who robbed Nauru's Roviel Detenamo of her rightful place in Tokyo 2020.
Following a social-media backlash over its biased reporting, BBC Sport released a statement declaring that while it aimed to make 'platforms… a respectful place for discussion', it would 'block people bringing hate' to the comments section. This sounds reasonable, until you realise that factual statements like 'Laurel Hubbard is a man' are now deemed to be 'hateful'. The BBC's memo ended with a call for social-media users to report potentially offensive opinions, and a promise to strive to 'make-social media accounts a safe space for everyone'.
Impartiality is written into the BBC's charter, and the broadcaster has a duty to 'be inclusive, considering the broad perspective and ensuring that the existence of a range of views is appropriately reflected'. But in its coverage of Hubbard, the BBC has revealed itself to be prejudiced against those who do not share its woke values and anti-science stance. The BBC is no more neutral on the clash between women's rights and the demands of transgender activists than the North Korean media are balanced when reporting on the exploits of their Supreme Leader.
Tellingly, it is not just the UK's national broadcaster that has chosen to celebrate a man who most would regard as, at best, an opportunist, and at worst a cheat. Australia's ABC was positively breathless about what journalist Tracy Holmes described as a 'history-making effort' that 'will be widely celebrated'. Bizarrely, Holmes even compared the exclusion of males from female sporting categories to sex discrimination: 'In years gone by, there used to be rooms full of men making decisions for women, without hearing from the women themselves… Now there are also rooms full of cisgender [non-trans] people making decisions for transgender people.' (As an aside, three quarters of the attendees at the IOC Consensus Meeting on Sex Reassignment in 2015, which paved the way for males to enter women's sport, were male.)
Broadcasters in the US have also squealed with delight at Hubbard's inclusion in the women's category. With a startling degree of confidence, NBC claimed that 'there's no clear science that proves that trans women have an unfair advantage over cisgender women in competitive sports'. Even the notoriously anti-woke Fox News opted for Hubbard's preferred pronouns so as not to cause offence.
The blame for this inaccurate reporting cannot simply be laid on journalists alone. Editorial guides produced by the likes of Press for Change in the UK and GLAAD in Australia and the US lay out precisely what language should be used when reporting on trans issues.
Indeed, earlier today, Oliver Brown, chief sports writer for the Telegraph, noted that 'LGBTQ' guides 'have, not without coincidence, been left on the desks of all journalists' attending Hubbard's Olympics debut. The guide advises journalists to avoid using the terms 'born male' and 'born female', and to avoid saying 'no one is born with a gender identity'. Brown also reports that the guide lists Fair Play for Women, a British organisation set up to protect the rights of women and girls, as a source of 'media misinformation' and 'an organisation formed with the express purpose of fighting against transgender equality'.
Hubbard is now out of the Olympics. But there are at least two more males who have competed at Tokyo 2020, who have taken opportunities from women. These include US BMX freestyle rider Chelsea Wolfe and archer Stephanie Barrett of Canada. Without a shred of awareness, the IOC both permits this unfairness while proudly proclaiming on its website that 'sport is one of the most powerful platforms for promoting gender equality and empowering women and girls'.
The media's woke bias is to be expected. But the attempts to cast those with opposing views as hateful – and in the BBC's case, worthy of reporting to the Twitter police – are a worrying departure from common sense. The IOC and the media seem unable or unwilling to appreciate that it is completely reasonable not to believe that people can change sex, or that an individual might have nefarious reasons for pretending to do so. This is an insult to the truth.
Jo Bartosch is a journalist campaigning for the rights of women and girls.
To enquire about republishing spiked's content, a right to reply or to request a correction, please contact the managing editor, Viv Regan.