A year of lockdown dystopia
We have been given a terrifying glimpse of life without liberty.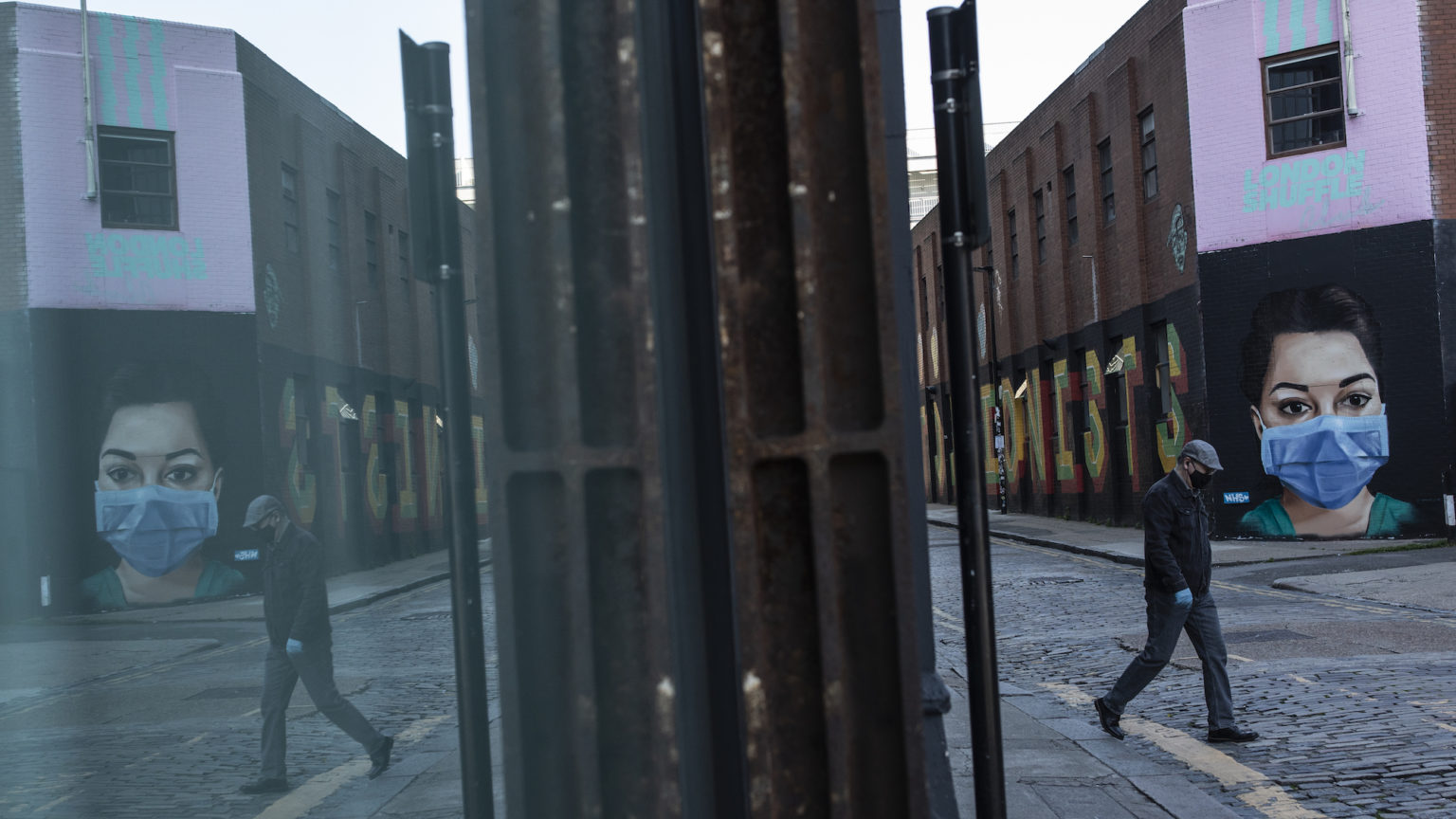 It's been a full year since our 'three-week' lockdown began last March. For 12 months, we have lived under frighteningly authoritarian rules, giving up our most basic rights and freedoms. Britain has been turned into a dystopia. Here are just a few of the most alarming examples.
The Covid police state
Stay-at-home laws have given police powers over nearly every aspect of our lives. And the corona cops have embraced these powers with far too much enthusiasm.
Overzealous policing has produced a number of absurd injustices. A homeless man was handed a criminal charge in May for leaving the place where he lived – 'no fixed abode' – in violation of the 'stay at home' law.
Last summer, in Manchester, the policing of gatherings led officers to raid a terminally ill child's birthday party. And in October, armed police were sent to shut down a gym in Liverpool whose owner had refused to close his doors.
Not only do the police seem to have relished their new powers – they have also failed to understand them. Not a single conviction brought under the Coronavirus Act was lawful, as of the end of February 2021. And at times even the courts have failed to uphold the law. Innocent people have not only been arrested, but also charged and convicted for crimes that have never existed.
Flying Covid marshalls
The Covid cops have also found innovative new ways to enforce the rules (or their own interpretations of them). Derbyshire Police sent out drones to film people going on (completely safe) 'non-essential walks' in the first week of the pandemic. The cops then shamed them by posting the footage online in an attempt to bring other walkers into line. Bournemouth, Christchurch and Poole Council revealed last week that its surveillance drones will be deployed to monitor summer beachgoers, even after lockdown is over.
Covid Sharia
Lockdown has handed the state control over even the most personal and intimate aspects of our lives, creating a bizarre secular version of Sharia Law.
Due to bans on household mixing, casual sex has been illegal for most of the pandemic. In fact, even sex with your partner, if you don't live together, has generally been banned for most of the past year.
But lockdown Sharia impacts on more than just sex. In September, the government banned singing and dancing in pubs, cafes, restaurants and bars. For Grand Mufti Hancock, all fun is a potential Covid risk.
Harsh punishments for rule-breakers
Anyone caught out by the Covid rules can face life-changing consequences. Numerous people have been given crushing £10,000 fines for organising illegal gatherings. Piers Corbyn, activist and brother of former Labour leader Jeremy, was hit with a £10,000 fine for organising an anti-lockdown protest in August. And four students at Nottingham Trent University faced the same ruinous fate in October for organising a house party.
More recently, the government introduced 10-year jail sentences for anyone who lies on their paperwork when returning to the UK from abroad. In other words, putting the wrong details on a form is punished more harshly in lockdown Britain than some gun offences.
The pandemic of snitching
In enforcing the rules, police have been aided by an army civilian informants.
Police were reportedly overwhelmed with calls from members of the public reporting on alleged rule-breakers – right from the start of the lockdown. They received an incredible 194,000 calls from Covid snitches in the early weeks. Some police forces even set up online portals where people could rat on each other.
These Covid snitches have been egged on by politicians. Crime and policing minister Kit Malthouse said in September that people should call the police if their neighbours broke the 'rule of six'. The government has enlisted society's jobsworths and curtain-twitchers to help enforce its illiberal laws.
Lockdown has given us a terrifying glimpse into life without liberty. The dystopian reality of lockdown must be put behind us once and for all.
To enquire about republishing spiked's content, a right to reply or to request a correction, please contact the managing editor, Viv Regan.