The corona cops need to wind their necks in
Police are taking to their new powers with an all too predictable glee.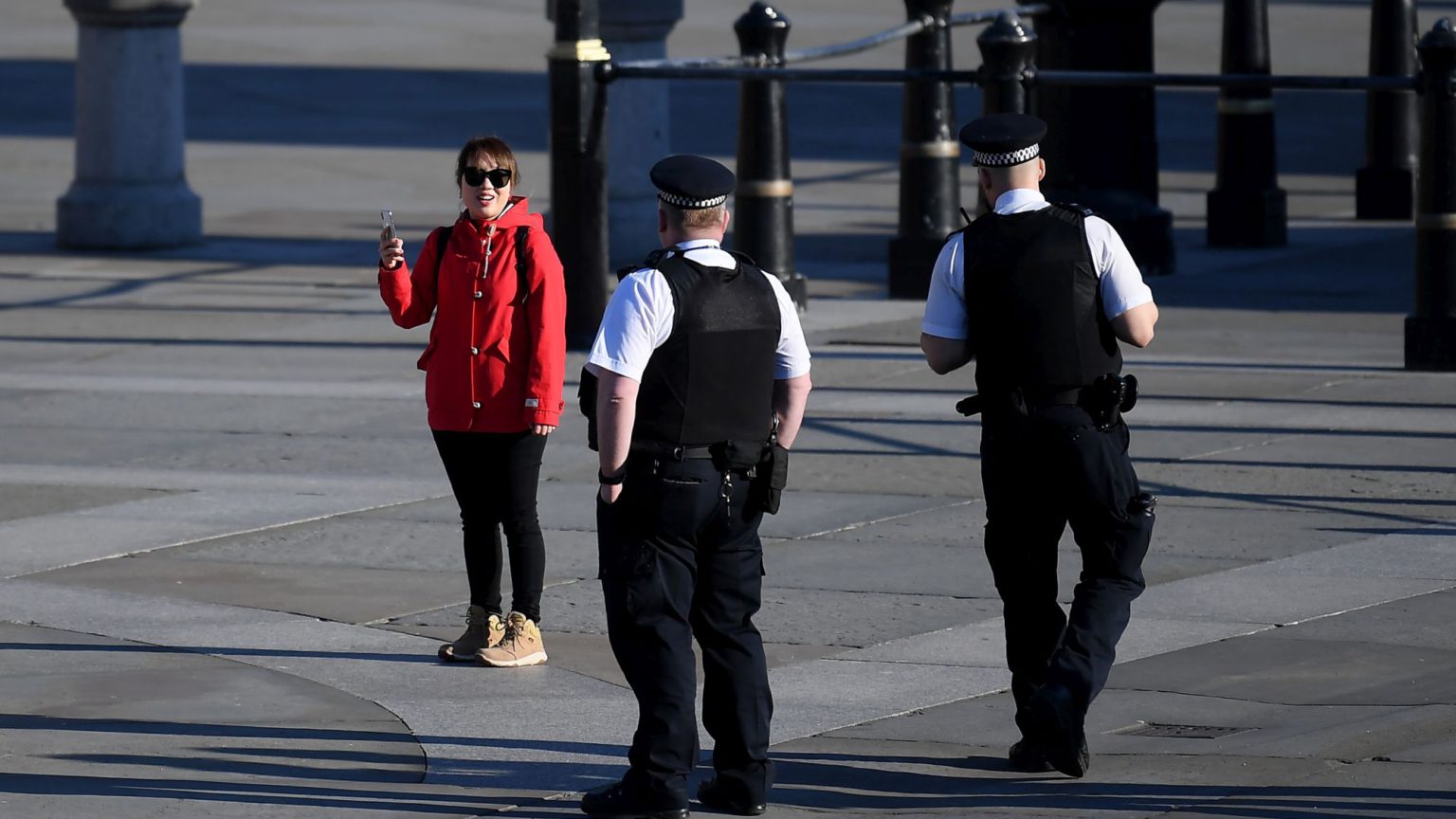 Having spent the past week demanding Britain be turned into a full-on police state in response to the coronavirus crisis, the British media seem to be slowly realising what the police they are so keen to empower are actually like. Since new powers to enforce the lockdown were brought in last Thursday, there has been a steady stream of stories about the cops taking to the situation with an all too predictable glee. It's almost as if those of us whose concerns around civil liberties were last week dismissed as mad and dangerous might have been on to something.
First there was Derbyshire's Police decision to use drones to surveil and film people daring to take a walk in the Peak District. Even though the people caught on camera posed no threat to anyone, had plenty of space in which to practise social distancing, and were most likely walking only with those in their households, Derbyshire's finest deemed such activity 'non-essential' and posted a clip of the errant walkers on social media. They then kicked off the weekend by dying a local 'blue lagoon' black because the nice weather was attracting too many people to it.
Pretty much as soon as the new powers came in there were reports of police forces in Yorkshire, Devon and Cornwall setting up roadblocks to ensure people were only making essential journeys. Last Thursday the Metro reported that 150 vehicles had already been checked in Penzance, Hayle and St Ives. Yesterday Warrington Police announced that six people had been 'summonsed for offences relating to the new coronavirus legislation'. These shocking violations included being 'out for a drive due to boredom' and 'multiple people from the same household going to the shops for non-essential items'.
Now common sense would suggest that going for a drive is unlikely to spread disease, and that a household going out to get a few more bits shouldn't really be a police matter. Plus, as legal writers have pointed out, many of the activities cited above are not actually crimes. Over the weekend the government clarified that its advice was for people to take their exercise close to home and only once a day. But senior police have confirmed that it is not actually illegal to pop out more than once or to drive to get some air further afield.
The thing is when you give police – or in the case of these new regulations, police, community support officers and other people 'designated' by local authorities – the power and moral authority to throw their weight around, many of them are bound to overinterpret their responsibilities and overstep the mark. This is part of the reason why draconian new legislation and powers, even if we deem them necessary in times of crisis, need close scrutiny and safeguards. And yet up to now, those making such basic liberal points have been dismissed as reckless #covidiots.
This situation should concern anyone who cares about liberty. Under the new regulations police are not only empowered to issue fines for rule-breakers, they can even arrest people and use 'reasonable force' to 'remove a person to the place where they are living'. So we may have some clips of corona-related scuffles to look forward to. But we also risk degrading our ability to exercise judgement. Official guidance cannot be sufficient to help us navigate our lives under this lockdown. Sometimes doing the right or reasonable thing will mean straying from the strictest interpretation of the rules.
As controversial as it is to say these days, the state doesn't always know best. It doesn't have a monopoly on wisdom or even just a sense of proportion, certainly not the police. The government says 'police will always apply their common sense and discretion'. But the evidence so far suggests not all of them are gifted with such capacities. Otherwise we wouldn't have learned this morning that police officers have been telling convenience stores that Easter eggs are not 'essential items', and have been challenging shoppers and retailers for trying to buy and sell them.
You don't need to be a left-winger with a healthy suspicion of the armed wing of the state to realise that power and authority go to people's heads. You only really need to have read about the police's mad attempts to police speech in recent years, including calling up tweeters to 'check their thinking', warning people that mocking a drug dealer's mugshot may be a criminal offence, and arresting YouTubers for making offensive skits. Well, if you're desperate for a police state, these are going to be the people overseeing it. Don't say we didn't warn you.
Tom Slater is deputy editor at spiked. Follow him on Twitter: @Tom_Slater_
To enquire about republishing spiked's content, a right to reply or to request a correction, please contact the managing editor, Viv Regan.