Don't let celebrity royalty lord it over press freedom
Why Prince Harry brought his 'privacy world tour' to London's Royal Courts of Justice.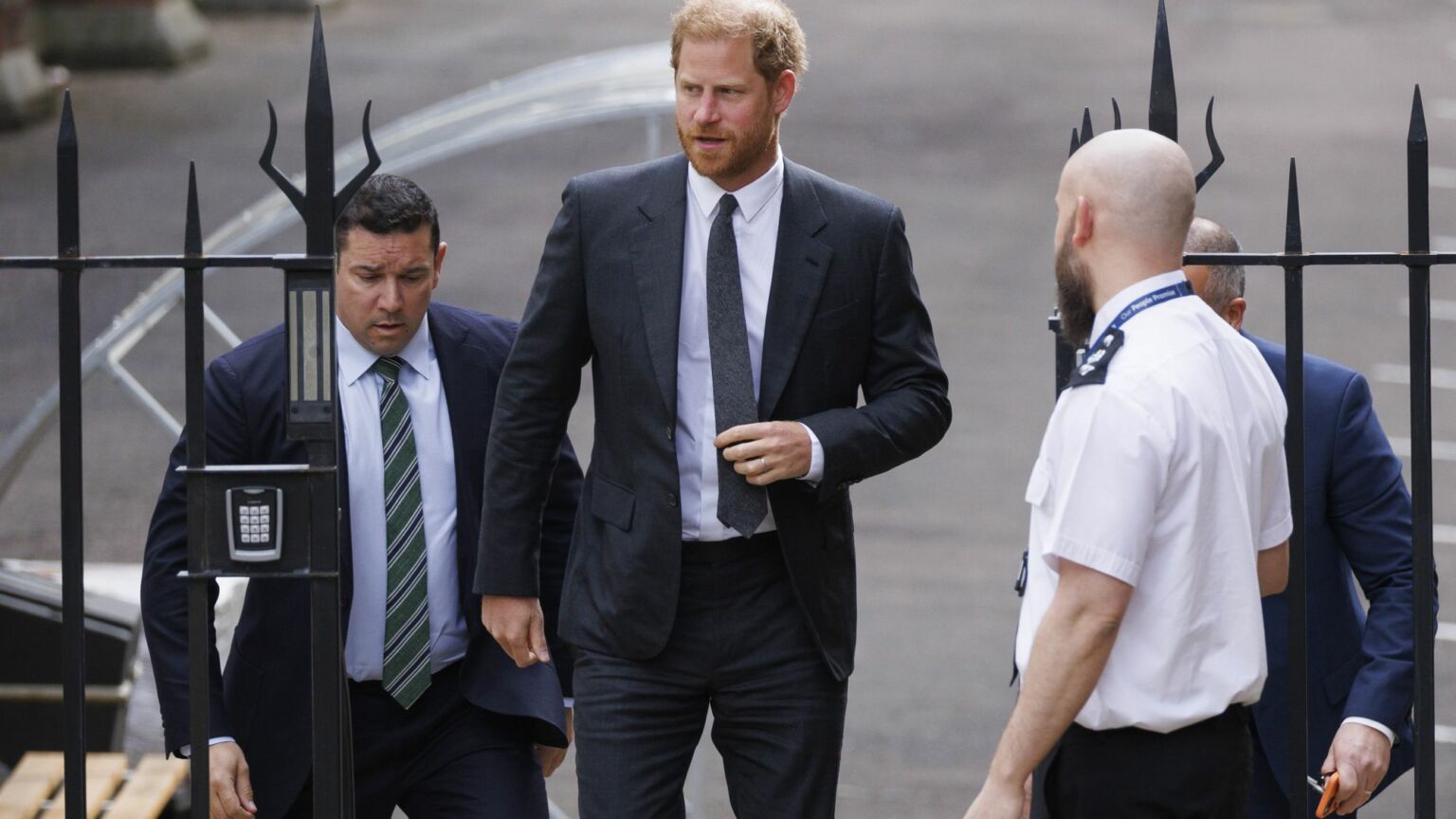 There might still be some uncertainty about whether Prince Harry and Meghan will attend King Charles' coronation in London in May. But Harry evidently had no hesitation about jetting from California into London this week to attend another traditional British ceremony – a witch-trial, which he hopes will end in the public execution of what he has previously dubbed the 'devil', aka the Daily Mail.
That was why Harry turned up in court, alongside Sir Elton John and other assorted celebrities, for a star-studded privacy case against the Mail and the Mail on Sunday. They claim that private detectives employed by the newspapers used dodgy and criminal methods to obtain private information, from hacking into voicemail messages to blagging medical records and breaking and entering property. It is the first time the Mail has been involved in a trial related to the phone-hacking scandal.
The prince may or may not be there in May to see the crown placed on his regal father's head. But he was not going to miss the chance to witness a British tabloid getting hanged, drawn and quartered in the Royal Courts of Justice.
Harry's appearance this week caused more surprise because this is not a full privacy court case, but only a preliminary hearing to decide whether the case can proceed to trial. The prince and his celeb cohort, however, wanted to seize the courtroom as a major media platform for their crusade to tame the tabloid press, with Harry as the frontpage poster boy for the campaign. In a bad case of life imitating South Park, it appears he really is on a privacy world tour.
Lawyers for Associated Newspapers, which publishes the Mail, deny the allegations and argue that the celebrities' case should not be allowed to proceed to trial on two grounds. First, that their evidence is largely based on material concerning Mail payments to private investigators that was provided in confidence to the Leveson inquiry into press ethics in 2011, with a legally binding agreement that it would not be publicised – a deal which the prince's current lawyer signed up to back then. (There is also the small matter of the celebrities' main witness, a private detective who worked for the Mail, having apparently changed his statement and now denied that he was ever commissioned to do anything illegal.)
Second, the Mail argues that the alleged offences took place up to 30 years ago, over a period between 1993 and 2011. Individuals have six years to file a case after learning that they might potentially be victims. Therefore, the newspaper's lawyers argued in court this week, the case should be dismissed as 'stale'.
No doubt the evidence will be pored over at any subsequent trial. But such legal details are not really what the case is about for Prince Harry and his pals. For them, the wider aim is to beat the tabloid press into public submission to the new privacy regime, in revenge for past dirt-digging. They will use any weapon that comes to hand, even if it means ripping up legal deals. Because for Harry and Co, press-bashing never gets 'stale'.
You don't need to defend specific acts of phone-hacking or other illegal activities to see that there are bigger issues at stake here – by far the most important of which is our precious freedom of the press.
It is instructive that the 2012 Leveson inquiry has featured in the courtroom exchanges this week. That inquiry was initially launched by Tory prime minister David Cameron, we might recall, in response to the outrage over revelations of phone-hacking (not all of which turned out to be true), which had already led Rupert Murdoch to close Britain's top-selling paper, Sunday tabloid the News of the World.
Yet Lord Justice Leveson did not content himself with examining allegations of press phone-hacking, which in any case were already the subject of intensive police investigations. Instead, his inquiry was set up to probe the entire 'culture, practice and ethics' of the British media. It turned into an inquisition, a political showtrial in which the tabloids were found guilty before proceedings began.
As I wrote at the time of the Leveson inquiry / inquisition, the NotW phone-hacking, which nobody wanted to defend, became 'a pretext for a mission to purge the entire "popular" press, using high-profile victims as human shields, high-ranking celebrities as voice-over artists, and high-minded talk of "ethics" as a code for advancing an elitist political and cultural agenda'. To the surprise of nobody, Leveson ended with a proposal for a new state-backed system of Crown regulation to bring the press to heel.
Prince Harry has continued where Lord Justice Leveson left off. In his autobiography, Spare, Harry depicts journalists as the scum of the earth and blames the tabloids for everything that has gone wrong in his largely gilded life. In his recent media blitz, Prince Harry also announced that his heretofore pointless life as a 'spare' now had a new 'mission'; not just reforming the royal family but also 'changing the media' in the UK, not least by him and Meghan pursuing the tabloids through the privacy courts.
As judges and lawyers trawl through the claims and counterclaims of who did or said what to whom, let's keep sight of a few big principles.
All of the vitriol that Prince Harry and others aim at the 'popular' media is ultimately aimed at the populace, the news-consuming public whom they fear and loathe. It cannot be in the public interest to return to a situation where princes hold sway over the press. Until the end of the 17th century, nothing could be published in Britain without the approval of the Crown. In the 21st century, princes, knights and other celebrity royalty have no business instructing the media as to what they can report – or telling the public what we can see, hear or read.
Privacy is an important thing. But privacy laws are a different matter. In the UK, privacy cases against the media are replacing libel writs as the favoured legal means for the rich and powerful to hide their dirty secrets. These ever-advancing privacy laws have never been passed by the British parliament. Instead, they have been made up by unelected judges, using the powers granted to them by New Labour's Human Rights Act 1998. Privacy laws are a menace to the public interest.
Whatever the truth about particular allegations of criminal phone-hacking, we should be wary of throwing out the baby with the dirty bathwater. The fact remains that investigative journalists have never been able to unearth hidden truths without bending and breaking the rules. I remember how, amid all the high-minded posturing about tabloid crimes vs 'ethical journalism' at the Leveson inquiry, it was revealed that the Guardian's chief reporter had also hacked phones, and that the BBC had also hired private detectives to target individuals. Every great story involves underhand methods; underhand does not necessarily mean below the belt.
A final note on press freedom. While the court proceedings continued this week, news also broke that the Tory government's Media Bill might include a measure finally to abolish Section 40 of the Crime and Courts Act 2013. Section 40, which flowed straight from Lord Justice Leveson's proposals to sanitise the press, threatens any publication with punitive court costs and fines, even if they win a case, unless they agree to bend the knee to the official state-backed press regulator. It would affect not only the Daily Mail, but also the likes of spiked.
Parliament passed Section 40, but the government has refused to implement its provisions. Let us hope they now stick to their guns and abolish it before a Labour government gets to enforce these onerous rules, giving Prince Harry and his pals even more legal weapons in their war on the freedom of the press to publish and be damned.
To enquire about republishing spiked's content, a right to reply or to request a correction, please contact the managing editor, Viv Regan.