Why can't Harry and Meghan take a joke?
The Sussexes are reportedly considering suing South Park over its hilarious takedown of them.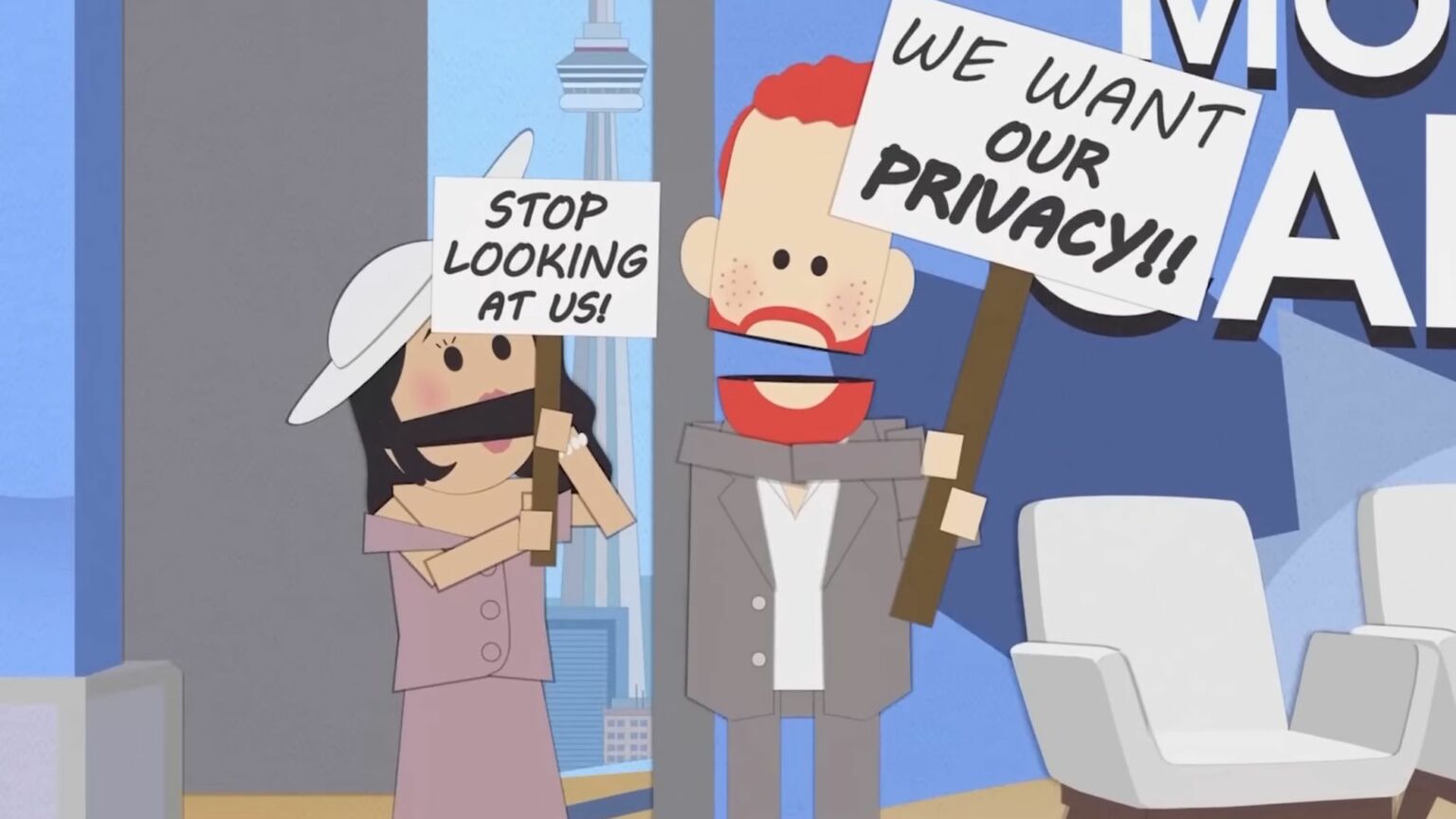 Can Harry and Meghan take a joke? Not if recent reports are to be believed. The Duke and Duchess of Sussex are reportedly considering legal action against South Park. Royal expert Neil Sean says 'a good source' has told him 'the duo are very unhappy' with the long-running satirical show's recent parody of them – and so 'their legal team are casting an eye over the episode'.
It's clear why they are so rattled. Last week's South Park episode, 'The World-Wide Privacy Tour', features a prince and princess of Canada who are very clearly parodies of Harry and Meghan, right down to the famous ginger beard. Like the real-life Sussexes, the Canadian royal couple are constantly calling on the media to respect their privacy, while also demanding to be the centre of media attention. 'We just want to be normal people – all this attention is so hard', Canadian Meghan tells a talkshow host. Harry then announces his decision to leave the royal family and Canada behind, in order to embark on a worldwide tour.
During their tour, the Prince and Princess of Canada visit countries on every continent, as they hold up signs warning the public and the press to 'Stop looking at us'. They eventually decide to move to the quiet Colorado mountain town of South Park to escape the media's glare. Naturally, they announce their arrival by setting off fireworks.
South Park's Trey Parker and Matt Stone have found plenty to satirise in the Sussexes' hypocrisy – especially the glaring contradiction in asking the media to leave you alone while writing tell-all memoirs, appearing on countless interview shows, filming a Netflix series and presenting a major podcast. The takedown is vicious and expertly pulled off.
The episode also skewers the Sussexes' claims to be victims, despite living pampered and privileged lives. For instance, Harry's self-pitying autobiography, Spare, appears as Waaagh. Meanwhile, Meghan complains that she is being racially victimised when Kyle, one of show's main characters, decides to ignore her. Harry's infamous frostbitten penis makes an appearance, too.
The satire is sharp and incisive. It perfectly punctures the royal couple's deluded view of themselves as victims of an intrusive media. As the South Park episode makes clear, with endless real-life examples, the Sussexes are more than happy to reveal the most intimate details of their private lives, and to invade the privacy of their family members, whenever it suits them.
Essentially, South Park has Harry and Meghan bang to rights. But instead of laughing it off, if reports are to be believed, the Sussexes may soon be seeking some form of legal remedy. Perhaps this shouldn't surprise us. The pair are infamous for their litigiousness, having launched legal actions against almost every major newspaper group in Britain. And in the past, they have made it very clear that they see no value in free expression (Harry once slammed America's First Amendment as 'bonkers'). Nevertheless, for them to even consider taking legal action against a satirical animated sitcom suggests they have reached a new level of censoriousness. A fictional parody can hardly be accused of breaching their privacy. All South Park has done is roast Harry and Meghan for their hypocrisy – and deservedly so.
Clearly, the royal couple don't like it when the lower orders speak back to them. They generally expect to be lauded for their 'insights' or to be showered with human-rights awards. In the cosseted world of Harry and Meghan, anything less than effusive praise will not do.
Thankfully, we have come a long way from the days when Trey Parker and Matt Stone might have been sent to the Tower for their satire. But the prospect of lesser legal action should still trouble us deeply. Our right to mock Harry and Meghan must be vigorously defended.
Picture by: YouTube / South Park Studios.
To enquire about republishing spiked's content, a right to reply or to request a correction, please contact the managing editor, Viv Regan.