Joe Biden's racial totalitarianism
His latest 'equity' scheme will usher in a grim new era of woke discrimination.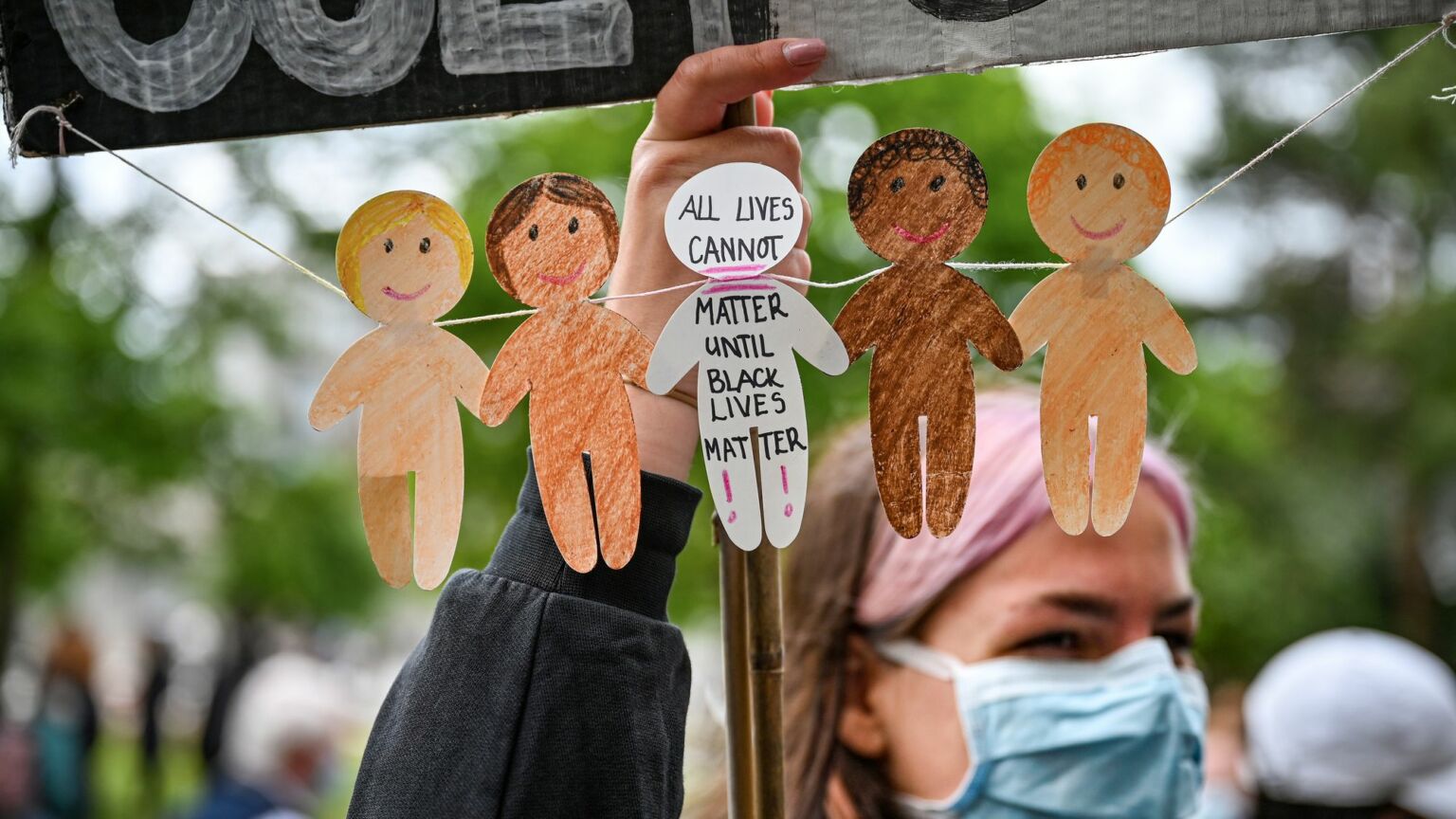 When the American media discuss 'culture warriors', they almost always refer to Republican politicians like Florida governor Ron DeSantis or to parents' groups protesting against the likes of Drag Queen Story Hour. But in reality, there is no more ardent and powerful culture warrior in the US today than President Joe Biden.
For proof that it is Biden who is leading the culture-war offensive, you only have to look at his latest sweeping 'racial equity' initiative. Last month, he announced a new presidential executive order, named 'Further Advancing Racial Equity and Support for Underserved Communities Through the Federal Government'. The aim of the order is to overhaul the US government so that all policies and practices align with the woke principles of 'diversity, equity and inclusion'.
Biden's executive order is incredibly broad and transformative. It creates a new army of bureaucrats to infiltrate every government agency and enforce ideological conformity. As the order itself states, Biden's policy is 'to advance an ambitious, whole-of-government approach to racial equity' and to 'continuously embed equity into all aspects of federal decision-making'.
It is striking that such a far-reaching initiative is being implemented without much notice. There was no signing ceremony, no press conference and little media coverage. This low-profile approach shows that Biden, the Democrats and their friends in the media prefer to wage a silent culture war. They reserve the tag of 'culture warrior' for those who dare to object to their radical schemes.
Make no mistake, this new scheme would certainly be radical. Unlike the longstanding affirmative-action policy, Biden's new initiative would not be limited to certain areas of public life. Nor would it be temporary. As the executive order states, Biden views the scheme as 'a multi-generational commitment'. But, as polls indicate, a majority of Americans – both white and non-white – are opposed to affirmative action in college admissions and in other areas of social life.
Given this public dislike of treating people differently according to race, Biden and his party must be hoping that the American people do not discover what they actually mean when they talk about 'equity'. Because it is essentially affirmative action on steroids. The term 'equity' sounds benign and many interpret it to just mean fairness. It even sounds like 'equality'. But equity is the opposite of equality – it means discriminating against one group of people in favour of another. While the Biden team may not say it out loud, their approach follows author Ibram X Kendi's line that 'the only remedy to past discrimination is present discrimination'. Equity stands in direct contradiction to America's founding principle, summed up in the famous words of the Declaration of Independence, that 'all men are created equal'.
According to the executive order, Biden wants to 'advance equity for all' – but that's an oxymoron. Equity, by definition, puts people into identity boxes, treating them as members of groups rather than as individuals. An equity-based policy favours some groups on the basis of immutable characteristics like skin colour, sex or sexual orientation, at the expense of other groups. The Biden administration reveals its true intentions when the executive order cites a laundry list of those it will target for help: 'Black, Latino, indigenous and Native American, Asian American, Native Hawaiian and Pacific Islander persons and other persons of colour; members of religious minorities; women and girls; LGBTQI+ persons.' The notable exception here is straight white men. If there was any government policy that seemed designed to encourage a white-identity movement, it would be this one.
Biden has promoted equity in government from the start of his administration – his first executive order on this topic ('Advancing Racial Equity and Support for Underserved Communities Through the Federal Government') came on his first day in the White House. Since then, government agencies have taken major steps to implement Biden's racialist plans. For example, in 2021, the Small Business Administration established funds specifically aimed at minority- and women-owned businesses that suffered as a result of the pandemic. That same year, another billion-dollar programme was set up by the US Department of Agriculture to forgive the loans of farmers and ranchers – but white farmers were excluded from participating. For now, this programme has been stymied by challenges in court, but the fact that it was allowed to exist in the first place is telling. Last year, in the aftermath of Hurricane Ian in Florida, vice-president Kamala Harris even implied that disaster relief would be distributed on the basis of 'equity'. Her reasoning for this was that women and people of colour supposedly suffered disproportionately in the disaster. The latest executive order shows that the Biden administration wants to double down on these kinds of discriminatory practices.
It is worth noting that Biden's racial-equity approach does not address class inequality. If the US government allocates support based on skin colour alone, it will inevitably benefit well-off as well as less-affluent black Americans. At the same time, a policy favouring non-whites will inevitably exclude poorer whites – who, if they dare to complain, are dismissed as benefiting from 'white privilege'. Not only is treating people differently on the basis of race wrong in principle, it is also deeply divisive and likely to create conflict.
Biden's latest executive order will ratchet up this socially divisive approach to new levels. His directive instructs heads of all departments and agencies to set up 'Agency Equity Teams' within 30 days of the order's date. The leaders of these teams will then report to a new White House Steering Committee on Equity. The teams are tasked with creating annual 'Equity Action Plans', which outline how the agency will promote equity-based policies. No bureaucrat will remain untouched: hiring and performance plans are required to incorporate equity. Indoctrination will be stepped up, with the whole workforce required to undergo continuous ideological training. These newly appointed, woke team leaders will play the role of ideological enforcers.
The fact that the Biden administration feels the need to set up these equity spies and activists in all departments highlights how radical the whole exercise is. Biden's equity plan is a massive social-engineering initiative – one that requires the creation of new jobs in every nook and cranny of the bureaucracy to oversee compliance.
The totalitarian aspect of this presidential order is breathtaking. Not only does it oversee the creation of equity commissars, but it also explicitly plans to manipulate language. The order highlights the threat from 'algorithmic discrimination in automated technology'. To combat this imaginary danger, it commands all agencies 'to ensure that their own use of artificial intelligence and automated systems also advances equity'. In other words, AI must be rigged to implant woke assumptions. And as we have learned from the Twitter Files, the tentacles of the government reach well into the tech industry. We can expect Biden's equity mandate to carry over to the private sector.
Indeed, one of the stated objectives of the executive order is to have the federal government connect with outside organisations. In reality, this will mean funnelling billions of dollars to handpicked 'community organisations' that do not represent the wider populace, but rather a small section of ideologically approved groups. By spreading its money and ideas across society, the Biden administration aims to create a kind of pincer movement on American society from both inside and outside the government. Having both sides sing from the same hymn sheet will reinforce the language of equity as the new norm.
There is so much that is wrong with Biden's executive order on equity. It will undertake a massive reorganisation of government and spend billions of dollars, without the authorisation of Congress. It is totalitarian, too – it will require ideological indoctrination and compliance from staff, turning civil servants into race activists. Those who disagree are more than likely to be ousted.
This only scratches the surface of Biden's proposed overhaul, which is truly overwhelming in its scope – and all with the aim of instituting a government-mandated system of discrimination. The executive order even has the audacity to claim that the advancement of equity will 'rebuild trust in government'. In reality, the opposite is true. It will inflame divisions among the people and erode trust in government institutions.
As the executive order notes, Biden and his legion of bureaucrats have 'embedded a focus on equity into the fabric of federal policymaking and service delivery'. The de-wokification of government will be a monumental task, and whoever undertakes it will be labelled an authoritarian culture warrior. But opponents of Biden's cultural offensive must uproot this divisive, racialist ideology before it becomes any more entrenched.
Sean Collins is a writer based in New York. Visit his blog, The American Situation.
To enquire about republishing spiked's content, a right to reply or to request a correction, please contact the managing editor, Viv Regan.