Macron should prepare for an early retirement
As the pension-reform protests show, his grip on power is weak.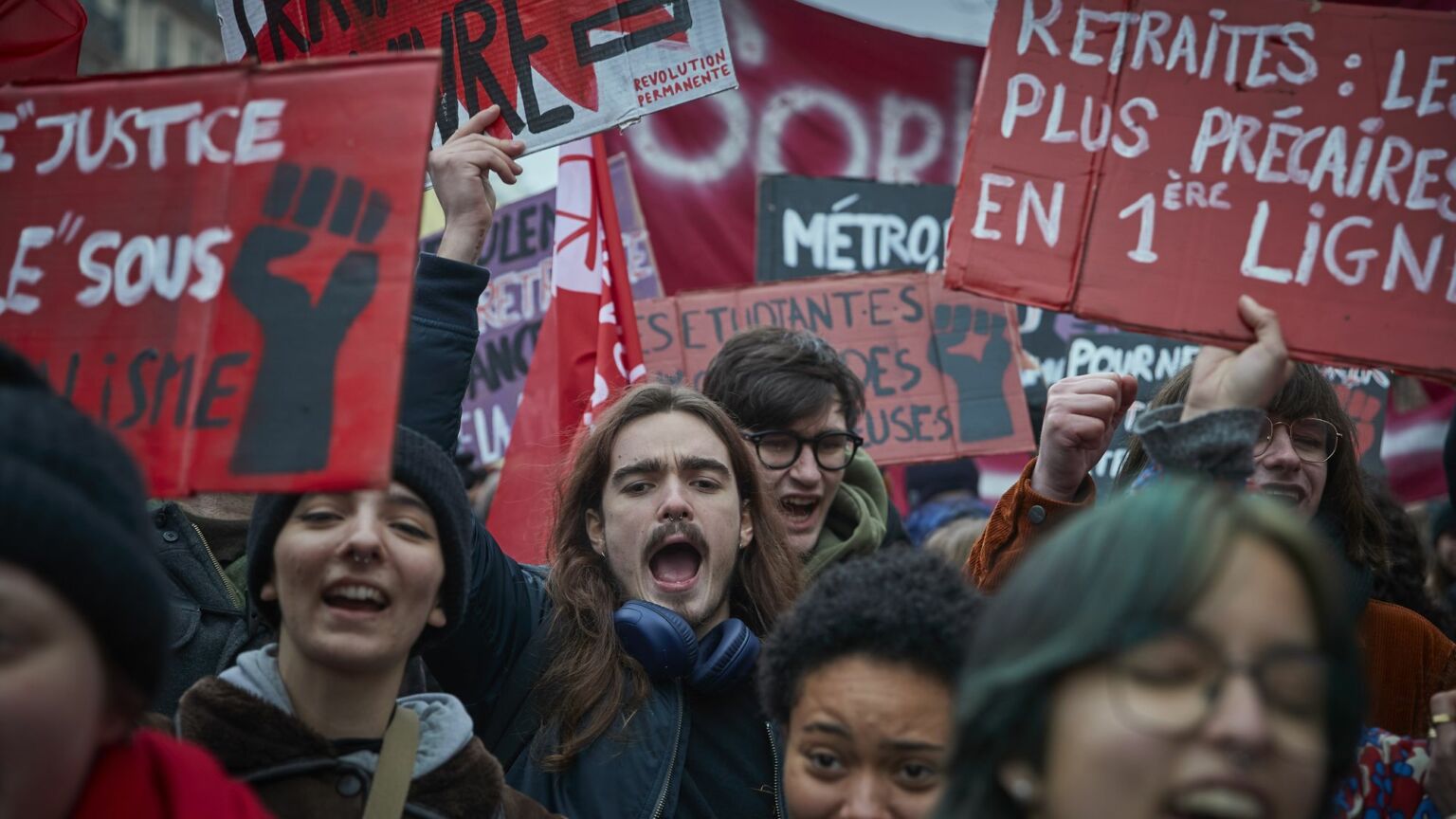 Last Thursday, more than a million people took to the streets of France to protest against President Macron's pensions-reform bill. Protesters were joined by public-sector workers, train drivers, teachers, refinery staff and other workers who went on strike.
The reforms will raise the retirement age from 62 to 64, and will also considerably reduce benefits for millions, forcing people to work longer for a smaller pension. The bill will penalise those who started work earlier in life and will affect the working classes more than anyone else. Macron has been struggling to present anything positive about his plan.
Despite having failed to gain a majority in last June's legislative elections, Macron has gone full speed ahead with his reform agenda. He claims that without serious reform of pensions 'the current system is in danger', owing to France's large budget deficit. Citizens are told that their pensions are too costly, that there is no magic money tree and that there is no alternative.
The public is sceptical of this. After all, despite Macron's backing of austerity policies and deficit-reduction measures, public debt has risen by a staggering €600 billion since he came to power in 2017. The French state has managed to find endless lines of credit to finance its own priorities – whether those be tax breaks for the richest one per cent, or public subsidies for French industry and green investment.
Macron's real priority is not to protect workers or even to balance the budget, but rather to back big businesses. Just take Bernard Arnault, owner of luxury fashion group LVMH. A personal acquaintance of Macron, Arnault is now the richest man in the world. His business empire has benefited from swathes of state subsidies in recent years. In 2020, LVMH even planned to use the French government's furlough scheme to pay its workers during the Covid pandemic, although it later backtracked in the face of a public backlash. Such blatant transfers of wealth from the working classes to the richest in society have become all too common in Macron's France.
The pension reform is the last straw for many. It has even managed to unite the trade unions in opposition to it. This is more unusual than you might suspect, given French workers' international reputation for bold and disruptive tactics. In truth, French unions are often deeply divided and suffer from low recruitment levels. In France, just 11 per cent of workers belong to a trade union – less than half the figure for the UK. And the five largest unions, ranging from the Catholic CFTC to the Communist CGT, rarely see eye to eye. It has taken Macron's attempts to force through his pension bill to bring them together.
The result has been nothing less than stunning. The turnout for Thursday's protest and strike action was massive. From Perpignan in the south to Calais in the north, some 1.12million people took to the streets across the country, according to government estimates (the CGT claims that over two million protested). A staggering 30,000 marched in Toulouse – almost one in 10 residents. This was a city that played host to numerous gilets jaunes (yellow vests) demonstrations between 2018 and 2020.
Violence was also kept to a minimum – at least on the protesters' side. Sadly, a protester in Paris was hit between the legs by a police officer and had to have one of his testicles amputated. French police are notoriously heavy-handed and permanent injuries are not uncommon whenever they confront the public.
This is not the first time that Macron has united the people against him. During the yellow-vest movement, which flared up in 2018, French citizens from all walks of life united against the 'president of the rich'. This forced Macron to backtrack on some of his agenda. Today, the unions could learn a lot from the yellow vests' example. They will need a continued mobilisation of French workers if they are to change the government's plan.
With a further national day of demonstrations planned for 31 January, Macron is under pressure to make concessions. And given the French economy is close to recession, the government may find it difficult to hold its position as the economic cost of the walkouts rises.
So far, Macron has attempted to ride out the storm. When questioned about the strikes at a Franco-Spanish summit in Barcelona, he said he remained committed to his reforms.
However, Macron could struggle to hold the line. He is in a far weaker position in his second term than in his first, not least as his party has no majority in the National Assembly. As a result, his prime minister, Élisabeth Borne, has already used the profoundly undemocratic Article 49.3 of the French constitution no fewer than 10 times since being appointed in May. This provision, established by Charles de Gaulle, allows for laws to be passed by the executive without a debate or a vote in parliament. This is what is allowing Macron to cling to power and push through his reforms. Only a vote of no confidence could defeat his government at this stage.
Although opposition to Macron's reforms may be mounting on the streets, the opposition parties in parliament are less united. The pension reforms are largely supported by the centre-right Républicains, who hoped to introduce similar reforms under President Nicolas Sarkozy in 2010. It would take a rare feat of cooperation for parliament to stall Macron's agenda. Parties from across the political spectrum seldom find common ground in France – the last successful no-confidence vote in a French government was back in 1962. But if Macron continues to unite his adversaries as he has been, he could well make history. That would create the embarrassing prospect of early parliamentary elections.
Perhaps Macron should be preparing for an early retirement.
Charles Devellennes is a senior lecturer in political and social thought at the University of Kent and author of The Gilets Jaunes and the New Social Contract, published by Bristol University Press.
To enquire about republishing spiked's content, a right to reply or to request a correction, please contact the managing editor, Viv Regan.