Why the French police brutalise people with impunity
Liverpool fans are just the latest group to bear the brunt of Macron's security regime.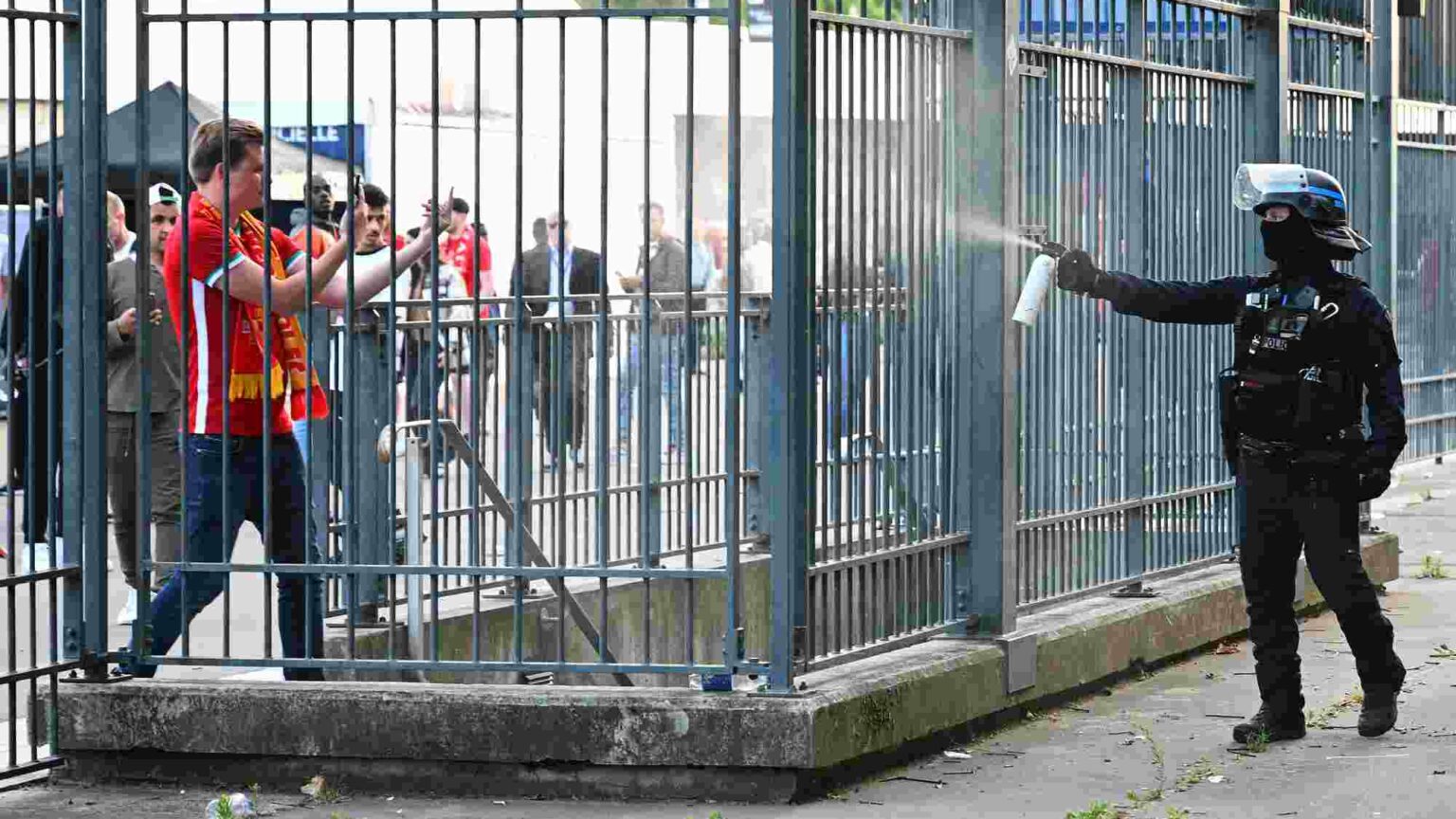 The Champions League final between Liverpool and Real Madrid should have been a joyous occasion for the 80,000 fans at the Stade de France in Paris. But for many of those supporting Liverpool, it turned into a nightmare.
A large number of Liverpool fans were unable to get into the stadium before kick-off, despite arriving hours earlier. By all accounts, the organisation was chaotic. UEFA and French police only let a trickle of ticket holders through the gates, claiming that many had been trying to get in using fake tickets. Either way, this created a bottleneck and left thousands of fans waiting patiently outside.
And it was there that the situation escalated. As supporters gathered outside the stadium, unable to get in, the police decided to disperse them, using tear gas, pepper spray, batons and shields.
The actions of the French police have prompted outrage in the UK. Even the British police present at the scene have defended Liverpool fans against accusations from the French police that they were behaving badly.
One ITV reporter claims the trouble stemmed from a catalogue of failures from the top, blaming UEFA, the stadium staff and the police. But the blame goes even higher, right up to the political leaders who have enabled French police to get away with such violence in recent years; namely, current French interior minister Gérald Darmanin, his predecessor Christophe Castaner and, above all, President Emmanuel Macron.
Known by many as l'abject Darmanin (Darmanin the sordid), he has been interior minister since 2020. So far he has been responsible for orchestrating the particularly harsh, repressive police response to the Covid-19 pandemic. At the pandemic's height, he mobilised hundreds of thousands of officers and issued millions of fines for minor lockdown breaches. He also sponsored the law against separatism – which has curtailed civil liberties in France under the pretence of combating Islamic extremism.
Darmanin's predecessor, Castaner, who was interior minister between 2017 and 2020, was arguably even harsher. He was nicknamed l'éborgneur (the blinder) by left-wing politician Jean-Luc Mélenchon after at least 24 people lost an eye at the hands of heavily armed police during the gilets jaunes protests. Castaner is remembered as a thuggish politician hell bent on cracking down on opponents.
Together, Darmanin and Castaner are responsible for pitching the police and sometimes the armed forces into battle against all manner of protesters and bystanders over the past five years. The Liverpool fans who faced the riot police on Saturday are merely the latest in a long line of people to have suffered under France's current security regime.
The weapons being used by French police are particularly inhumane. Two different types of tear-gas grenade used by French officers contain the explosive chemical, TNT. As a result, these grenades have caused permanent injuries to dozens of people since 2017 – with five people losing a hand. They have even been responsible for the death of an 80-year-old woman in Marseille, who was killed when she was struck on the head by a grenade fragment during a gilets jaunes protest. No officer has been sanctioned for her death.
Then there's the police use of ball launchers. Despite strict instructions to the contrary, the police have fired these weapons at the heads of protesters and left many blind.
While Darmanin and Castaner have played a huge role in creating this increasingly militarised security regime, responsibility should ultimately rest at the very top, with Macron himself. Year on year, he has increased the budget of the police, denied any allegations of police violence or brutality and silenced critics who argue that another policing strategy is possible.
Though Macron has invested a lot of money in the police and increased the number of officers on the streets, they have still often been overworked and undertrained. This might explain some of the excesses and mistakes of police during their handling of events.
Not that Macron will be too concerned. He increasingly relies on a strong police presence to suppress resistance to his structural reforms of French society. After all, it was Macron's tax on fuel that sparked the gilets jaunes protests. It was his insistence on pushing through labour reforms that led to clashes with trade unions. And it will be his determination to push through crushing pension reforms that will likely spark protests this autumn. Each time, Macron needs the police to deal with the strife his policies create.
Macron was not in charge of ticketing or crowd management at the Stade de France last Saturday. Macron didn't order the tear-gassing of Liverpool fans. But, make no mistake, it is Macron who has created a French police force that believes it can brutalise with impunity.
Charles Devellennes is a senior lecturer in political and social thought at the University of Kent and author of The Gilets Jaunes and the New Social Contract, published by Bristol University Press.
To enquire about republishing spiked's content, a right to reply or to request a correction, please contact the managing editor, Viv Regan.