Why the red wave turned out to be a trickle
The Midterms have shown that DeSantis, not Trump, is the future for the Republicans.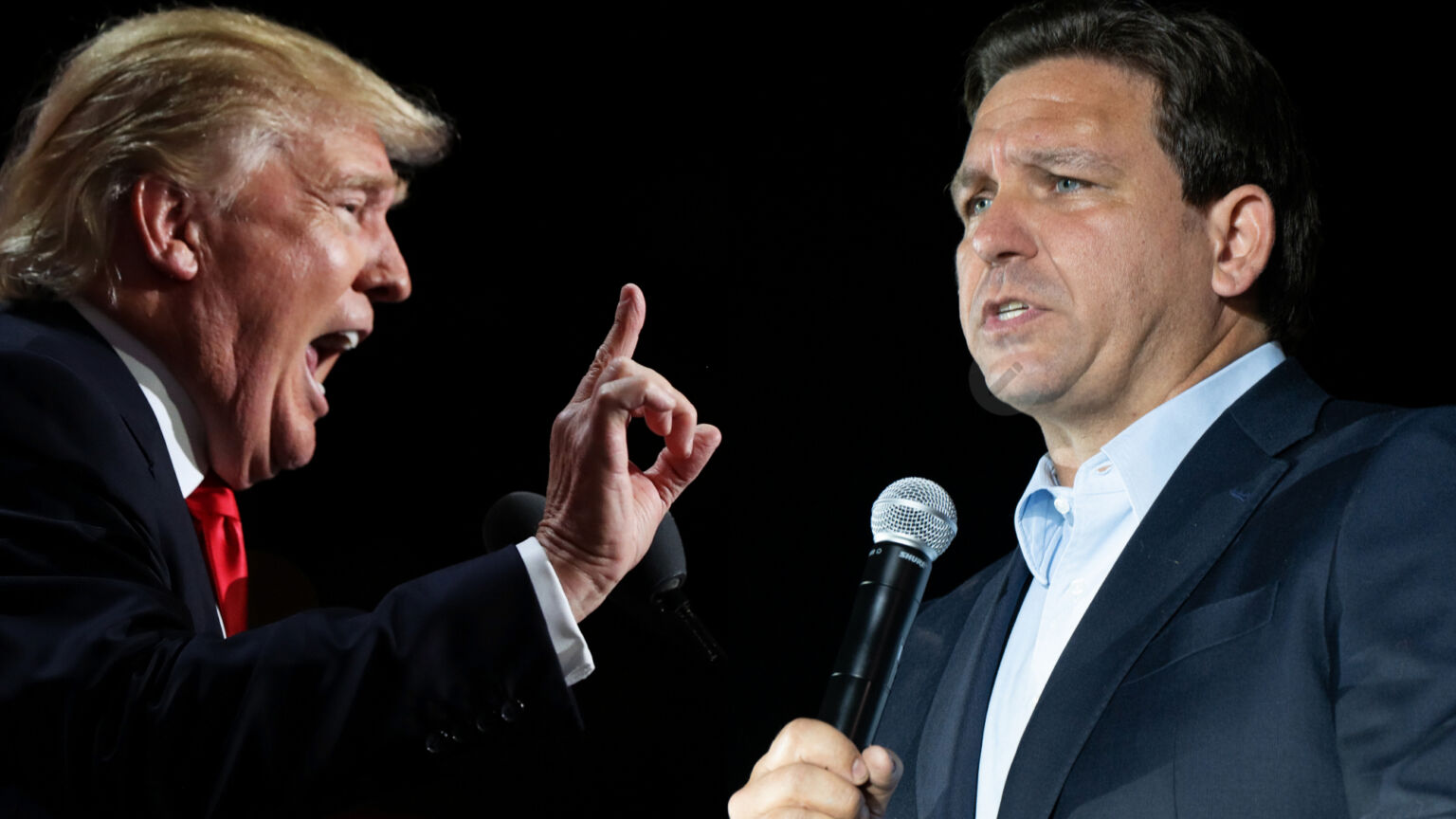 Republicans can take some positives from yesterday's Midterm elections. They will most likely regain control of the House of Representatives and there is, at the time of writing, a small possibility they can retake the Senate, too. But on the whole, the results have to be viewed as disappointing for them. Going into the Midterms, the broader nationwide trends suggested a potential Republican 'red wave'. Americans expressed low satisfaction with the state of the country, said they were hurting from inflation and gave President Joe Biden poor approval ratings – all trends that would normally lead to big losses for the party in power.
But these national trends didn't translate into strong Republican wins when it came to state and district elections across the country, especially in some key races. In the run-up to election day, Republicans were expecting to pick up about 30 seats in the House and obtain a three-to-four seat majority in the Senate. But they ended up falling below those expectations. In fact, they will be lucky to get more than a five-seat advantage in the House and they could end up remaining in the minority in the Senate. The Republicans also failed to win governor races in states they hoped to wrest from Democrats, such as Michigan and Wisconsin.
There are a number of potential explanations for these underwhelming results, but there is a big one staring Republicans in the face: Donald Trump. Trump remains unpopular among most Americans, especially among key swing-voting populations like independents and suburbanites. And he kept intervening in the campaign to remind people that he had not left the scene. He kept reminding voters that he remains a real disruptive threat. Indeed, he spread the word that he was going to announce a run for the presidency in 2024 shortly after the Midterms.
Trump's malign effect on Republicans in the Midterms was mainly felt in his endorsement of quirky, inexperienced candidates for key races. These candidates were mainly chosen on the basis of their loyalty to Trump and for endorsing his narrative that the 2020 election was stolen.
Many of these outsiders blew winnable races for the Republicans. In Pennsylvania, Republicans lost their Senate seat when Trump-supported TV doctor Mehmet Oz lost to John Fetterman. This was an especially embarrassing loss, given that Fetterman, who recently had a stroke, could barely string a sentence together in a recent TV debate. Also in Pennsylvania, Doug Mastriano, the Trumpist candidate for governor, was blown out by moderate Democrat Josh Shapiro. Other weak Trump-picked candidates for the Senate, like Don Boulduc in New Hampshire and Blake Masters in Arizona, also lost their contests badly. In Georgia, Trumpist candidate Herschel Walker seems to have underperformed in a state where a Republican governor, Brian Kemp, won by a landslide.
The bright spots for Republicans were their many re-election victories in the gubernatorial races. Some of their candidates were re-elected with large margins, including Ron DeSantis in Florida, Greg Abbott in Texas and Kemp in Georgia.
DeSantis' win was particularly impressive. Not that many years ago, Florida was a 'purple' state, divided between Democrats and Republicans. In 2018, DeSantis eked out his win for governor by less than a percentage point. But last night he won by about 20 points. Along with other Republican pick-ups in the House races, he has turned the former swing state decidedly red.
DeSantis was able to unite traditional and populist Republicans, and win over independents and Democrats. Among demographic groups, he was able to obtain a majority of Latinos, many of whom switched from the Democrats. He gained that broad support by showing both competence in office and a willingness to buck the medical and media establishment. Rejecting calls to lock down society during the Covid pandemic, DeSantis got people back to work and kids back into schools. Indeed, Americans migrated to Florida in big numbers to escape lockdowns in their own states. Over 100,000 New Yorkers moved to Florida in the past two years. DeSantis also swatted back the Democrats' culture war. He listened to parents' concerns about woke teaching in the classroom, and he took on those promoting it, like Disney and the teachers' unions. DeSantis's landslide victory shows that opposing wokeness through action, not just words, can bring political benefits.
A looming battle between Trump and DeSantis will force Republicans to decide which path they take for the future. Trump will no doubt be unhappy that DeSantis won. A few days ago, Trump made a lame dig at DeSantis, referring to him as 'Ron DeSanctimonious'. His opposition to DeSantis is purely petty and egotistical, rather than principled. Trump can't stand the fact that DeSantis has achieved success without kissing the Trump ring. The Midterms revealed that Republicans face a choice: either be a vehicle for Trump and lose, or follow DeSantis and others who have shown how to win.
Meanwhile, Democrats can console themselves that they did not lose as badly as they feared. But that is not saying much. They still lost control of at least one chamber of Congress. And the overarching negatives haven't disappeared. People are still unhappy with Biden and the state of the nation. The Midterm results showed two things simultaneously: the electorate don't like where the Democrats have taken the country, but they also don't fully trust the Republicans to fix the problems they experience.
After the Midterms, the US remains a deeply divided country. Negative partisanship – hating the other party more than liking your own – is still a big force. In the 2020 election, many voted for Biden to restore a sense of normalcy and to move on from the Trump years. But Biden hasn't delivered on that. In fact, his combination of green economics and woke policies has been even more disruptive than Trump, and has deepened social divides further. Now the 2022 Midterms have revealed that many Americans are dissatisfied with the Biden status quo, but don't think the answer is to go back to the Trumpist future. Who will grasp the nettle and drive American politics beyond this impasse? That question remains to be answered.
To enquire about republishing spiked's content, a right to reply or to request a correction, please contact the managing editor, Viv Regan.