Joe Biden: the world's most dangerous trans activist
The US president is using the full force of the state to promote this divisive and damaging ideology.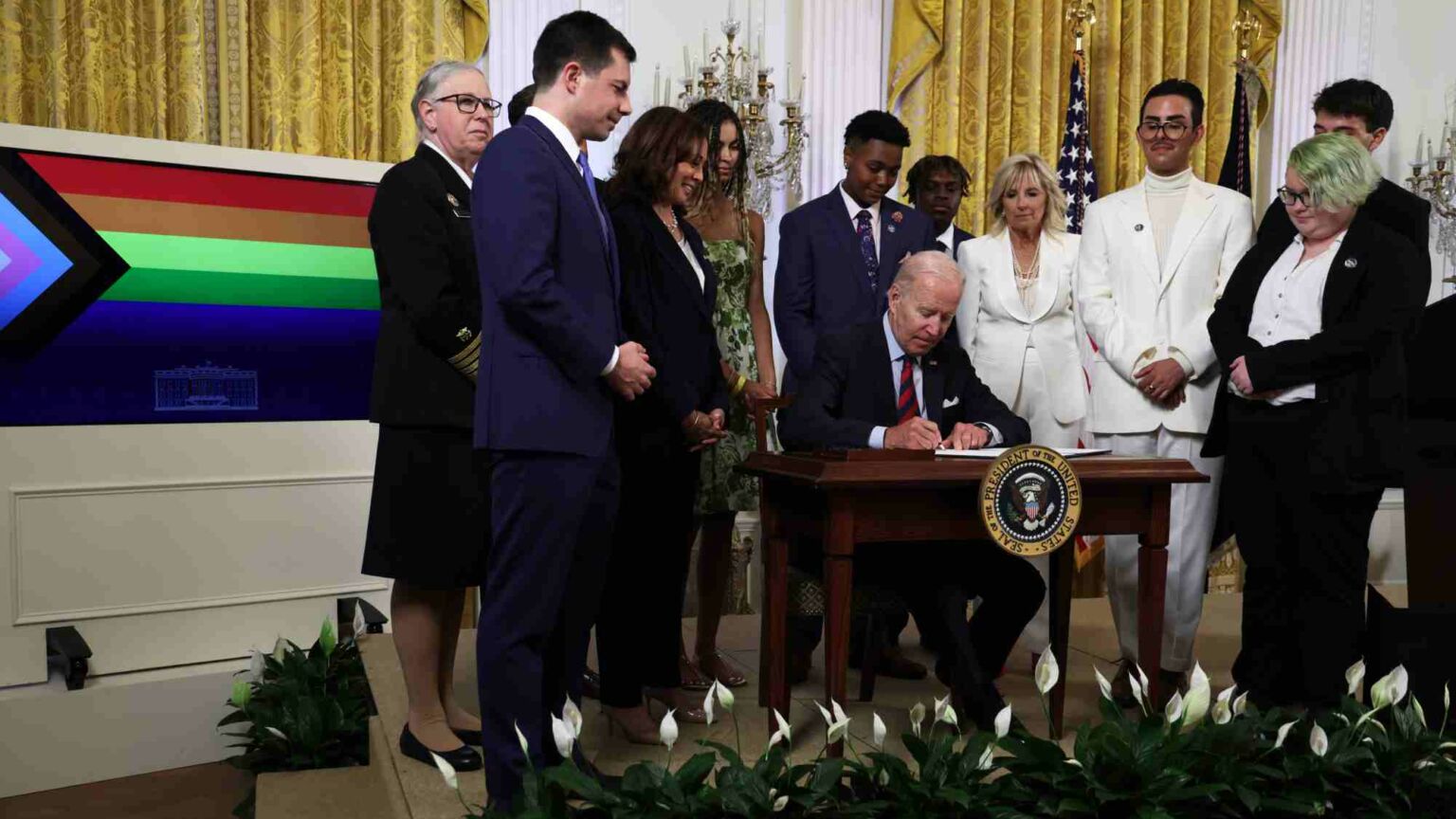 Joe Biden seems to have no idea how to respond to America's big challenges. Facing inflation, a border crisis and rising crime levels, he's frozen like a deer caught in headlights. Not even approval ratings below those of his predecessor, Donald Trump, seem to rouse him.
But there is an exception, a cause that can turn this far-from-spry 79-year-old into a whirlwind of activity: transgenderism. From the moment he arrived in the White House, Biden has acted like a man on a mission when it comes to gender identity, issuing executive orders and directing government agencies to find ways to spread this ideology. As Biden himself said earlier this year, his administration is committed to promoting gender ideology 'in the classroom, on the playing field, at work, in our military, in our housing and healthcare systems – everywhere, simply everywhere'.
Last week, Biden even used the 50th anniversary of Title IX – the law that prohibits sex discrimination in schools and universities that receive federal funding – to promote his trans agenda. Title IX has been rightly credited with expanding women's participation in educational programmes and especially in sports. The anniversary should have been a celebration of women's achievements over the past half-century. But it was spoiled by the Biden administration's proposed amendments to Title IX regulations, which 'clarify' that 'sex' now includes 'gender identity'.
In practice, the proposed new Title IX regulations mean that gender identity will replace sex. This will, at the very least, spell the end of women-only athletics. As the proposed regulations state, 'preventing someone from participating in school programmes and activities consistent with their gender identity would cause harm in violation of Title IX'. That means there would be no preventing Lia Thomas and other mediocre male athletes from taking medals from women competitors. Nor would there be any grounds for stopping male athletes from flashing their male genitalia in the women's locker room. Female athletes will risk expulsion from their sport if they complain about it. Sorry, ladies, you had a nice 50-year run, but Joe says time's up.
And in the week before the Title IX rewrite, Biden signed an executive order instructing his administration to 'promote expanded access to gender-affirming care' and end 'conversion therapy' for minors who identify as transgender.
This directive is riddled with Orwellian language. 'Gender-affirming care' sounds sunny and positive, but it can actually involve drastic, irreversible surgery – like removing a penis or adding a fake penis with tissue from other parts of the body ('phalloplasty') – and pumping the body full of hormones. Furthermore, there's limited evidence to suggest that sex transitions address the individual's underlying distress. For example, a recent study of transitioning, which looked at the world's largest data set on sex-reassignment procedures, found that 'such procedures do not bring the promised mental-health benefits'.
Such concerns are especially acute when it comes to children, who are not mature enough to consent to such severe, permanent and life-changing treatment. But, according to the Biden administration's new guidance, any questioning of a child who says they might be trans is a form of 'conversion therapy'. So, a family member or therapist who tells a child 'let's wait a while and see', or who tries to encourage a child to be comfortable with his or her body, is, in the eyes of Biden and transgender activists, engaged in conversion therapy – in other words, they're just as bad as those anti-homosexual conversion therapists who want to 'pray away the gay'.
There is growing evidence that the vast majority of children with gender dysphoria who do not take puberty blockers will eventually embrace their natural sex. Even the New York Times has admitted that affirmation of gender identity is not universally accepted among medical professionals.
But Biden is willing to ignore all this. A child expresses doubt about her sex, and the Biden administration demands immediate action: here you go, kid, declare a new pronoun, take these drugs, and book your surgery. No questions can be asked, especially by parents, who, in some states, may lose custody of their child if they don't go along with his or her chosen gender identity.
Biden is an unlikely gender revolutionary. His is a career marked by shilling for credit-card companies in his home state of Delaware; being an unremarkable senator with an unconvincing working-man ('Scranton Joe') shtick; and plagiarising (of all people) British Labour politician Neil Kinnock. He is famed for his 'ability to fuck things up', as Obama famously put it.
It's hard to see why Biden of all people has embraced a radically subjective ideology that says sex is not real but 'assigned at birth', and claims that people are 'born in the wrong body' and can declare they are something else. Yet this 'devout Catholic' has seemingly embraced every inch of this worldview. So now he's adamant that kids must take experimental drugs and undergo treatment if they so much as vaguely question their sexual identity. It seems Biden is simply determined to subject American society to a huge social experiment.
Whatever his motivation might be, the amount of damage that Biden can do as gender activist-in-chief should not be underestimated. His administration has already produced an overwhelming array of policies promoting gender ideology in areas such as employment, healthcare, schools and athletics, which are already having negative consequences for women and children in particular. He has issued the first White House Proclamation for Transgender Day of Visibility, his State Department has introduced an 'X' gender marker on passports, and he has ordered the Pride flag to fly on the same pole as the US flag on embassies and consulates around the world. Plus, he has incorporated a veritable army of radical transgender activists within his vast bureaucracy.
A doddering, barely cognisant man is leading the charge into the Brave New World of transgenderism. It would be a joke if he didn't command the full force of the most powerful state on Earth.
To enquire about republishing spiked's content, a right to reply or to request a correction, please contact the managing editor, Viv Regan.