Joe Biden's climate bill is gaslighting the nation
The green-tinged 'Inflation Reduction Act' won't cut prices or carbon emissions.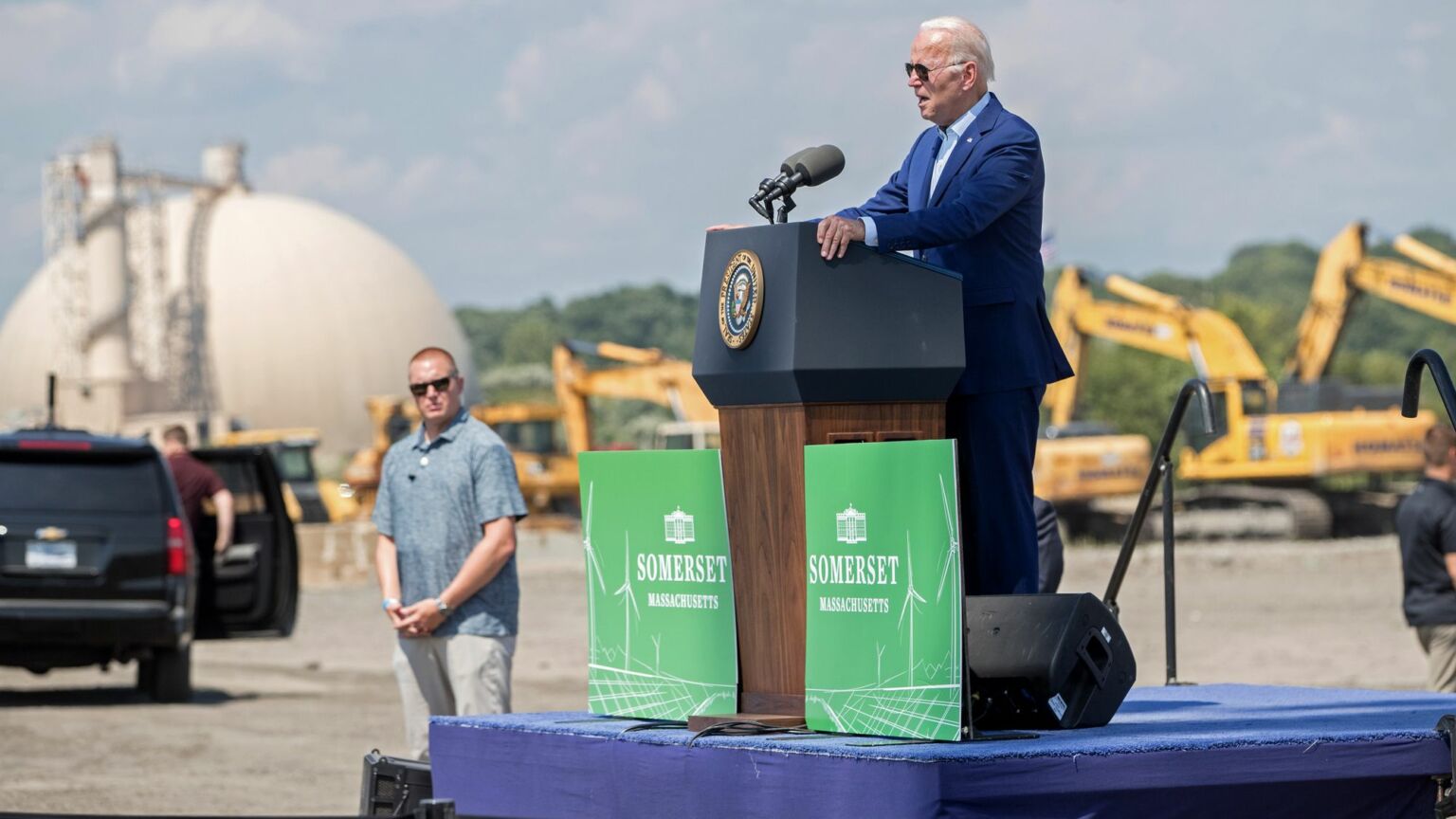 For American workers struggling with the rising cost of living, last week brought more bad news: the economy contracted for a second quarter in a row. By the conventional definition, this means the US is in recession. The arrival of a slowdown in growth and higher inflation – what's known as 'stagflation' – suggests that the everyday challenges facing workers are not likely to end soon.
But for the White House and its friends in the pundit class, last week was a wonderful one for Joe Biden. 'Joe Biden is back in the game', declared Politico. 'After enduring a brutal year dominated by economic angst, legislative setbacks and sinking approval ratings, the president is suddenly on the verge of a turnaround that, the White House believes, could salvage his summer – and alter the trajectory of his presidency.'
Big if true, as they say. The source of this supposed 'turnaround' for Biden was an unexpected legislative deal forged between senator Joe Manchin, a centrist Democrat, and Chuck Schumer, leader of the Democrats in the Senate. Manchin, who blocked Biden's multi-trillion-dollar 'Build Back Better' spending package last December, agreed to a significantly trimmed-down version that calls for $433 billion to be spent on environmental programmes and healthcare subsidies, while claiming to raise $739 billion via tax increases and other measures.
The idea that this climate bill will transform Biden's presidency is delusional. For a start, the Democrats are counting their chickens. The Manchin-Schumer bill has yet to be voted on. And it's still not known whether maverick Senator Kyrsten Sinema will support it. To pass the Senate, which is split 50-50 between the parties, all Democrats must vote in favour. The bill must then pass the House, where there are already rumblings from some progressives who don't believe it goes far enough to combat climate change.
But even if it does pass, the bill is unlikely to have much impact. It won't transform the economy, nor will it have much influence on the climate. And most importantly for Biden's approval ratings, it will not raise workers' living standards.
Strikingly, the Democrats have dubbed the bill the 'Inflation Reduction Act' – only the latest example of their Orwellian word games. Only last week the Democrats ducked reports of a recession by claiming the definition had changed. Now they are pretending that the Manchin-Schumer bill will magically reduce inflation simply because of its name.
If only it were that simple. In fact, a University of Pennsylvania study suggests the bill will cause a slight increase in prices over the next few years. Even in the long term, the effect on inflation predicted by the model is 'statistically indistinguishable from zero'.
Nor will the bill encourage growth – if anything, it risks making the recession worse. Investment has already been made costlier by higher interest rates from the Federal Reserve, and the bill's new taxes on business will discourage investment further.
Today's inflation is largely driven by supply-side factors. And nowhere is greater supply needed than in the energy sector. Manchin, who represents the coal-mining state of West Virginia, sensibly argues against 'removing dependable and affordable fossil-fuel energy before new technologies are ready to reliably carry the load'. But the bill will do nothing to increase supplies of energy, either from fossil fuels or renewables.
It's true that Manchin won some concessions on the fossil-fuel front. The bill requires the federal government to auction off more public land and water for oil drilling. It expands tax credits for carbon-capture technologies that could keep coal or gas power plants operating. And it extends tax credits to existing nuclear power plants. Manchin also says he won a commitment from Democrats to vote on a separate bill that would speed up the permit process for infrastructure like natural-gas pipelines.
Unfortunately, the nods towards oil, gas and nuclear in the bill are not likely to lead to the substantial increases in energy production that are needed to stave off the energy crisis. And the resources the bill promises to these energy sources are far outweighed by those devoted to solar and wind technologies.
'To be sure, the bill is tilted towards renewables', says environmental writer Michael Schellenberger. 'It includes tens of billions in tax credits to build solar panels and wind turbines in the US, tens of billions in grants and loan guarantees for renewables, and billions for energy efficiency.'
Even when it comes to developing renewable energy, the strategy behind the Manchin-Schumer bill isn't serious. Rather than invest in research and development for all potential sources of energy, the bill is filled with pork-barrel handouts – just with a 'green' veneer. Its tax giveaways betray a short-term emphasis on wind and solar, as well as a desire to prop up investors in green ventures like electric vehicles. No doubt wealthy Americans, who have flocked to the Democrats in recent years, will appreciate a $7,500 discount on their luxury green status symbol. But a 'Tesla Discount Act' will not help ordinary Americans struggling to pay for a tank of gasoline.
So, will the bill at least be worthwhile for its impact on climate change? The New York Times has hailed it as 'the most ambitious action ever taken by the United States to try to stop the planet from catastrophically overheating'. This follows the Biden administration's pledge to reduce emissions by 40 per cent by 2030, compared with 2005 levels. Once again, commentariat hype does not reflect reality. The bill will not do much to curb carbon emissions. The strong progress the US has already made towards this goal is mainly thanks to fracking, not renewables. In any case, even if Biden's reduction goal is met by 2030, the impact on global emissions would still be negligible, according to climate scientist Roger Pielke Jr.
The bigger issue is that Biden and the Democrats are placing their bets heavily on wind and solar. These technologies might, after subsidies, look low-cost compared with coal and gas. But they remain notoriously intermittent sources of electricity – more 'unreliables' than 'renewables'. Any shift towards these alternative power sources inevitably creates gaps in supply. Just look at Germany and those other European nations that have tried to shift towards wind and solar, only to find themselves turning back to fossil fuels. The immediate cause of Europe's current 'coal-buying frenzy' is Russia's war in Ukraine, but the US will be equally vulnerable if it follows Europe's lead and leans too heavily on these unreliable sources of energy.
Don't count on this bill, if it passes, leading to a Biden comeback. The reality is that people are struggling with the high cost of living and the economy is in recession. Most Americans think the country is off-track and Biden's approval ratings are dreadful. The Manchin-Schumer bill won't change those fundamentals. Pinning such high hopes on a single climate bill smacks of desperation, and shows how out-of-touch Biden and his team are with the concerns of working Americans.
Sean Collins is a writer based in New York. Visit his blog, The American Situation.
To enquire about republishing spiked's content, a right to reply or to request a correction, please contact the managing editor, Viv Regan.