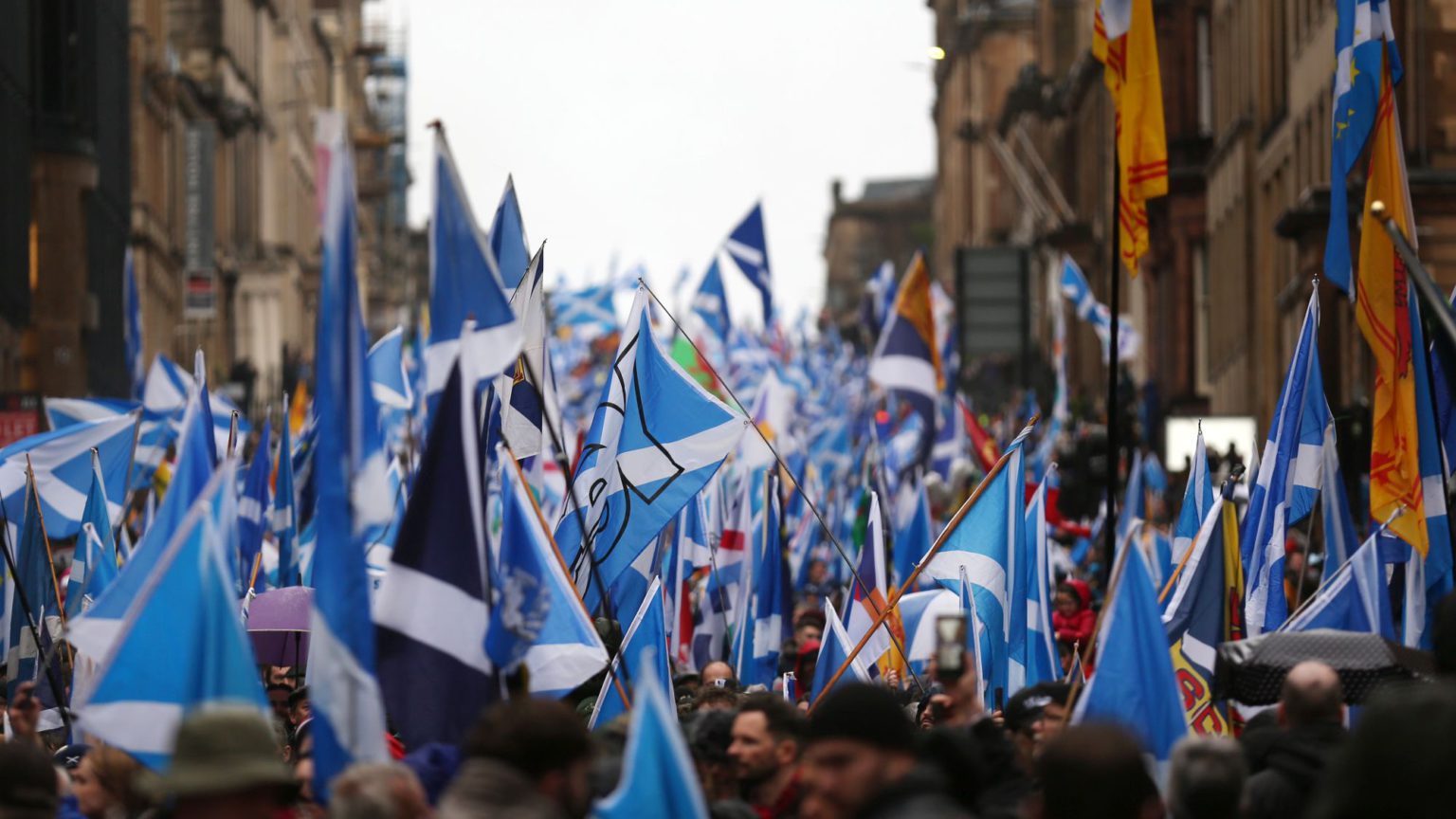 Independence for Not-England?
The case for Scottish independence is now built on shallow anti-Toryism.
On 12 May 1999, veteran Scottish nationalist politician Winnie Ewing opened the new Scottish Parliament with the words, 'the Scottish Parliament, adjourned on the 25th day of March in the year 1707, is hereby reconvened'. It was a nice piece of rhetoric to add gravitas to the occasion, but it was not really true.
The new parliament was not the legislature of an independent nation like that of 1707; it was and is a devolved legislature within the United Kingdom. But that was not the key difference. More importantly, since 1999, the Scottish Parliament has been democratically elected by the Scottish people, just as the UK parliament is democratically elected by the British people, including those in Scottish constituencies. In contrast, while the Scottish Parliament of 1707 'represented' the shires, burghs, regional earldoms and landed estates of the country, it was certainly not elected by citizens; nor, of course, was the English parliament, either before or immediately after it became the British parliament.
Modern democracy as we know it emerged from popular struggles up and down Britain, but the political focus was on the parliament at Westminster, which was gradually transformed from an unrepresentative and often corrupt platform for Britain's ruling class into a democratic legislative elected by men and women of all classes and required to reflect their interests and concerns. After the General Election of 1922, in which the insurgent Labour Party won ten of Glasgow's 15 seats, thousands of supporters gathered to watch their representatives take the night train to London, and were told by one of them, James Maxton MP, that 'they would see the atmosphere of the Clyde getting the better of the House of Commons'.
That feels like a very long time ago. More characteristic of our times are the protesters who turned out to 'welcome' Boris Johnson to Orkney in late July, by making clear that neither he nor his government represented them, or Scotland. The backdrop to the prime minister's visit was polling that indicated a majority of Scottish voters now favour complete independence, and while Johnson made a bullish defence of the Union, it is unlikely that his intervention will have won many hearts and minds. Forty-eight of Scotland's 59 Westminster seats are currently held by the Scottish National Party (SNP), whose MPs only reluctantly travel south because that is where power lies. Their agenda is not to get the better of the House of Commons, but to get out of it.
Watching those 48 nationalist MPs struggle to get a hearing in a parliament of 650, it seems obvious that Scotland is condemned to junior partner status as long as it is part of the UK. Surely the case for independence is obvious? But this is to forget that for most of modern history, the majority of Scottish voters did not vote primarily as Scottish voters, but instead as supporters of one of the two main UK parties. As recently as the 1950s, Scotland narrowly favoured the Tories (a well-hidden skeleton in the cupboard). In the latter half of the 20th century, Scottish politics was almost synonymous with Labour politics. It is the demise of Labour in particular that really accounts for the rise of the SNP and the appearance of Scottish exceptionalism.
The irony is that the demise of Labour also robbed Scotland of its long-standing political identity. The Labour Party in Scotland had not embodied the radical 'atmosphere of the Clyde' for generations, but as long as it remained avowedly socialist, it offered a distinctive political vision that also connected its voters with Labour voters in England and Wales. What's left after the rise and fall of New Labour is little more than a sentimental 'progressivism' tempered by visceral anti-Toryism. Both have been successfully appropriated by the SNP, who were once derided as 'Tartan Tories' but now claim, without much substance, to embody Scotland's left-wing heritage.
Arguably, though, the political identity represented by the SNP is better defined by what it is not: not Tory, not English, not like Boris Johnson and the people who voted for him. The case for Scottish independence is increasingly based not on any kind of Scottish exceptionalism, but on English exceptionalism, the idea that there is something fundamentally wrong with Scotland's southern neighbours. And it seems to be a vote-winner.
British jingoists once derided the prospect of Scotland giving up greatness to become 'just another small European country'. The fact is, most supporters of Scottish independence would take your arm off to be just another small European country: Ireland, Denmark, the Netherlands, the Czech Republic, just nothing like England. And, of course, to remain in the European Union. Bewilderment and frustration that so many English people voted for Brexit, and then, even after three years of non-stop wailing against Brexit, for a Tory party promising to deliver it, is probably the biggest single factor behind the recent rise in support for independence.
In fact, some suggest any democratic deficit in the EU is more than matched in the UK itself. Why should Scots object to decisions being made at EU level when they have so little control over what happens at UK level? But, again, this takes for granted Scotland's minority status, as if Scottish voters have never formed part of the UK majority in political rather than national terms. And it neglects the fact that there is no mechanism for voters to form a pan-national majority at EU level. There are no genuine European political parties; there is no European polis, and the EU is not interested in fostering one.
In any case, more than a million Scottish voters (38 per cent) also backed Brexit, while – does anyone need to be reminded? – nearly half of English voters opposed it. Indeed, the English political establishment, including the Conservative Party, was solidly pro-Remain at least until 2016, and effectively until December 2019. So Brexit hardly provides a neat dividing line between Scottish and English political opinion.
The SNP might even be seen as a kind of Continuity Remain party, embodying the common sense of the British establishment as a whole before the 'madness' of Brexit. But that common sense is unstable. Lacking a strong political vision of its own, 'sensible centrism' has a tendency to co-opt wholesale elements of more dynamic, if questionable, agendas.
Think of the way the transgender and Black Lives Matter movements have been uncritically adopted by political parties, corporations and cultural institutions like the BBC. Once uncontroversial ideals like equality and anti-racism, precisely because they are taken for granted and not really thought about by well-meaning liberals, have been redefined by activists who have the passion and energy that mainstream politics lacks. Suddenly, to care about equality means accepting a whole new theory of gender; to be anti-racist is to believe we live under 'white supremacy' and all the rest of it.
In the case of the SNP's Holyrood government, there have been a number of initiatives that are far from common sense. These include the ill-fated Offensive Behaviour at Football Act, the also ill-fated and even more Orwellian Named Person Scheme, and most recently the Hate Crime Bill, which contrives to replace an existing blasphemy law with something even more censorious. All seem superficially well-intentioned, but in substance are deeply authoritarian, treating the Scottish people not as a demos to be heeded but a problem to be managed.
The Holyrood parliament, even with limited powers as a devolved legislature, is infinitely more democratic in formal terms than was the parliament of pre-Union, independent Scotland. That is testament to the hard work and devotion of those who campaigned to make it happen, as well as to the earlier generations who built the foundations of modern democracy at UK level. But from its inception in 1999, Holyrood has been haunted by the question of what Scottish democracy might mean beyond Labour politics. And the electoral success of the SNP has far more to do with the negative appeal of not being English or Tory than any positive vision for Scotland. That is probably why the most notable features of SNP rule have been these experiments in authoritarianism, which have very little to do with most voters' own concerns.
Writing in opposition to Scottish independence before the referendum in 2014, I conceded that whatever economic difficulties it might face, Scotland is as capable as any other small country of being independent. Even if the prospects are worse now – post-Brexit, post-Covid, post-oil – than in 2014, the point stands. Scotland is not 'too wee' to be an independent country – if that's what its people want. Indeed, it feels necessary to emphasise that latter point now in a way it did not in those more innocent days before the Brexit referendum. If, one way or another, the Scottish people vote explicitly for independence, Scotland must become independent: no 'it was advisory!', no 'they didn't know what they were voting for!', no 'confirmatory referendum on the final deal'.
Ultimately, though, the question facing Scottish voters is no different from that facing their English neighbours. Unencumbered by the technocratic constraints of the EU – and, if necessary, unencumbered by each other – what do we want from democratic politics? If we can answer that, perhaps the most appropriate constitutional arrangements will suggest themselves.
Dolan Cummings is the author most recently of Gehenna: a novel of Hell and Earth.
To enquire about republishing spiked's content, a right to reply or to request a correction, please contact the managing editor, Viv Regan.