The perils of Suella Derangement Syndrome
The liberal elites would rather make excuses for anti-Semites than admit Braverman had a point.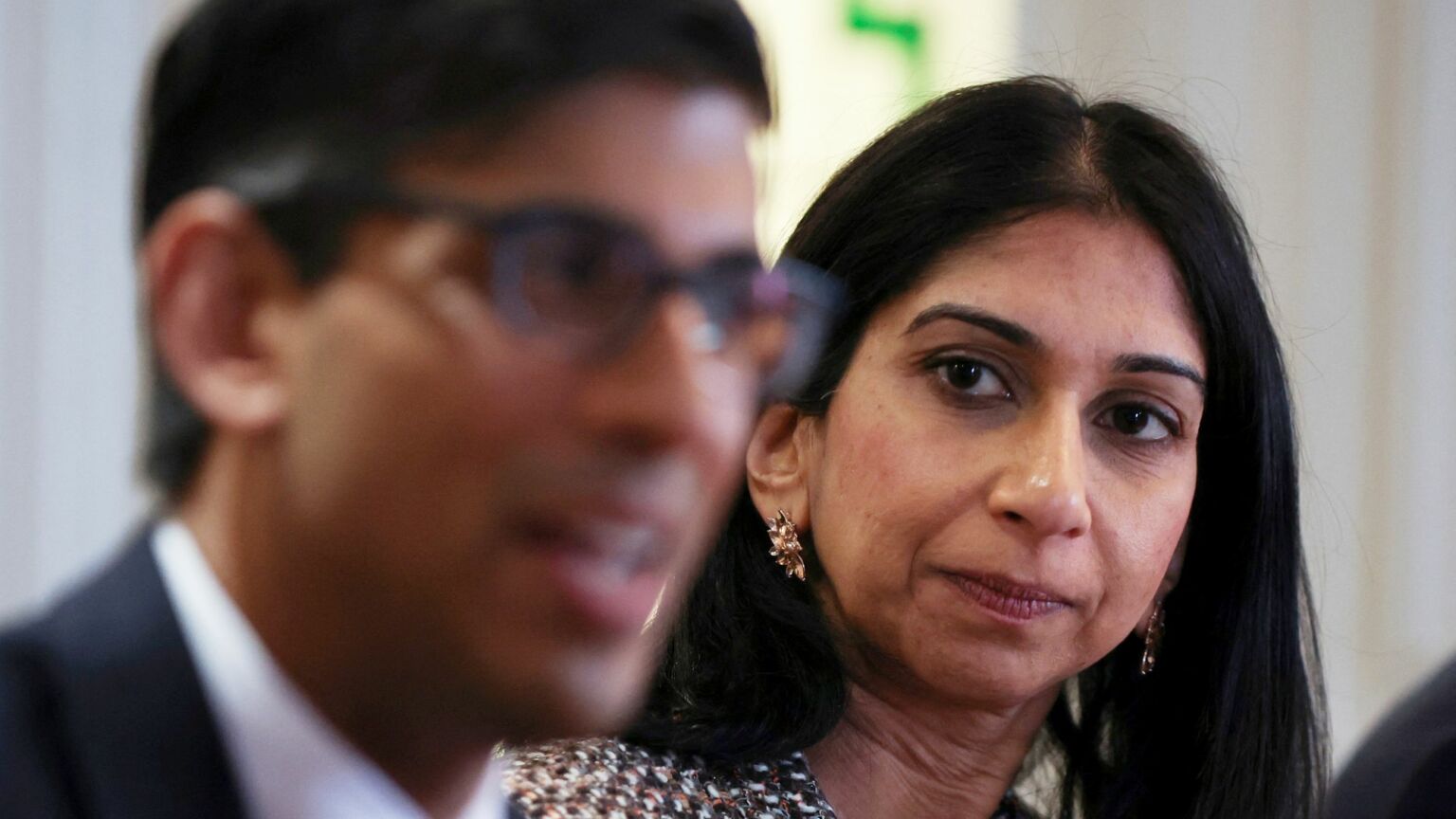 For many among the UK's political and media elites, opposing everything Suella Braverman says and does has become an instant reflex. If Suella says up, they say down. If Suella says wrong, they say right. And as the events prior to Braverman's sacking as home secretary today illustrate, this obsessive hatred of her can lead us to some very dark places.
Last week, Braverman penned an article in The Times slamming London's Metropolitan Police for failing to be 'even-handed' in their treatment of protesters. She called out the ludicrous double standards whereby the police treat 'pro-Palestine' protests – which she referred to as 'hate marches', on account of all the anti-Semitic hate that has been expressed on them – with kid gloves. Meanwhile, those who march for less fashionable causes, such as anti-lockdown protesters, are read the riot act.
Inevitably, because it was the reviled Braverman making these points, the reaction was swift and furious. Labour leader Keir Starmer slammed her for describing the Palestine demos 'in the language of "hate"'. He accused her of 'whipping up division, setting the British people against one another and sowing the seeds of hatred and distrust'. Shadow home secretary Yvette Cooper told the House of Commons that Braverman should be sacked for daring to criticise the police. Cooper argued that Braverman's comments about the Met's double standards were a threat to their 'operational independence'. Similar arguments were copied, pasted and tweeted by every mainstream-media hack. Today, PM Rishi Sunak finally bowed to the pressure and sacked Braverman as home secretary.
It's hard to overstate how grotesque this all is. The supposedly sensible wing of politics spent much of last week lining up to denounce Braverman for speaking out a bit too harshly against some of the worst racial hatred we have seen expressed on London's streets in decades. The need to constantly posture against Suella seems to have blinded many in our elites to the fact that these 'pro-Palestine' demos really are 'hate marches'. It's not just that every single one of these protests happens to attract floods of cranks waving anti-Semitic placards, chanting genocidal slogans or glorifying terrorism – many of the organisers can legitimately be described as hateful, too. At least half of the groups responsible for last weekend's March for Palestine have links to Hamas – the terrorist organisation responsible for the 7 October pogrom in Israel. Yet, according to the Suellaphobes, she is the real hate-monger here, simply for calling out this bigotry for what it is.
As for Braverman's comments on the police, the evidence of the Met's double standards is similarly overwhelming. Writing anonymously in the Daily Mail, one Met officer claims he and his colleagues have been ordered to police the Palestine marches 'with the lightest of touches', whereas those who protested against lockdown 'were robustly dealt with by officers in full riot gear'. It is also impossible not to notice how expressions of anti-Semitic hatred seem to be exempt from the UK's otherwise wildly draconian hate-speech and public-order laws. In Britain in 2023, police will smash down your door if you misgender someone online, but will look the other way if you call for 'jihad' against Israel. But, again, because it was Suella raising these questions, the great and good dismissed the problem out of hand and raged against her instead.
Cooper's criticism makes no sense on its own terms. She seems to think it is wrong for the home secretary to hold the police to account. What if the issue at hand was different – like racial profiling? Would criticising the police over that question compromise their 'operational independence'? The fashion for Suella-bashing has led people to take absurd and untenable positions, so desperate were they to oust this right-wing home secretary who offended their sensibilities.
Now, none of this is to say that Suella was an outstanding home secretary beloved by the public, as some on the right are now claiming. Polling suggests she is widely disliked by voters and it is hard to name anything she has achieved in office. She seems to revel more in stirring up controversy than in actually making political change. Nevertheless, the fact that her every utterance, including those which are self-evidently true, prompts such an intense and furious reaction says far more about our liberal elites than it does about her.
You don't have to be a fan of Suella – I'm certainly not – to see that Suella Derangement Syndrome is a big problem. Anti-Semitic hatred is spilling out on to Britain's streets. And the liberal elite's response has been to help oust the home secretary because she spoke out of turn about the police. They have treated the controversial Conservative as the real problem our nation faces. This is one big displacement activity, to avoid confronting the real menace in our midst. And deep down, they know it.
Fraser Myers is deputy editor at spiked and host of the spiked podcast. Follow him on Twitter: @FraserMyers.
To enquire about republishing spiked's content, a right to reply or to request a correction, please contact the managing editor, Viv Regan.