How 'hate speech' laws appease the oldest hatred
UK authorities cannot be trusted to police what we say, see or think.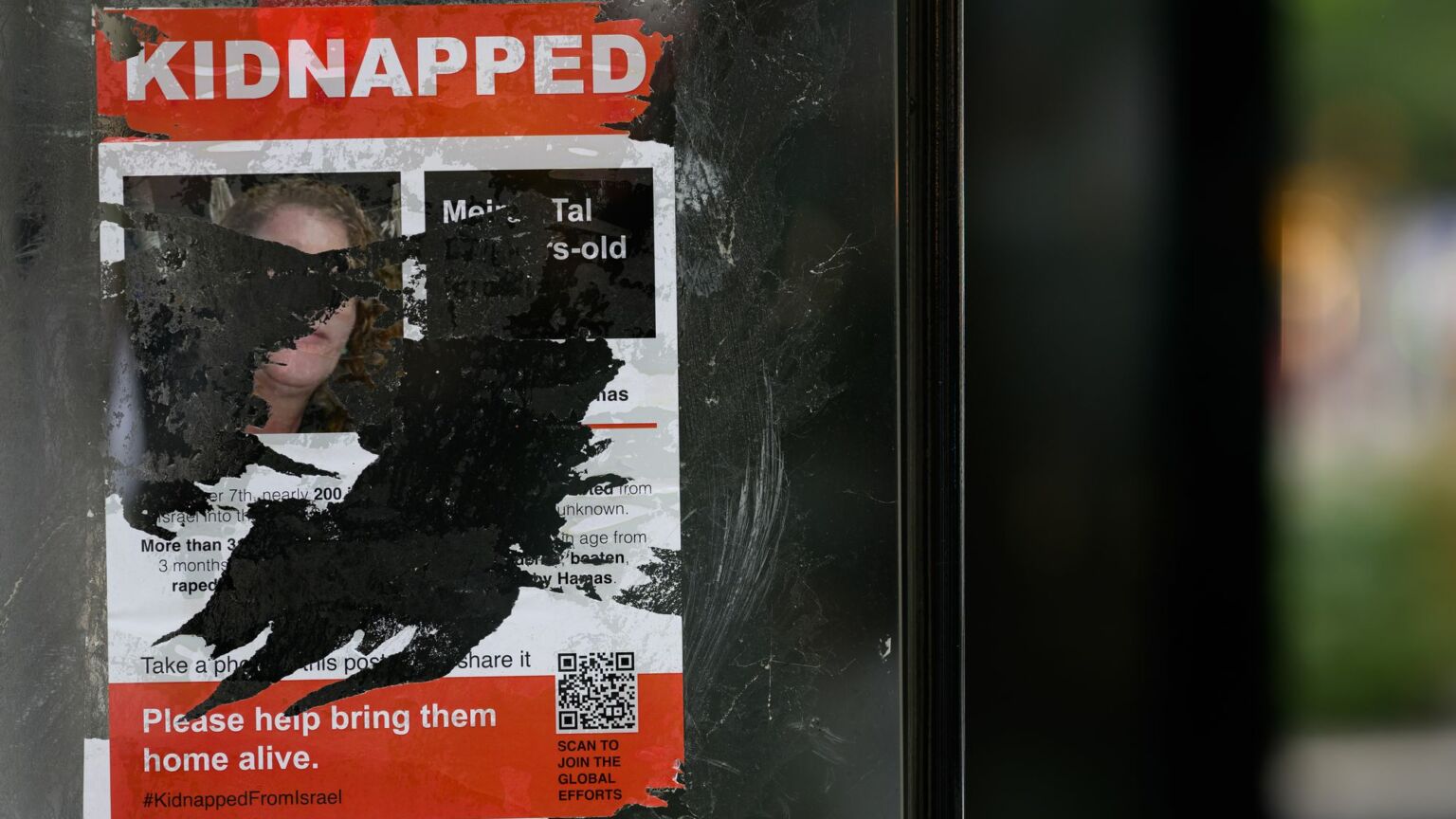 The tumultuous weeks since the Hamas massacres of 7 October have exposed a lot of delusions about politics and culture in our nominally free, civilised society. One fallacy that should have been thoroughly exposed is the myth that 'hate speech' laws and other restrictions on free speech can help combat racism and promote tolerance.
Instead, what we have seen is the law being used to appease the forces of radical anti-Semitism, by clamping down on pro-Israeli and anti-Hamas messages.
The stomach-churning spectacle of thousands of Islamists and their useful idiots on the Islamo-left parading their poisonous worldview through London and other cities has angered many people. As they chant for 'jihad' on our streets, there are rising demands in media and political circles for the police and the law to do more to stop them.
Tory home secretary Suella Braverman has asked police chiefs to take firmer action, and there is talk of broadening the scope of Britain's laws against incitement and so-called hate speech.
As ever with demands for restricting free speech, one central question is: who decides? Who are we supposed to trust to draw the line? And the past few weeks have demonstrated that it is the height of naivety to imagine that further empowering the institutionally woke UK police and prosecutors to control freedom of expression could be anything but bad news.
Instead, the British authorities have been wielding hate-speech and public-order laws to police anti-Hamas opinions and silence those few voices speaking up against the rising tide of anti-Semitism on our streets.
The Metropolitan Police came under fire this week after its officers were filmed tearing down posters featuring Israeli citizens kidnapped by Hamas terrorists on 7 October. Police officers tore the 'kidnapped' posters off the closed shutters of a pharmacy in Edgware, an area of north London with a large Jewish population. Reports said that the CEO of the company that runs the chemist's shop had earlier branded Israelis as 'filthy animals' on social media.
The Met tried to excuse their inexcusable actions as designed to 'avoid any further increase in community tension' and thus prevent possible public-order offences. Others among us might see it more as the thoughtpolice placating anti-Semites and doing the Islamists' dirty work for them, echoing the actions of activists videoed tearing down 'kidnapped' posters elsewhere.
Adam Ma'anit – whose cousin, Tsachi Idan, was abducted by Hamas on 7 October, after the terrorists shot dead his 18-year-old daughter – said those who tear down posters featuring his cousin and other hostages 'are silencing one of the only ways we've been able to keep their plight fresh in the minds of people… Seeing police doing it, whatever the context, just made me feel even worse. There is no hate on those posters, they are just being used to highlight the plight of the hostages as the news cycle has long moved past the atrocities of 7 October.'
Nor was this a one-off incident. Earlier this week, Greater Manchester Police were also forced to explain why one of their uniformed Police Support Community Officers had been filmed tearing down the 'kidnapped' posters. GMP chief constable Stephen Watson had to admit that the officer had 'got it wrong' but insisted that he had been acting 'under instruction' – aka, only following orders – 'so there's nothing malicious in the intent of the officer'. So that's alright then.
Back in London, a week earlier, the Campaign Against Anti-Semitism (CAA) had sought to counter the message of the angry anti-Israeli protests in the city by organising a motorcade of vans, featuring images and ages of the kidnapped Israeli children alongside the hashtag #BringThemBack. The aim was to 'make sure London knows' about the over 200 hostages still held by Hamas.
As the convoy toured central London landmarks, it was stopped in its tracks by anti-Israel protesters apparently outraged by any attempt to highlight Hamas atrocities. When the police got involved in the confrontation, their response was not to clear the street, but to order the campaign volunteers to turn off the video billboards on their vans, or face charges for 'breach of the peace'.
CAAS chief Gideon Falter reported that 'the officers told our drivers to turn off their billboards and stop showing the faces of children kidnapped by a proscribed terrorist organisation, apparently because their sympathisers on British streets might attack us for showing them… We had worried that these billboards might attract attention from Hamas sympathisers. We never imagined that it would be the police who would stop us from showing the faces of children kidnapped by a terrorist group banned by the UK government.'
In east London, meanwhile, police were shown on X / Twitter raiding a house this week and taking a man away in handcuffs, under suspicion of a racially aggravated offence under Section 5 of the Public Order Act. It turned out he had been arrested for allegedly posting a Facebook video criticising the number of Palestinian flags being flown along the Bethnal Green Road, an area with a large Muslim community. The man filming says, 'Look at this crap here', as he zooms in on the flags flying from lampposts and road signs: 'You let them into this country and this is the shit they come up with.'
In its statement on the arrest, the Met insisted that: 'We take all allegations of hate crime incredibly seriously. Where offences have taken place, our officers are attending, supporting victims and making arrests – and we will continue to do so.' Some might question whether they treat 'all allegations of hate crimes' with equal seriousness, given that protesters in central London can display a placard showing the Jewish Star of David being dumped in a dustbin next to the slogan 'please keep the world clean' with apparent impunity, while others can be arrested for calling the Palestinian flag 'crap' on Facebook.
The double standards being applied by the British authorities are a disgrace to our democracy. The response, however, should not be to demand that the thoughtpolice apply the same standards and censor everybody across the board.
As I argued previously on spiked, it is far better for us to have it all out in the open, let the anti-Semitic poison come to the surface, rather than try to force it underground. Banning a slogan is not the same as winning an argument. Let us see where everybody really stands and where the new battlelines are drawn.
Supporting Hamas is an offence under anti-terror laws. But when it comes to speech, we need to keep a clear division between offensive words and criminal offences. Unless there is a clear and specific intention to incite violence, the law has no place trying to police expressions of hate or any other emotions.
No, the lesson of the past few weeks should instead be that we cannot trust the authorities with the power to police free speech. The knee-taking, rainbow-flag waving Metropolitan Police and the other woke-colonised bodies of the British state will take every opportunity to control what we are permitted to say, see or think.
In the midst of a struggle between civilisation and barbarism, now is the time to take the battle to the anti-Semites and their allies, to stand with Israelis at war and the besieged Jewish communities across the West. Let us take our lead from the (non-Jewish) New Yorkers who, seeing an anti-Israeli activist tearing down 'kidnapped' posters, told him in no uncertain terms to desist or else. Far better than inviting in the police to give him a hand.
Mick Hume is a spiked columnist. The concise and abridged edition of his book, Trigger Warning: Is the Fear of Being Offensive Killing Free Speech?, is published by William Collins.
To enquire about republishing spiked's content, a right to reply or to request a correction, please contact the managing editor, Viv Regan.