Yes, they are 'hate marches'
They are organised by Hamas fanboys and stuffed with anti-Semites. Stop making excuses for them.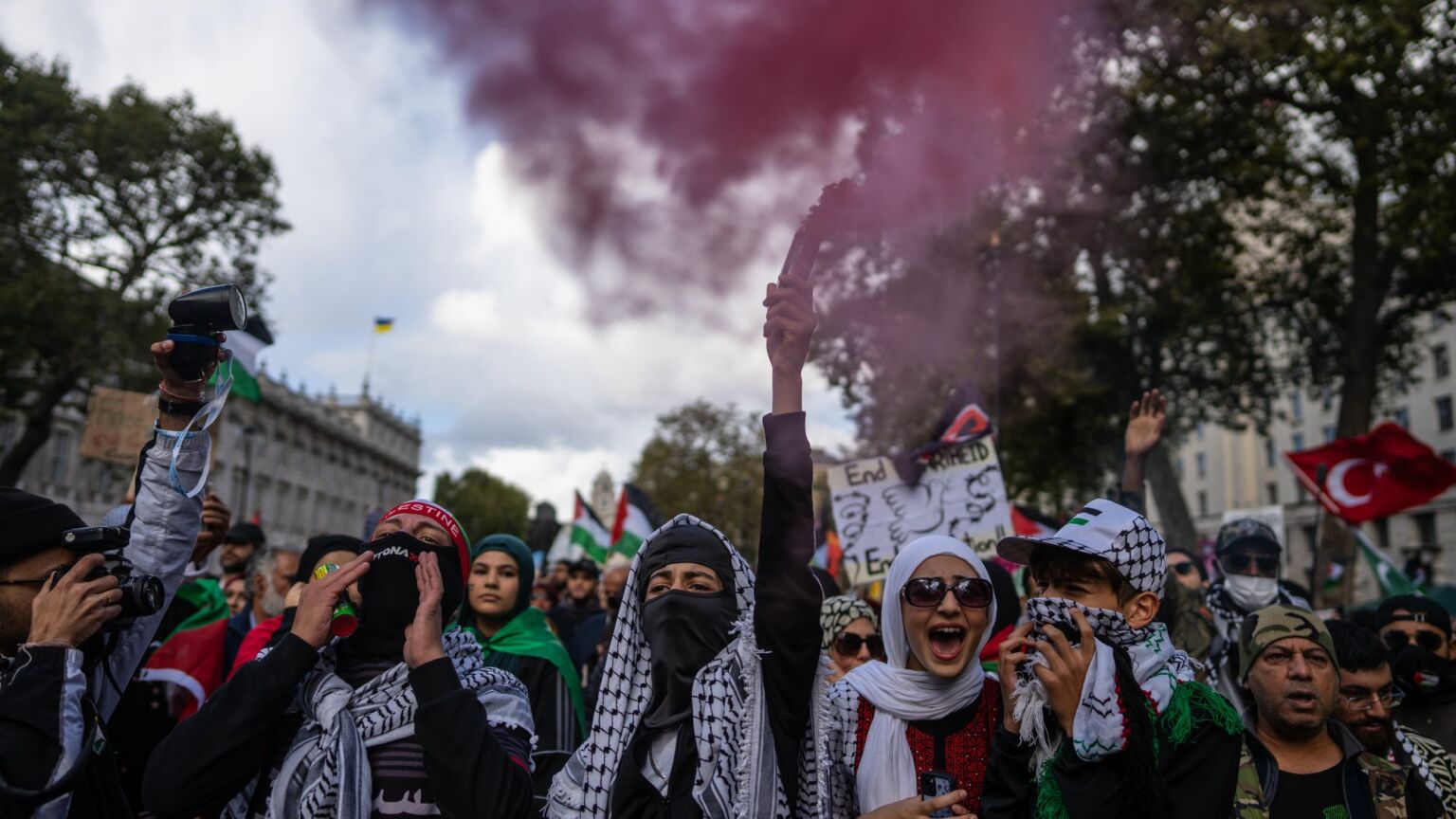 How dare you call them hate marches?! So goes the commentariat chorus this week, as London braces itself for another 'pro-Palestine' demonstration on Saturday, controversially coinciding with Armistice Day. With the British government keen to look tough on the capital's now weekly anti-Israel protests, which have time and again devolved into carnivals of Jew hatred, home secretary Suella Braverman has branded them 'hate marches' and piled pressure on the Metropolitan Police to ban this weekend's instalment.
Cue outrage from the liberal-left, for whom opposing Suella Braverman has become a substitute for thought. 'Marching and calling for a ceasefire and peace so that more innocent children don't get killed is not really the definition of a hate march', said the perma-smug Gary Lineker. 'Pro-Palestine rallies aren't "hate marches" – they're an expression of solidarity, helplessness and frustration', insisted one Guardian scribe. LBC's James O'Brien has accused Braverman of purposefully smearing these 'essentially peaceful' protests in order to gin up a far-right backlash.
Far be it from me to defend Suella Braverman. I'm no fan of her hardline anti-immigration politics. Plus, while she occasionally says something sensible, she's long struck me as a frustrated right-wing pundit posing as a serious politician, whose only achievements as home secretary have been successfully offending the easily offended with a few OTT tweets. But she's dead right about this. These marches are hate marches. And while I do not want them to be banned – we must defend the right to protest, even for those whose views we detest – nor can we ignore the deep well of bigotry they are quite clearly drawing upon.
I suppose Lineker, O'Brien et al would dismiss all the racist pricks we've seen on the demos so far as a few bad apples, ruining otherwise wonderful get-togethers railing against the bombardment of Gaza. I suppose they think the women sporting stickers glorifying anti-Semitic terrorists, or the men chanting Arabic war slogans about the slaughter of Jews, or the Islamists shouting 'Allahu Akbar' all just stumbled along to the wrong protests – and will be rather embarrassed when they realise these protests are actually all about peace and harmony. Perhaps they are that dumb.
But if all those 'bad apples' aren't enough to turn off the great and good, they should take a look at the groups that are actually organising these demonstrations. As the Telegraph has revealed, half of the organisations behind this Saturday's march have links to Hamas – you know, the genocidal Islamist group that butchered 1,400 people in southern Israel just over a month ago, initiating the current war that the protesters claim to be so opposed to. And we're not talking about six degrees of separation here, either. Muhammad Kathem Sawalha, a former Hamas chief who now lives in London, co-founded one of the organisations – the Muslim Association of Britain. His son is still involved.
Then there's Zaher Birawi, a leader of the Palestinian Forum in Britain, another group organising the Armistice Day march. He has reportedly met with Hamas's senior political leader in Gaza, Ismail Haniyeh. As has Ismael Patel, founder and chair of Friends of al-Aqsa – another one of the groups involved in Saturday's demo. Even the supposedly respectable Palestine Solidarity Campaign had to suspend members of its Manchester branch recently, over a blog post that described the 7 October pogrom in Israel as 'heroic'. And the Corbynite Stop the War Coalition has, natch, been making Hamas-friendly comments for years. One of its co-founders, John Rees, once dubbed these terrorists – committed to wiping Israel off the map – a 'legitimate resistance movement'.
I'm not saying that every single soul who goes along to one of these demos is an anti-Semite. I'm sure many of them are just blissfully ignorant of what's really going on here. All I'm saying is, if these really were 'peace marches' – concerned only with a cessation of hostilities between Israel and Hamas, for the sake of innocent civilians – perhaps they wouldn't be organised by groups with so many links to Hamas, or attended by such a staggering selection of Jew-haters. Plus, any peace march worth its name would surely begin by demanding that the genocidal terrorists who sparked this war lay down their arms and release the more than 200 terrified hostages they are currently holding captive in Gaza. But they won't do that. And I think we know why. 'Hate marches' is almost too polite a phrase to describe the sewer that has consumed London in recent weeks.
When Hamas cut its bloodthirsty dash into southern Israel last month, I expected woke leftists to debase themselves. And they really didn't disappoint. They didn't just become apologists for Hamas, they became full-blown cheerleaders – presenting its racist pogrom as some great act of 'resistance'. I also expected the Islamists to roll out in force, openly glorifying the murder of Jews in our streets. That's to be expected from those scumbags. But even I've been shocked by the response of the supposed centrist sensibles. So preoccupied are they with retweets, with simplistic moral posturing, and with having a pop at Suella Braverman, they have become blind to the vicious hatred unleashed in our midst. The road to hell is paved with virtue-signalling.
Tom Slater is editor of spiked. Follow him on Twitter: @Tom_Slater_
To enquire about republishing spiked's content, a right to reply or to request a correction, please contact the managing editor, Viv Regan.