Suella is right – the Met's double standards are a disgrace
Islamists and anti-Semites have been given far more licence than other groups of protesters.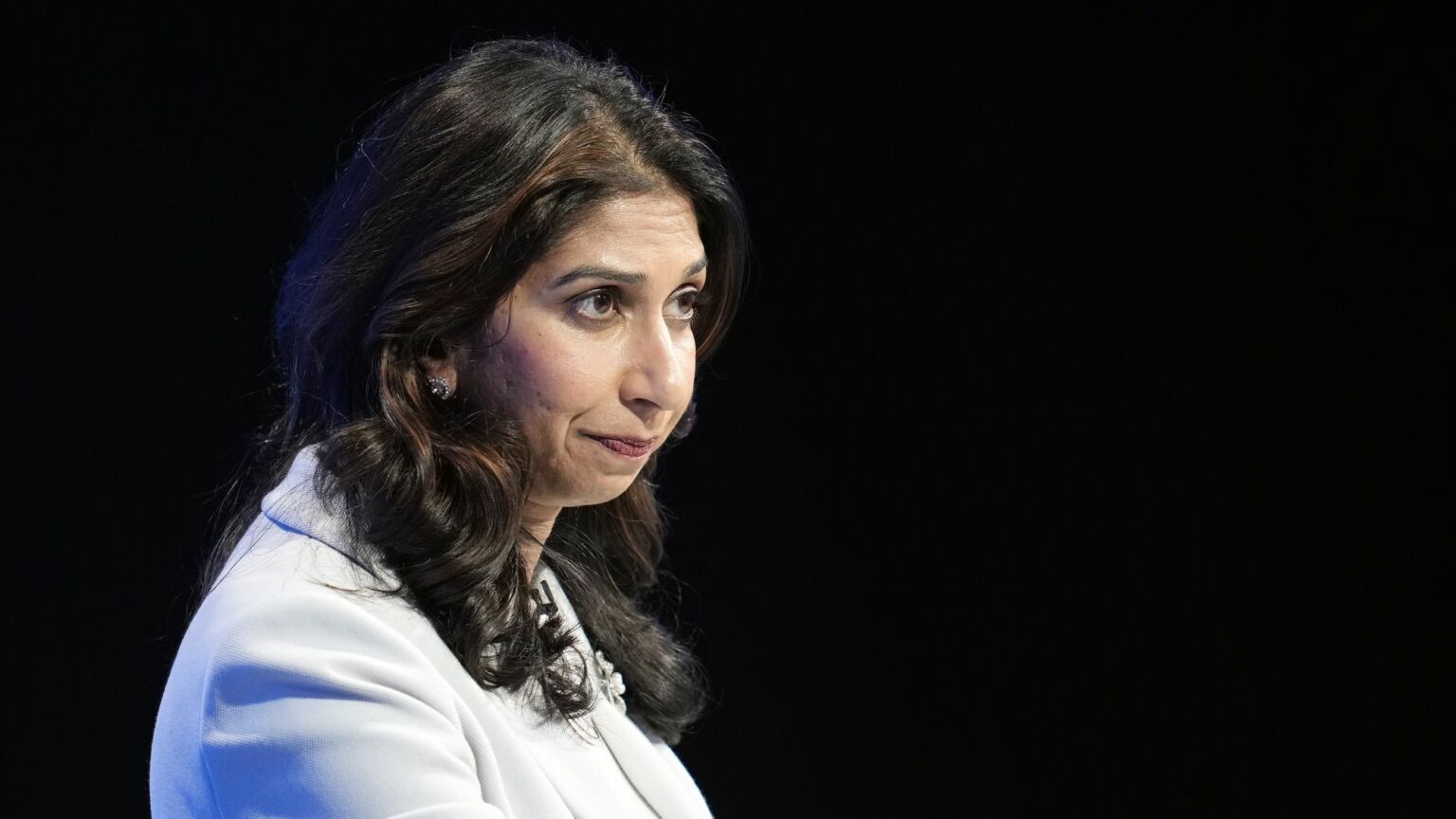 What has Suella Braverman said now? Since she wrote an opinion piece in The Times this morning, she has been branded 'out of control' by Labour and 'unfit for office' by the SNP. Even senior Tories have said she's 'on a mission to get herself sacked'.
While it is true that practically everything the UK home secretary says these days brings the liberal establishment out in hives, the reaction to today's comments seems even shriller than usual. You could be forgiven for thinking she'd said something especially outrageous or inflammatory. Was it more hardline than her warnings about a 'hurricane' of migrants 'invading' the south coast of England? More right-wing and cold-hearted than her silly dismissal of street homelessness as a 'lifestyle choice' last week?
Well, no. Not even close. All Braverman said in her article is that the Metropolitan Police must be 'even-handed' in their approach to protests. She warned that there is now a 'perception that senior police officers play favourites' when it comes to certain causes.
This is a point so self-evident that making it almost feels redundant. The bias of the police in recent weeks has been visible from space. And yet, according to the legions of Suellaphobes in parliament and in the press, speaking this obvious truth should apparently earn her the sack.
Braverman is especially concerned about the police's hands-off approach to what she calls the 'hate marches' – those carnivals of Jew hatred and Islamist zealotry that pose as 'pro-Palestine' demos, which have taken over central London every weekend since Hamas's 7 October pogrom in Israel. She rightly notes that, on these marches, 'We have seen with our own eyes that terrorists have been valorised, Israel has been demonised as Nazis, and Jews have been threatened with further massacres'. Yet such behaviour has gone 'largely ignored' by police, she says.
Where is the lie here? Of course, those of us who believe in free speech do not want to see anyone banged up for chanting even the most grotesque of slogans. Nor should these marches be banned by the police, as Braverman and prime minister Rishi Sunak have been demanding for this Saturday's Armistice Day demo. The right to protest must apply even to demos we find objectionable – including on sensitive days of the year. But it has surely not escaped anyone's notice that a two-tiered system of policing has emerged.
Indeed, the same Metropolitan Police that are reluctant to take any action against protesters who revel in the mass murder of Jews will happily arrest a man for calling Palestinian flags 'crap' on Facebook. Last month, a man filmed himself walking down the Bethnal Green Road in east London, an area with a large Muslim community. 'Look at this crap here… This is the shit they come up with', he complained, as he zoomed in on Palestine flags draped over various shop fronts and lamp posts. After he posted the video on social media, a van full of officers turned up at his house and arrested him on suspicion of a racially aggravated public-order offence.
Yet whenever leading Met officers are quizzed about the virulent racism on display at the Palestine marches, their usual zeal for cracking down on hate speech seems to evaporate. Suddenly, they boast of their commitment to defending free expression – as if this were a right only anti-Semites should be entitled to.
In many ways, the situation is a hell of a lot worse than Braverman portrays it. There is more than just a 'perception' that the Met have 'favourites' or are failing to be 'even-handed' with protests and political causes. UK police forces are, in some cases, actively appeasing anti-Semitism now – often using the very hate-speech and public-order laws that they refuse to deploy in relation to the Palestine protests.
Just look at how police officers on duty have torn down posters of kidnapped Israeli children, so as to not inflame 'community tension' (code for: upset Islamic extremists). Or how volunteers with the Campaign Against Anti-Semitism were threatened with arrest for a 'breach of the peace' if they carried on displaying images of Israeli hostages on their billboard truck. The Met treats images of Jewish suffering as inflammatory, as harmful to social cohesion, but it excuses chants of 'jihad' as essentially peaceful.
These double standards are grim but inevitable, given how identity politics now sits at the heart of the British state. During the Palestine protests, the Met have sought policing advice from various self-appointed religious and community groups – and it clearly shows in their actions. Last week, they were forced to cut ties with Attiq Malik, chair of the London Muslim Communities Forum, after footage emerged of him chanting 'From the river to the sea' – a genocidal demand for the destruction of Israel. Similarly, it emerged last week that the Crown Prosecution Service had invited a mosque leader who praised Hamas to sit on a 'scrutiny panel' on hate crime. I dare say the advice the Met is receiving on how to police these marches is not exactly balanced and impartial.
The double standards don't end with Israel and Palestine, of course. Braverman also notes how the police took the knee for Black Lives Matter protesters during lockdown, while turning a blind eye to their breaches of Covid rules. Meanwhile, protesters who opposed lockdown were 'given no quarter by public-order police'. To that list, you might also add the many Just Stop Oil or Extinction Rebellion fruitcakes who have been treated with kid gloves, despite all the havoc they've caused to commuters and the laws they've clearly broken. Ahead of one Extinction Rebellion demo, the Met even felt moved to praise the protesters for their dedication to such an 'important cause'.
Time and again, we see the police picking sides in the culture war, clamping down on unfashionable causes while letting favoured groups run riot. The evidence for this is now clear and overwhelming. It is only our political and media elites, blinded by Suella Derangement Syndrome, who still cannot see it.
To enquire about republishing spiked's content, a right to reply or to request a correction, please contact the managing editor, Viv Regan.