The Peckham protests reveal the poison of identity politics
The cult of victimhood is inflaming tensions between ethnic-minority groups.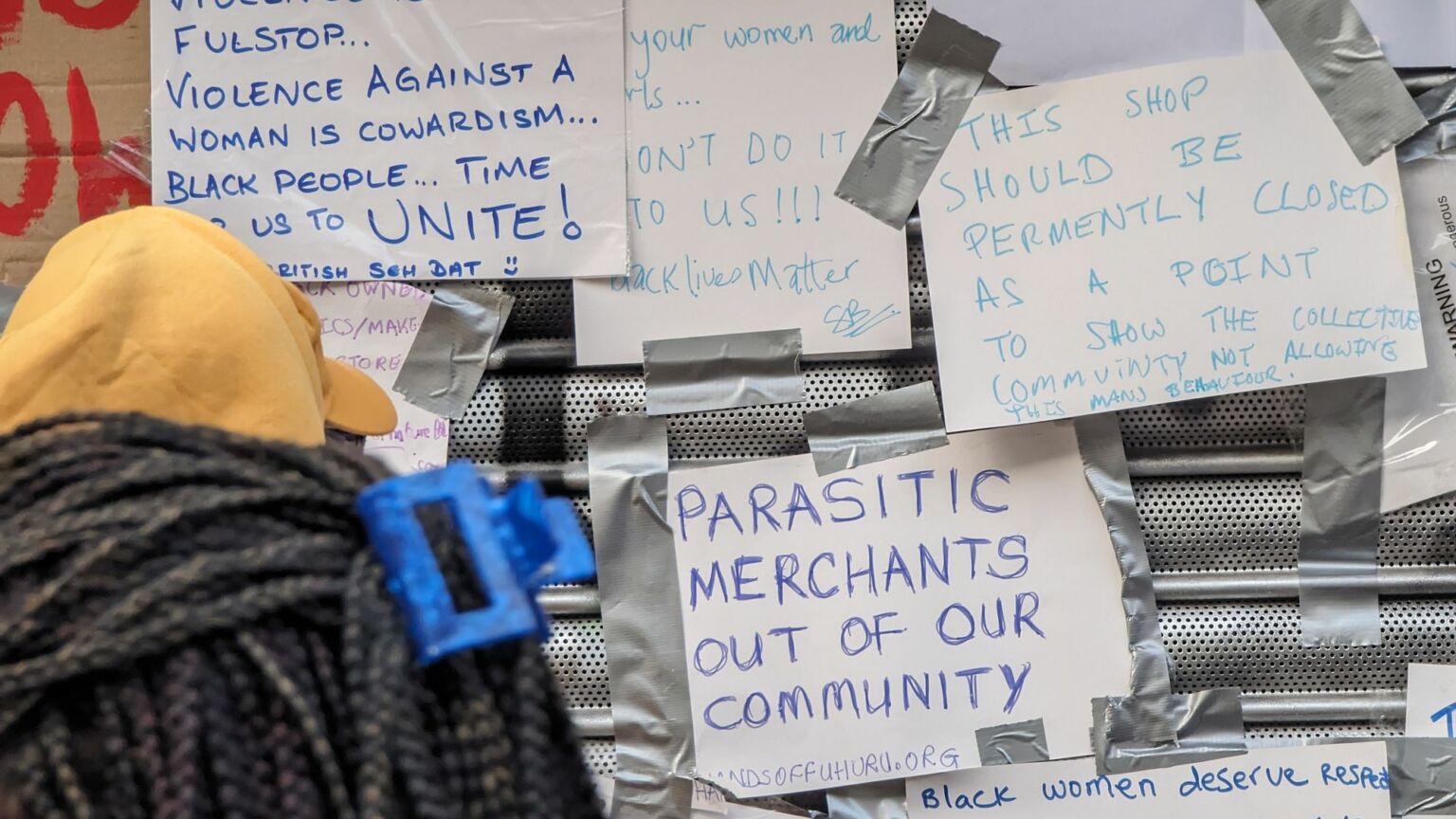 A scuffle in a south-east London shop wouldn't normally be headline news. But in our age of racial identity politics, Peckham Hair and Cosmetics has been thrust on to the frontline; a clash between an angry customer and a cack-handed shopkeeper has been transformed into a damning indictment of 'white supremacist' Britain.
That neither of the two players in this sorry story is white didn't dent the narrative. Protesters gathered outside the shop, on Rye Lane, on Wednesday afternoon, after a video went viral, showing a middle-aged Asian man – the shop's owner – violently restraining a young black woman, as she tried to bash him over the head with her basket. At one point in the clip, he appears to place his hands around her neck.
There's still a lot we don't know. All that the police have confirmed is that a 31-year-old woman was arrested on suspicion of assault after the confrontation on Tuesday, but has since been released on bail, and that a 45-year-old man was later interviewed by them under caution.
A row, it seems, broke out over the shop's 'no refunds' policy on certain hair products. According to an eyewitness, who filmed the confrontation: 'She was asking for a refund and they told her that is not possible. So she went to the shop and she told them that if you're not gonna get my refund, I want to get what I'm supposed to get for my money.'
The shopkeeper, for his part, says he offered her a credit note, and that as she picked up goods and went to leave, he only intended to restrain her until the police arrived. Talking to ITV's Antoine Allen, he said he regrets his actions and has told the police he doesn't want to press charges. So far, the woman in question hasn't spoken to the media.
No doubt, the shopkeeper made a big mistake. He admits so himself. The sight of a grown man putting his hands around a woman's neck, however briefly and whatever the context, knots the stomach. But this messy encounter has been made all too neat, by activists hell-bent on folding it into a prefab narrative about endemic 'anti-blackness'.
As of yet, there is no evidence of any racist motivation on the part of the shopkeeper. But no matter. He has been reflexively labelled a racist anyway. Activists at the protest on Wednesday presented the incident as a symbol of the mistreatment of black women, particularly by a black-beauty industry which is largely run by non-black people.
'We're giving our money constantly to people who hate us', said author and activist Kelechi Okafor, into the megaphone, outside the shuttered Rye Lane store. 'This is a longstanding issue that black women, or black people who identify as women, face when they go into these spaces', another protester told a Time Out reporter.
A sense of racial us-and-them was palpable. Protesters taped signs and placards to the shop's shutters. 'PARASITIC MERCHANTS OUT OF OUR COMMUNITY', one read, alongside others touting black-nationalist slogans, or the addresses of alternative, black-owned hair shops. 'RACIST ASIANS. GO TO HELL PATEL. EAST ASIANS FOR BLACK WOMEN!!!', read another.
There is a grim history of racial tensions between black and South Asian Brits. As Rakib Ehsan argues elsewhere, this has often taken the form of resentments over Asian-owned businesses in deprived, predominantly black areas. Surveys also suggest, Ehsan notes, that ethnic-minority Brits perceive the tensions between minority groups to be more intense than those between minorities and whites.
But the Peckham incident was also leapt upon by identitarian activists, hailing from across London, keen to impose a crude racial script on to it, and to inflame any tensions that may or may not have already been present in Peckham.
Remember Ngozi Fulani, the Hackney charity boss at the centre of the Buckingham Palace 'microaggression' scandal last year? She was on Rye Lane on Wednesday, holding the megaphone. 'I know that our brothers cannot go into your shop and talk to any of your women at all! So why do you feel it's okay for you to do this?', she said, aiming her invective at the shop's 'cowardly', manhandling owner. Sistah Space, her charity, reportedly helped to organise the protest.
A group called Forever Family was also involved. FF shot to prominence in 2020, during the summer of Black Lives Matter, when its members marched in military formation through Brixton wearing branded stab vests, face masks and the occasional balaclava, seemingly cosplaying as Black Panther-style militants. FF's east-London-based leader, Khari McKenzie (who also goes by his rap name, Raspect), was pictured at the Peckham protest. While no one quite seems to know what FF is, the reports from this week blandly labelling it a 'community group' are well off the mark. McKenzie has posted anti-Semitic comments on Instagram, ranting about Zionists and the Rothchilds. Following a horrendous (allegedly racially motivated) attack on a black school girl in Surrey by Traveller kids earlier this year, McKenzie and Co showed up outside the kids' school. FF members were later videoed gathering outside a residential property, chanting about 'pikeys'.
Those who really should know better have swallowed the crude racialist framing of the Peckham shop video – and ignored the obnoxious tribalism present among the backlash. The Runnymede Trust, which still just about manages to call itself 'the UK's leading independent race-equality think tank' with a straight face, put out a one-note statement, saying 'We must work to root out the violence against black women which is so normalised in our society', burnishing the notion that the woman in question is a straightforward victim of racism, despite there being zero evidence for this.
Identity politics really is poison. If we are to learn any lessons from the Peckham debacle, let it be that. We are careening towards a situation in which any unpleasant or misjudged or even just messy encounter between members of different ethnic groups is turned instantly into a morality play about racism, before the truth has even managed to pull its boots on; in which people are reflexively called upon to rally to 'their' group's defence, as if there is no such thing as 'community' beyond one's allotted racial tribe.
We need only look to America to see what a clusterfuck awaits us. There, anything from a disagreement over an e-bike to the police shooting of a knife-wielding alleged rapist can be presented as Jim Crow Redux, provided the alleged aggressor is white and the alleged victim is black.
Now, in south-east London, we see that the cult of racial victimhood doesn't just corrode social solidarity between whites and ethnic minorities – it inflames tensions between ethnic minorities, too. If we truly want to leave the petty divides of 'race' behind us, we must refuse to participate in this infernal identitarian game.
Tom Slater is editor of spiked. Follow him on Twitter: @Tom_Slater_
To enquire about republishing spiked's content, a right to reply or to request a correction, please contact the managing editor, Viv Regan.