Misogyny masquerading as social justice
The hatred for 'Karens' exposes the cruelty and sexism of the woke era.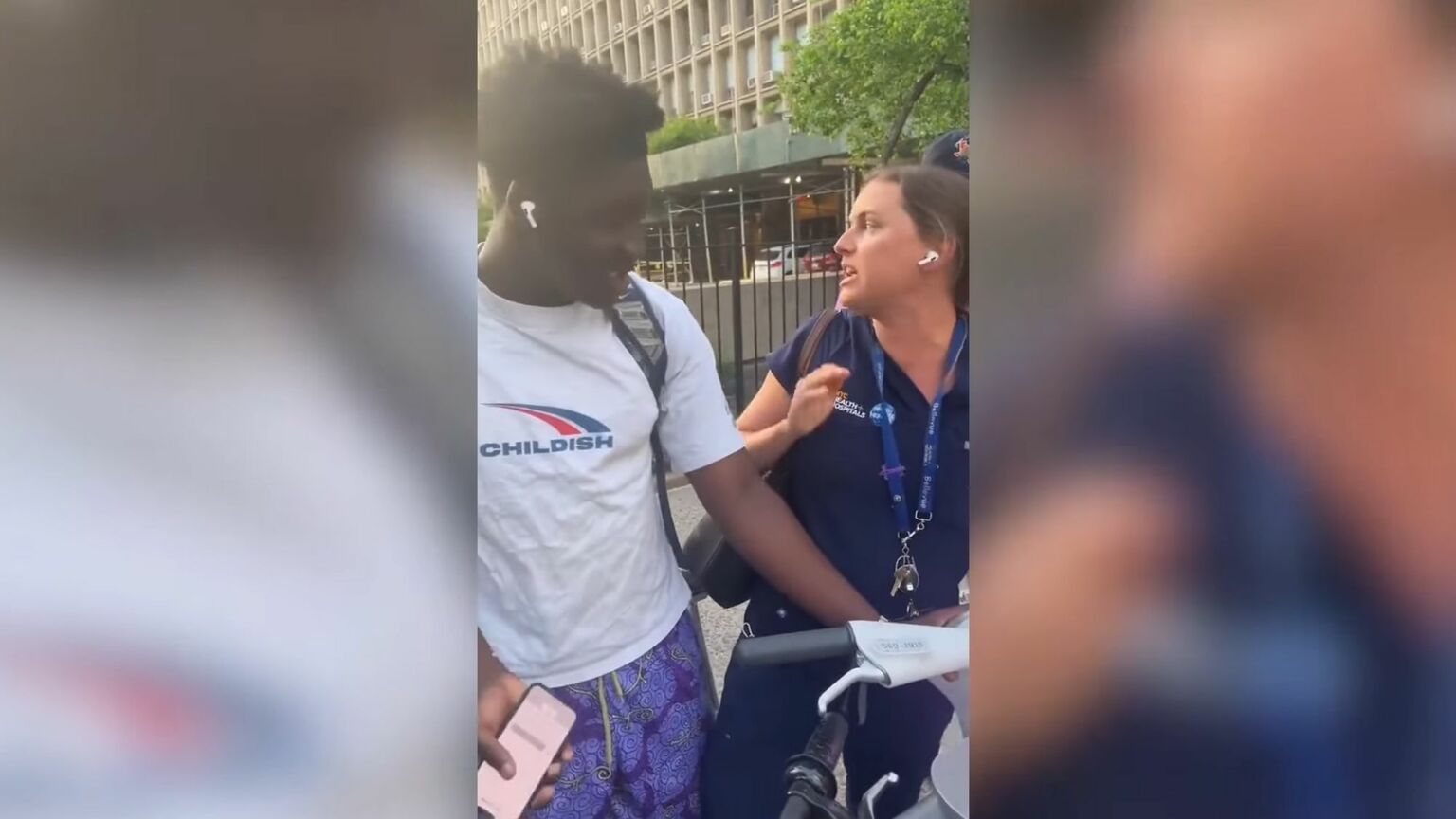 Roll up, roll up, watch this white bitch cry. Last week it was Sarah Comrie's turn. People across the world tuned in to see her weep. The 36-year-old New York City nurse was branded a 'Karen' after a video emerged seeming to show her nabbing a rental Citi Bike from a group of young black men. Typical privileged white broad, seizing the property of other races. The Karen – these awful women apparently don't deserve to be referred to by their real names – is seen grabbing the bike, shouting, and then bursting into tears. 'Fake white-woman tears!', hollered the virtual mob. They laughed at her, damned her as racist, sent her death threats. 'Sack her', they cried, forcing her employer – Bellevue Hospital in NYC – to issue a statement saying it is 'reviewing the incident'.
But the incident wasn't quite what it seemed. A 'white-supremacist woman' trying to steal 'a Citi Bike from a black kid after he paid for it' was how the Karen-bashing Twitterati summed it up. This Karen 'grossly tried to weaponise her tears to paint [the black men] as a threat', decreed civil-rights attorney Benjamin Crump. Oh really? Ms Comrie has since produced the receipts for her Citi Bike purchase. NBC cross-checked her receipt with stills from the video and found that the serial number did indeed match up with the one on the bike that was being tussled over. So maybe Sarah's not a Karen after all. In the words of the National Review: 'She was innocent. It was her bike.'
The damage is done, though. Comrie's face and name will live in infamy in those quarters of the internet where sad, sun-starved men love nothing more than dragging down uppity women. Ms Comrie has had to set up a GoFundMe page to pay for the lawyers who she hopes will help to 'save her livelihood and reputation'. Imagine that – one day you're a normal, hard-working nurse leaving work on a bike, the next you're having to spend a fortune to counter the demented lies of an army of online arseholes. Another thing: Ms Comrie is pregnant. Let's give this story the headline it deserves. Not 'White-supremacist lady steals bike from black kids', but 'Pregnant nurse harassed in the street and then mercilessly trolled online'.
The Sarah Comrie affair shows just how cruel Karen-bashing has become. A 'Karen' is an officious or stressed-out white lady who is captured on video crying or yelling in a conflict with other members of the public. Often those members of the public are black, adding a frisson of racial tension to the Karen's meltdown. Comrie joins a long list of women who have been virtually shamed, metaphorically pelted with tomatoes, for their allegedly self-centred, hysterical and oh-so-white ways. From the 'Central Park Karen', where an NYC dog-walker called the cops on a black man who was bird-watching, to 'Barbecue Becky', where a white woman made a complaint about a black family picnicking in Oakland, California, the busybody, middle-aged white lady has become a key hate figure of the woke era. Barely a week passes without a furious online mob forming to denounce the latest entitled bitch who's been wagging her finger at someone.
There is something creepy, sinister even, about these anti-Karen mobs. Many seem to derive a vicarious thrill from going online to watch women getting stressed out and to demand that they be severely punished for their vile sin of showing anger or distress in public. Name them, shame them, sack them, fuck them up – you'll see all these demands, and worse, in the vomitous commentary under every Karen video. It's like a ritualistic humiliation of a 'hysterical' woman, a freakshow-style shaming of a member of the lesser, emotional sex. And, thanks to modern telecommunications, you don't even have to leave your house, you don't even have to peel yourself off your mum's sofa, to join the witch-trial. Yesteryear's shamers of disgraceful women had to traipse to the town square for their half-hour of misogynistic larks – now you can get the same cheap thrill through your computer screen.
What is striking is that Karens can never win. In the past, 'witch swimming' was used to determine the guilt or innocence of women who'd said or done something 'out of turn'. They'd be dunked in a body of water, and if they sank to the bottom, they were innocent, while if they floated they were guilty. Either way, they were screwed. It's similar for Karens. If they cry when they find themselves surrounded by iPhone-wielding men accusing them of Karen-like behaviour, they're guilty of weaponising their white-women tears. If they stand their ground and speak back, they're guilty of racial arrogance. Cry or fight, sink or float, they're guilty as hell.
That's because their guilt really derives, not from what they do, but from who they are. They're white, they're women, often they're middle-aged – what more do you want? These are among the worst things you can be in the unforgiving era of woke. String 'em up. This is why the Karen slur can even be attached to women who've never been filmed getting emotional in public. JK Rowling, for instance. A youth magazine compiled a list of 'celebrities who give off major Karen vibes', and at No2 was Rowling. Well, she's white, she's a lady, she's middle-aged. And, worst of all, she issues 'diatribes against the legitimacy of trans women' (in plain English – she knows what a woman is and believes in women's rights). That even calm, unflustered Rowling can be damned as a Karen confirms that Karen just means witch. Say it, guys, with all your chest: you think these women who stand up for themselves, who speak in a firm or confrontational way, are witches, or at least bitches. They should know their place, yes? The kitchen, right?
Karenphobia is misogyny in the drag of woke. It drips with old sexist canards. The accusation that white women are 'weaponising their tears' rehabilitates the pre-modern view of women as emotional manipulators. The damning of women for speaking back breathes life back into the old belief that women should be seen and not heard.
How can sexism be so boldly expressed in our supposedly PC times? It's all thanks to the magic word 'white'. If you want to sneer at womankind, or gay men, or the working classes, remember to say 'white' first. Adding that skin descriptor gives you free rein to demean entire social groups. Say 'white women' and you can brand the majority of womankind in the US and the UK as emotional schemers. Say 'white gay men' and you can moan to your heart's content about preening, self-interested homosexuals. Say 'the white working class' and you can mock chavs and gammon without having to worry that someone will call out your blatant class hatred. You want to be a bigot in the 21st century? Go woke. Say white.
Picture by: YouTube / New York Post.
To enquire about republishing spiked's content, a right to reply or to request a correction, please contact the managing editor, Viv Regan.