Could Trump win again?
The legal witch hunt against him has backfired spectacularly.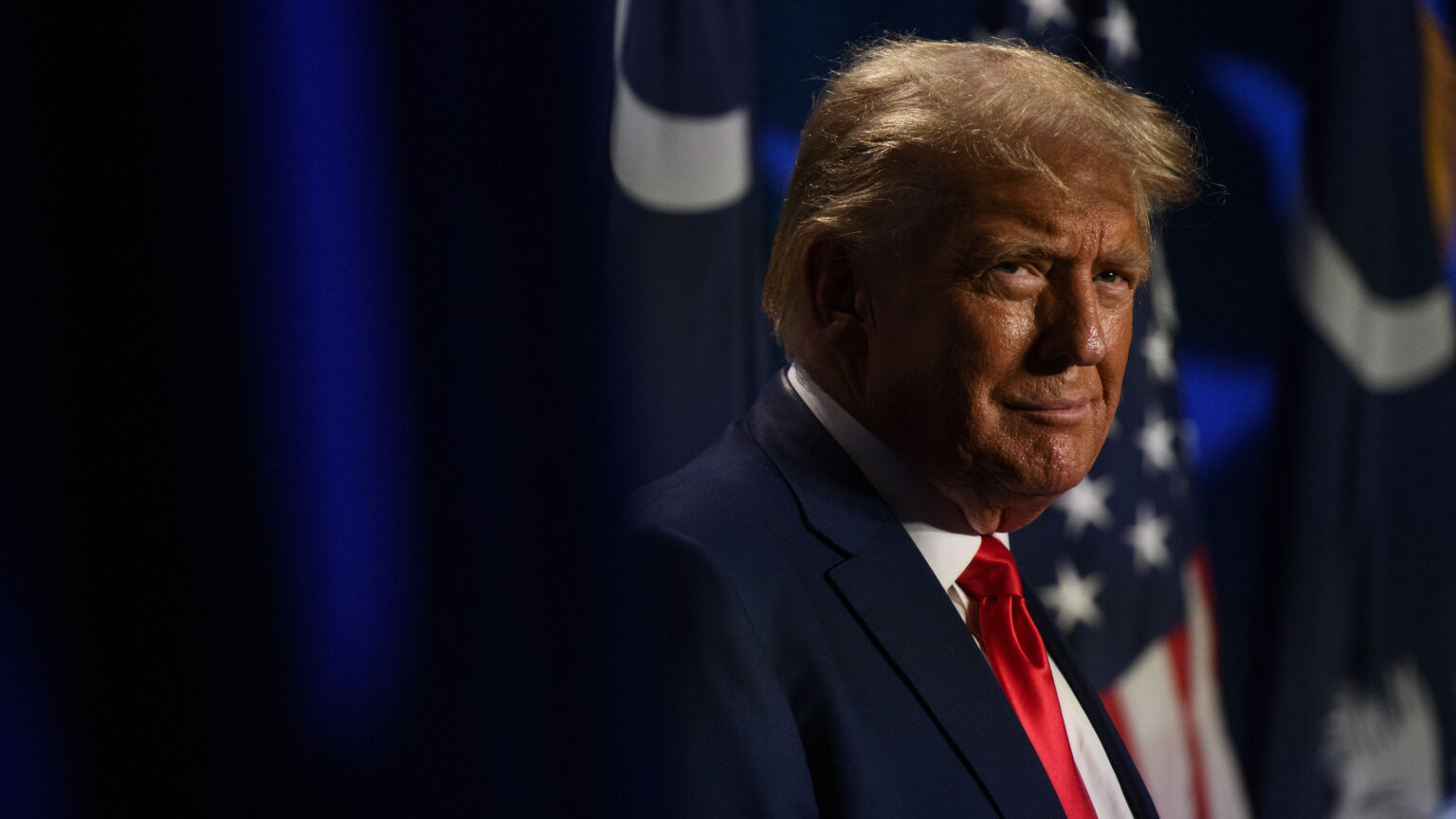 Whisper it: but Donald Trump could be the next US president. The attempt to bring Trump down via a slew of often-questionable indictments – the latest one for 'conspiracy to defraud' the US, over Trump's attempt to overturn the 2020 election – has not only dragged America closer to banana-republic territory, normalising the pursuit of political candidates through often-stunning feats of legal acrobatics, performed by an increasingly politicised justice system. It has also failed spectacularly. So far, at least.
Amid all the chatter around the charges brought last week, about how 'historic' and 'unprecedented' it is for a former president to face not one but three federal indictments, lurked the uncomfortable fact that Trump is now in better shape going into the Republican primaries, and perhaps even the presidential election, following this months-long legal assault against him.
While Trump has consistently maintained a lead in the Republican primary polls, his grip on the party had appeared to be weakening. In the wake of the Midterms, where a string of Trump-backed oddballs lost and a predicted red wave turned out to be a trickle, his rival, Ron DeSantis, began climbing in the polls. Trump may have remained the presumptive nominee, but he looked increasingly like an electoral liability with the broader public, leading some Republican voters to give the newly re-elected Florida governor a second look.
All that changed in late March, when Manhattan district attorney Alvin Bragg brought the first of the three (and counting) blockbuster indictments against the former president – this one for allegedly covering up hush-money payments to porn star Stormy Daniels. The indictment was so thoroughly political – Bragg ran for DA on a 'get Trump' ticket – and legally questionable – even some liberal outlets called it 'dubious' and 'shaky' – that voters rightly smelled a rat. Since then, Trump has reasserted his total dominance over the field and DeSantis has never recovered. Trump is currently beating him by 38 points.
The two indictments since then have done nothing to change this trajectory. In the second indictment, brought in June over mishandling classified files, Trump could well be bang to rights – there's even a tape recording of him showing off a secret military document which he admits is still classified. But the glee with which the charges against this presidential candidate have been pursued, cheered on by a media elite hoping out loud that he will be locked up, has left Republican voters more than a little sceptical of the legal arguments. That Joe Biden has also been caught with a trove of classified documents from his time as vice-president certainly hasn't helped, either (even though Trump's document hoarding seems to have been much more extensive than Biden's).
Those who suspected the legal pursuit of Trump was more about taking him out of the race than ensuring justice is done have been vindicated by the latest indictment. It is certainly damning of Trump, detailing the anti-democratic antics of him and his harebrained acolytes as they tried in vain to frustrate the certification of the 2020 election by pushing crazy conspiracy theories. But as National Review, a bastion of elite-Republican anti-Trumpism, notes, 'it is not even clear that [the indictment] has alleged anything that the law forbids'. The Wall Street Journal similarly condemns Trump's actions in the wake of 2020, while also warning of the anti-democratic implications of this indictment, which it says 'potentially criminalises many kinds of actions and statements by a president that a prosecutor deems to be false'.
The Democrats cheering on this witch hunt will of course be tickled pink at Trump's renewed dominance over the Republican field. They clearly see Trump, especially if he ends up having to campaign from a prison cell, as a walkover in 2024. But then again they felt the same way about Trump in 2016, and we all know how that turned out. The current polling suggests they should be careful what they wish for. Just before the latest indictment landed, a New York Times-Siena College poll found Biden and Trump neck-and-neck on 43 per cent. Indeed, as Tim Stanley notes in the Daily Telegraph, 'Trump is actually in a stronger position than at this same point in 2015 or 2019, when he was behind Clinton and Biden by solid single digits'.
Anything could happen, of course. No doubt Trump's legal woes will put off many swing voters. Many of those who took a chance on him before I'm sure were also spooked by his post-election tantrum in 2020, undermining his claim to be the voice of the forgotten man as he tried to get one man – his VP, Mike Pence – to void millions of fairly won votes. But Trump still has one sizable advantage: the arrogance, hypocrisy and authoritarianism of the Democrats. After years of demonising 'deplorable' Trump voters, and concocting one scheme after another to void the 2016 election, spreading their own 'respectable' conspiracy theories about Russia swinging it for Trump, the liberal elites are in no position to lecture anyone about the sanctity of the democratic process. One formerly Democratic voter turned Trump supporter spoke for many, I suspect, when he told the New York Times last week: 'I don't like Trump, but I like the Democrats a lot less.'
Following Donald Trump's shock win in 2016, many liberal observers crowed that he could never pull off the same trick twice. How could a one-time occupant of the White House ever again pose as populist and anti-establishment? How could he marshal people's fury with Washington when he presided over that selfsame swamp? Quite easily, it turns out, when you are blessed with such dreadful opponents. In their dogged pursuit of Trump, trying to do with the law what they failed to do at the ballot box in 2016, the liberal elites have once again turned him into the molotov-cocktail candidate, ready to burn down a distant and corrupt ruling class. The Democrats will only have themselves to blame if voters choose to launch Trump in their direction once again.
Tom Slater is editor of spiked. Follow him on Twitter: @Tom_Slater_
To enquire about republishing spiked's content, a right to reply or to request a correction, please contact the managing editor, Viv Regan.