The persecution of Donald Trump
With this indictment, Democrats are dragging America into banana-republic territory.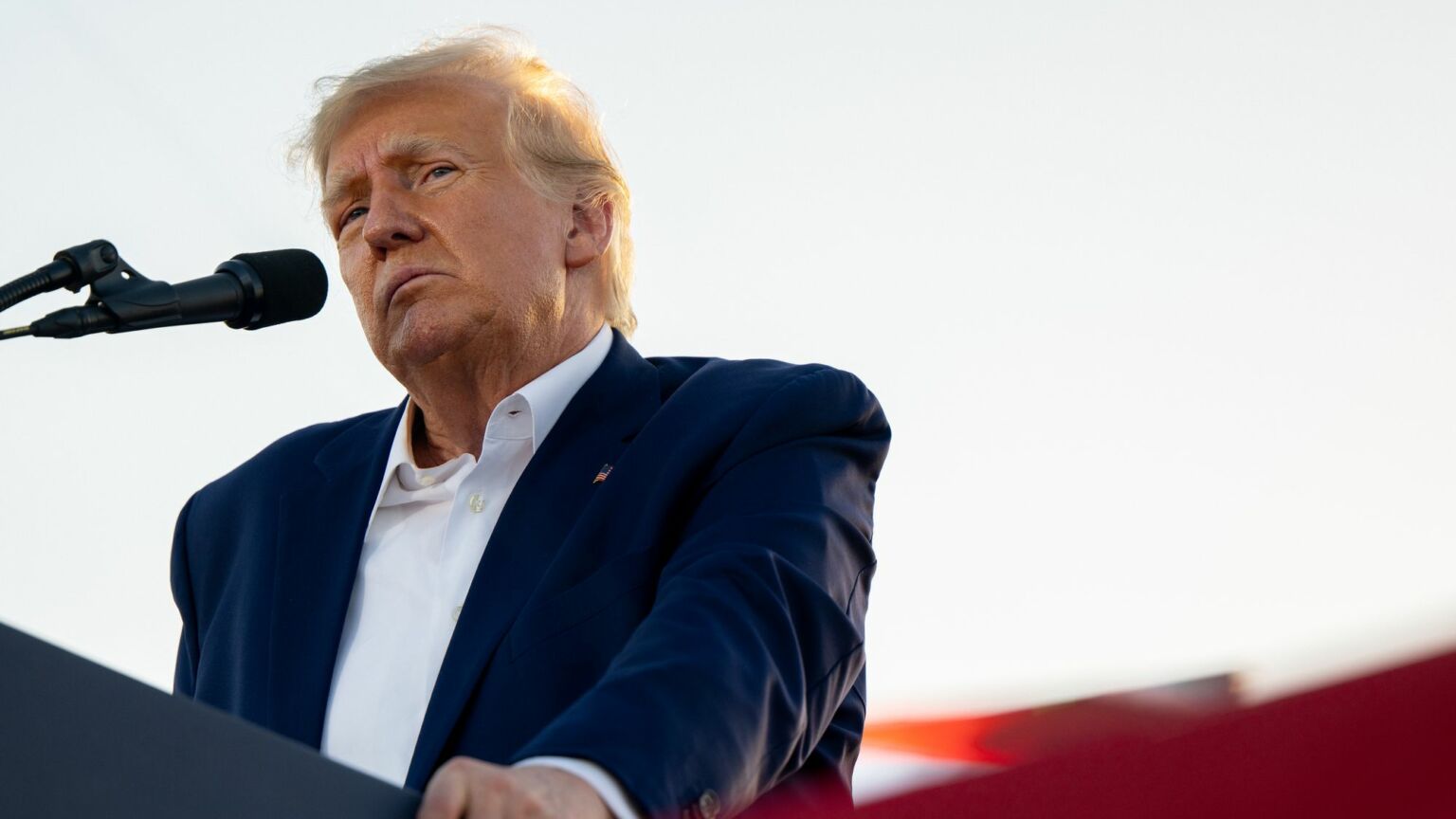 If insanity is doing the same thing over and over again and expecting different results, Donald Trump is blessed to have insane opponents.
Of course, this week's indictment of a former president and current presidential candidate is a first. But, in other respects, it repeats the Trump 'Resistance' playbook. Liberals have continually overreached in their attempts to bring Trump down. And each time, they end up making Trump look better, sometimes even sympathetic.
Almost every time his adversaries think they have dealt the killer blow, they get overly excited, only to then lose. It started with Hillary Clinton in 2016, when she denounced Trump supporters as 'deplorables'. She thought this was a clever quip. But it ended up being a big reason she lost. Since he became president, there have been so many attempts to nail Trump using extraordinary measures. Think of the false Russia-collusion claim, the two impeachments (both of which failed to remove him from the White House), and more recently the raid on Trump's Mar-a-Lago home.
This latest attempt to take down Trump, an indictment brought by New York County district attorney Alvin Bragg, has the hallmarks of these earlier attempts. Once again, Democrats are excited, if not downright giddy, about seeing Trump in handcuffs and fingerprinted. While we have to hold on to see if there is any merit to Bragg's case, it looks likely that he will swing and miss, as other Democrats have done before him.
Bragg's indictment certainly appears to be overtly political – and that in itself helps Trump. In his campaign to be elected district attorney, Bragg ran on a 'get Trump' platform. He promised to find something, anything, to charge Trump with, no matter the crime. The central point Bragg has landed on – Trump's hush-money payment to porn star Stormy Daniels in 2016 – looks ginned-up. Other cases against Trump that are currently under review elsewhere, such as the Georgia election-interference claim or charges related to the 'January 6' riot on the Capitol, are potentially much more serious. Bragg, however, is trying to prosecute Trump for a relatively minor matter. Would he have brought the same case, seven years after the fact, against another individual? If you believe that, there is a bridge in New York that I'd like to sell you.
As it happens, Bragg – like many liberal district attorneys – has refused to bring charges against a vast number of lawbreakers in New York. That reluctance has contributed to a rash of street crime in the Big Apple. Democrats keep repeating that no one is above the law, and that's true in principle. But Bragg has chosen not to prosecute many more serious crimes. Clearly, he is being selective in going after Trump. It looks like he's engaged in a vendetta, not neutral law enforcement.
As the indictment remains under seal, we don't know the details. But, based on reports, Bragg's legal argument is 'innovative', to put it generously. At most, the accounting of Trump's payment as a business expense would normally be a misdemeanour, not a felony, as Bragg contends. It's understood that Bragg will claim that the payment was a violation of federal election law. But if it was a federal crime, why is New York City trying the case, after the Department of Justice reviewed the case and passed on it? And why now, seven years later, after Bragg's predecessor, Cyrus Vance, was unable to find a case against Trump?
These charges appear to be an abuse of the rule of law. They represent the weaponisation of the law to pursue narrow, partisan purposes. Not for the first time, in trying to nail Trump, the Democrats are proving to be more illiberal and authoritarian than Trump himself. That said, it is a new low to indict a former president. The Democrats are dragging the US into banana-republic territory now.
What the indictment means for the 2024 presidential race remains to be seen. But it seems very likely to rally support for Trump among the Republican base. To date, Trump's campaign for 2024 has been lacklustre. But now he is the centre of attention once again. His campaign has been given a new burst of energy. One can't help but conclude that the indictment will help him when it comes to winning the Republican primary.
On the fringes, this indictment risks provoking Trump's most loyal supporters to riot or to take other violent actions. Trump has been riling them up recently. At the CPAC conference earlier this month, he asserted: 'I am your retribution.' And at a rally in Waco, Texas last week, he celebrated the 'January 6' riot as a patriotic event. An outburst by a few Trump supporters would no doubt be used by Democrats as evidence of white-supremacist views among Republicans generally.
I won't go as far as saying that the Democrats are trying to engineer Trump to be their opponent in 2024. But we do know that they funded Trumpist candidates in last year's Midterms. They also believe that Trump will divide the Republicans, and motivate the Democratic base to get out and vote for Biden. Trump is remarkably lucky in having opponents who continually prop him up.
Indicting a former president raises the political stakes. If you're going to bring charges against a president, they must be rock-solid and serious – otherwise it will appear to many reasonable people as political persecution. But what's so striking is just how unserious Bragg and the Democrats are. They treat the rule of law and political norms as if they were just a game. They seem clueless about the whirlwind they risk unleashing by weaponising the law for political ends.
If farce follows tragedy, as Marx contended, what follows years of farcical attempts to bring Trump down? We shall see.
Sean Collins is a writer based in New York. Visit his blog, The American Situation.
To enquire about republishing spiked's content, a right to reply or to request a correction, please contact the managing editor, Viv Regan.