Joe Biden and the idiot elites
What Biden's stash of secret documents tells us about the dimwitted establishment.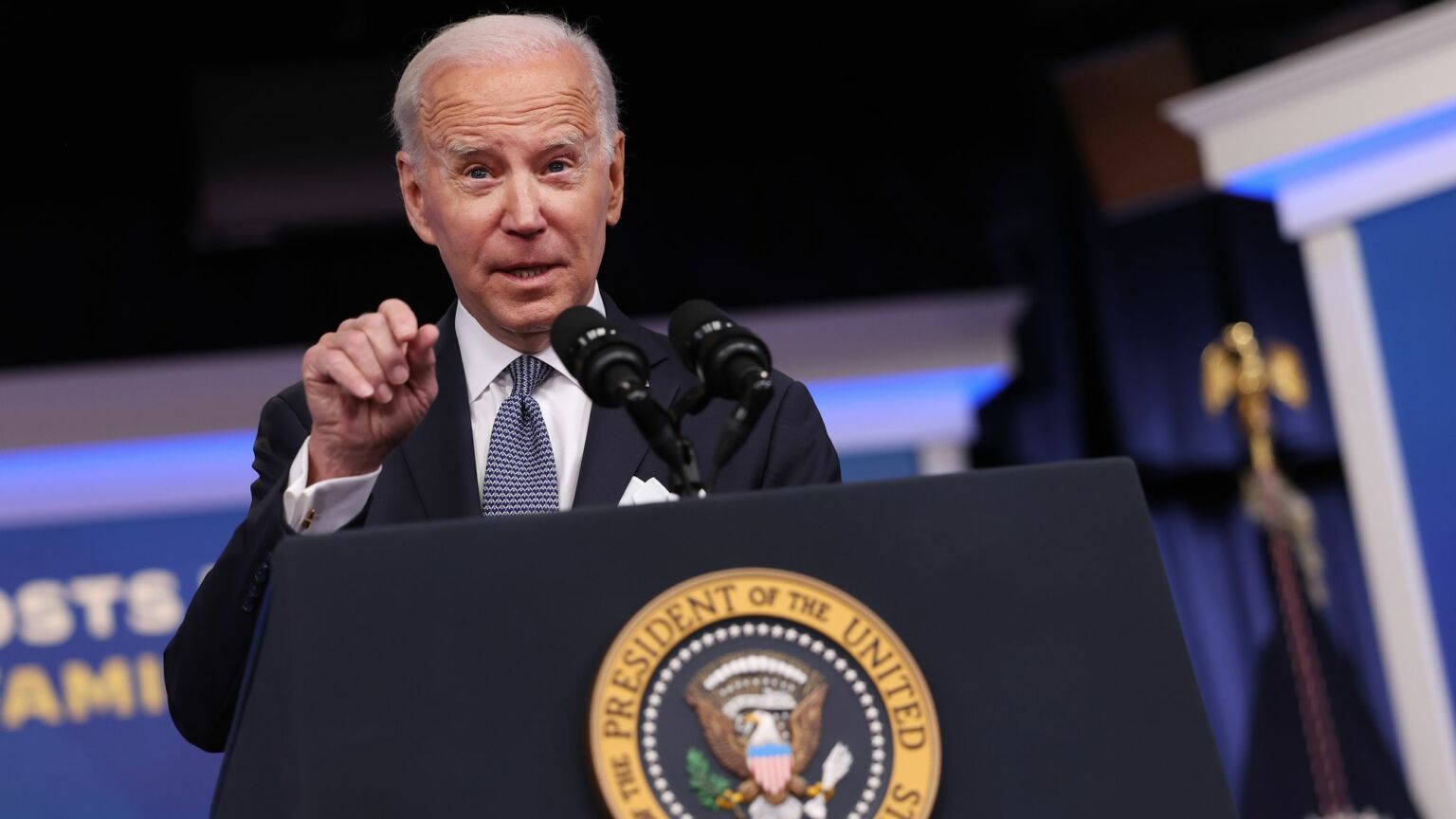 So, is Joe Biden a threat to national security? Is he, in fact, a 'national security risk unlike any the United States has ever faced'? Does he pose a 'severe danger' to the American people? Is he a 'potent' threat to the republic itself? All those things were said in the legacy media, in tones of apocalyptic fury, when it was discovered that Donald Trump had classified documents at his Mar-a-Lago estate in Florida. So I trust the same will be said now that Top Secret docs have been found in the building that houses Joe Biden's think-tank and even in Biden's own garage.
Of course they won't. We're about to witness a real-world enactment of that meme in which Homer Simpson backs into a hedge, as journalists who were consumed by dread and wrath over Trump's stash of intelligence papers go quiet over Biden's. Or decide that, actually, it's not such a big deal for a politician to store sensitive memos in his home. Indeed, witness the BBC's soft, sympathetic treatment of the Biden controversy. The discovery of these papers is a 'political headache' for the president, it says. It will cause him 'embarrassment'. Poor Joe! The media said we should rage against Trump for holding on to classified documents, but they want us to feel sorry for Biden for doing the same.
Around 10 documents, some marked 'Top Secret', were discovered in a storage closet at the Penn Biden Center for Diplomacy and Global Engagement in Washington, DC. They were apparently in a box, alongside other materials. Then lawyers found a 'small number' – in the White House's words – of 'records with classified markings' in the garage of one of Biden's private residences in Delaware. The documents were from the Obama years, back when Biden was vice-president.
The shift in the media's tone really has been something to behold. 'Trump was hoarding a metric fuck-ton of classified documents at Mar-a-Lago', screamed a Vanity Fair headline in August last year. Possibly including 'nuclear fucking documents', it said, titillating its readership with dystopian visions of America's nuclear codes falling into the hands of nefarious foreign actors. Yet now Vanity Fair seems totally relaxed about Top Secret stuff turning up in people's homes. In fact, it's still bashing the right, not Biden. It is fuming against the 'right-wingers' who are 'revving up their outrage machine' over Biden's Top Secret stash. Pot, meet kettle.
Everywhere one looks, media outlets are downplaying Biden's documents. Only '10 classified documents' were found in the Biden Center, compared with 'more than 325 classified files' at Mar-a-Lago, says the BBC. How many Top Secret docs is it acceptable to keep? Twenty-five? Fifty? Trump's classified documents scandal is 'more serious' than Biden's, says a headline in the Guardian. Some people aren't even saying 'classified documents' anymore. Maggie Haberman of the New York Times refers to the docs found in the Biden buildings as 'papers with classified markings', echoing the White House's wording. That's so much softer than 'Top Secret documents', isn't it? No one's going to the barricades over 'papers with classified markings'.
Even the fact that the discovery of classified documents at the Biden Center was made six days before the Midterms, but only publicly acknowledged this week, has not given the Biden apologists pause for thought. Maybe, just maybe, he isn't the stand-up guy you think he is? Some of them even think Biden's being set up. 'Just as we're this close to getting [Trump], somehow these documents appear', said Joy Behar on The View. They're in conspiracy-theory territory now, seriously entertaining the possibility that some dreadful Trumpist in the deep state planted papers in poor old Joe's properties.
When the Mar-a-Lago scandal blew up last year, there was a huge panic about 'threats to democracy'. Liberals are 'inflamed' by Trump's documents stash, reported New York magazine, to such an extent that an NBC News poll found that 'threats to democracy' had become a top issue for some voters ahead of the Midterms. How striking that liberals seem far less inflamed, and positively unexercised, by Biden's 'papers with classified markings'. Is it only a 'threat to democracy' when the other side keeps Top Secret things? This is proof that tribal politics dulls the critical faculties. We can see it on the right, too: they threw water on the Trump documents scandal; they're throwing petrol on the Biden one.
Here's the truth, through – in some ways the Biden documents scandal is more shocking than the Trump documents scandal. For the simple reason that we were told, time and again, that Biden's ascent to the White House represented a restoration of normalcy, the return of the adults to the room, and yet now we discover that this lot were playing fast and loose with Top Secret info, too. Everyone, even many of the people who voted for him, knows Trump is a live wire. That he's unprofessional, unpresidential, a void of decorum. He thinks rules are for other people, not for the bestest people ever, like him. It would be shocking if Trump didn't have classified documents in his house. But Biden – I thought his administration was all grown-ups? I thought this was the older, more level-headed establishment making its comeback? So how do we explain the fact that there were secret documents in a box in a storage closet in an unsecured office in the Biden Center in Washington, DC?
Don't look to Biden for answers. He is 'surprised', he says, by the discovery of the secret documents. That's helpful. There's a larger story here, about the idiot elites. About just how incoherent the political establishment has become in the 21st century. The casual mishandling and private storage of sensitive information speaks to an elite that has lost its way. That has lost sight of itself as an elite and which now behaves in an increasingly individuated, chaotic fashion. The hollowing out of modern politics has given rise to new political actors who lack the old sense of propriety and responsibility that once governed the political realm. It isn't just Biden, and it isn't just America. In the UK, classified Ministry of Defence documents were found at a bus stop. One of Britain's top intelligence officials left a Top Secret al-Qaeda document on a train. Across the Anglo-American world, the amateurish rulers of our post-political, technocratic age are becoming ever-more reckless.
Joe Biden's famous dimwittery has many causes, yes, but it also reflects the broader dimwittery of the modern political class. The adults in the room? Please. I wouldn't trust these people with the keys to my car.
Brendan O'Neill is spiked's chief political writer and host of the spiked podcast, The Brendan O'Neill Show. Subscribe to the podcast here. And find Brendan on Instagram: @burntoakboy
To enquire about republishing spiked's content, a right to reply or to request a correction, please contact the managing editor, Viv Regan.