Why the Resistance is (still) so much worse than Trump
The New York indictment reminds us that elite liberals pose a far greater threat to democracy.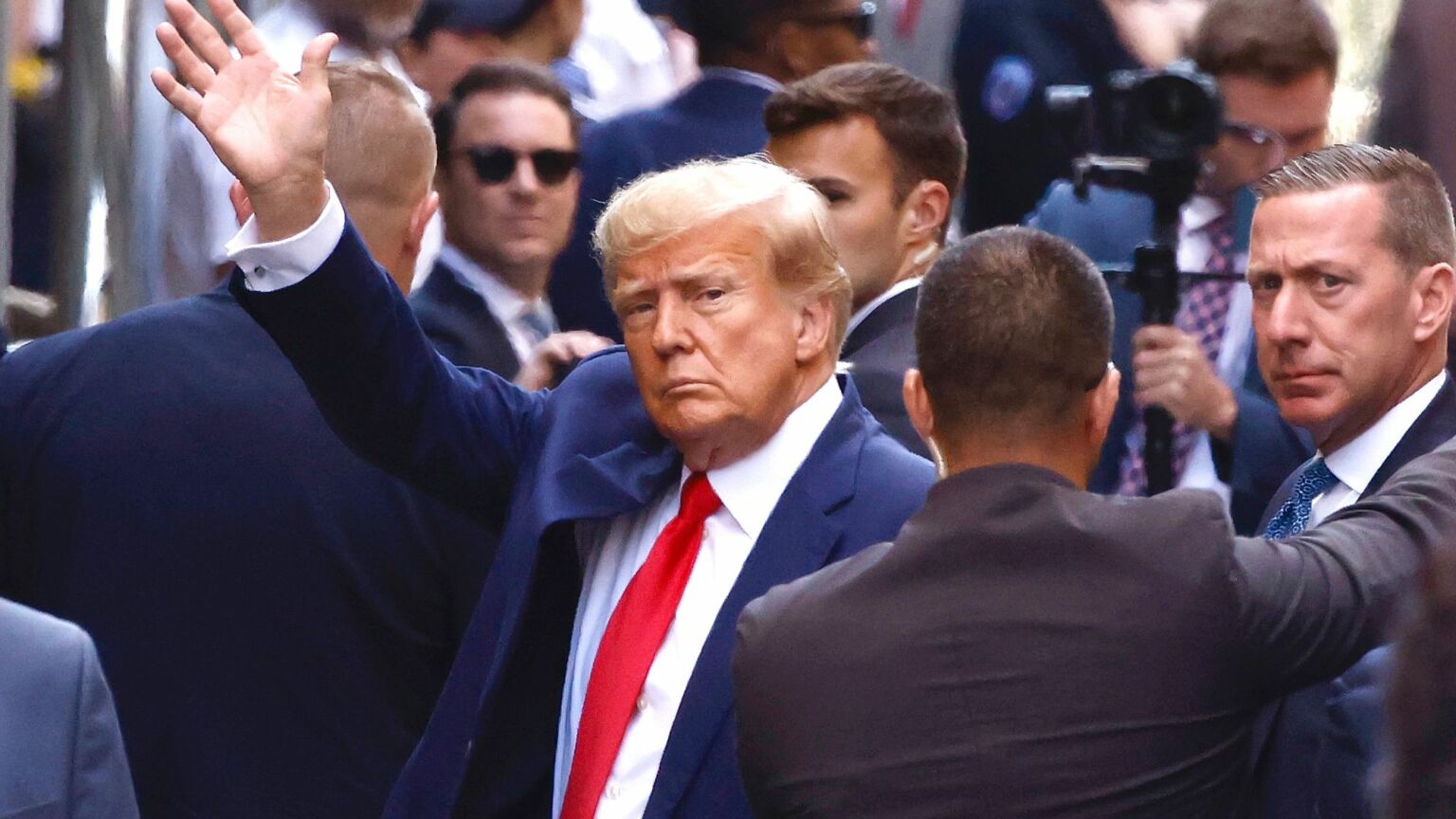 'Lock her up!' That was former US president Donald Trump's unofficial slogan during the 2016 presidential election campaign. His supporters would chant it at rallies, while Trump held forth on Democratic rival Hillary Clinton's various dodgy dealings. Elite liberals, for their part, clutched their pearls and spoke darkly about the autocratic threat to America posed by a Trump presidency. Seven years later, Clinton is a free woman, even after four years of Trump in the White House. Meanwhile, Trump is being hauled before a court, on ginned-up charges, while those very same elite liberals wish each other 'Merry Arrestmas'.
The indictment of Donald Trump in New York has provided yet more proof – though it certainly wasn't needed – that anti-Trumpism remains a far bigger threat to freedom and democracy than Trumpism itself. The soldiers of the self-styled Resistance – the hysterical, elite-led movement against the Trump presidency – have been out in force again on social media, openly celebrating the charges being brought against Trump. 'Trump finally got indicted!', tweeted Democratic congresswoman Maxine Waters, once dubbed 'Queen of the Resistance'. Democratic strategist Rachel Bitecofer was similarly giddy. 'Nice capstone to the best day I've had in 7+ years', she tweeted, next to a lovely photo of a rainbow. It seems these supposed lovers of liberal 'norms' haven't heard of 'innocent until proven guilty'.
What Trump is allegedly guilty of in this case amounts, to use a legal term, to some pretty weak piss. He is accused of falsifying business records so as to covertly reimburse his former lawyer, Michael Cohen, for hush money paid to porn star Stormy Daniels. (Daniels claims to have had an affair with Trump and was threatening to go public ahead of the 2016 election.) It's all very seedy, of course, and on the specific charges of falsifying business records Trump could well be bang to rights. But on their own these would amount to misdemeanours that New York County district attorney Alvin Bragg almost certainly wouldn't have felt able to pursue in court – not least because doing so would have looked outrageously petty and politically motivated, coming from an elected Democratic official.
So the wheeze Bragg has come up with is to forcibly inflate the charges into felonies. His argument is that Trump's allegedly dodgy documents also concealed other crimes – in particular, violations of election law. Bragg contends that Trump and his allies were essentially plotting to influence the 2016 election by preventing voters from learning about the affair. But as critics have pointed out, if politicians buying the silence of mistresses during election campaigns were a cast-iron felony offence, most candidates would be in the big house. Even some legal writers in liberal titles have called the indictment 'dubious' and 'shaky'. (Others have opted for 'ambitious'.) The charges also fall outside of New York's statute of limitations, meaning Bragg has apparently had to perform yet more questionable legal acrobatics in order to make them stick. The upshot is an indictment that is just as politically motivated, albeit helpfully convoluted.
Those still saying this is all simply justice being done are either lying or delusional. Former presidents should not be above the law, but nor should they be below it – subject to years-long legal investigations aimed at finding something, anything, to get them with. You don't need to be pro-Trump – we at spiked certainly aren't – to see that this is thoroughly political. Trump's many years of wheeler-dealing may have given his opponents plenty of material – there are also other, potentially more serious investigations he is facing. But that's no excuse to weaponise the law against him for nakedly political gain, which is precisely what is going on here. As Sean Collins put it on spiked last week: 'Would [Alvin Bragg] have brought the same case, seven years after the fact, against another individual? If you believe that, there is a bridge in New York that I'd like to sell you.'
Few think Trump will actually see the inside of a cell at the end of all this (though, going by the social-media chatter in recent days, the thought of The Donald in handcuffs brings a certain kind of elite liberal to a state of borderline sexual excitement). But Trump doesn't need to go to prison for the damage to be done. The process is the punishment – the aim here is to further tarnish Trump's name in the eyes of voters ahead of the next presidential election, in which he remains the presumptive Republican nominee. And the illiberal effects of this would be felt for much longer. Democrats are wilfully turning the law into a political weapon, to be wielded against one's opponents. And they are all but inviting Republicans to play the same game.
Ever since Trump's shock election victory, Democrats seem to have decided that they must destroy democracy in order to save it. From the Russiagate circus, which tried and failed to delegitimise the 2016 election result, to the 'January 6' hearings, which tried and failed to present that dumb Trumpist riot as an 'insurrection', to this week's NY indictment, Democrats have tried to do with law and process what they failed, in 2016, to do at the ballot box. All the while, they have sowed distrust in the democratic process – 72 per cent of Democratic voters still believe in the debunked conspiracy theory that Russia swung 2016 for Trump. And they have politicised what should be non-partisan institutions.
Of course, Trump hardly has a leg to stand on when it comes to liberal and democratic principles. After 'Lock her up!' came 'Stop the steal!', and his cack-handed, conspiracy-theory-fuelled attempt to overturn the 2020 election result. But if the past seven years have shown us anything, it is that Trump's pantomime, inept authoritarianism is simply no match for the Democrats' determined, 'acceptable' authoritarianism. Trump might have said a lot of outrageous and illiberal things, but the Democrats have shown him how it is done – along with their allies in the corporate media, Big Tech and the security state. The Resistance is infinitely worse than the thing it is resisting. And it always has been.
Tom Slater is editor of spiked. Follow him on Twitter: @Tom_Slater_
To enquire about republishing spiked's content, a right to reply or to request a correction, please contact the managing editor, Viv Regan.