Have we forgotten about Lee Rigby?
A decade on from his murder, we still haven't learned its lessons.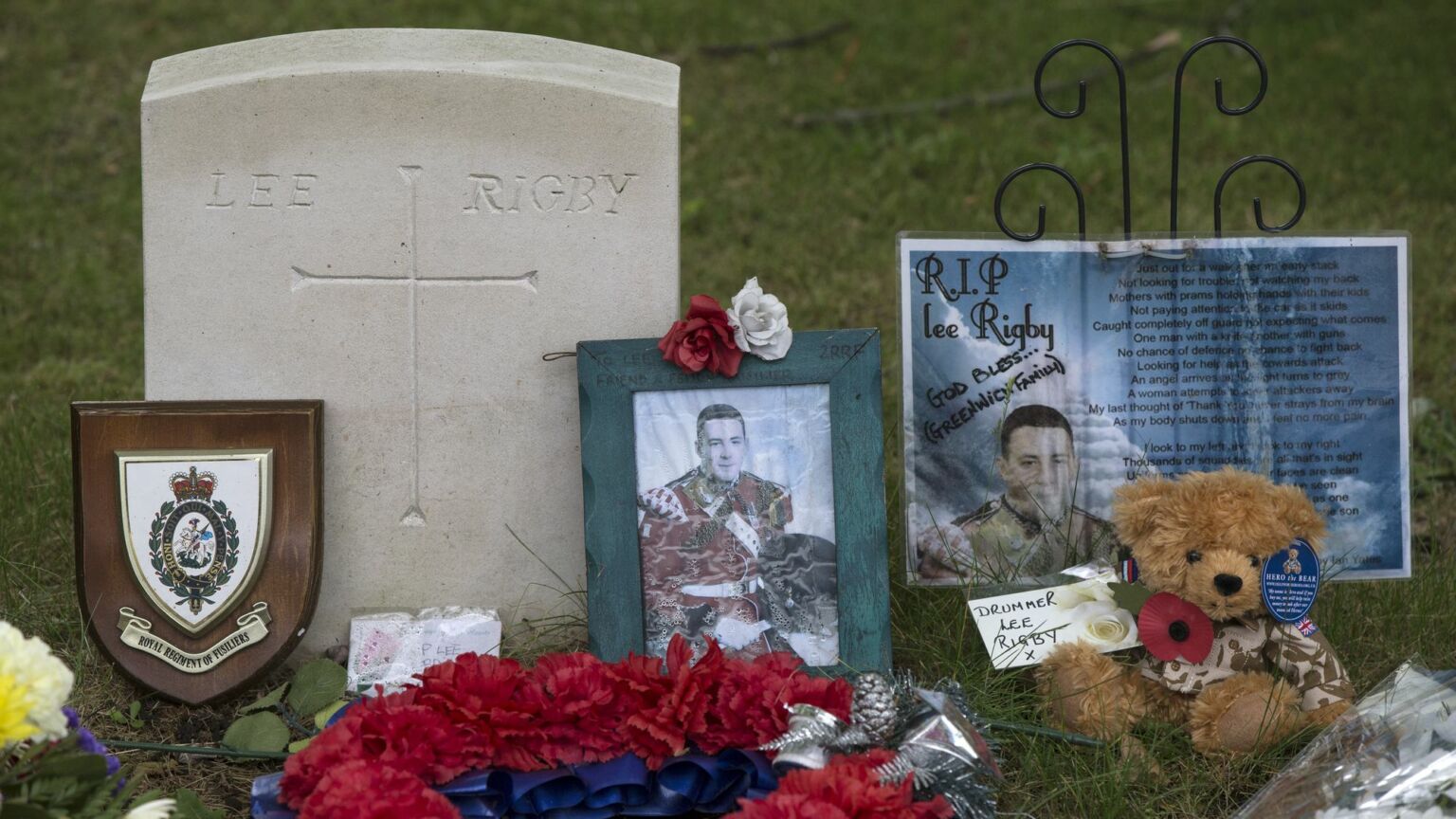 Ten years ago today, Lee Rigby was murdered on the streets of south-east London. The 25-year-old soldier was heading back to his barracks in Woolwich when a car came out of nowhere and knocked him down. It was no accident. Michael Adebolajo and Michael Adebowale, two British-born Islamist extremists, jumped out of the car, armed with knives and a meat cleaver.
They had set out that day to kill a soldier, and spotted Rigby's army-issue backpack and 'Help for Heroes' hoodie as he walked back from Woolwich Arsenal station. They hacked at Rigby's body. They tried to decapitate him. Then they waited for the police to arrive, hoping to go out in a blaze of glory – as martyrs.
When armed police pulled up, Adebolajo and Adebowale charged at them brandishing a broken, rusty revolver – only to be shot in the legs, incapacitated and hauled away. They were later tried and convicted. At their sentencing, Adebowale was given a minimum of 45 years. Adebolajo, as the mastermind of the attack, was given a whole-life order, meaning he will likely die in jail.
Rigby's murder shook Britain to its core in 2013. This was the first successful Islamist terrorist attack on British soil since 7/7. Plus, it was unlike anything we'd seen before. Unlike the plots with bombs and planes and AK-47s that we had come to fear, Rigby's murder was brutally simple – a gruesome combination of primitive tools, minimal planning and maximum impact.
It was also, arguably, the first camera-phone terror attack – Islamist barbarism for the narcissistic, selfie-snapping age.
At the scene, Adebolajo encouraged passersby to film him on their phones. Footage of him ranting, butcher knife and meat cleaver in bloodied hands, went around the world. 'The only reason we have killed this man today is because Muslims are dying daily by British soldiers', he said to the camera.
Here he was posing as a combatant in a righteous war, taking revenge for Afghanistan and Iraq. The abject cowardice of Adebolajo's crime – knocking Rigby down from behind, never giving him a chance to fight back – apparently didn't dent his delusions of grandeur.
But a decade on from that day in Woolwich we are at risk of Rigby's murder fading from memory. The anniversary has produced little mention in the media. Which I suppose makes a grim kind of sense. After all, a serving MP was slain by an Islamist extremist less than two years ago and we have already forgotten about that, too.
The officially sanctioned response to Islamist terrorism these days is one of mandatory amnesia. The aftermath of the Manchester Arena bombing – which was also carried out on 22 May, exactly four years after Rigby's murder – made this abundantly clear. 'Don't look back in anger' was the slogan then. We were encouraged to mourn, briefly, then move on – to treat this nihilistic violence as something akin to a natural disaster, as just one of those things.
Our elites have become increasingly uncomfortable with us talking about Islamist terrorism, even as it continues to wreak havoc on our streets. This reticence is bred of a deep fear and loathing of the public. Non-Muslim Brits are thought of as a pogrom-in-waiting, as one 'difficult conversation' away from going on an anti-Muslim rampage.
They'd rather we just ignored it. But we really must not oblige. On this awful anniversary, we must reflect on the lessons of the Woolwich attack. On top of the inevitable intelligence failures that later came to light – Adebolajo and Adebowale were active in extremist groups and had shown up in seven intelligence investigations before they killed Rigby – there were also some profound moral and political questions that were raised by the atrocity and its aftermath.
Firstly, there was the new era of attacks it ushered in. Woolwich reflected a shift in tactics among Islamist terrorists, away from grand, coordinated plots like 7/7 or 9/11, and towards what has been called 'just do it' jihadism. As terror expert Raffaello Pantucci has documented, al-Qaeda had already been calling on would-be terrorists to take matters into their own hands, with whatever means they had at their disposal, before Woolwich. This, he notes, was later taken up by ISIS, which called on its sympathisers to kill Western unbelievers 'in any manner or way' possible. 'Smash his head with a rock, or slaughter him with a knife, or run him over with your car', declared Islamic State spokesman Abu Muhammad al-Adnani in 2014.
Gone was the thin pretence, expressed by Adebolajo in Woolwich, that these extremists were seeking retribution for Western foreign policy. As a horrifying campaign of random, indiscriminate attacks on innocent people, including children, began to unfurl, it became all the more clear that this mayhem was fuelled by apocalypticism, hatred and misanthropy – not the geopolitical grievances jihadists like to pay lip service to.
What's more, Woolwich reflected the potency of Islamic identity politics in our multicultural age – and its power to turn disaffected Muslims against their fellow citizens.
'We will never stop fighting until you leave us alone', said Adebolajo, in his infamous, blood-soaked rant. 'So what if we want to live by Sharia in Muslim lands? Why does that mean you must follow us and chase us and call us extremists and kill us?'
Adebolajo is British. He was born in London to Nigerian parents. He was raised Christian before converting to Islam at university. (Adebowale's background is almost identical.) And yet when he spoke of 'us' and 'our', he meant not his place of birth nor his fellow countrymen nor even the nation of his parents' birth. He meant people he had never met – and lands he had never set foot upon.
Contemporary Britain's sacralisation of religious and cultural identities – at the expense of what we all, as citizens, share – has provided fertile ground for the Islamist politics of grievance to take hold, even among those whose background is not in the least bit Islamic.
Finally, we need to talk about the Woolwich bystanders – the shocking fact that a group of 60 or so people gathered at a distance, voyeuristically watching and filming Rigby's body, without intervening or even just running away. 'They just wanted to watch and record the unhappiness of others', said Ingrid Loyau-Kennett, one of only a couple of people who did step up. (The impossibly courageous Loyau-Kennett kept the killers talking until the police came.)
As Brendan O'Neill wrote on spiked in the wake of the attack, the phenomenon of the Woolwich bystanders spoke to something chilling: a culture of detachment and atomisation so intense that even a barbaric murder had become 'just another thing to look at, to photograph, to put on a website next to a message saying "I was there"'.
A decade on from the murder of Lee Rigby, it's time we were all that little bit braver. We need to root out the scourge of Islamist terrorism. We need to root out the identity politics that feeds this barbarism. And we need to root out the culture of voyeurism that turned a bloody terror attack into just another viral moment.
Tom Slater is editor of spiked. Follow him on Twitter: @Tom_Slater_
To enquire about republishing spiked's content, a right to reply or to request a correction, please contact the managing editor, Viv Regan.