The security services are failing to fight terror
Lee Rigby's killers and Manchester bomber Salman Abedi were known to the authorities. Why did they fail us?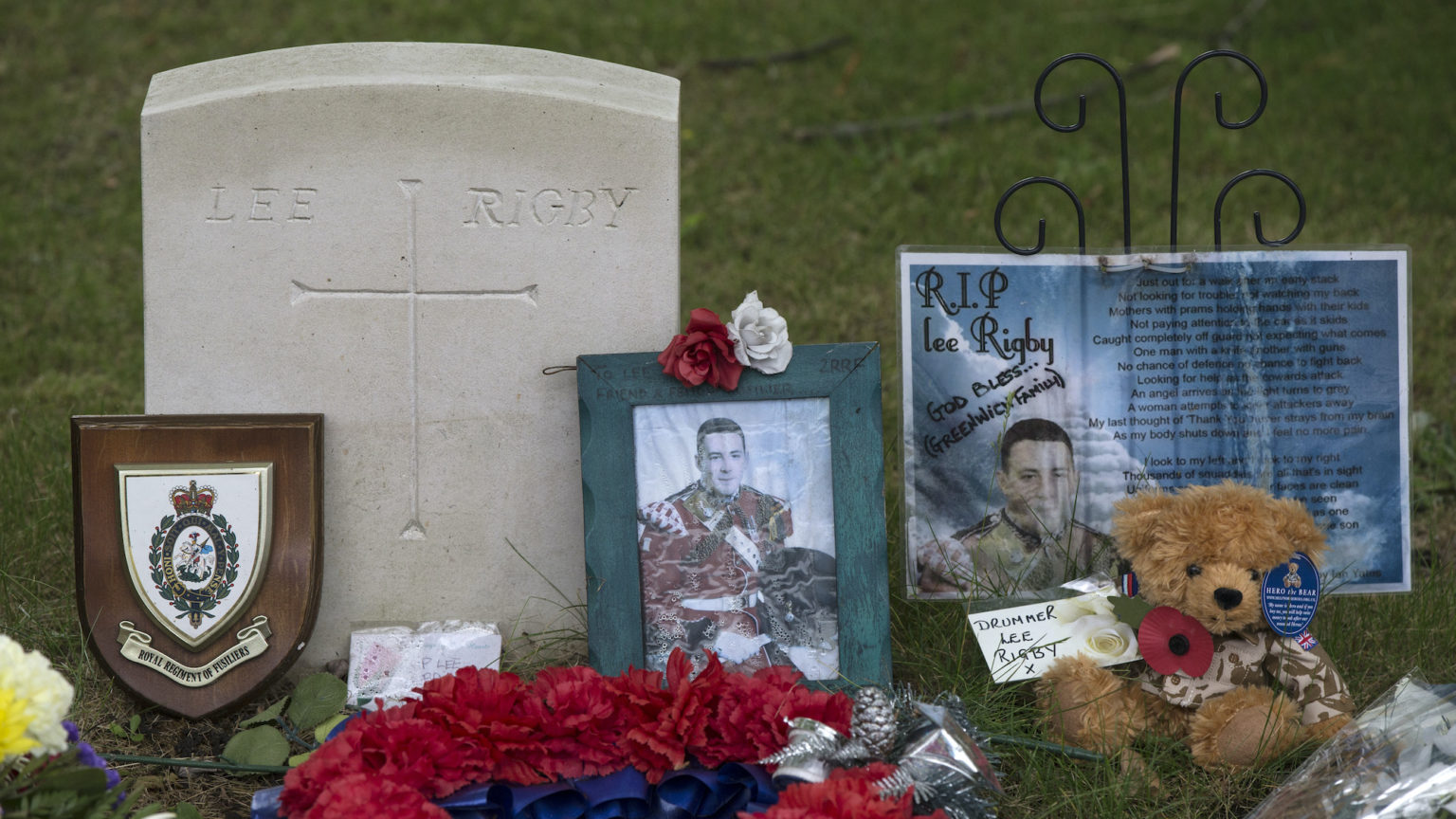 On 22 May 2013, fusilier Lee Rigby was publicly executed by Islamists Michael Adebolajo and Michael Adebowale in the streets of Woolwich, south-east London.
Prior to the killing, they had featured in seven British intelligence investigations. But these were repeatedly derailed by delays and errors.
Adebolajo was even detained by Kenyan police in 2010 over suspected extremist activity. He was saved from terror charges in Kenya by the British High Commission and then deported back to the UK. Less than three years later, he and Adebowale mutilated Lee Rigby with knives and a meat cleaver in an Islamist attack.
A new report by Declassified UK alleges something even more sinister about Rigby's case. According to its investigation, MI6 was not only aware of Adebolajo prior to his capture in 2010, but it had also tracked him and played a role in his arrest. This allegation directly contradicts MI6's testimony to two intelligence oversight reviews, in which it denied any involvement or knowledge of Adebolajo's 2010 arrest.
Adebolajo's is by no means an isolated case. In 2012, 22-year-old Salman Abedi aroused suspicion among his neighbours after hanging a black Jihadi flag outside his flat in Elsmore Road, Manchester. He had been banned from his local mosque for his radical views and was even reported to the authorities by a number of people, including family members. But despite MI5 flagging Abedi for review, its systems apparently 'moved too slowly' to recognise the level of threat he posed.
In 2011, British authorities began using Islamic extremists as part of their plan for regime change in Libya. Control orders over suspected terrorists were dropped and they were given their passports back so that they could join the fight. And so, Abedi travelled freely to Libya, where he was further radicalised and learned how to construct bombs. Just days after his return to the UK, he detonated a homemade explosive at an Ariana Grande concert in Manchester. Twenty-two people were killed by the blast, the youngest of whom was just eight years old. It was the deadliest terror attack in the UK since the 2005 London bombings.
Of course, our intelligence services cannot be expected to prevent the actions of every suspected terrorist. Mistakes happen. But this litany of fatal errors – such as facilitating the movement of suspected terrorists – is unacceptable.
According to a report by the Henry Jackson Society, between 1998 and 2015, 76 per cent of Islamist terrorists in the UK were known to the authorities prior to their offences – 26 per cent even had prior criminal convictions. Up to 180 people jailed for terrorism were also released early in the past two decades – as was the case for Usman Khan in 2018. Khan was a convicted terrorist who was released from jail on license before he stabbed two university graduates to death on London Bridge.
What's more, an upcoming report by the Henry Jackson Society (due in early December) has identified 45 convicted foreign-national terrorists 'who have not been deported' and 'are now wandering the streets'. Eighteen of these convicts are thought to be linked to terror networks including ISIS, al-Qaeda, al-Shabaab and the Libyan Islamic Fighting Group.
With a string of violent terror attacks recently ravaging France, including the beheading of 47-year-old teacher Samuel Paty, you might think it was time we had a serious debate about the competency of our security services. But they are rarely held to account.
A parliamentary committee report asked whether MI6 could have prevented Lee Rigby's murder. But it only made mild criticisms of the security services. Declassified's new report suggests that MI6 misled the inquiry. But it's still doubtful parliament will demand further investigation.
Again, it's the same story with the Manchester attacks. The inquiry over the bombing found one of the security services' failings to be so sensitive that it couldn't even be shared publicly. Survivor of the blast Robby Potter, who attended the concert along with his 11-year-old daughter, told the BBC he was considering legal action against MI5: 'I'd have more respect for them if they had said immediately after [the attack] "we made a mistake – we underestimated this man"… I love this country but I was let down. This could have been stopped, and we're finding out now that it should have been stopped.'
Ultimately, sending thoughts and prayers, or singing 'Don't Look Back in Anger', offers no solace to the victims of terrorism if we continue to ignore the grave injustices and errors committed by our own security services. Given that the UK's terror threat level has been raised to severe, now is the time to insist on holding our intelligence agencies to account. These disgraces must never happen again.
Freya India Ager is a freelance writer. Follow her on Twitter: @freyafia
Picture by: Getty.
To enquire about republishing spiked's content, a right to reply or to request a correction, please contact the managing editor, Viv Regan.