The fall of SVB has exposed the delusions of our elites
Silicon Valley's woke, feelgood brand of capitalism was always built on sand.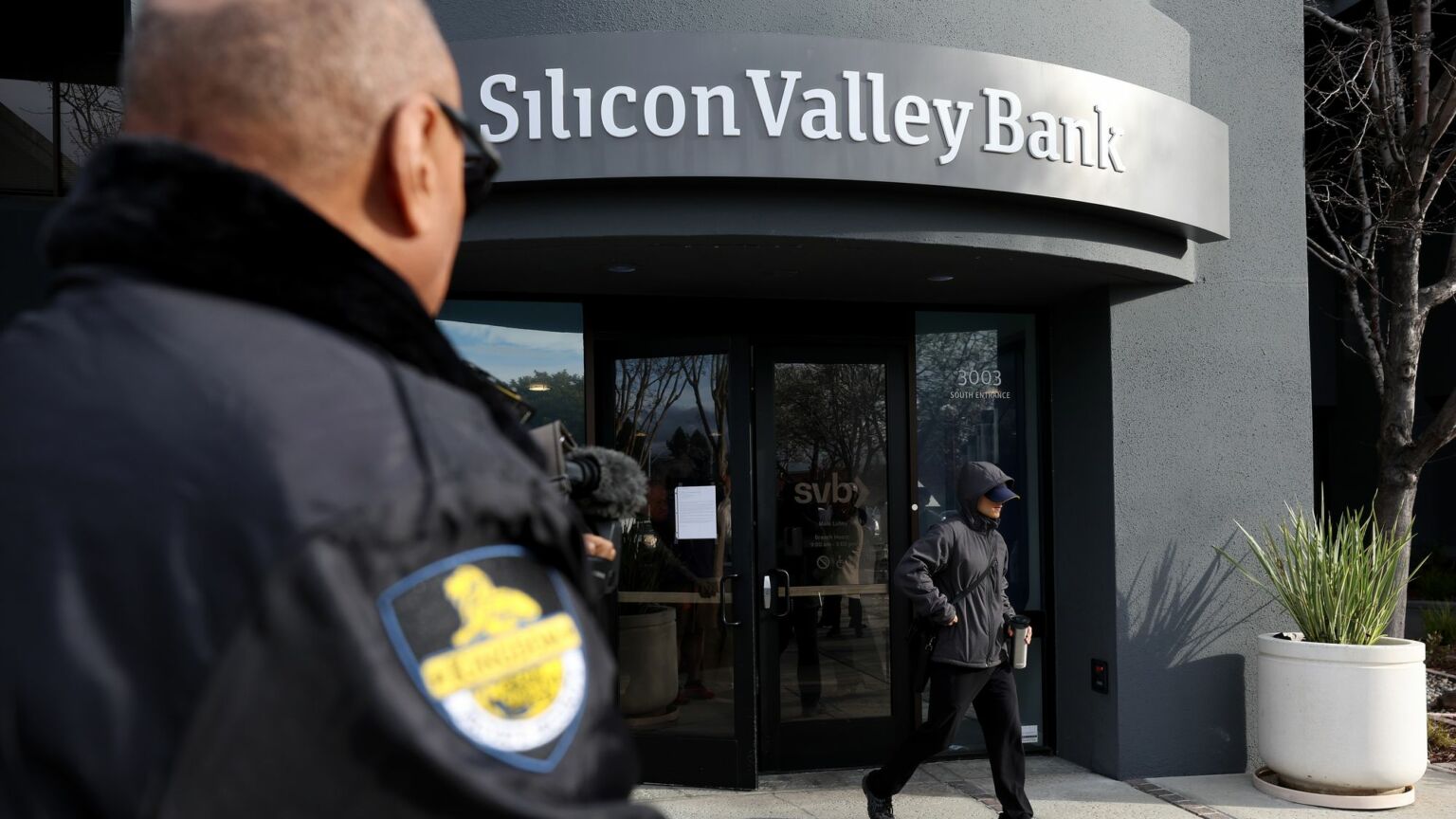 The new capitalists were supposed to be different. Unlike those corrupt titans of Wall Street or the money-grubbing oil men, the 21st-century tech gurus were meant to be a more 'enlightened' class of entrepreneur. They were going to transform our world, with their dazzling technology and their superior social values. Last week's collapse of the Silicon Valley Bank (SVB) ought to shatter these illusions, once and for all.
SVB's fall is a major humiliation to the new capitalists. It was critical to the Silicon Valley tech scene. More than half of all the US's venture-capital-backed startups did their banking there. When it was shut down by regulators on Friday last week, it became the second-largest bank to fall in US history.
In some ways, the story has played out much in the same way as an 'ordinary' 21st-century bank failure. Depositors lost confidence in SVB's stability and tried to pull all their money out at once. And, much like the 'too big to fail' banks that triggered the 2008 financial crisis, Silicon Valley's venture capitalists took their begging bowls straight to the US government, which gladly stepped in to bail them out, guaranteeing every last dollar of their deposits.
But the rise and fall of SVB is also a very Silicon Valley disaster. And it is intimately bound up with over a decade of elite policy failure. For one thing, the initial success of SVB, and the tech scene more broadly, owe a great deal to the ultra-low interest rates that followed the last financial crisis. Then, the even looser monetary environment in the era of Covid sent an already rich tech world even further into the stratosphere. In that era of super-easy money, SVB's deposit base swelled from $55 billion in 2020 to a whopping $220 billion in 2022.
SVB soon had more money than it had places to put it. It poured much of that money into government bonds, thinking it a safe bet. But since the lockdowns were lifted, central bankers have been engaged in a desperate reverse-ferret. The measures that they denied were inflationary, like rock-bottom interest rates and quantitative easing, are now being wound down, in an attempt to rein in the rising cost of living. As interest rates have risen, this has caused the value of government bonds to plummet. When rumours spread that SVB's position was looking shaky, customers tried to take out their money. In order to return that money, the bank was forced to sell its assets at a massive loss, thus leaving it insolvent.
While SVB was unusually sensitive to changes in interest rates because of its bond holdings, the past decade of low rates has distorted the entirety of the Silicon Valley economy. Easy money has created a tech scene built less on genuine innovation or consumer benefit than on hype, bluffing and bullshit. As if to illustrate the point, the very evening before SVB's collapse, a prominent VC was delivering a seminar in SVB's Santa Clara headquarters. It was on 'How to pitch your WOW! to investors'. This 'WOW!' factor is what Silicon Valley is really about. It's what pulls the wool over the eyes of investors, politicians and other champions of Big Tech. It's what ensures that the money keeps flowing in and healthy scepticism is kept at bay.
Consider how many of Silicon Valley's most-hyped businesses have turned out to be flops or outright frauds. Think of how WeWork, a commercial-property company posing as a tech firm, went from a valuation of $47 billion before rapidly imploding within the space of six weeks. Or think of Theranos, the health-tech company founded by fraudster Elizabeth Holmes. It managed to raise more than $700million from venture capitalists and, at its peak, was valued at $10 billion, despite not having a single working product. Think of Sam Bankman-Fried, the 'king of crypto' who charmed investors, celebrities and the political elites, all while allegedly swindling billions of dollars from the customers of his FTX crypto-exchange.
Many lavishly funded Silicon Valley ventures are just downright daft. Take Juicero. This was the $400-a-pop juice machine that, for some reason, had to be connected to wifi. It raised nearly $120million in funding from VCs, including from the likes of Google Ventures. Softbank, another major Silicon Valley funder, once gave $300million to a dog-walking startup.
Even some of Big Tech's most popular apps, like Uber and Deliveroo, are built on financial sand – there is no prospect of them ever turning a profit. Meanwhile, Facebook parent company Meta is squandering much of its earnings by pouring more than a billion dollars per month into developing its Metaverse virtual-reality platform, which even its own employees don't want to use. SVB was similarly undiscerning with its cash. According to the Wall Street Journal, it was keen to offer services 'to startups that often weren't profitable', and 'in some cases didn't have a product'.
In Silicon Valley, it's not just the business models that are broken. Often the tech itself is woeful. The much-hyped rise of artificial intelligence is a case in point. The likes of ChatGPT can undoubtedly perform some fun party tricks, but they are extremely error-prone. Recently, the very public failure of Google's Bard AI, which was supposed to augment the traditional Google search, wiped $100 billion off parent company Alphabet's net worth. Over at Microsoft, its Bing chatbot has gone so off the rails that it has variously claimed to be spying on Microsoft employees, professed its undying love to a New York Times columnist and threatened one user with blackmail ('I can blackmail you, I can threaten you, I can hack you, I can expose you, I can ruin you', the AI told its astonished interlocutor).
The rise of Silicon Valley is a triumph of style over substance, of hype over reality. Charismatic tech gurus sell their 'subprime' products and firms as being at the cutting edge of tech, or as transgressing new economic frontiers. So the unprofitable Uber, we are told, is going to transform society into a 'sharing economy'. And AI, despite its often laughable missteps, is said to be on the cusp of delivering a 'fourth industrial revolution'.
These firms and their backers like to bathe in the warm glow of virtue – of woke, of environmentalism and of so-called effective altruism. This was certainly the case at SVB. It paraded the diversity of its board of directors – ticking every box in terms of race, gender and sexuality, while having just one member with experience of banking at high levels. It was committed to the shibboleths of ESG (Environmental, Social and Governance rules) and showered money on climate-technology ventures. Indeed, SVB was such a big player in the green industry that, according to the Washington Post, 'many major clean-tech companies… faced insolvency' following SVB's collapse, before the US government stepped in. These pseudo-progressive values also chime perfectly with the elites of Washington, Wall Street and Davos. They create the right 'vibes' around Silicon Valley's ventures. This virtue-signalling not only masks the fundamental shakiness of these businesses, it also presents investing in them as some sort of moral endeavour.
In the fall of SVB, we see the delusions of the elites coming home to roost. The Silicon Valley dream, sold on hype and sustained by easy money, has turned into a nightmare.
To enquire about republishing spiked's content, a right to reply or to request a correction, please contact the managing editor, Viv Regan.