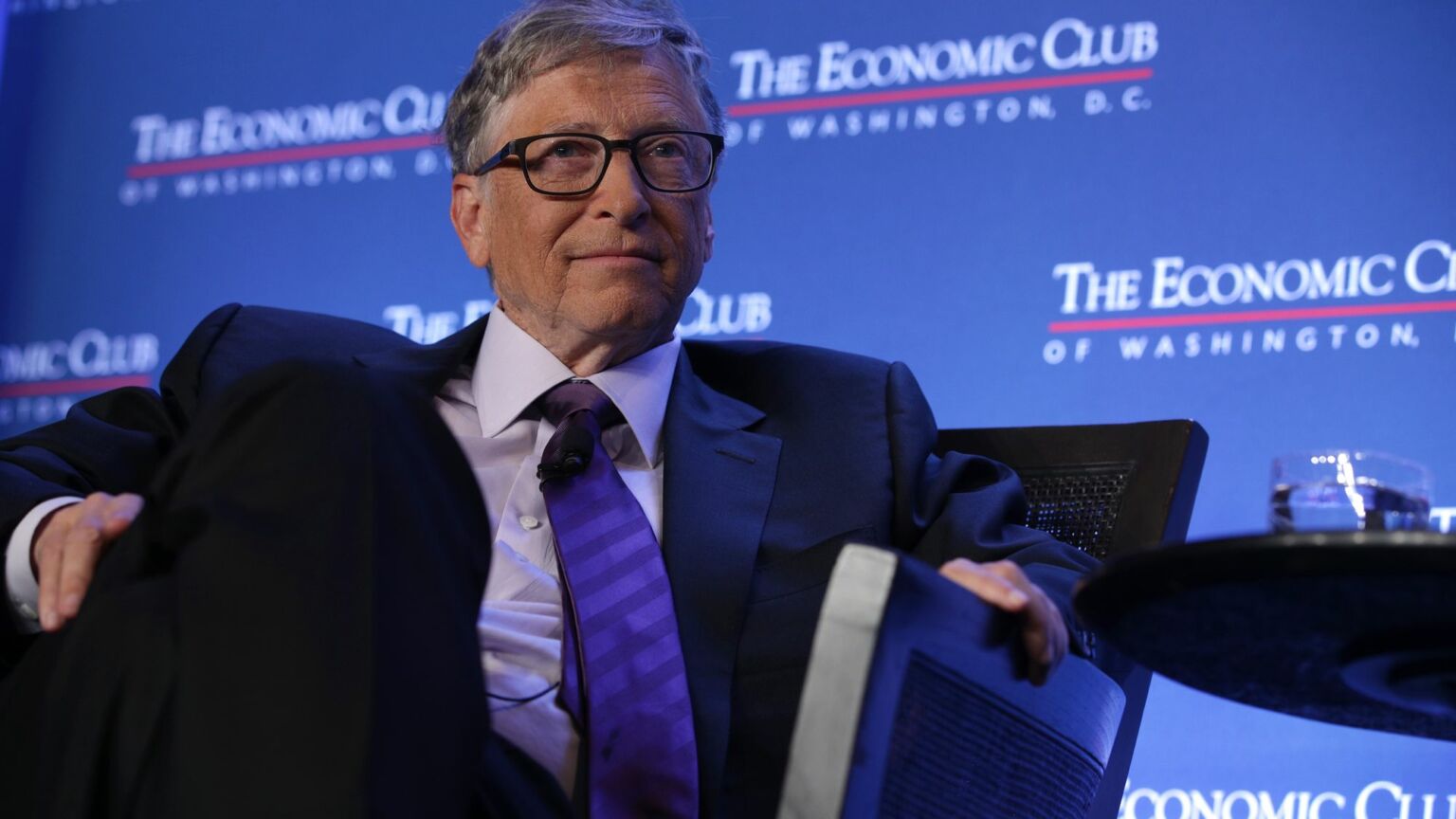 The rich are eating themselves
The oligarchs are playing a dangerous game by pouring trillions into woke causes.
Beware of plutocrats bearing gifts. The annual clown show at Davos epitomises how today, the global elites have embraced an unholy trinity of 'progressive' doctrines: climate-change apocalypticism, a belief in systemic racism and racial 'equity', and radical gender ideology. The super-rich hope that by genuflecting to these causes, they can buy themselves political protection and fend off the activists lurking in the ranks of their own companies. Yet, in the long run, this could end up fuelling their demise.
The recent 'Great Awokening' of our elites reflects a long-standing shift among executives in terms of priorities and perspective. The capitalist class first arose out of the middle orders, and even from within the peasantry, as the industrial revolution, particularly in the Netherlands and Britain, challenged the autocracy of both the church and the monarchical state. These were often tough, ruthless entrepreneurs embodying values of hard work, thrift, family and faith.
But with the managerial revolution of the 1950s, the nature of executive elites changed. As sociologist Daniel Bell first identified half a century ago, business leaders were no longer upstarts and thus the natural opponents of state power. Instead, they reflected a new type of individualism, unmoored from religion and family, a worldview which transformed the foundations of middle-class culture. The goal of this new executive class, as Bell saw it, was not so much building great companies, but gaining accolades from their peers, the press and the public – a trend also set out in Alvin Toffler's 1980 book, The Third Wave.
The rise of the socially conformist business executive was briefly obscured during the entrepreneurial boom of the 1980s, when Wall Street and tech leaders embraced Reaganite deregulation. The era of financier Mike Milken, Apple founder Steve Jobs, AMD founder Jerry Sanders and FedEx founder Frederick Smith seemed to reflect a resurgent 'cowboy capitalism'. These entrepreneurs were too busy making money to care about controlling the lives of the common folk. So much so that in 2006, economist Carl Schramm argued that Joseph Schumpeter's prediction of bureaucratic capitalist decline would be overcome by an 'entrepreneurial America reborn'.
This era came crashing to an end with the 2008 financial crisis and the massive state bailouts of large banks. The banking sector became more concentrated, with the number of American banking institutions falling by a third between 2000 and 2020. By 2020, the five largest banks controlled over 45 per cent of all assets in the US, up from under 30 per cent 20 years earlier. Worldwide, the five largest investment banks now control roughly one-third of investment funds; the top 10 control an absolute majority. In Europe, such oligopolies are even more powerful, with the top three banks accounting for a majority of assets in most European countries.
It is the same story with the technology sector. Once the vaunted centre of grassroots entrepreneurialism, a lack of antitrust measures from both Republicans and Democrats has allowed technology companies to morph into quasi-monopolies. Google controls over 90 per cent of the search-engine market; Microsoft owns over 74 per cent of computer-operating-system software; Amazon has nearly half of the US online retail market share and a significant proportion of cloud computing; Google and Apple together account for 90 per cent of smartphone operating systems.
Such immense market power encourages executives not to take risks and innovate, but rather to consolidate their dominance by acquiring smaller competitors. Amazon, Meta and Google now account for two-thirds of all online-advertising revenues, which now represent the majority of all ad sales. These oligopolies also seem poised to dominate emerging technologies, from cloud services and underwater fibre-optic cables to AI.
Alongside this economic concentration, we see as well uniformity of viewpoints and growing control over the means of communication. Companies like Google, Meta, Amazon, Microsoft and Apple largely not only control the biggest platforms, but have also taken direct ownership of movie studios, newspapers and magazines. All these outlets, along with the AI models these firms produce, tend to reflect the worldview of the tech oligopoly.
Monopoly power leads naturally to ever-greater politicisation of corporations. No longer concerned primarily with potential entrepreneurial competitors, these firms have tended to embrace progressive causes as well, most notably in the adoption of ESG (environmental, social and governance) rules that often promote progressivism ahead of profit. Like the feudalism of old, with its concentration of power and knowledge in few hands, these oligarchical firms have become America's 'new corporate tyranny', as author Michael Lind notes.
Of course, there's nothing new about business magnates seeking control of information, but rarely in history have they shown such fealty to a common perspective. Today, outside of Rupert Murdoch's news empire, upon which the sun will inevitably set, virtually all the leading oligarchs lean toward the Democratic Party (ironic, given that it was once the less receptive party to corporate power). Tech companies played a major role in the election of Joe Biden in 2020 and also helped finance the Democrats' remarkably good showing in November's Midterm elections. Though many of these donations are claimed to be earmarked for 'non-partisan' organisations – such as the $300million spent in 2020 by Mark Zuckerberg and his wife – post-election analysis has found that they were 'distributed on a partisan basis that favoured Democrats'. In 2020, five of the top eight donors to Joe Biden came from tech firms.
The new corporate hierarchy is much younger than more conservative funders like Charles Koch, Rupert Murdoch, Oracle founder Larry Ellison or Irvine chairman Donald Bren, who are all well into their seventies or eighties. These ageing conservative elites are increasingly outspent by the more youthful 'enlightened' rich, who in recent years have consistently outraised and outspent the political right by a margin of nearly two-to-one.
The primary means for oligarchic control is not campaign contributions, however. Instead, many gain influence from funding non-profits, which espouse selfless rhetoric even as they push their funders' own personal agendas and interests. In the US, non-profits' assets have grown by a factor of 12 since 1980. In 2016, non-profits brought in $2.62 trillion in revenues, constituting over 5.7 per cent of the US economy.
As philanthropy has grown, it has changed in character. Although the rich have made a show of improving the lives of the hoi polloi since time immemorial – building cathedrals, libraries, arts venues and soup kitchens – in recent years, they increasingly have been bankrolling progressive and even far-left politics, as Heather Mac Donald demonstrated as long ago as 1996. The rise of the tech oligarchy has only accelerated this trend. And unlike their early 20th-century counterparts, today's robber barons – with a few notable exceptions, like PayPal co-founder Peter Thiel – are decisively aligned with the left. This was most evident in their massive funding of Black Lives Matter and other radical groups in the aftermath of George Floyd's murder.
This marriage of big money and the left may yet have far to run. Alongside the grandees themselves, their ex-wives and offspring are also increasingly influential. Jeff Bezos' former spouse, MacKenzie Scott, was worth an estimated $60 billion in 2019, and has since pledged a reported $14 billion in donations to progressive non-profits. Melinda Gates, ex-wife of the Microsoft founder, is worth at least $6.4 billion and is backing liberal organisations like the Clinton Foundation. The next generation of tech and finance heirs, such as the left-leaning offspring of the founders of Qualcomm, could prove even more radical. As the New York Times notes, these are 'rich kids who want to tear down capitalism', founding non-profits aimed explicitly at 'challenging the system'. Born into the oligarchy rather than working their way to the top, these young trust-funders are not worried if their activities bother customers or even undermine the businesses that created their fortunes.
Nowhere is the power of the left-wing rich more evident than in their advocacy for draconian climate-change policies, such as the banning of gas stoves in homes. Tech moguls like Ted Turner, Michael Bloomberg and Richard Branson regularly make donations to environmental groups like the Sierra Club, often in amounts as high as $100million. In 2020, Jeff Bezos announced $10 billion in gifts aimed mostly for green non-profits. The current generation of Rockefellers, heirs to the Standard Oil fortune, now seek to punish corporations that follow the road to riches of their founders, while also funding sympathetic 'climate reporters' at the Associated Press and National Public Radio.
So while the media and activists like Bill McKibben like to warn gravely that conservative think-tanks and the dreaded 'Koch interests' are contributing to planetary doom, the big climate money actually goes to the greens. As energy commentator Robert Bryce has demonstrated, green non-profits – what he calls 'the anti-industry industry' – received well over four times as much as those promoting the use of nuclear energy or fossil fuels in 2021.
Tech oligarchs and woke Wall Streeters like to see themselves as what progressive writer David Callaghan calls a 'benign plutocracy'. They contrast their success to those who built their fortunes on resource extraction, manufacturing and material consumption. Yet eventually they may well find that they have been financing people who threaten 'their own rights and even their existence', rather like the French aristocracy before the revolution, as Alexis de Tocqueville later noted.
This starts with their lockstep support for a Democratic Party in which more people support socialism than capitalism, a trend strongest among the young. It is doubtful that these zealous young activists will tolerate ultra-rich climatistas like Michael Bloomberg, John Kerry, Bill Gates and Mark Zuckerberg for long, especially as their private jets emit vast amounts of greenhouse gases, reportedly almost 500 times what the average American emits in a year.
Ultimately, the oligarchs may find that the environmentalist left has little sympathy for the corporate leaders who fund them. Indeed, the red-green contingent typically agrees with the view of Barry Commoner, a founding father of modern environmentalism, that 'capitalism is the Earth's No1 enemy'. Bernie Sanders, after all, believes that 'every billionaire is a policy failure', a view also espoused by 'Green New Deal' architect Alexandria Ocasio-Cortez.
For the oligarchs, kowtowing towards radical groups like Black Lives Matter or CRT prophets like Ibram X Kendi may prove no more effective. These racial activists similarly decry capitalism as the root of racist evil. Yet despite this, the oligarchs continue to fund woke initiatives on issues such as race, policing, education and gender that seek to replace merit and competition with the equity agenda of an 'enlightened' state regime.
An idle bourgeoisie supporting destructive ideologies has been a trend throughout modern history, one that Joseph Schumpeter predicted would lead to capitalism's overthrow. In the 20th century, this manifested in members of Britain's upper class embracing Communism and even working for the Soviet Union, the sworn enemy of Britain and the capitalist West. Stalinism may be out of style today, but obsessive zealotry is not. Yet, as spiked's Brendan O'Neill notes, rather than embracing red authoritarianism, today's green elites tend to embrace a 'culture of misanthropic dread' about the climate that strips hope from all other classes and the next generation.
Ultimately, the very forces funded by the oligarchs could turn out to be their undoing. Elon Musk, OpenAI CEO Sam Altman and venture capitalist Marc Andreessen may see a universal basic income as the 'social vaccine of the 21st century'. But once the idea of an expanded welfare state is proposed, some on the left logically see no reason to leave the ultra-rich untouched. Many hope to fund a work-free world powered by technology and financed by the oligarchs' lucre. This leftist dystopia will certainly not herald a bright future for the masses, but for the witless billionaires encouraging it, it does have a ring of historic justice.
Joel Kotkin is a spiked columnist, the presidential fellow in urban futures at Chapman University and executive director of the Urban Reform Institute. His latest book, The Coming of Neo-Feudalism, is out now. Follow him on Twitter: @joelkotkin
To enquire about republishing spiked's content, a right to reply or to request a correction, please contact the managing editor, Viv Regan.