Populism is bigger than Trump
America's populist revolt must free itself from the mire of Trumpism.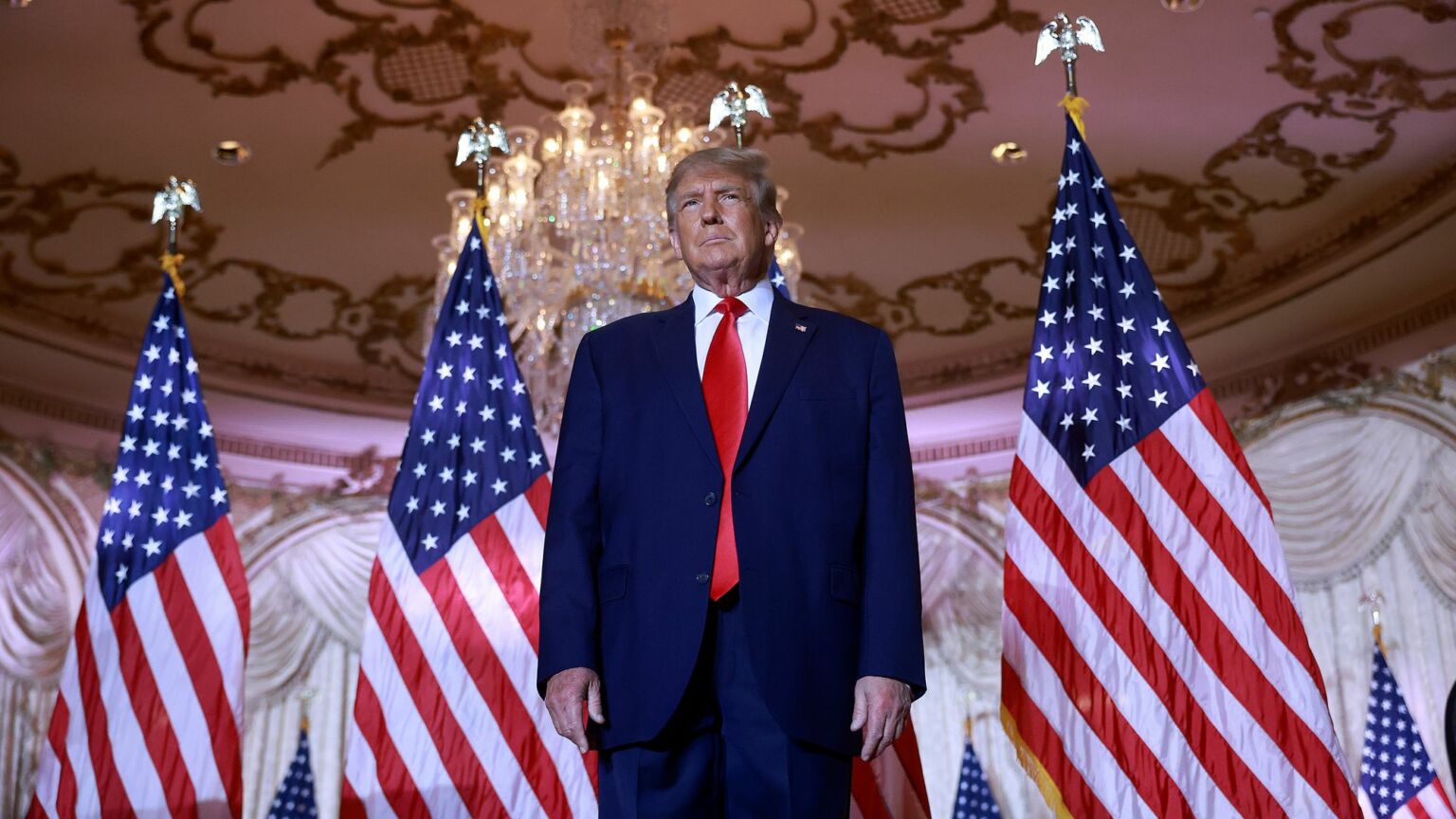 It's been more than seven years since Donald Trump first announced his candidacy for US president. Remember him waving, as he glided down that big gold escalator in Trump Tower? The prospect of a Trump presidency was essentially a joke back then. Among the journalists present, many of them were new on the job, given the assignment as a bit of a laugh. 'I was thinking this will be something goofy and funny to cover', one reporter who was there told Politico in 2019, in a piece looking back on that fateful day. Fast forward to 2022 and Trump has just launched his bid for re-election, following his ousting by Democrat Joe Biden at the 2020 election, to a crowd of adoring fans and hangers-on at his Florida resort.
I bring all this up not because I'm convinced Trump will defy expectations again – that in 2024 he will become the first president since Grover Cleveland to win re-election from exile. I'm sceptical, for reasons we'll come on to. But that Trump is now the presumptive Republican nominee, that a shock comeback is even a possibility, speaks to how much US politics has changed in just a few years. In 2016, voters across America were desperate to hit back against an establishment – both Republican and Democratic – that had dismissed and smeared them for too long. Trump was perhaps a curious outlet for that democratic anger, but it worked. Those voters may still lack prestige and power in American life, but they can be ignored no longer.
Such was the groupthink of the pre-2016 era that it took a one-off like Trump to spy the opportunity. Remember, in 2015, in the run-up to the Republican primaries, the media were expecting a Jeb Bush coronation. A man who makes Keir Starmer look like one of life's great showmen. Politics in America, as it was across the West, was stuck in a stifling, technocratic mould with little room for dissent. But no more. When Trump ran and won he took a wrecking ball to Beltway orthodoxy. He broke every speech code imaginable. He defied his own party as much as he did the Democrats – breaking, rhetorically at least, with Republican elites on matters of social security, healthcare and globalisation, sensing that there were millions of traditionally Democratic voters for the taking. (He was right: between seven and nine million Obama voters backed Trump in 2016.)
The 2016 election exposed both the complacency and snootiness of the elites. Firstly, there was the imposition of Hillary Clinton as the Democratic nominee – purely because it was 'her time'. She was the next in the line of succession. That this quintessential creature of the establishment was widely disliked didn't seem to matter to the Democratic elites. They were with her, even if the public wasn't. That so few saw her defeat coming, even after she lambasted Trump voters during the campaign as a 'basket of deplorables', is mind-blowing in retrospect. Then came the election itself, and the elite fury that followed the result. The Trump revolt was dismissed as a 'white lash', a racist rejection of the diversity of 21st-century America. That Trump was already making inroads with blacks and Hispanics in 2016, gains he would later build on in 2020, didn't dent the narrative. Nor did the aforementioned millions of Trump voters who had voted for Obama.
We at spiked were never on the Trump train. We have no truck with his illiberalism, his immigration fear-mongering, not to mention his bouts of right-wing snowflakery. He was more a beneficiary of the decay of the old politics, and the two main parties, than he was possessed of a new and positive vision. But there was much that was positive – and clarifying – about his election. Americans were refusing to do as they were told, to vote as they were expected to vote. As their communities crumbled around them, they were fed up with an elite who offered them nothing other than lectures about how to live and to think. Trump's election also did us a great service in exposing just how deep the elite's contempt for working-class folk runs. On cable-news shows, pundits lambasted them as 'rubes', while anchors struggled to contain their laughter.
Still, whatever else one might say about the Trump project (if we can even call it a project), it is a project that failed. Yes, this was in no small part due to a hysterical media that overreacted to almost everything he said or did, and a political establishment that tried to expel Trump by any means necessary – including via insane allegations that he was some kind of Russian plant. But winning the White House only underlined Trump's lack of populist substance. He was like the dog who caught the car. Beyond building that wall and going after China, he had no idea what to do next. And so into this empty vessel was poured the usual Republican elite slurry – a healthcare plan that managed to be even worse than Obamacare and tax cuts for the rich.
At times as president, Trump acted as if he was trying to prove his worst critics right. As he became increasingly mired in his own personal battles, he gave ammunition to those who would dismiss populism as the last refuge of the demagogue, as a byword for a cult of personality. When white nationalists marched in Charlottesville, cynically presenting themselves as foot soldiers of the president, Trump's inability to straightforwardly condemn them – bred, I would argue, of an almost pathological inability on the part of Trump to criticise anyone who likes him – fed the elite view that Trumpism was just Nazism for hillbillies. All of this and more left Trump damaged and spent long before Covid arrived.
Then came the 2020 election, and his shameful refusal to accept the result. His 'Stop the Steal' movement – replete with talk of Venezuelan voting software swinging it for Joe Biden – pulled Trump further into the world of batshit conspiracy theories. Things got very weird, culminating in the storming of the US Capitol by some of his more colourful and harebrained supporters. This whole episode exploded any claim Trump once might have had to being on the side of democracy and ordinary people. It all ended with Trump trying and failing to force vice-president Mike Pence to refuse to certify the election results. Had he succeeded, one man would have voided the will of 81million people. Some tribune of ordinary people Trump turned out to be.
To say that all this makes Donald Trump an imperfect candidate for 2024 is a profound understatement. In 2016 and 2020, he never got higher than 47 per cent of the vote, and that electoral ceiling has been reinforced by his antics since. The Republicans' humbling at the Midterms last week shows us this. As pollster Matthew Goodwin argues, 'the demographic divides which made Trump 1 possible, in 2016, remain just as strong if not stronger today'. As does the salience of issues like crime, immigration and the culture war, which all play well for Republicans and terribly for Democrats. And yet, the red wave turned into a trickle, in no small part, Goodwin argues, due to the dead hand of Trump.
As he announces his candidacy once again, Trump can boast of the impressive feat of being just as unpopular as the dreadful Joe Biden. A recent poll suggests that 65 per cent of Americans do not want Trump to run again; the exact same number do not want Biden to run again. So if that becomes the match-up, The Donald's got a decent shot, I guess. Perhaps in 2024 he could squeak a win as he did in 2016, pushed over the line by the dreadfulness and complacency of the Democratic establishment. But that would hardly be a great victory for democracy. America deserves better. The populist revolt is bigger than Trump, and it always has been. Time for it to break free from the mire of Trumpism.
Tom Slater is editor of spiked. Follow him on Twitter: @Tom_Slater_
To enquire about republishing spiked's content, a right to reply or to request a correction, please contact the managing editor, Viv Regan.