After Charlottesville: stand up to racial thinking
The far right must be challenged, but not with identity politics.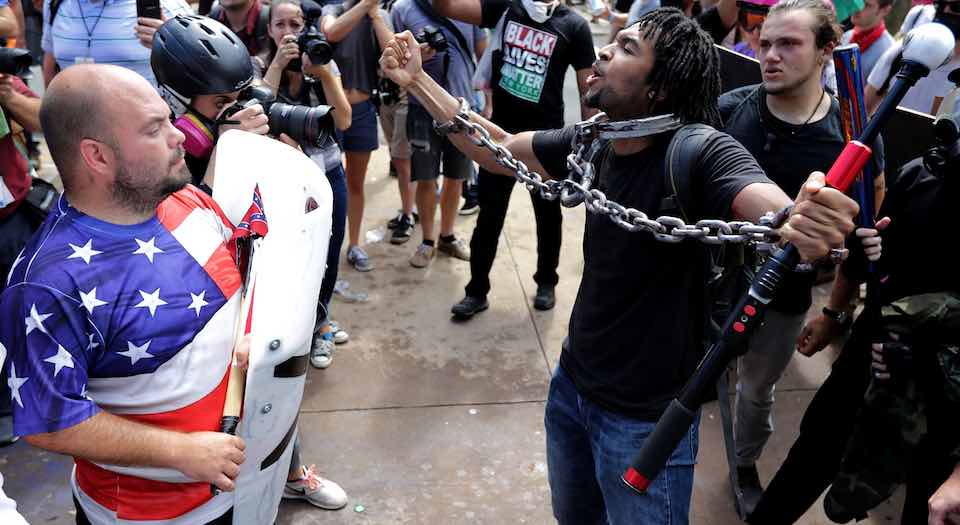 Political battles descended into physical brawls in Charlottesville, Virginia this past weekend, with horribly tragic consequences. A rally organised by white nationalists led to streetfighting with counter-protesters, and later a nationalist supporter drove his car into peaceful protesters, killing a woman and injuring 19 others.
It was shocking to see retrograde groups like the Ku Klux Klan, neo-Confederates, and neo-Nazis (complete with swastika flags and Sieg Hiel salutes) on the streets of this genteel university town. Led by the likes of former KKK 'imperial wizard' David Duke and alt-right supremo Richard Spencer, the 'Unite the Right' rally was an occasion for these groups to shout their racist and nativist views. It was also an opportunity for them to stir up violence, with a number dressed in military gear and bearing automatic rifles, and many more looking to provoke a riot. These vile groups, these losers, are clearly to blame for the death and violence that occurred on Saturday.
Watching these ugly scenes unfold on TV, many felt disgusted, angry and perhaps fearful. In his response, President Trump failed to convey that he understood any of this. He condemned bigotry and hatred 'on many sides', but avoided singling out the white nationalists. Such a vague statement, from a president who doesn't mince words when he personally attacks his foes, seemed tone deaf and even purposefully evasive. The man who continually mocked President Obama and others for their unwillingness to name 'Islamic terrorism' was now afraid of calling out the far right.
White nationalists have been emboldened by the rise of Trump. Seizing on Trump's nativist remarks, like his rhetorical attacks on Mexican immigrants, these far-right groups backed Trump in the election, and now think they have an ally in the White House. 'We are going to fulfil the promise of Donald Trump', said Duke, to 'take back our country'. On the campaign trail, Trump was reluctant to reject Duke's support, only later saying 'I disavow' in a grudging and half-hearted way.
Trump's mild rebukes of the far right have become a serious political problem. Trump himself is not to blame for the rise of these groups, as his political opponents would like to claim. Nor are the majority of those who voted for him motivated by racism and bigotry. But Trump's restrained, mealy-mouthed reprimands do not confront these groups head-on and isolate them. Instead, his remarks appear to signal that the neo-Nazis and alt-right are welcome members of his coalition, and only serve to encourage them and give them more prominence.
This weekend's violence shows how the white nationalists are not just wrongheaded, but also have the potential to degrade politics to the level of streetfighting. They need to be vigorously opposed. At the same time, it would be wrong to conclude from Charlottesville that fascism is on the rise in America. The white nationalists called a national rally in Charlottesville, with a majority of the attendees from out of the state, and yet they could only gather 500 people (and were clearly outnumbered by the 1,000 counter-protesters). While 500 neo-Nazis is 500 too many, it does not herald a significant movement.
Furthermore, if we want to get at the root of what is driving white nationalism and the alt-right today, we need to challenge identity politics. Modern white nationalism shares much with traditional forms of white nationalism – it is ugly, nativistic and conspiratorial. But what's new is that it draws upon a widespread notion that politics should be understood in terms of racial identity. Both the far right and the social-justice left view life through a racial prism, whether it is 'progressives' telling white people they can't speak because they are inherently privileged or the alt-right defending 'white pride'.
Today, white nationalists portray themselves as simply defending their 'white identity', in the same way as other groups celebrate their skin colour and other nature-given features. And rather than pose as strong, white nationalists base their appeals on the idea that they are victims, that they are under siege. In this way, they echo others who make similar claims for moral authority and sympathy on the grounds of victimhood.
We need to get away from such a racialised view of the world. When people are attacked – from the far right and the social-justice left – for saying they want a colourblind society, we have a problem. The answer lies in a reassertion of universalist values.
Charlottesville was the home of Thomas Jefferson. In these new times of racial divisions, we would do well to be guided by the simple yet profound words he wrote: 'All men are created equal.'
Sean Collins is a writer based in New York. Visit his blog, The American Situation.
Picture by: Getty Images.
To enquire about republishing spiked's content, a right to reply or to request a correction, please contact the managing editor, Viv Regan.