Rudy Giuliani's crazy conspiracy theory
Trump's lawyer seems to believe that a global left-wing conspiracy is responsible for the president's downfall.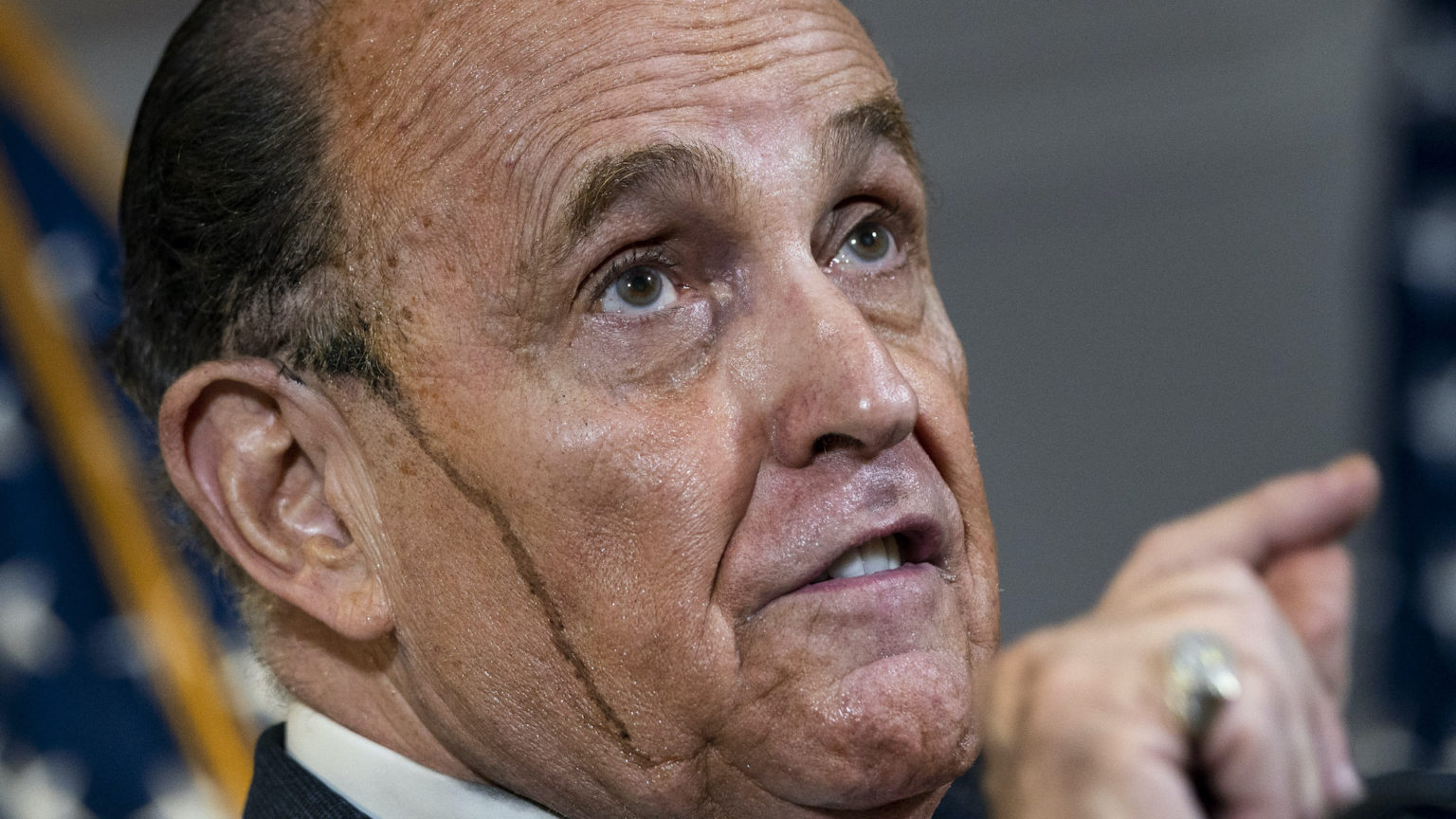 If there were any doubt that Trump's claims of a 'stolen election' were baseless, last week's performance by his surrogates Rudy Giuliani and Sidney Powell could not have made it clearer.
Few thought Giuliani, former New York mayor and Trump's personal lawyer, could sink much lower than earlier this month, when he launched Trump's quixotic campaign to overturn the election result from the car park of Four Seasons Total Landscaping in Philadelphia – not the luxury hotel chain, but a gardening shop in the suburbs situated between a sex shop and a crematorium. There's a metaphor in there for something or other.
At Friday's conference, looking like Bruno Ganz's Hitler in Downfall, Giuliani claimed the election results couldn't be trusted because the voting machines were communist, or something. Votes were 'being counted in Germany, by a Venezuelan company. Owned by people who are allies of Maduro, and Chavez.' Yes, that's the late Hugo Chavez, who died in 2013.
Joining the socialists – living and dead – in Giuliani's conspiracy theory was billionaire hedge-fund manager George Soros – 'the biggest donor to the Democratic Party, the biggest donor to Antifa and the biggest donor to Black Lives Matter', as he had it. The other noted socialist organisation behind this alleged 'Marxist' plot to install the centrist Joe Biden is the Clinton Foundation (presumably, the Clintons were taking a break from their day jobs of running a paedophile ring, as the online QAnon sect regularly alleges).
'President Trump won by a landslide and we are going to prove it', were the fighting words of former prosecutor Sidney Powell. Powell claimed that the voting machines used software developed 'at the direction' of the late Chavez and were the reason the Venezualan president never lost an election.
The software in question, created by a company called Smartmatic, was developed in Florida in 2000 by two men born in Venezuela. The current chair of Smartmatic sits on the board of the Open Society Foundation. As if these connections were not tenuous enough already, the software with those connections was only ever used in Los Angeles County. Powell and Giuliani's claim is that millions of votes were switched in swing states by this rogue software. But they try to get around this by saying a rival voting-machine company – Dominion – is merely a front for Smartmatic which, in turn, is doing the bidding for Soros, the Clintons and Venezualan radical left-wingers.
'This is real. It is not made up. There is no one here who engages in fantasy. I know crimes – I can smell them', Giuliani protested, as what appeared to be hair dye dripped down his face. The Trump campaign was melting before our eyes – literally. 'You don't have to smell this one. I can prove it to you 18 different ways', he continued.
Trump-friendly Fox News journalist Tucker Carlson has been asking for that proof. He has invited Powell to come on his show to share her evidence. Given that Powell is alleging 'the greatest crime in American history', it's in the national interest to hear her out, he said. 'We took Sidney Powell seriously… we simply wanted to see the details. How could you not want to see them?' But no evidence came, despite frequent requests, and she eventually told producers to stop contacting her.
Elsewhere, the legal bids to derail the election are coming a cropper. The Trump campaign has filed at least 30 legal challenges – 19 of which have already been denied, dismissed or withdrawn. NBC has confirmed that in at least three of those cases, Trump's allies failed to provide evidence to back up their claims.
Last week, Giuliani jumped on a case in Pennsylvania after other lawyers sensed which way the wind was blowing and withdrew. It didn't help that he hasn't practised in court for nearly 30 years. At various points, Giuliani mistook the judge for someone else and argued that there was not enough 'opacity' in the vote-counting (before admitting he didn't understand what the word meant). He even forgot which voting irregularities he was supposed to be alleging. Even with competent lawyers, these cases would have very little chance of succeeding. The strategy seems to be to use the existence of the challenges to suggest there are unanswered questions, to sow doubt on the election result and to fill those gaps of doubt with a baseless conspiracy theory.
The problem with these antics is not only that they are anti-democratic, but also that in the eyes of the cultural elites they prove that the entire Trump phenomenon was a ridiculous sham. In truth, many Americans – 70million in the recent presidential election – voted for Trump because they want political change and to take back control from an establishment that treats them with contempt. The Giuliani clown show is an affront to these people, too, because it is making a mockery of democracy. Everyone deserves better than this conspiratorial nonsense.
To enquire about republishing spiked's content, a right to reply or to request a correction, please contact the managing editor, Viv Regan.