Why Clinton's identity politics backfired
Women and minorities can think for themselves.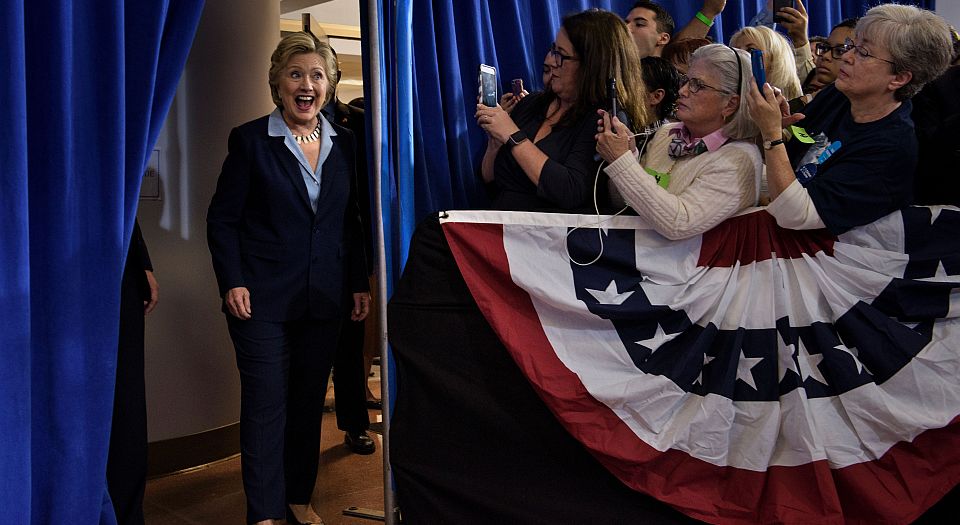 If there was one mantra that defined Hillary Clinton's vainglorious bid for the Oval Office, it was 'It's the demographics, stupid'. From the day the self-touting grandmother-in-chief stepped out on to the stump she tirelessly targeted women, Hispanics and African-Americans in a bid to ride Obama's Democratic coalition all the way to the White House. It took the ignoble demographic game that has always defined American politics into the 21st century: a kind of pork-barrel identity politics focused less on pledging favours to particular communities and more on insisting HRC understood, or felt the pain of, America's various biological or racial blocs.
At times, it was downright farcical. Alongside her vagina-vote-seeking slogan, 'I'm With Her', her constant appeals to women's issues, and her last-minute wheeling out of the Obamas, were stunts straight out of satire. In April, in an interview on hip-hop radio station Power 105.1's The Breakfast Club, she revealed that – like Beyoncé – she kept hot sauce in her bag. On occasion, it was also pretty nasty. When millennial Sanders-supporting women were refusing to plump for Hillary, up popped Democratic doyennes Madeleine Albright and Gloria Steinem to castigate the errant young women. 'When you're young, you're thinking: "Where are the boys?" The boys are with Bernie', said Steinem.
Every step of the way, Clinton was helped no end – it seemed – by the cretinous fulminations of Donald Trump, a man who's most memorable moments on the campaign trail involved insulting all of the Clinton camp's target groups. He opened his bid for the Republican nomination by fearmongering about Mexican rapists and drug-dealers; he called for a 'total and complete shutdown' of Muslim immigration; and boasted – on a 10-year-old tape – about grabbing women 'by the pussy'. He seemed to be playing straight into Clinton's game. Or so it seemed. Now, with Trump named the next president of the United States, the exit polls paint a remarkably different picture.
Among women, Trump's 'locker-room talk' seems to have made barely a dent. He gained 44 per cent of the female vote, down just two points behind Mitt Romney – the 2012 Republican candidate who refused to support the 'sexist' Trump. Clinton's share, meanwhile, dropped by one per cent. It was hardly a disaster, but the idea-lite Clinton's desperate attempt to make gender the issue of this election clearly fell on deaf ears. The vote share among white women was even more striking, with 53 per cent backing Trump – in spite of his wandering, tiny hands. When news broke, East Coast feminists spat out their smoothies at their sisters' 'internalised misogyny'.
Then there's the Hispanic vote. Though it has historically always swung to the Democrats, the Republicans have long tried to cultivate it. After hitting a 45 per cent high in the 2004 re-election of George W Bush, Mitt Romney scored just 27 per cent Hispanic support in 2012. It was assumed that Trump – and The Wall – would effectively decimate it. And a surge in early voting among Hispanics suggested a possible Clinton win in the key swing state of Florida – which has a significant Hispanic population. But in the end, Trump scored 29 per cent of Latinos' votes, two per cent higher than Romney, and Florida turned red.
At 88 per cent, the African-American vote was characteristically strong for the Democrats. (It has never dipped below the 80 per cent mark since records began.) But this was five per cent lower than in 2012, and seven per cent lower than in 2008, when Obama hit 95 per cent. This is all despite Hillary's hot sauce and Trump's tin-eared comments about the plight of 'the blacks'. While Trump's small gains among Hispanics and African-Americans did little to help him over the line, Hillary's losses did real damage. As one pundit pointed out, Clinton's underperformance among African-Americans could have been the difference in Michigan and Wisconsin, which both unexpectedly swung to Trump.
This was the election that defied demography. Though minorities may not have plumped for Trump, there was a clear rejection of the Clinton camp's identity politicking. What's more, Trump did what we were told was now impossible: win the presidency on the back of the white working class. Though Hillary still took the majority of the poor across demographics, white blue-collar workers in the post-industrial Rust Belt broke for Trump by 30 points. The one group that has long been ignored by the Democrats – and half-heartedly courted by Republicans, while ignoring concerns about trade and immigration – rallied behind The Donald in unprecedented numbers.
It's easy to see why. Blue-collar whites are the one group it's not necessary to pander to. This is why the attacks on white, female Trump voters have been so vicious. 'What leads a woman to vote for a man who has made it very clear that he believes she is subhuman? Self-loathing. Hypocrisy. And, of course, a racist view of the world that privileges white supremacy over every other issue', opined LV Anderson in Slate. Meanwhile, the Guardian's Paul Mason, still in the midst of his post-Brexit fever dream, called Trump's win a victory for 'white supremacy and misogyny'. This is the elite disdain that fuelled Trump.
We at spiked have long opposed identity politics. Treating the electorate as biological blocs to be stacked up obliterates universalism and class solidarity. But though this mini revolt against demographic politics is something to be welcomed, there is an unpleasant underside. As Joan Walsh notes, this is the first election where white workers began to 'see themselves as a minority, and to act as a self-conscious minority group'. Hillary's demonising of the 'deplorables', combined with Trump's demagogic appeals to a sense of white peril, has created a palpable sense of white victimhood – a sense that society is, in Trump's Black Lives Matter-esque phrasing, 'killing us'.
This is not about a resurgent 'white nationalism', as the likes of Walsh would have it. This is the inevitable playing out of the grand paradox of identity politics – that it celebrates and patronises all ethnic identities except one. And while well-to-do whites in coastal cities can get off on checking their privilege, those with no real privilege to check are either forgotten or smeared. But a brooding sense of white victimhood, combined with the elite's insistence on painting this election as a victory for racism, can only mean that the stifling, divisive racialism that defined Hillary's campaign and so much of today's supposedly progressive politics will linger, long after Trump's inauguration.
Tom Slater is deputy editor at spiked. Follow him on Twitter: @Tom_Slater_
To enquire about republishing spiked's content, a right to reply or to request a correction, please contact the managing editor, Viv Regan.