Five laws Liz should scrap to untruss free speech
So the new prime minister supports free speech? Prove it.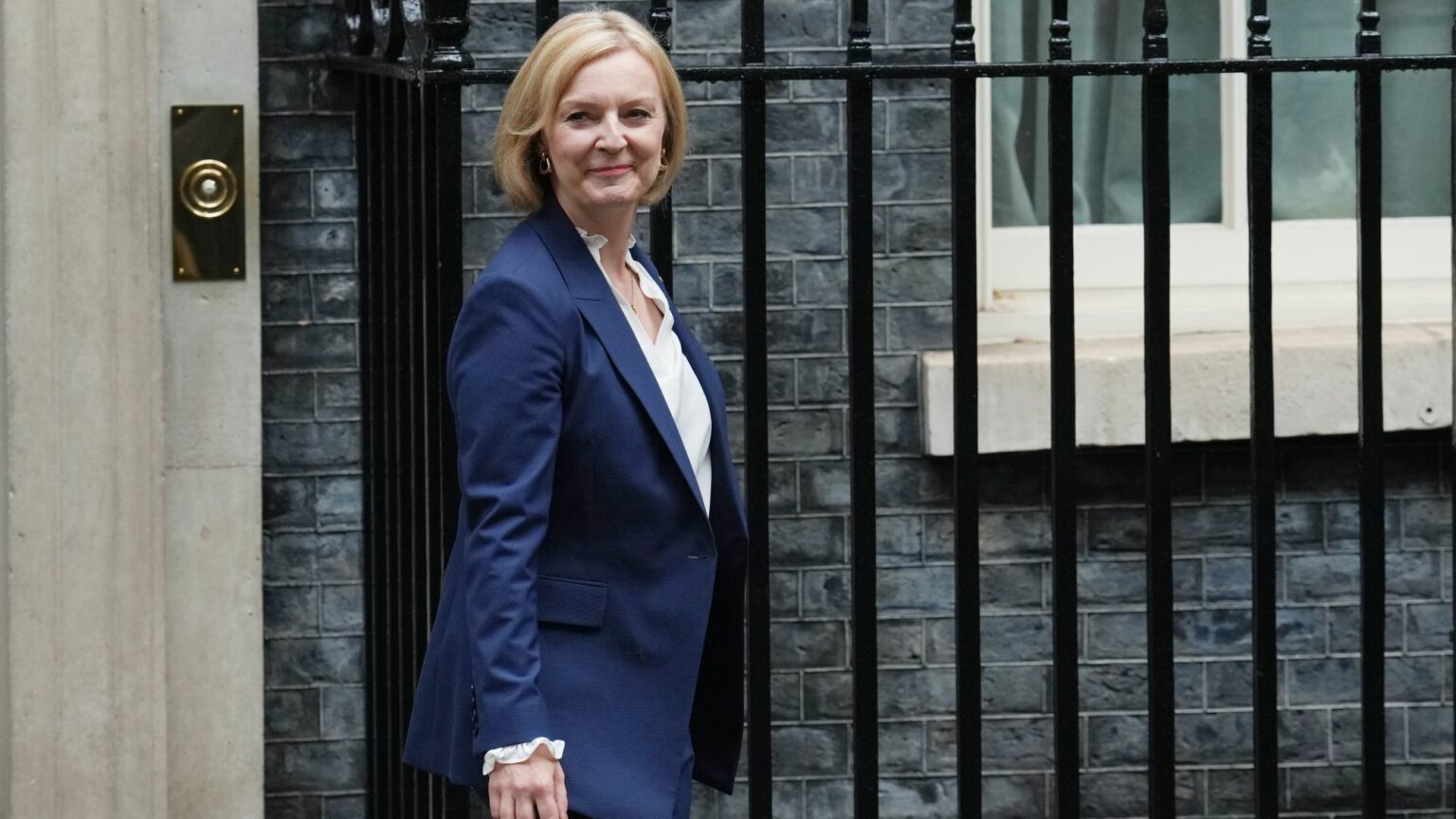 Liz Truss played up her support for free speech while appealing for Conservative Party members' votes in the leadership campaign. But we have learnt the hard way over 12 years of Tory government that, when it comes to freedom, there is often a reality gap between what our rulers promise and what they do in practice. And Liz Truss, the supposed 'new broom', has been a cabinet minister throughout those long 12 years.
So, now that Truss is ensconced in 10 Downing Street as prime minister, what could she do to protect our precious, precarious freedom of expression?
In one sense what we need her to do is less. There is no need for yet more new laws interfering with free speech. There are already far too many rules and regulations restricting our liberty to think, say, write, read and watch what we choose in the UK. Free speech in Britain is tied up in legislative knots. Time to untruss our most important liberty.
The best thing a Truss government could do is to get rid of existing and threatened legal impediments to freedom of speech. Here is a hit list of five she could axe for starters.
Kill the Online Safety Bill
The Online Safety Bill is a long-promised legislative flagship that both Boris Johnson and outgoing culture secretary Nadine Dorries assured us is necessary to protect the public against 'harmful' speech online.
But like Big Brother's Ministry of Truth, this Orwellian 'safety' law does exactly the opposite of what it says on the tin. In truth, it represents another attack on people's right to post, watch and listen to what they like.
The bill not only empowers Big Tech to take down any posts deemed 'legal but harmful'. It also insists that Facebook, Instagram, Twitter and YouTube censor such offensive material, which has broken no law, on pain of big fines imposed by the state's broadcasting regulator, Ofcom.
It would leave free speech online even more at the mercy of Big Tech's woke 'fact checkers' and algorithms, watched over by unaccountable, government-appointed quangocrats from the blob of officialdom.
The Online Safety Bill was shelved during the Tory leadership campaign but is due to reappear soon. Truss has promised to ensure that the bill 'absolutely' protects the right of adults to 'speak freely'. The best way she can do that is to kill this execrable bill 'absolutely', before it ever sees the light of day again.
A law that makes it a crime for protesters to cause 'serious annoyance' or 'serious inconvenience' looks like a blank cheque for the police to round up the usual suspects. What protest worth its salt does not annoy or inconvenience anybody? Even the recent Pride parades, now largely put on a pedestal by the authorities, will have seriously inconvenienced and annoyed some.
The government claims that these powers granted by the Police Act are necessary to stop idiots such as Extinction Rebellion or Just Stop Oil blocking roads and disrupting public services. But the police and courts already have more than enough powers to deal with those few self-righteous performance artists – especially if the government had the political will to back them.
Declare war on the hate-speech laws
This would involve much more than abolishing a single law. Britain's body of hate-speech legislation is an engorged monster with tentacles reaching into many corners of the law book.
The Public Order Act 1986, for example, gave the courts the power to police hate speech. Those powers were further expanded by the Criminal Justice and Public Order Act 1994, the Racial and Religious Hatred Act 2006, the Criminal Justice and Immigration Act 2008. And so it goes on.
All of these myriad laws criminalise speech and images that somebody finds offensive. They have been used to arrest and prosecute people for everything from preaching their religious beliefs to tweeting against trans ideology or teaching a dog to give a Nazi salute. Though Britain's old blasphemy laws were abolished in 2008, hate-speech legislation has effectively created a new crime of blaspheming against views endorsed by our illiberal liberal establishment.
Free speech means nothing without the right to be offensive.
Bury Section 40
Section 40 of the Crime and Courts Act 2013 is an attack on the freedom of the press, which sits on the statute book but has not been brought into force. The Labour Party and the House of Lords would love to enforce Section 40.
The Tories finally pledged to abolish it in the 2017 General Election under Theresa May, the 2019 election under Boris Johnson, and again in May this year. It is high time they made good on that promise.
Section 40 aims to force publishers to sign up to a state-backed regulator for the first time since Crown licensing of the press expired in 1695. Those publications who refuse to bend the knee to state supervision would potentially pay a heavy price for their independence.
If sued, they would be liable to pay the punitive court costs of both sides, even if they won the case. They would also face the threat of big fines. The law could apply not only to national newspapers, but also to local media and independent websites such as spiked.
Too many who claim to support free speech sneer at the freedom of the press. Yet press freedom is the vital lifeblood of democracy, without which free speech would be further hobbled. Time to abolish Section 40 for good, before Labour and the Lords get their hands on it.
Abolish the Human Rights Act
New Labour's Human Rights Act 1998 writes into British law the right to 'freedom of expression' (Article 10). Yet it has been used by UK judges to attack freedom of speech and of the press, by favouring the competing right to 'respect for private and family life' (Article 8).
Senior judges have invoked that apparently benign right effectively to create a privacy law. No such law has ever been passed by our elected representatives in parliament. Yet the unaccountable judiciary has used the Human Rights Act to impose a privacy law that is now used to protect the rich and powerful from public scrutiny in the way that our atrocious libel laws were in the past.
The government should abolish the Human Rights Act and rein in the power of increasingly politicised courts – starting with the Supreme Court, which considers itself above parliament.
That will also mean cutting all links with the European Convention on Human Rights, on which the Act is based. The ECHR too enshrines the right to freedom of expression, yet states that freedom can legitimately be restricted 'in the interests of national security, territorial integrity or public safety, for the prevention of disorder or crime, for the protection of health or morals', etc etc. It reads like a censor's charter waiting to be deployed when required.
Sadly, it seems as if Truss is already bottling out of this particular fight. She is reported to have shelved the previous government's plans to replace the Human Rights Act with a bill of rights.
Of course, none of these five legislative measures would guarantee freedom of speech. As a wise American judge once reminded us, 'Liberty lies in the hearts of men and women; when it dies there, no constitution, no law, no court can save it'. But they would be bold steps in the right direction.
Mick Hume is a spiked columnist. The concise and abridged edition of his book, Trigger Warning: Is the Fear of Being Offensive Killing Free Speech?, is published by William Collins.
To enquire about republishing spiked's content, a right to reply or to request a correction, please contact the managing editor, Viv Regan.