The Policing Bill will leave free speech in tatters
This authoritarian legislation is a threat to all our rights.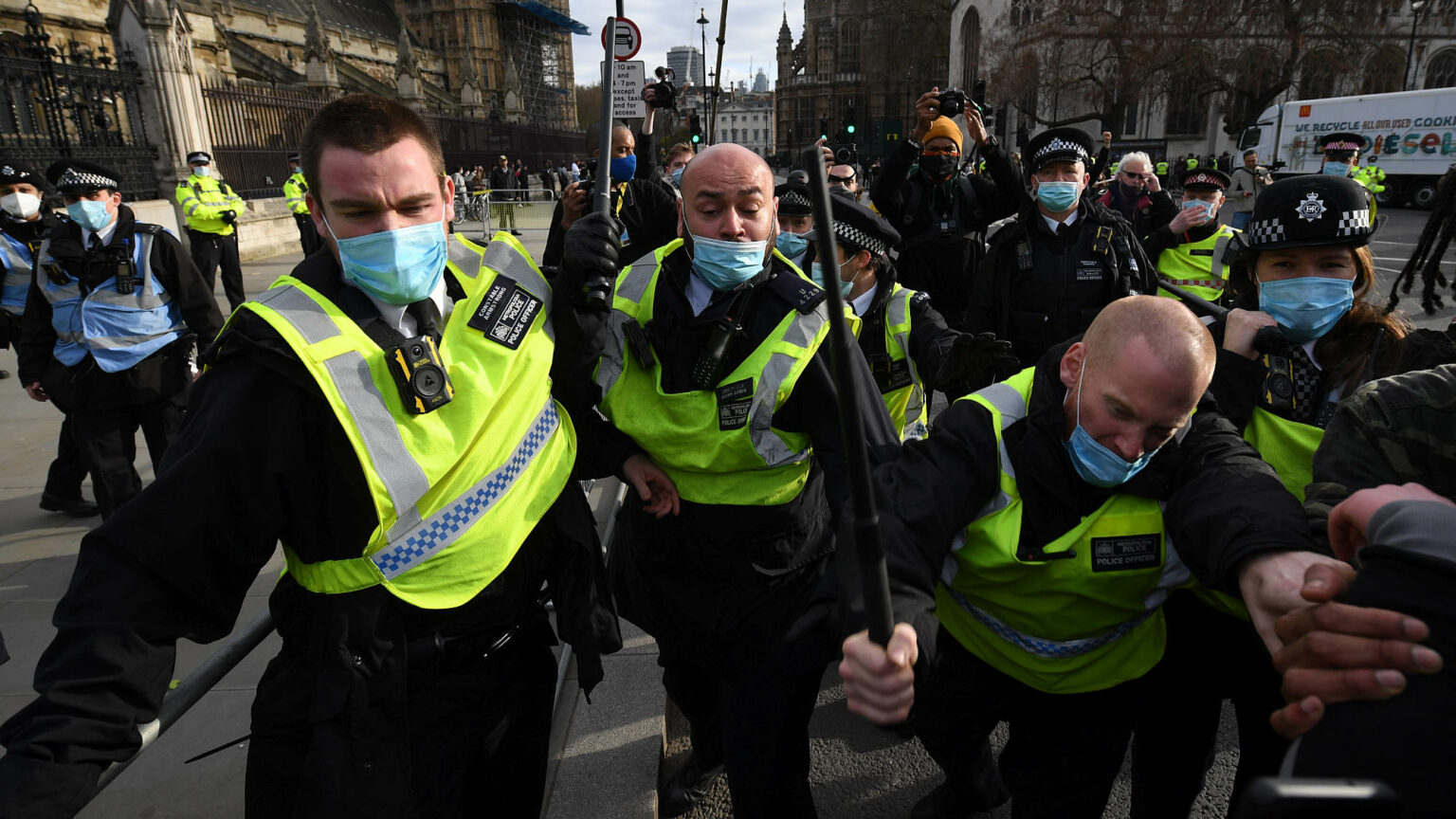 Boris Johnson once jovially remarked that the creation of ping pong on 19th-century British dining tables was what set Britain apart from the rest of the world. It seems this nation loves ping pong so much that we've incorporated it into our legislative process. The controversial Police, Crime, Sentencing and Courts Bill, debated yesterday in the House of Lords, has been batted back and forth between the parliamentary chambers for months. It's a match with very high stakes indeed – with freedom of speech on the line.
One of the reasons for the to-and-fro is that neither the Lords nor the Commons have been willing to make any concessions whatsoever. The government has championed the bill as a response to the public outcry at the activities of campaign groups, like Extinction Rebellion and Insulate Britain. The Lords argue that the measures as drafted will not only penalise particularly disruptive activist groups, but normal people exercising their freedom of expression, too.
We've been here before. In 2013, the Lords successfully persuaded the Commons to remove the criminalisation of merely 'insulting' conduct from the Public Order Act 1986. And in 2014, they defeated the government's proposals to criminalise conduct 'capable of causing nuisance or annoyance to any person'. So this tension isn't new.
Still, looking at the bill, it's astonishing that the government continues to insist that its proposals will have no impact on freedom of speech and protest. At best, this is willful blindness, at worst, an unabashed leap towards authoritarianism.
For a start, the bill would allow police forces to restrict noise-making conduct that even risks causing 'serious unease' and impose any conditions they consider necessary – including preventing the speech or protest in question.
The bill also significantly widens the meaning of protest to include a 'one-person protest'. This means that even one person sharing his or her beliefs in public could be deemed to be causing serious 'alarm', 'distress' or 'unease', and criminalised under the same law that would ban huge groups from blocking ambulances on major motorways. Usual requirements that the behaviour be 'threatening' or 'abusive' to be criminal are not included.
In short, the bill gives the police a sledgehammer to crack a nut.
And even if you happen to be so ingenious as to organise a silent protest, thus sidestepping the noise provisions, your actions may still be deemed to be causing 'serious disruption' – a measure aimed to allow for flexibility in tackling new forms of protest, but which offers no safeguards from any future government with more sinister, authoritarian intentions.
Indeed, Baroness Fox raised concerns yesterday that this bill would allow the government to cherry-pick the public speech and protests it likes, and censor the views it doesn't.
This threatens street preachers, who are already facing disproportionate arrests for expressing 'unpopular', Biblical views in public. And it also threatens pro-life volunteers, who offer help, counselling and prayer near abortion facilities. The vague language of the bill could result in a clamp down on so many people's ability to express their views – simply because they've fallen foul of the government's ideological stance of the day.
And what next? The erosion of expressive rights will always come at the cost of controversial viewpoints. Perhaps the feminist views of Maya Forstater, JK Rowling and Kathleen Stock could be next, given some could claim they cause 'unease'. Indeed, each has been smeared as an offensive bigot, and even in JK Rowling's case, accused of 'feeding a genocidal impulse', simply for sharing beliefs about womanhood in public.
With the House of Lords sending the bill back to the Commons again there is a clear impasse. For a government that prides itself on championing free speech, the solution should be strikingly clear. It needs to offer assurances in the bill that holding or expressing controversial viewpoints cannot, in itself, be a criminal offence. Given the ever-shifting cultural orthodoxies of the day, that would mean protecting the free-speech of everyone, and allowing them to freely participate in public conversations.
A settlement on this piece of legislation will need to be reached. It would be better for agreement to be found through the legislative process than through litigation in the courts. If the government is willing to hear concerns and address them, then politicians might be able to find compromise around that 19th-century British dining table, rather than playing eternal ping pong across it. Let's hope the outcome will allow citizens to have free and open conversations around the table, too.
Jeremiah Igunnubole serves as legal counsel for ADF UK, a legal advocacy group which defends fundamental freedoms.
To enquire about republishing spiked's content, a right to reply or to request a correction, please contact the managing editor, Viv Regan.