Why is America playing war games with China?
The Aukus pact represents a dangerous escalation of superpower rivalry.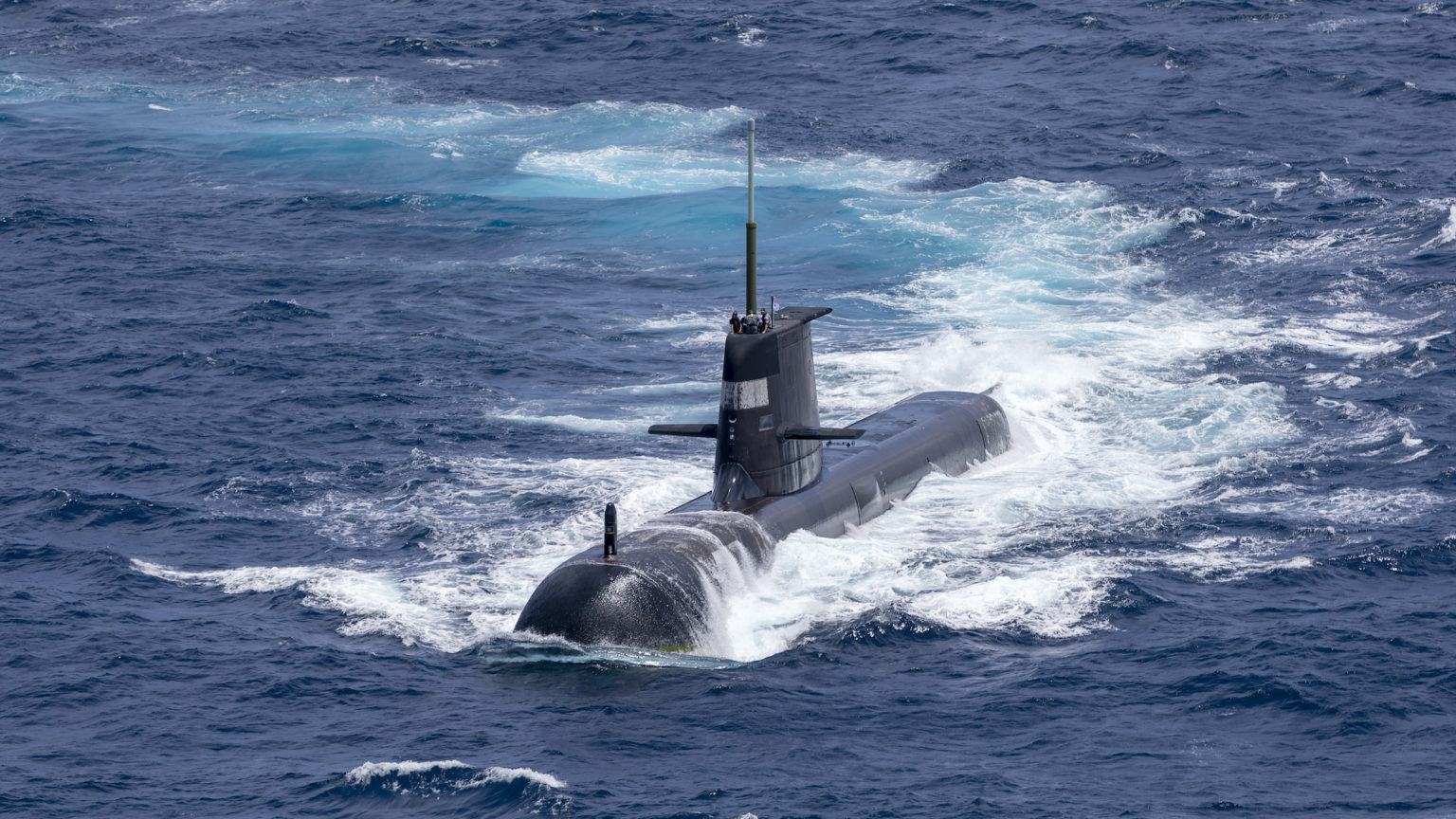 Aukus, the new security partnership between the US, Britain and Australia, is being widely viewed as a 'paradigm shift in strategy and policy' for the Asia-Pacific region.
The pact's significance goes well beyond sharing various advanced military technologies, including nuclear-powered attack submarines. It amplifies three existing trends in international relations that have been building up for over a decade.
First, it continues America's targeting of China. Second, it intensifies the militarising of America's strategy towards China. And third, it accelerates the unravelling of friendly relations between Western nations. These three trends together threaten geopolitical stability and peace.
China as America's No1 challenge
The pact confirms that the US government's core foreign-policy priority is how to contain China's rise as a global power. There is nothing new about the American establishment's desire for the US to remain the world's No1 power. However, Aukus does show that restricting China is now a solid bipartisan theme, uniting all sections of the US political class. It motivated Barack Obama, who launched his prominent 'pivot to Asia' in 2011, a policy approach designed to curb China's power. It motivated Donald Trump, as he expanded his initial trade war with China into a wider technology war, seeking to stymie China's economic development. And it is now being determinedly pursued by Joe Biden.
The US elite's fears about America's decline as a global hegemon were reinforced by the shock of the 2008/9 economic crisis. Not only was the US at the epicentre of the crisis, it was also hard to ignore the role China's economic policy played in helping the Western economies out of the doldrums. The shifting balance in the world economy could no longer be ignored. And this prompted a concerted US push to hold back China's ascent.
Aukus marks a further formalisation of America's objective to contain China. But what precisely is the American government's strategic goal?
To freeze China's economic development? That would be fantastical. US officials claim to want to 'decouple' China from the US and other Western economies to prevent China's continued economic rise into a global great power. The experience since Washington's attempted technological isolation of China's telecommunications sector shows that this is likely to be impossible. China faces many economic challenges – epitomised by the potential collapse of Evergrande, China's huge, heavily indebted property developer – but it is fast moving beyond the stage of economic dependence on Western technology.
China now has the capability, aided by its regional relationships, to become a technology leader with or without Western help. In addition to telecoms equipment and 5G communications, China has already been making great strides in other crucial technologies, from facial-recognition and surveillance technology to drones, battery storage and artificial intelligence. From being a technology follower and beneficiary of inward investment, China has, as one commentator puts it, 'learned to be a leader'.
An extension to militarisation
Washington's dawning recognition that it is probably too late to hold back China's economic and technological rise no doubt informs the second important feature of the Aukus pact: a greater focus on military containment. This represents a significant militarisation of American policy towards China. Aukus gives extra teeth to Biden's first address to the UN General Assembly, where he framed Washington's relations with China as a competition 'to win the 21st century'.
Already the US and its traditional European allies, including Britain, France and even Germany, have been dispatching a mixture of warships, submarines and aircraft carriers to the South China Sea. The new agreement incorporates into the military alliance another regular US partner – namely, Australia.
Biden is following up the Aukus deal by re-committing to another regional alliance to counter China, by hosting a meeting of the 'Quad' – which comprises Japan and India, as well as the US and Australia. Also with military potential, the full name of this grouping is the Quadrilateral Security Dialogue, and it is sometimes dubbed, a bit prematurely, as the Asian NATO. Although some think it has been undermined by the US withdrawal from Afghanistan, compromising India's security, the Quad's members have already joined together in large-scale military exercises.
However, raising the military stakes towards China is just as problematic for the US as ramping up the economic warfare. In practical terms, another eight or so nuclear-powered attack submarines on the 'Western side', which probably won't be built for several years, is unlikely to be that decisive in shifting the military balance of forces in the Asian-Pacific region.
Moreover, far from deterring the spread of China's geopolitical influence, this type of US-led sabre-rattling is more likely to exacerbate tensions in the region and reinforce the idea within the Chinese Communist Party (CCP) that America is trying to encircle China. This could well provoke a diplomatic and military escalation by the autocratic yet insecure Chinese government.
It was no coincidence that the day after Aukus was announced, China applied to join the Comprehensive and Progressive Agreement for Trans-Pacific Partnership (CPTPP) – a regional trade pact comprising Japan, Australia, Canada, Chile, New Zealand and another six transpacific countries. Ironically, the CPTPP was originally initiated by Obama with the goal of excluding China and limiting its influence in the region.
Neither Beijing nor Washington wants to go to war. Nor does Britain or Japan or any other country joining the US-led campaign against China. But that wish alone cannot stop a war ever breaking out. Military confrontation is usually an irrational and barbaric response to an unstable set-up. When international tensions acquire an overtly military form then fighting is more likely to erupt, through political misjudgement or even by accident. However despicably and illiberally the CCP acts towards its own people, we should never forget it is these same people who would suffer the most from a war triggered by decisions taken in Washington. That's what makes the Aukus pact such a dangerous step.
Old friendships turn uglier
Aukus also amplified the third trend on show – the open breakdown of relations within the West. The French government promptly condemned it as a 'stab in the back', and expressed outrage at the parallel cancellation of a huge contract for French companies to supply the Australian navy with diesel-powered submarines. This was about much more than a commercial blow to partly state-owned French suppliers. The French government's own deal with its Australian counterpart, announced in 2016, cemented a Franco-Australian partnership that Paris viewed as a vital part of its entire Indo-Pacific strategy.
In response to Aukus, France took the extreme diplomatic step of withdrawing its ambassadors from Washington and Canberra. Denouncing Australia as treacherous, France disparaged Britain as a junior vassal state to the US. No doubt French presidential elections next April stiffened Emmanuel Macron's response. However, this diplomatic eruption reveals deeper tensions between Western nations that have been simmering for some time.
A few weeks prior, the US's shambolic withdrawal from Afghanistan, precipitated by a decision the US took without consulting its allies, had provoked criticism from Britain and France. The fact that France – a long-term US ally, nuclear power and one of the five permanent members of the UN Security Council – has shown its anger towards the US twice in quick succession reveals the strains in the old Western international order.
Indeed, the Biden administration has already launched several initiatives with little Western consultation, including proposals to waive patents on Covid vaccines and to establish a global corporate tax. As Edward Luce at the Financial Times put it: '"America is back", whatever that means in practice. The West is certainly not.'
It is unlikely that Biden, or Australian premier Scott Morrison, or even Boris Johnson, wanted the Aukus announcement to anger France. Biden and Macron have subsequently tried to patch up their nations' relationship, with Biden insisting he wants French and European engagement in the Asia-Pacific region. But we are now in a period where national interests are taking precedence, and old assumptions about Western collaboration are disappearing.
This has been on the cards since at least the end of the Cold War. Initially it was in no particular nation's self-interest to act unnecessarily and upset the status quo. However, over the past decade or so, especially since the financial crisis, most Western governments have started elevating their own national interests over diplomatic protocols about prior consultation.
Macron's claim in 2019 that NATO was experiencing 'brain death' was one of his more accurate observations. It was at this point that Macron talked of his aspiration for European 'strategic autonomy' – a call reiterated by Paris in recent days – and for developing a European Union military capability. In doing so, Macron revealed the frayed state of the postwar order, and the international institutions that embody it.
These institutions represent the Western-dominated, postwar international order. Most of them, not least NATO, were moulded by the peculiar circumstances of the ensuing Cold War. Three decades on from the end of the Cold War, and these institutions are finding it harder to orient themselves in a world that is no longer dominated by the West.
Predictably, Macron also ran into difficulties over the Aukus controversy within his own regional institution – the EU. This, too, has been disrupted by diverging national interests over the past decade, with member states taking different approaches to the eurozone crisis, migration and the pandemic. On European military matters, too, there is no consensus on French aspirations for an EU army. Germany, Poland and others have openly expressed their reservations. Even over Aukus, there was no shared EU-wide response, with other member states concerned about being drawn into a French dispute and alienating the US on matters affecting their own national interests.
The cumulative effect of this more aggressive pursuit of national interests is that the old norms of international cooperation chafe. The erosion of cross-border cooperation infects international diplomacy. Again, this goes beyond specific actions, such as sanctions planned to punish other countries. Rather, a government's more open pursuit of its national interests – geopolitical as well as economic – now prevails over international consultation.
International cooperation will continue of course. But Western governments' foreign policies will increasingly be driven by immediate domestic concerns. Even over big, transnational issues, nations are often pursuing their own self-interest. And this has been becoming more pronounced in recent years.
The threat of confrontation heightens
The sort of intra-Western dispute precipitated by the Aukus announcement is not unexpected, then. Ironically, despite the supposed common Western front against Beijing, the divisions within the Western camp, exposed by Aukus, make it harder for these nations to work collaboratively to bring about a new international settlement – one in which China and other emerging nations are fully integrated.
Coping with peacefully incorporating an authoritarian but economically powerful China into a new global international settlement is formidable enough. Yet initiatives like Aukus make it even more difficult. They target China, inflame the CCP's sense of abasement and raise the military stakes in the region. Aukus was presented in the West as a force for regional stability, but it makes war more likely, not less.
History tells us that transforming the world order to incorporate major structural change is never easy for the incumbent powers. But, if we are to avoid war, this is the task now confronting the West.
Phil Mullan's Beyond Confrontation: Globalists, Nationalists and Their Discontents is published by Emerald Publishing. Order it from Emerald or Amazon (UK).
To enquire about republishing spiked's content, a right to reply or to request a correction, please contact the managing editor, Viv Regan.