The smearing of anti-lockdown protests
Thousands of people marching for their freedom should not be dismissed as 'anti-vaxxers'.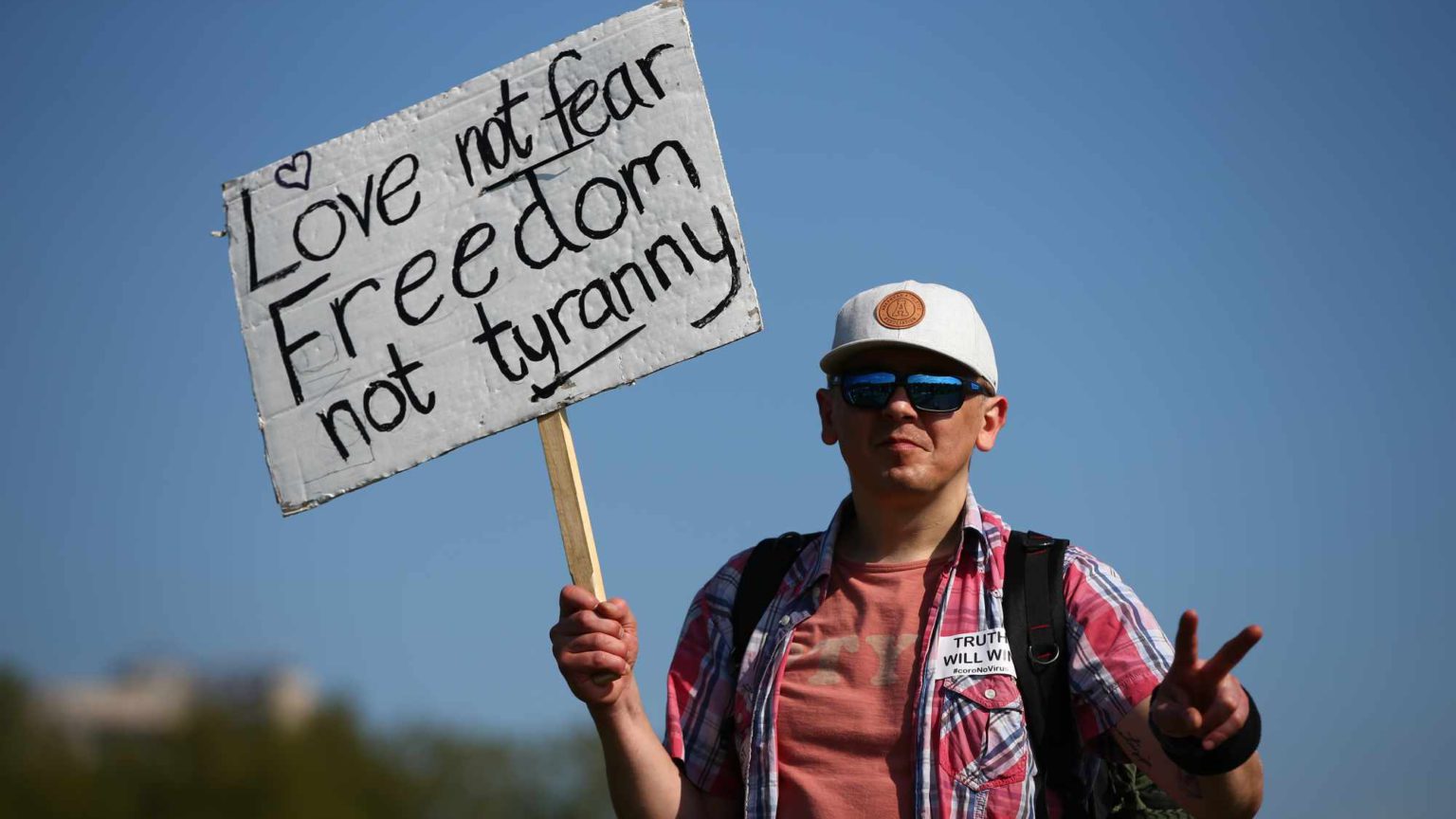 As we slowly wound past the memorial to Edith Cavell near Trafalgar Square, megaphones amplified the shouts of 'freedom', balloons wobbled in children's hands, boomboxes thudded, buses honked in support, and the smell of smoke flares hung in the air.
The modernist sculpture is engraved with the words 'Humanity' and 'Patriotism is not enough. I must have no hatred or bitterness for anyone.' The 'Unite for Freedom' anti-lockdown protest in London yesterday was as good-natured and peaceful as the previous anti-lockdown protests I have reported on for spiked. Seeing the sculpture and words was a gladdening moment on a day blessed by sunshine.
Cavell was famed for saving soldiers on both sides of the First World War. She was a true heroine. While the protesters yesterday stood for unity and freedom, the reporting of the protest seems conversely designed to be divisive, dehumanising and to downplay the strength in numbers and feeling.
The coverage from major news agencies and outlets told the story of 'hundreds' of 'anti-vaxxers'. 'Hundreds' is the downplaying part. It worries me. I was there, and I know it is not true. Do I need to see the news unfold with my own eyes every time in order to fact-check the front pages?
I can't estimate the numbers because the scale of the crowd was too vast, and moved steadily for many hours through the streets of London. Tens of thousands? Hundreds of thousands? Presumably the Met Police could estimate if they wanted to. The Guardian at least reported 'vast numbers of people'. The Press Association declared, 'Hundreds join anti-vaccination protest in central London'. The comments put that misconception straight.
Chief scientific adviser Patrick Vallance said in March that, 'It is the case that it is difficult to see how things like large beach gatherings and so on can cause a spike. The same was the case in a protest march in New York. They did not really see any spikes after that… outdoors itself is lower risk.' Since then, disgruntled commentators and the media could not criticise protesters for being irresponsible 'Covidiots'. Instead the framing has shifted. Anyone who opposes lockdown is presented as 'anti-vaxx'. This is the dehumanising and divisive aspect – we are pitted against each other.
Did anti-vaxxers go to the protest? I am sure they did. The crowd was huge and all ages, ethnicities and many viewpoints were represented. The rally was to 'Unite for Freedom', but there was no unity in placards. This seems to be a true grassroots movement and, as such, I observed a plethora of messages. Protesters called for 'freedom', 'no vax passports', 'no Covid passports', 'no more fear', 'facts, not fear', 'my body, my choice', to defund the BBC, for greater democracy. They demanded no more lockdowns, no more masks and, yes, there were conspiratorial placards accusing Bill Gates and the World Economic Forum of evil. Opposition to Covid certificates and vaccine passports was a strong and consistent theme, rather than vaccines per se.
The management and communication during the epidemic has been plagued by misleading statistics, the cherry-picking of the worst data, alarmist language, horror-film-style advertising, one-sided media coverage and coercive language and tactics, all of which I wrote about in my new book, A State of Fear.
Bludgeoning people with 'nudge' (behavioural psychology), weaponising fear, and tightly controlling the narrative risk undermining the public's trust in government, public-health messaging and the media. This is the third time I have reported on anti-lockdown protests for spiked, and the third time I have been slack-jawed by the lack of honesty in how the media misrepresents the scale and purpose of these protests. This mistrust can be read clearly in the placards.
These protesters aren't the small minority group we are told they are. They aren't 'violent Covidiots' and they aren't all 'anti-vaxxers'. There are two sides to every story, and it is humane, patriotic and truthful to remember this.
Laura Dodsworth is a writer, photographer and filmmaker. Visit her website here. Her latest book, A State of Fear: How the UK Government Weaponised Fear During the Covid-19 Pandemic, is published by Pinter & Martin. (Buy this book from Amazon(UK).)
To enquire about republishing spiked's content, a right to reply or to request a correction, please contact the managing editor, Viv Regan.