Nicola Sturgeon is not having a good pandemic
Why are commentators blind to the first minister's deadly failings?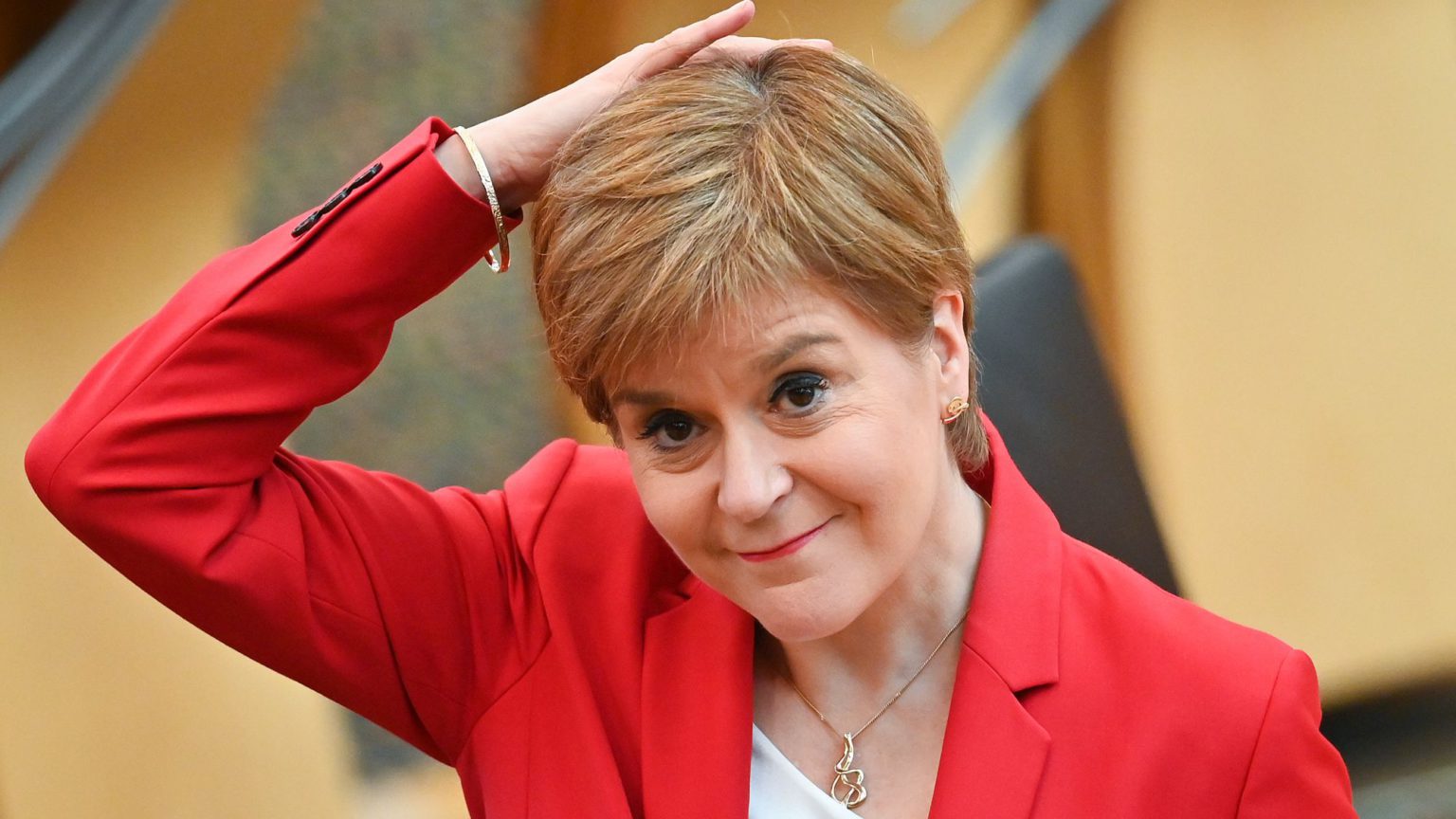 Scottish first minister Nicola Sturgeon is having a 'good' pandemic. Not practically, of course. Just over 2,500 people have died from Covid-related causes in Scotland. What's more, nearly 50 per cent of these deaths occured in Scotland's care homes, thanks to the SNP government's disastrous decision to discharge elderly patients, including some who actually tested positive for Covid-19, directly into them. The Common Weal thinktank called this decision 'the single greatest failure of devolved government since the creation of the Scottish parliament'.
On top of the deaths and the callous treatment of the elderly in the name of freeing up NHS capacity, Scotland has also struggled, like England, to provide a sufficient amount of personal protective equipment to frontline staff. And, like England, it has failed to implement an effective test, track and trace system.
So, practically, Sturgeon's government has handled the pandemic just as badly as Boris Johnson's. Politically, however, she really is having a 'good' pandemic. A 'good' pandemic, at least, in the eyes of those – not just in Scotland, but in England, too – who despise Johnson, the Tories and all that Brexity stuff they stand for.
That's why praise for Sturgeon always comes in the context of some invariably shrill criticism of Johnson. So she 'has taught [him] a valuable lesson on the art of ethical leadership in a crisis'. She has shown 'at least one of my governments cares if I live or die'. She 'clearly doesn't believe Johnson's gone nearly far enough to protect people'. On and on it goes. She is 'real', where Johnson is 'affected'. She is 'humane', where Johnson is 'callous'. She is following the science, where Johnson is following, well, who knows?
This veneration of Nicola Sturgeon, especially south of the border, has very little to do with what's actually happening in Scotland, and everything to do with the political dynamic in the UK more broadly. That is, her veneration depends on the extent to which she provides a conduit for a certain sentiment held among the anti-Boris cultural and political elites.
In many ways, Sturgeon shares the worldview of Britain's political and cultural elites. She is vehemently pro-EU, determinedly paternalistic and increasingly identitarian. People appear to her, as they do to political and cultural elites south of the border, as a problem to be managed, a source of offence, ill health and bad behaviour. Her worldview is their worldview, her politics is their politics.
Hence Sturgeon seemed to pick up support in England after the EU referendum among this self-same political and cultural establishment. She appeared, in these people's eyes, as a voice of reason, a source of good sense. They even sympathised with the SNP desire for an independent Scotland because of its paradoxical objective to re-join the EU.
And now we are seeing this again with the SNP's response to the pandemic. Sturgeon is being praised in England by a social and political constituency similar to that which elevated and fawned over her after Brexit broke its members' hearts.
But what is feeding her popularity this time is the extent to which she appears as the champion of stricter lockdown measures against the supposedly complacent and half-baked lockdown measures of the Johnson government. She channels the hopes and dreams of all those who think the UK should have shut down sooner and for longer. She gives political voice to all those in the political and expert sphere who think the UK must pursue a so-called Zero Covid strategy and attempt to drive down transmission of the novel virus to, well, zero.
Hence members of Independent SAGE, the self-appointed Covid technocracy, have praised Sturgeon for 'a clear strategy', in which 'elimination is the aim and all objectives are geared towards driving things as low as possible'. As Professor Gabriel Scally put it: 'Nicola Sturgeon is entirely correct. We could avoid so much misery, long-term illness and death over the coming months by acting now to get Covid cases down to zero domestic transmission.'
Others, focusing less on the particulars of Zero Covid, see Sturgeon's talk of suppressing transmission as simply an example of strong and clear leadership. Everything, of course, that Johnson's government has failed to exhibit. 'In England', writes Indie SAGE's Stephen Reicher, 'we don't see any particular strategy, some people talk about herd immunity by default, but nothing has been articulated at all'.
And so, just as she did on Brexit, Sturgeon comes to stand for the right-thinking elite position: suppress the transmission of Covid, whatever the cost.
The problem is that cost is enormous. To suppress the virus, as the advocates of Zero Covid demand, means something terrifyingly simple: suppressing contact between people. And so Sturgeon is cheered on for imposing measures on Scotland that are even more draconian than those in England. Households banned from mixing. Students barred from going out to pubs. And even more sinister, a public-information campaign in which familial contact itself is literally portrayed as toxic.
So blinded are Sturgeon's champions, by their animus towards Johnson and the Brexiteers, that they do not see how unpleasant her pursuit of Zero Covid really is. Quite the opposite. They and Sturgeon want more. And so she is now calling on the UK government to re-apply and extend the furlough scheme, or give the Scottish government more economic powers, so she can shut down more of Scotland's social and economic life. Indeed, it does look as if UK chancellor Rishi Sunak's refusal to do so is the only thing standing between Scotland and its very own devolved second lockdown.
It would be easy to suggest Sturgeon and the SNP are playing cynical, political games here – that they are playing the Zero Covid card, and appearing to care more about life than the economy, in order to create a righteous distinction between their approach and that of the UK government. The thinking being that, in doing so, they demonstrate the necessity of Scotland's independence. After all, right at the start of lockdown, the Scottish government dismissed the very possibility of a Zero Covid approach. As Jason Leitch, Sturgeon's national clinical director, put it in March, 'We have no choice [but to live with it]. You can't get rid of the virus.' It was not until late April / early May that the SNP suddenly decided, at the very moment criticism of the Tories' bungling was ramping up, that this was possible after all.
But, in truth, Sturgeon is not that cynical. In fact, when it comes to petty, and now not-so-petty, authoritarian measures, the SNP has always proved itself a true believer. That should concern anyone, on both sides of the border, who values what is left of our freedoms.
Tim Black is a spiked columnist.
Picture by: Getty.
To enquire about republishing spiked's content, a right to reply or to request a correction, please contact the managing editor, Viv Regan.