The SNP's war on women
Today's SNP leadership poses a genuine threat to women's rights.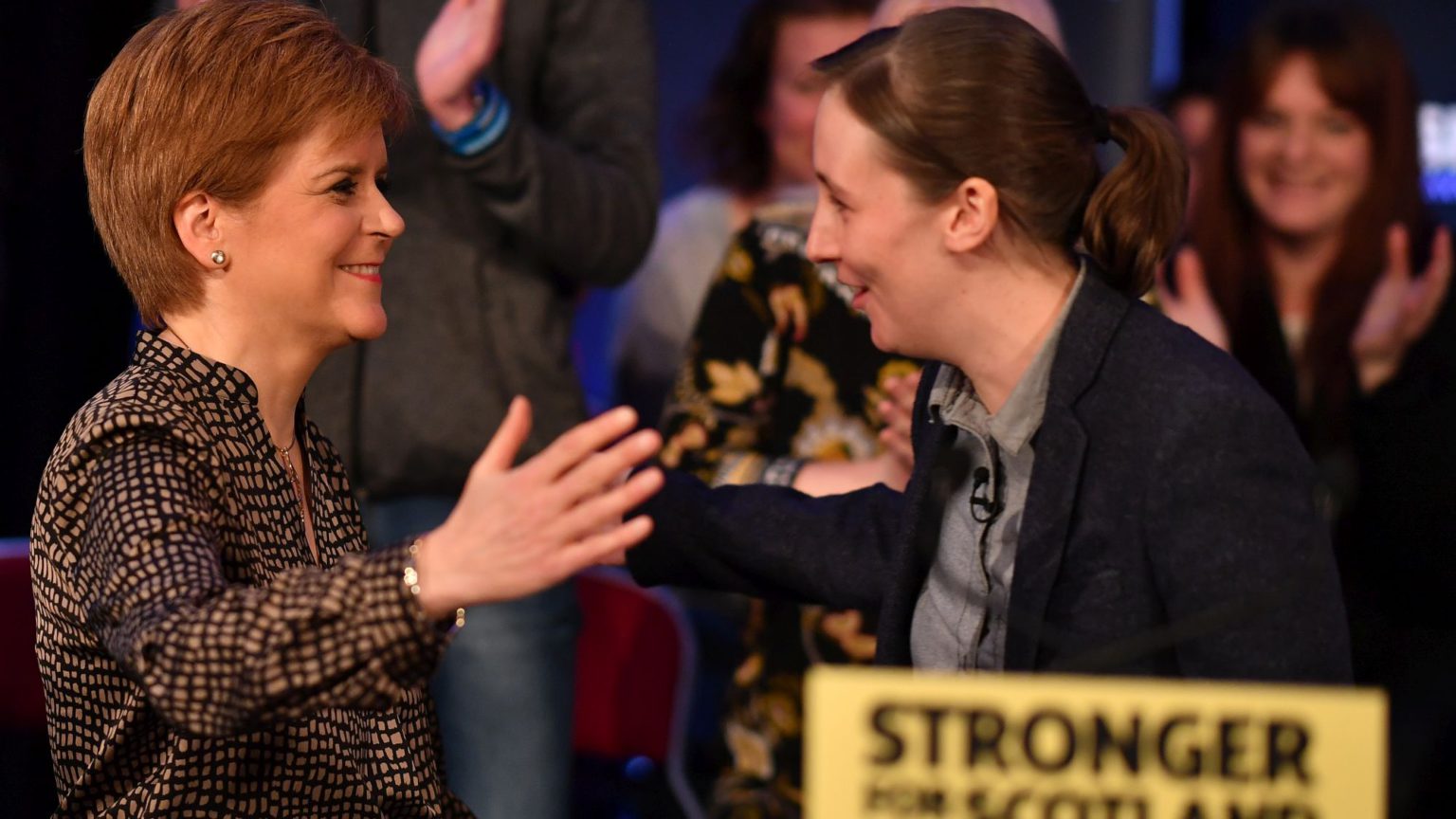 This year has not started well for the Scottish National Party (SNP). In February, SNP MSP and Scottish finance minister, Derek Mackay, was forced to resign after it was revealed he had sent 'inappropriate' text messages to a 16-year-old boy. A few weeks later, the former Scottish first minister and SNP leader, Alex Salmond, stood trial for assorted sexual-assault and rape charges.
It does not matter that Salmond has since been cleared of all charges. Some had already seen his trial as the SNP's #MeToo moment. Writing for the Scottish Review, academic and writer Gerry Hassan argued: '[The Salmond trial] will be a watershed moment on many fronts. One of them will be the issue of men, of the use and abuse of male power [and the] problem of male behaviour.'
In a sense, the SNP has brought this on itself. This is because the idea that Scottish women are under constant threat from predatory males has become central to the SNPs reformulation of its social mission since losing the independence referendum in 2014.
Last year, for instance, the SNP brought forward legislation that has effectively criminalised lap dancing and adult entertainment venues across Scotland. It argues that 'lap dancing, stripping [and] pornography' are nothing less than 'violence against women'. (Far from welcoming the legislation, however, Scotland's strippers joined the GMB union and launched a national campaign to defend their livelihoods and their rights as women.)
Similarly, the SNP has been keen to focus on the problem of men when justifying its proposed reforms to the 2004 Gender Recognition Act (GRA). It argues that women should support the reforms because it is 'men who seek to abuse women' and that violence against women 'is not the fault of trans people. It is the fault of abusive men.'
The SNP worldview presents Scottish women as being besieged by misogynistic Scottish men. Yet men are not the real threat to women here. That comes from the SNPs naive and muddled brand of feminism. It threatens to have dire consequences for Scottish women.
This dangerous, muddled feminism is apparent in the SNP's proposed reforms to the UK-wide Gender Recognition Act 2004, which would make it easier for an individual to change his or her gender identity. The SNP wants to remove the need to provide evidence of a medical diagnosis of gender dysphoria, and move to a 'self-declaration' model. It also wants to shorten the amount of time an applicant is required to live in their acquired gender, from the current two-year minimum to just three months. But the SNP doesn't stop there. It is also seeking to reduce the minimum age by which an application can be made, from 18 to just 16 years old.
The SNP's GRA reforms have met with opposition from some trans activists. An open letter to Scottish MPs in April 2019, signed by 14 trans activists, argued that the proposed reforms are a 'naive and misguided attempt to support a simplistic notion of inclusion'. The letter continues:
'[We] understand why many women choose to remain silent despite the discomfort and outrage when biological males claim they are entitled to the rights and protections granted to women; take places reserved for women in politics and wider society; compete in female sport despite ongoing physical advantage; and put their needs above the needs of women.'
The intervention was welcomed by some senior SNP MSPs and women's rights activists, including Jan McAlpine and Joanna Cherry. They felt that the SNP's reforms did threaten the rights and needs of biological women. But the SNP leadership had no interest in discussing their concerns. So, later that year, it was widely reported that several leading female SNP members were considering quitting the party due to the lack of internal debate on the issue of trans rights and the GRA reforms. According to Cherry, the trans issue raised 'serious questions about how we develop policy in the SNP and how we conduct debate'. In February, Kevin Pringle, a former SNP special adviser, warned that the SNP leadership's line on trans rights often came across as 'back us or be labelled as a bigot'.
Pringle is not wrong. Mhairi Black, an SNP MP and shadow secretary for Scotland, responded to parents' criticism of her trip to Glencoats primary school with FlowJob, a transitioning drag queen and risque adult entertainer, by tweeting: 'You know that the people pretending to be livid that a drag queen read a book in a school are also the people who run out to buy their kids the latest Grand Theft Auto on release day.' She added: 'Your homophobia is transparent.'
FlowJobgate is much more than just another embarrassing blot on the SNP's recent copy book. It also clearly illustrates its muddled and naive position on gender more generally and its increasingly abusive dismissal of any concerns ventured either by women or parents.
Hence, in February 2019, the Scottish first minister and SNP leader, Nicola Sturgeon, defended her intent to reform the GRA, stating that 'some of the concerns that are expressed on the part of women and feminists… I think many of those are misplaced'.
That kind of blithe dismissal of 'some of the concerns' of women and feminists is not good enough. Scotland desperately needs a much broader public discussion on the issue of gender, identity and rights. However, the SNP leadership's increasingly insular commitment to the trans issue and its curiously misogynistic brand of feminism have been used to shut down debate. Hence it has attacked lap-dancing clubs, despite the protests of the women who work in them; it has ignored SNP politicians' concerns about women's rights; and it has disregarded parents' worries about the presence of a transitioning adult entertainer in their childrens' primary school.
The SNP's contradictory and confused positions help no one – trans, cis or otherwise. The disrespect shown by Mhairi Black towards the concerns of parents and the hypocrisy of the SNP's feminist rhetoric underline the party's casual disregard for the rights of women. It is as if the SNP leadership share the basic logic of Black's tweet: if you don't agree with us, you're a bigot!
For all the focus on Alex Salmond over the past few weeks, he was never the threat to women that the SNP now is.
Carlton Brick is a lecturer in the school of education and social science at the University of the West of Scotland.
Picture by: Getty.
To enquire about republishing spiked's content, a right to reply or to request a correction, please contact the managing editor, Viv Regan.