Elizabeth Warren: victim of her own identity obsession
Her spat with Sanders is confected identitarian nonsense.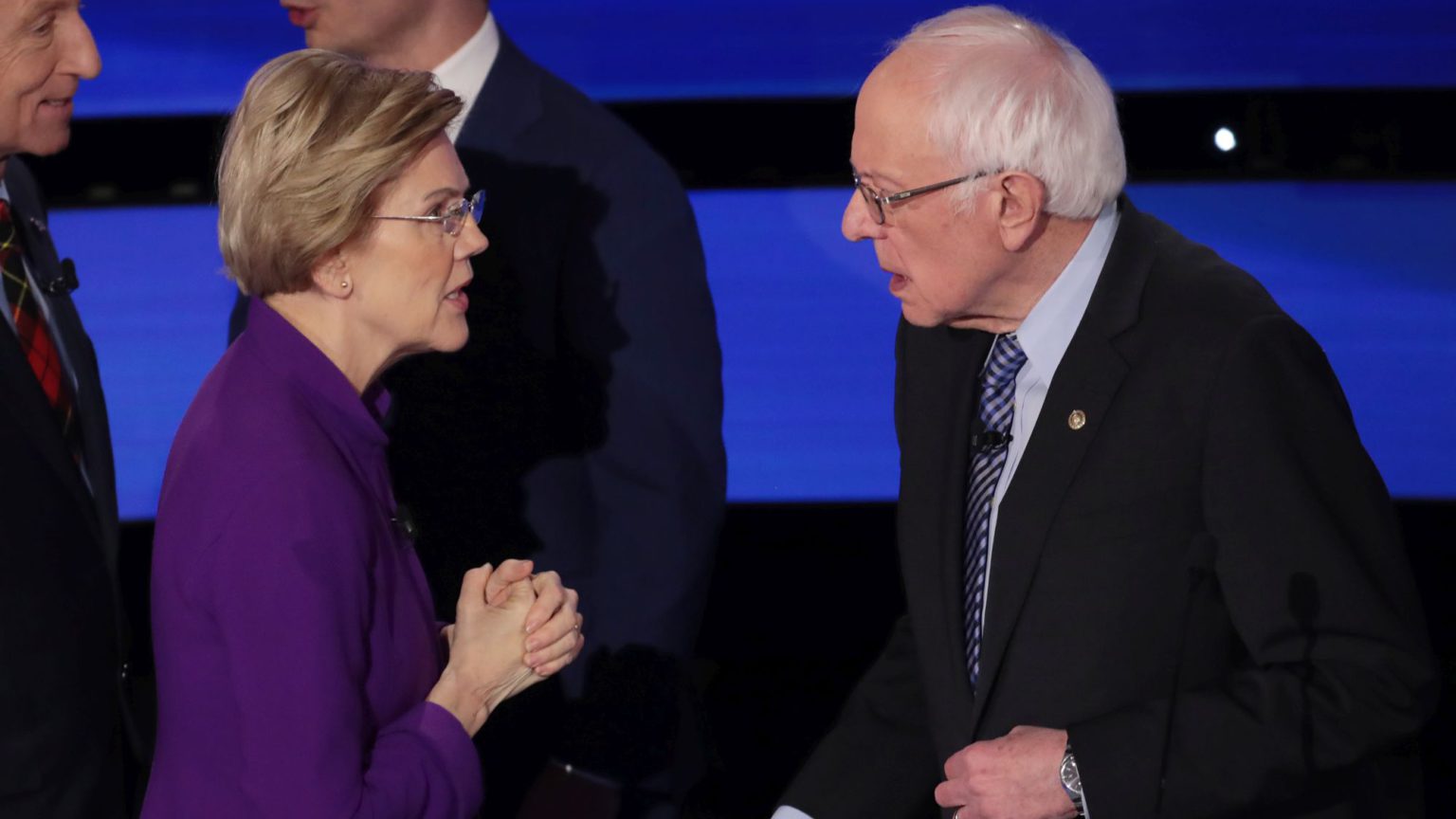 Tensions between Bernie Sanders and Elizabeth Warren, who are competing to be the Democratic Party's candidate for US president, reached breaking point at last night's primary debate in Iowa. For most of the campaign so far, Sanders and Warren, as two 'progressive' candidates, had maintained an informal non-aggression pact so that they could save their fire for the party's centrists.
But all that fell apart earlier this week when Warren accused Sanders of telling her at a private meeting in 2018 that a woman could not become president. Sanders said this was a lie. 'What I did say that night was that Donald Trump is a sexist, a racist and a liar who would weaponise whatever he could', he told CNN. The row then became a central focus of the debate. Much has been made of the pair's frosty body language and Warren's refusal to shake Sanders's hand.
In the debate, Sanders once again slammed the claims as 'incomprehensible' to 'anyone that knows me'. He has a point. He has consistently argued over his nearly four decades in politics that a candidate's identity is less important than what they stand for. Video footage of Sanders has emerged of him arguing that a woman could be president from as far back as 1987 and 1988. 'The real issue is whose side are you on', he says in one of the clips. Even more recently, Sanders reportedly encouraged Warren to run for president in 2016.
Warren's shock accusation followed the leak of a document from the Sanders camp that instructs his volunteers on how to win over Warren's supporters. The script, obtained by Politico, casts Warren as a candidate of the elites. The script tells volunteers to be positive about Warren at first, but to then point out that 'the people who support her are highly educated, more affluent people who are going to show up and vote Democratic no matter what'.
The problem for Warren is that this is true. Despite her and Sanders being in broad agreement on a number of issues, notably on healthcare, the class gap in their support is enormous.
Poll after poll shows that Sanders appeals far more to people on lower incomes with lower education levels, while Warren leads among people with postgraduate degrees. Analysis of their donors reveals a similar pattern. Sanders is the top recipient of donations from farmers, waiters, social workers, retail workers, construction workers, truckers, nurses and many other working-class professions. Warren, on the other hand, leads among scientists and psychotherapists.
As the first electoral test of the primary draws closer, the cattier the infighting is becoming. Just as the more neoliberal Democrats and their media cheerleaders have always done, in the absence of any substantial critique of Sanders, Warren is using identity politics to bash her opponent. She is feeding into the pre-existing – and totally manufactured – narrative of the 'Bernie bros', which gained traction during the Democratic primary for the 2016 election. This is the idea that Sanders supporters are overwhelmingly male and deplorably sexist given their refusal to hold their noses and become cheerleaders for right-wing warmonger Hillary Clinton.
Earlier in the current primary, a pundit for MSNBC – the broadcast wing of centrist Democrats – said that anyone still supporting Sanders over Warren was 'showing [their] sexism'. In truth, women are more likely to support Sanders than men. It surely can't be long before these women, like the women who voted for Donald Trump, are accused of 'internalised misogyny'.
Warren herself has form when it comes to weaponising identity politics for self-promotion. For years she has claimed to have Native American heritage – even referring to herself as a 'woman of colour' when she was at Harvard Law School. Her claims have dismayed the Cherokee Nation, the tribe she claims to be descended from, and a DNA test she commissioned seemed to show that she had less Native American DNA than the average European-descended American.
Warren has also been keen to embrace every woke fad going. She joined no-hoper Democratic candidate Julian Castro in announcing her prounouns (she / her, obviously). And earlier this week she called for trans women (aka men) who are convicted criminals to be put in women's prisons, despite the obvious dangers this poses to female inmates.
But while woke posturing might impress the commentariat, it does not wash with the public. Despite America's deep divisions, one thing just about everyone outside the Beltway bubble agrees on is that PC is a bad thing. A whopping 80 per cent of Americans agree with the statement 'political correctness is a problem in our country'. A majority of just about every conceivable demographic agrees – including young people and every single ethnic-minority group (the very people politically correct politicians claim to speak for).
Public indifference to wokeness has been demonstrated time and again. Last month, the wheels came off Kamala Harris's identity-obsessed campaign. And of course, who could ignore the success of Trump's incendiary and foul-mouthed campaign over Clinton's in 2016 – despite her constant name-checking of every identity group in existence.
One of the strange things about identity politics is that, although it is (wrongly) characterised by many on the right as a disease of the far left, it actually sits easily with otherwise middle-of-the-road politicians. Clinton and Harris are archetypal centrists. Warren is a technocrat whose economic plans amount to the creation of a new layer of the regulatory state, divorced from democratic politics and populated by clever people plucked from the professional-managerial class. She cannot seem to decide whether she should run the country because she is competent and qualified or because she identifies as a victim and is deserving of voters' pity.
But Warren is only the latest victim of the Democrats' identity obsession. We can only hope she doesn't drag Sanders down with her.
Fraser Myers is a staff writer at spiked and host of the spiked podcast. Follow him on Twitter: @FraserMyers.
Picture by: Getty
No paywall. No subscriptions.
spiked is free for all.
Donate today to keep us fighting.
Donate online
To enquire about republishing spiked's content, a right to reply or to request a correction, please contact the managing editor, Viv Regan.