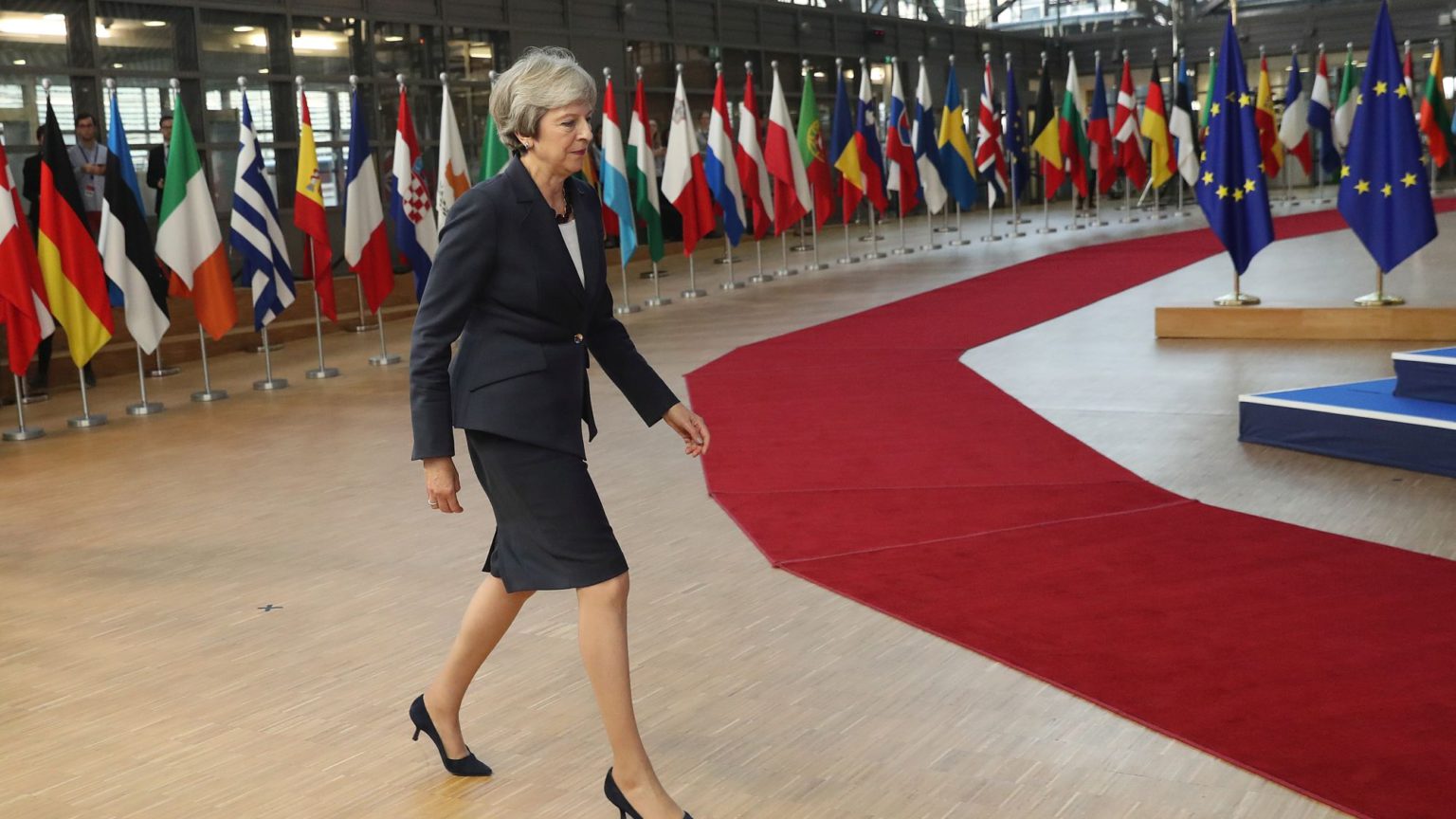 Why aren't Remainers in the dock for breaking referendum rules?
...and other unasked questions about the crisis of Brexit.
We are repeatedly told that there are 'too many unanswered questions' about what's happening with Brexit. But it's worse than that. As the UK and EU elites try to stitch-up a final sell-out of Leave voters and seal a deal that will ensure Remain-by-another-name, some important questions are barely even being asked.
Here are just a few.
Who voted to turn Brexit into Theresa May's private business?
There is much media excitement about Conservative prime minister Theresa May putting her senior government ministers 'on standby' for an emergency Cabinet meeting, to endorse the divorce deal she expects to do with the EU. While even top Tories are told to wait by their phones for news from the secret negotiations, the rest of us are simply instructed to stand by our smartphone screens to hear what has been decided behind closed doors in Brussels.
And why should we believe what they deign to tell us anyway? A freshly leaked top-level document allegedly reveals May's plans for an orchestrated three-week PR campaign of spin and self-congratulation to 'sell' her deal to the people. It's as if Brexit was now the prime minister's private property, which she reluctantly has to give us a glimpse of before it goes back in the box.
Secrecy is the essence of political life for the EU elites. Their aim is always to remove important issues from the public arena of democratic debate and leave big decisions to the technocratic experts and commissioners in their smoke-free, democracy-free committee rooms. A Remainer like May sees things much the same way.
Meanwhile, Labour's Sir Keir Starmer, Brexit spokesman for 'the people's party', rushes off to Brussels for his own private meeting – to advise EU negotiators not to make any concessions to May as Labour hopes to overturn Brexit altogether.
It seems ironic that all of this secret diplomacy coincides with commemorations to mark the end of the First World War – a conflict started by secret diplomatic deals between the imperial powers of Europe, which ended with the deaths of millions.
Brexit does not belong to May, but to the millions of revolting voters who instigated it. Everything government and opposition leaders do should be out in the open, so we can hold them to account. As we argued on spiked from the start, there should be television cameras in the committee rooms and online streaming of the entire secretive stitch-up. Let's see them try to sell us Remain masquerading as Brexit on live TV.
We are always told the people 'did not know what they were voting for' in June 2016. You can be pretty certain that we did not vote for an even less democratic system of government, or for a technocrat Tory PM and her Remainer aides to 'take back control' of our future.
If it's a 'people's vote', why are Remainer elitists the people demanding it?
If it's democracy we're worried about, some now demand, then surely we should support their campaign for a 'people's vote' on any Brexit deal? Celebrity and political front-persons for the recent London demonstration insisted it is just about 'letting people decide'.
In which case, we might ask in turn, how come the people leading the crusade for a 'People's vote' are the same Remainer elitists who have spent the past two-and-a-half years trying to overthrow the decision 17.4million people already took to leave the EU?
The cat should have been out of the bag for all to see when Tony Blair – who promised and then denied us a referendum on EU membership through his decade in Downing Street – declared his newfound enthusiasm for a 'people's vote' this week. If that wasn't enough then the Remainer moggy was surely revealed by headlines declaring 'Bosses demand "People's Vote" on Brexit deal'. Because we know that big business always has the people's best interests at heart.
Or look at the sort of 'people's vote' called for by the likes of Alastair Campbell and cross-party Remainer MPs. They want to offer us a straight choice, between May's dreadful deal and Remaining in the EU! So the meaningful Brexit voted for in 2016 would quietly be erased from the ballot paper, and from history.
Even anti-democrats have to dress up in the language of democracy these days. But as always in political life, we should judge people by what they do, not what they say about themselves.
Why aren't Cameron and Osborne in the dock for breaking referendum rules?
Another day, another headline about how the official Leave campaigns and billionaire Arron Banks are being investigated and fined by the Electoral Commission and even the police for allegedly breaking the rules during the EU referendum campaign. Remainiac conspiracy-mongers insist this proves the vote to Leave was 'illegitimate' and should be ignored.
Strangely, these sticklers for the rulebook seem somewhat quieter about how the Remain campaign, led by Tory prime minister David Cameron and his chancellor George Osborne, broke their own rules on how to behave during a referendum campaign.
Whenever Remainer fantasists make ridiculous allegations about how Banks and Co 'bought' the referendum, we should always remind them of the £9million that the government spent sending every UK household a glossy booklet. Entitled 'Why the Government believes voting to remain in the EU is the best decision for the UK', it outlined the terrible consequences that would allegedly follow if we failed to follow their instructions.
And it turns out we could go further. That government intervention for Remain not only dwarfed anything on the Leave side – it also apparently broke the EU's referendum rules.
The Venice Commission report is the European Council's rulebook on holding free and fair referendums. It clearly states that 'the public authorities (national, regional, local) must not influence the outcome of the vote by excessive, one-sided campaigning. The use of public funds by the authorities for campaigning purposes must be prohibited.'
Some of us – who are, admittedly, no experts in EU law – might naively imagine that using millions of pounds of public money to shove outright Remain propaganda down the nation's collective letterbox and throat was an infringement of the Venice Commission rules. But it can't have been, or the rulebook-waving Remainers would surely have mentioned it before now.
Of course, we Leavers couldn't really care less about them breaking the EU's rules. Nor do we care about Cameron going unpunished – some of us are eternally grateful to the arrogant idiot for calling an EU referendum in the mistaken belief that Remain would walk it.
But the double standards on electoral irregularities displayed here do expose the true motives of the campaigns to get Banks and Co. They are blatant attempts to delegitimise the mass vote to Leave, and to denigrate Leave voters as hapless dupes deceived and bought by a few rich bigots.
For Remainers, the only rule that really matters in investigating the referendum is ensuring the 'right' result at any cost.
Where is the No Deal Party?
As we wait to see the details of whatever grim draft agreement May's team and the Eurocrats can come up with, one thing is already clear. Any proposed deal now on either side of the table would represent a betrayal of the democratic vote for Brexit.
Through all the toing-and-froing about customs unions and Irish 'backstops', the common theme appears to be that the UK would remain subject to EU laws and bound in an indefinite neo-colonial relationship with Brussels.
If any potential deal on offer represents a betrayal of Brexit, then 'no deal' must become the democratic alternative. A no-deal, clean-break Brexit would at least embody the spirit of the Leave vote – the demand for greater democracy and sovereignty.
Yet in every discussion, 'no deal' is still waved around as a threat, a bogeyman, to persuade us that any deal would be better than that. Forget it.
So, where is the No Deal Party to put the uncompromising case for respecting the vote to Leave? Even those rebel MPs who can see the sense of it are still apparently loyal to their party leaderships. The millions who backed a clean-break Brexit are left without representation, unless you count the small and much-maligned Democratic Unionist Party of Northern Ireland.
Brexit is certainly in crisis. But a crisis is also an opportunity, a crossroads at which we can take a different direction. Is anybody in British political life prepared to seize the moment and stand up for the revolting demos? Or are we seriously supposed to leave it to the experts.
Mick Hume is spiked's editor-at-large. His latest book, Revolting! How the Establishment is Undermining Democracy – and what they're afraid of, is published by William Collins.
Picture by: Getty
To enquire about republishing spiked's content, a right to reply or to request a correction, please contact the managing editor, Viv Regan.