The People's Vote march changed my mind on Brexit
It was the middle-class, puntastic placards that clinched it for me.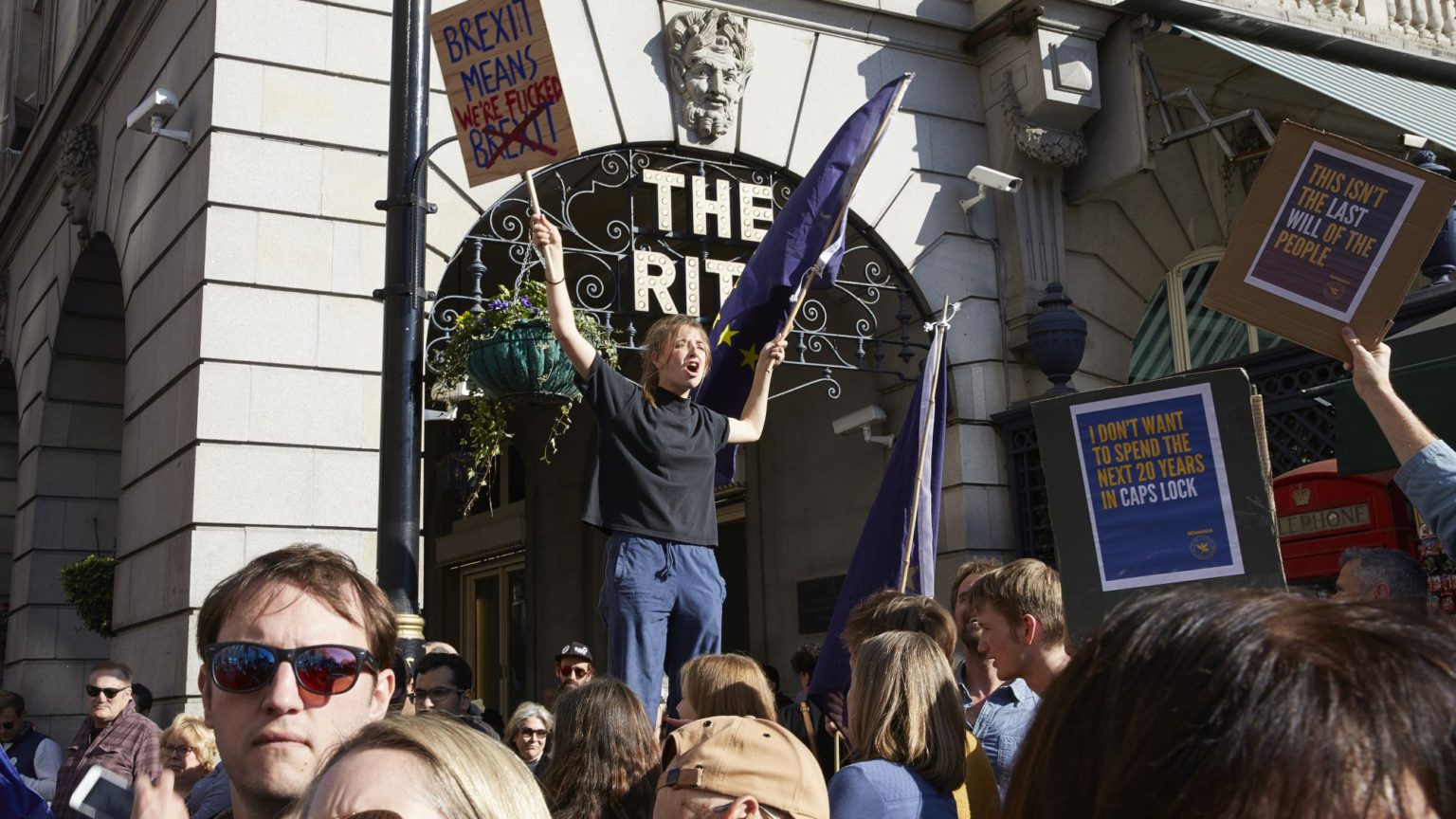 That's it. I am convinced. I went on the People's Vote march on Saturday. I saw the 670,000 or so who marched through London. I'm now sure. We need a People's Vote. Not a rubbish people's vote like we had in 2016, in which 17.4million people, myself included, were cruelly tricked into ticking the wrong box on the ballot paper. No, a properly informed referendum. And by properly informed I mean a referendum in which we vote to stay in the EU. No other result could ever be considered to be properly informed anyway.
A big reason I was won over was the placards. As we assembled in London's Mayfair, a working-class Leave voting stronghold, of course, I was blown away by the level of banner bantz. Say what you like about avid Remainers, but they know how to pun. 'Don't EU want me baby', one placard read, accompanied by a picture of Rick Astley. One simply read: 'Lettuce Romaine.' Fantastic. It is these kinds of placards that will win over disenchanted Leave voters, who are known for their love of middle-class, salad-based humour.
One placard, carried by a young child, simply said 'Thanks Grandad!'. What a great way to stick it to those elderly, soon-to-be-dead Leave voters in one's own family. Another read 'Bears for Brexit', and was carried by a group of very burly men with beards. I assume they were woodsmen of some kind.
Then consider the political heavyweights who are behind the movement. Sadiq Khan addressed the demo, saying that the 'lies and deceptions' of Brexit were 'being exposed'. Too right. We all know how often we were lied to about what Brexit would involve. Say what you like about Alastair Campbell, but you cannot say he or any of the other People's Vote leaders have brought about appalling catastrophe through misleading the public. Later Khan said, 'What can be more British than trusting the judgement of the British people!?'. Exactly. Just don't mention the judgement of the British people from that crap vote two years ago. That judgement didn't count.
Yes, some key questions remain unanswered. The marchers I spoke to seemed conflicted about what should be on the ballot paper in any 'People's Vote'. Campbell argued in a TV interview that the choice should be between Theresa May's deal and Remain, meaning that Hard Brexit would be taken completely off the table. He always has our best interests at heart.
Others I spoke to recognised that this would be a significant betrayal of the original vote. No one could really answer the question of why anyone would take the second vote seriously if we ignored the first. But we can work out the details later. Maybe we should have a People's Vote on what the People's Vote should be about.
Cynics will say these avid Remainers, the kind of people who daub their faces with the EU flag, are still a minority. They will say that 670,000 is actually a pretty low number, considering the march was held in London, a city of 8.8million people, the majority of whom voted Remain. They will say that bussing a load of Remain voters into London was an easy way of avoiding having the march in any Leave-voting town. They will also say that 670,000 is someway shy of 17.4million.
But this is nitpicking. After all, I saw at least 200,000 young people on that march. All we need to do is allow them to vote 87 times each and we will have a majority. That is what I call democracy.
So let them sneer. Let them write pisstaking columns about how middle-class it was. But as David Lammy tweeted on the day, this was truly the 'will of the people'. And even if we don't get a vote, the important thing was that we were there. We put on our EU flags and we were counted. And when we are all bargaining for bags of oatmeal in the post-Brexit apocalyptic wastelands, maybe that will be all that matters.
Luke Gittos is a spiked columnist and author of Why Rape Culture is a Dangerous Myth: From Steubenville to Ched Evans. (Buy this book from Amazon(UK).
Picture by: Getty.
To enquire about republishing spiked's content, a right to reply or to request a correction, please contact the managing editor, Viv Regan.