Brexit was not a posh man's coup
Elite Remainers are writing the 17.4million out of history.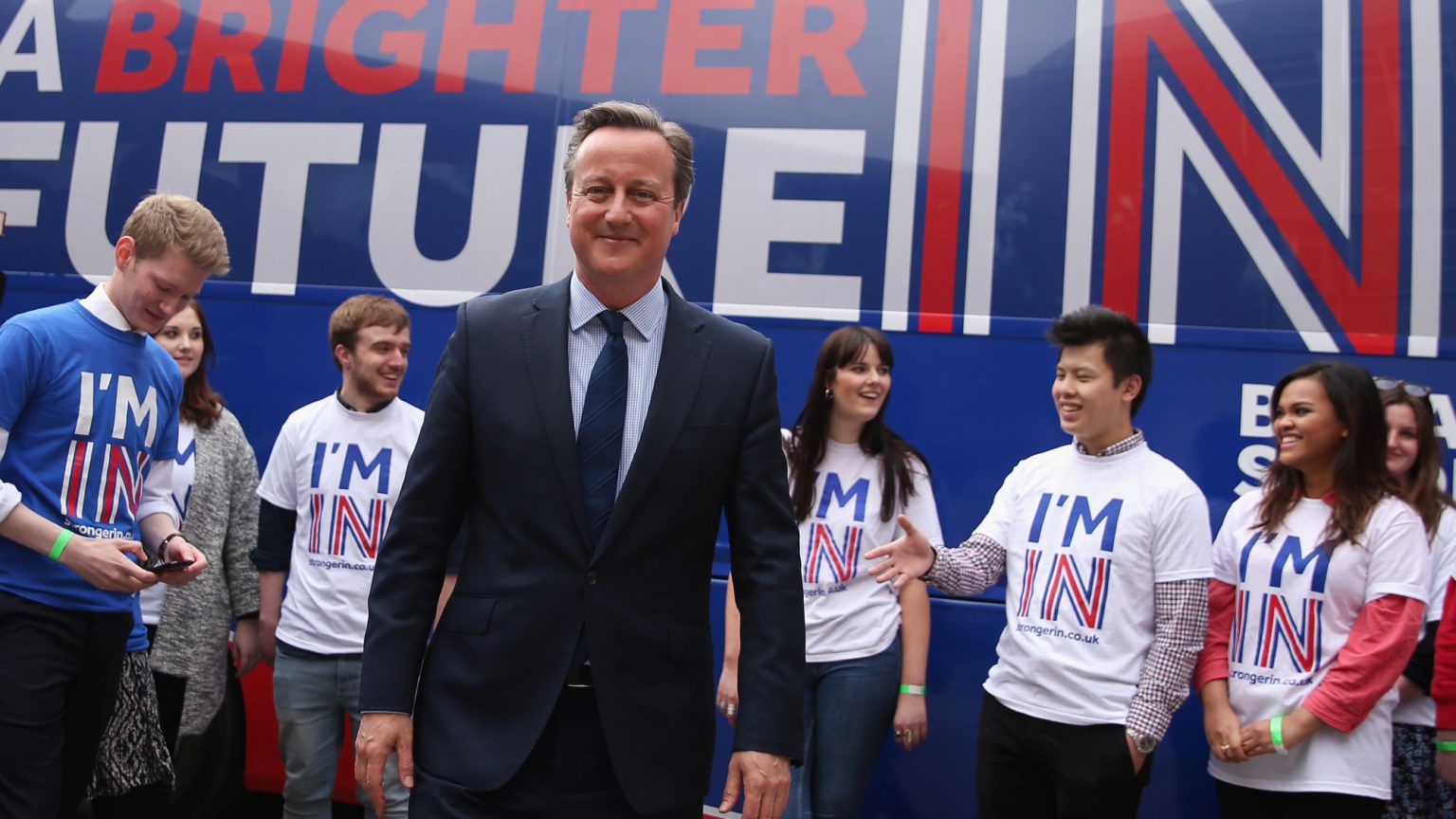 Reports last week that former UK prime minister David Cameron wanted to serve the public once more, possibly as foreign secretary, were greeted with hearty criticism. And rightly so. As spiked's Tom Slater pointed out, Cameron acts as if politics is an aristocrat's drawing-room calling, something he is entitled to due to his social status.
But there has been another all-too-familiar strain of criticism heading Cameron's way, this time from Remainers. Hasn't he done enough damage already?, they say. Brexit is his doing. He may be pro-EU, but it was his 'catastrophic misjudgement' that led to the referendum. It was his decision to call a referendum to the end of resolving the Tory Party's internal divisions that 'sundered' the nation. Whether he likes it or not, his legacy will 'forever be stained by the Brexit disaster'. Suck it up, Cam, they say. This is your 'sloppy mess'.
To be fair, this ultra-Remainer desire to blame Brexit on this or that individual is not limited to the pudgy, shed-bound form of poor Dave, failed politician and struggling author. It extends outwards, and into outright conspiratorial territory. '[Brexit] is an anti-elitist revolt led by an elite – a coup by one set of public schoolboys against another', wrote Simon Kuper in the Financial Times, in the wake of the Brexit vote. 'I went to university with both sets, and with hindsight I watched Brexit in the making. When I arrived at Oxford in 1988, David Cameron, Boris Johnson and Michael Gove had just left the place. George Osborne and the future Brexiters Jacob Rees-Mogg and Daniel Hannan were all contemporaries of mine.' Green MEP Molly Scott Cato also knows who was behind Brexit, and she didn't even go to university with them. 'Some of the names are well-known', she chuntered in a piece earlier this year. 'Arron Banks, Nigel Farage, Boris Johnson and Jacob Rees-Mogg. Others, like Crispin Odey, Robert Mercer and Dominic Cummings will be less familiar. But all these men – and it is almost exclusively men – have played a part in enacting one of the greatest political conspiracies of my lifetime.' You tell 'em, Molly.
Others like to concentrate their imaginations on just one figure. 'Britain's vote to leave the EU was the grand finale of a 25-year campaign by a lonely sect of true believers', explains a Guardian columnist, adding, for dramatic effect, 'Daniel Hannan wrote the script'.
In a way, much of this is just shockingly bad historiography, the inverse of the Great Men approach to history, with Bad Men or, in Cameron's case, Incompetent Men supposedly shaping and driving events regressively downwards, rather than progressively upwards. But it does also serve a political function for Remainers. It serves to undermine the referendum result, by presenting it as the work of this figure, or that cabal. It doesn't matter, therefore, whether Brexit is portrayed as Cameron's 'catastrophic error' or, er, 'one of the greatest conspiracies of my lifetime'. In both cases, Brexit is no longer the accomplishment of the 17.4million people who voted for it. It is the accomplishment, incredibly, of a few posh men.
But for those elitist Remainers still set on stopping Brexit, this blaming and conspiracy theorising also serves a psychological function. It allows them to displace the real source of their trauma on to wicked and/or stupid demiurges. Because the truth that they cannot bear to face is not that Cameron is a cowardly pillock, Hannan is a Machiavellian genius, or Banks is a whizz with offshore accounts; it is that the vast and, for too long, silent majority do not share elite Remainers' worldview. They have not benefited from so-called globalisation, and they do not like having the material and cultural conditions of their life determined along the lines desired by unaccountable others, many squirrelled away in Brussels.
So, as much as Remainers want it to be so, Britain was not divided by Cameron's act of calling a referendum. No, Britain was already divided before the referendum, before Brexit. It was already divided between those who lacked control over their lives, and those who possessed it; between those whose values and attitudes felt under attack and devalued, and those whose values and attitudes were celebrated as right and correct; between those who, for decades, have lacked political representation, and those who, for decades, have been represented in power.
Brexit, as an act of democracy, ought to be an opportunity to confront and overcome that division. But only if hardline Remainers stop burying their privileged, entitled heads in the sands of blame and conspiracy, and face up to the harsh democratic truth that not everyone shares their point of view.
Tim Black is a spiked columnist.
Picture by: Getty
To enquire about republishing spiked's content, a right to reply or to request a correction, please contact the managing editor, Viv Regan.