The London I grew up in is slipping away
Now Bethnal Green schoolkids are chanting anti-Semitic slogans – and no one seems to care.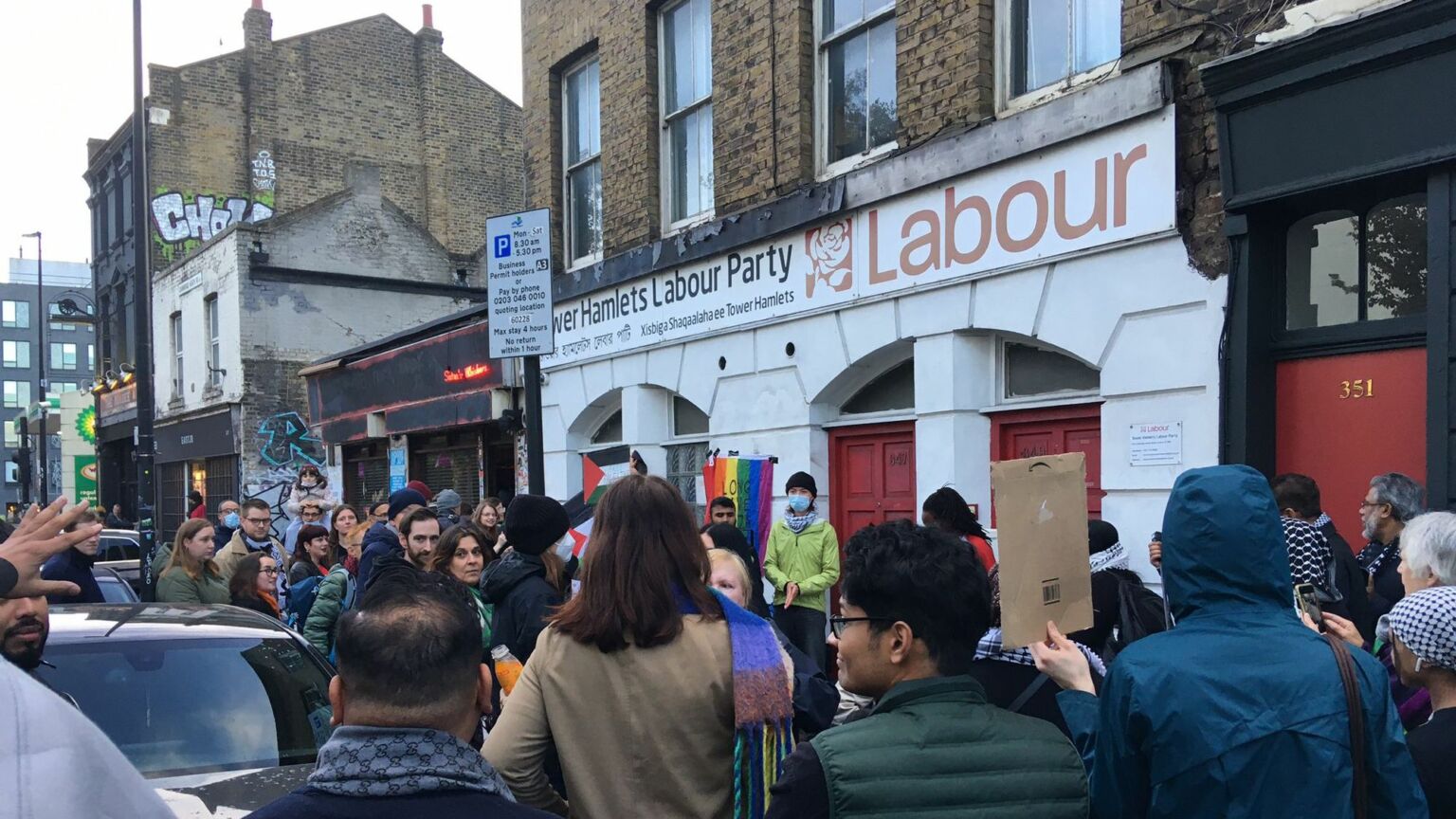 The London I love, cherish and grew up in feels like it is about to disappear.
On Thursday last week, 400 children skipped school to march through Bethnal Green to protest against Israel. The marchers demanded a 'ceasefire', but made no reference whatsoever to the act that started Israel's assault on Gaza – Hamas's murder of Israeli civilians and taking of hostages on 7 October.
At the end of this youthful protest, Tower Hamlets mayor Lutfur Rahman praised the children's stance, while advising them to stay at school in the future. 'Showing your opposition outside of school[time] will prove the most powerful tool in the long-run', he said.
This vignette illustrates much of what ails modern Britain – and London in particular.
Only the most twisted soul would relish the tragic loss of civilian life in Gaza. The horrors perpetrated on children are especially heart-breaking. These are human agonies that should cripple us all.
But it should be possible to covet peace in Gaza without demonising Jews and appeasing Hamas. Such hatred has been on full display at the anti-Israel protests that have filled London's streets in recent weeks.
Worse still, working-class communities in which minorities used to come together are now divided like never before. I grew up in London in the 1980s. London's eternally divisive mayor, Sadiq Khan, may insist that 'diversity is our strength'. But back then it wasn't. Our strength was unity.
I was born in Bloomsbury to Nigerian migrants and went to primary school in Bethnal Green. I had a childhood happily dipped in cultures that were not my own. There were trips to a famous Stamford Hill Jewish bakery for bulka bread after church on Sundays. A school friend's Italian-born family ran the iconic Pellicci's café on Bethnal Green Road. We went to Bangladeshi Muslim textile wholesalers on Brick Lane, where my fashion-designer mother pored endlessly over bolts of silk.
As schoolkids in Bethnal Green back then, our ethnic and religious differences did not define us. We were all proud Eastenders, unified by the culture of calling London – and England – our home.
The East End has never been perfect. But people have been making it their home for centuries, often after fleeing hate and persecution elsewhere. At various points in time, Protestants, Jews and Muslims all found sanctuary within earshot of the stately peal of Bow Bells.
How sad then that ancient anti-Semitic hatreds are being heard in today's East End – and from the mouths of children, too. Last Thursday in Bethnal Green, the schoolkids chanted the same sectarian slogans to which we have become grimly accustomed over recent weeks – in particular, 'From the river to the sea, Palestine will be free'.
This chant is a thinly veiled call for Jewish genocide. It is an insult to intelligence and morality to suggest otherwise. So why aren't people more outraged about young people chanting it in our streets?
Imagine swarms of white children bellowing, 'There's no black in the Union Jack', as they marched through Brixton. And then picture some adults defending them, claiming that it's just a harmless ditty and not a racist paean to repatriation.
We are witnessing a social tragedy in the making. Children are being divided into ethno-religious identity groups and turned against one another. Chanting slogans like 'From the river to the sea' makes it less likely that those kids in Bethnal Green will ever befriend a Jew, let alone beg their parents to visit a Jewish bakery after church or mosque. Children's tender arteries are being turned into tributaries of hate.
What is happening in London cannot be laid solely at the feet of the anti-Israel protest movement. The poison of identitarianism must assume the bulk of the blame for the cultural dismemberment of society. We have a mayor who constantly preaches difference over unity. We have a Metropolitan Police so paralysed by fear of being called racist that they make endless excuses for anti-Semitic demonstrators. And we have a national broadcaster that refuses to call Hamas terrorists, while happily instructing non-white children that they are under the yoke of 'white privilege'.
We are confronted with a choice right now. We can continue pushing children into silos of racial and religious hatred. Or we can start forging a society free of identity politics which aims to bring people of all backgrounds together. I know which path the London of my childhood would choose.
Ike Ijeh is an architect, critic and writer living in London. Follow him on Twitter: @ikeijeh
To enquire about republishing spiked's content, a right to reply or to request a correction, please contact the managing editor, Viv Regan.