The BBC's Israelophobia is out of control
Its distrust of the Jewish State is bordering on pathological.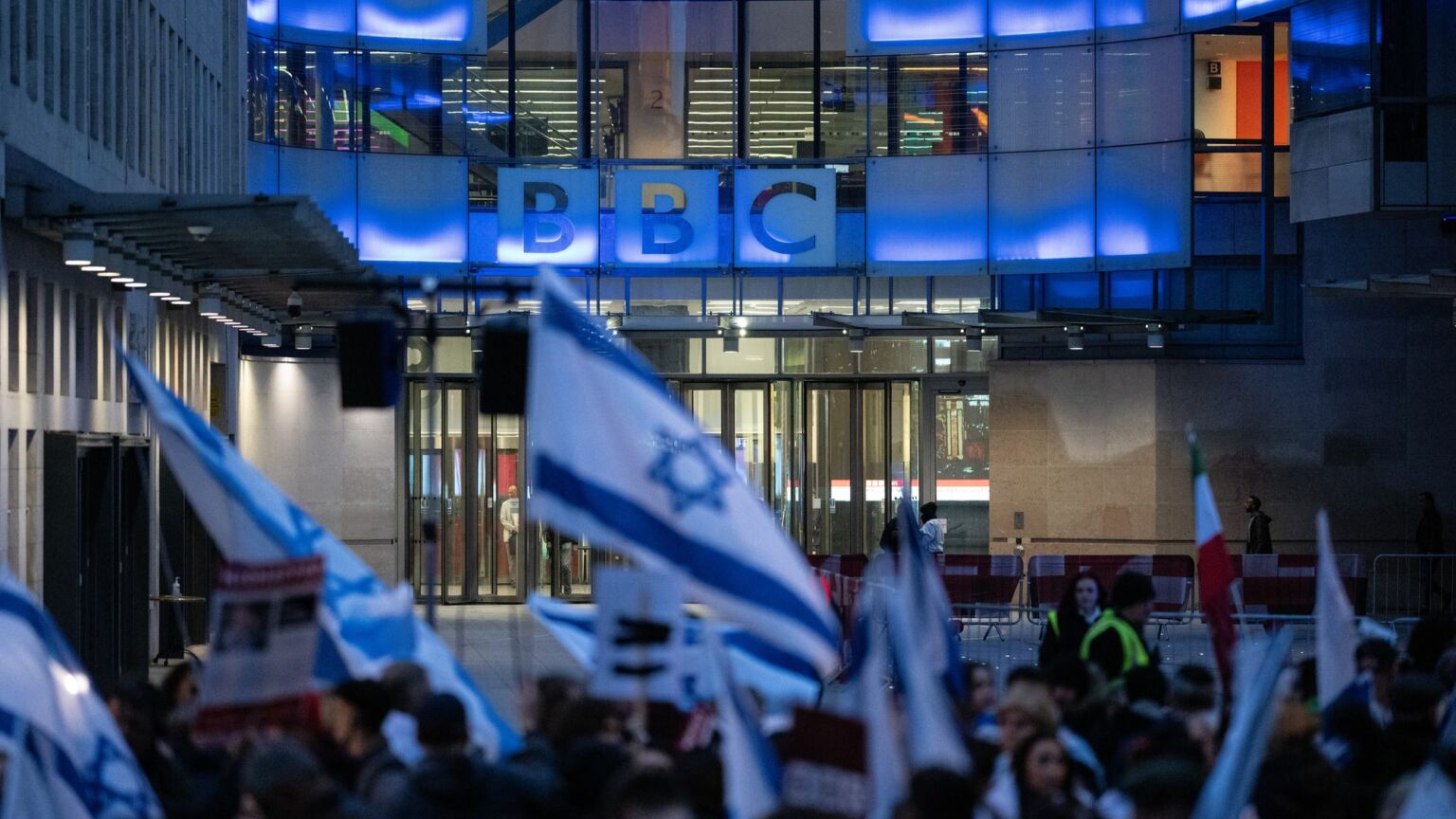 Never trust a Jew. That was one of the adages that we thought had mostly faded into history. But it has been back in vogue ever since 7 October, when 1,200 Jews in Israel had the temerity to be massacred in their homes and hundreds got themselves taken hostage.
For years, it has been common knowledge that Hamas's subterranean command centre in Gaza lies underneath al-Shifa hospital. It even appeared in season two of the Netflix show, Fauda. Yet, as Israeli forces entered the hospital yesterday and then shared pictures of weapons and tunnels, the world was still sceptical.
The IDF's images 'have not proved the existence of the sprawling Hamas base that the Israeli military said the hospital had concealed, and which Hamas and the hospital leadership have denied', insisted the New York Times. 'That claim has been central to Israel's justification for the death toll in Gaza… which has killed more than 11,000 people, according to Gazan health officials.' Gazan health officials? You mean Hamas, the same lot that decapitated the babies? Great source.
Similarly, the BBC interviewed a woman this week who had previously worked at the hospital. She was asked whether Israel's claims could possibly contain even a grain of truth. 'Over the years we have never seen any evidence of any military activity in the hospital, period', she said, adamantly, as if Hamas would surely have asked her down to the tunnels for a cup of tea by now. 'This Israeli soldier who's finding ammunitions, does this justify bombing a hospital?', she then asks. 'Does this justify raiding a hospital and interrogating patients and basically killing patients?' Oh, the insinuation.
This journalism affects public opinion. In response to footage of a tunnel shaft just outside al-Shifa, one X / Twitter user wrote: 'It's Iraq and weapons of mass destruction all over again.' No, it's not. But you just can't trust those Jews, you see. They're shifty. They're probably just the types who would invent a terror base to slake their appetite for the blood of hospital patients. Remember when they marked the Easter of 1144 by kidnapping, torturing and crucifying little William of Norwich? Remember, for that matter, when they manipulated the Allies to start the Second World War? With them, it's all about the blood.
So let's talk about the BBC. This week, Reuters accurately reported how Israel was agonising over the challenge of battling an enemy that was using hospital patients, including babies in incubators, as human shields. Rather than demolishing the hospital in an airstrike – as, say, Putin may have done – ground troops were risking their lives to deliver medical facilities to civilians and evacuate whomever they could. 'IDF forces include medical teams and Arabic speakers… with the intent that no harm is caused to the civilians', said Reuters, relaying an IDF statement. This followed the Israeli delivery of fuel and supplies.
Enter stage left the hapless BBC newsreader, Monica Miller. Examining the Reuters story earlier this week, she told viewers: '[Israel is] targeting people including medical teams as well as Arab speakers.' In Miller's world, rather than trying to protect civilians, the Israelis were 'targeting' them. Rather than providing Arabic speakers to liaise with medics, they were hunting down anybody who spoke 'Arab'. This was a display of such spectacular idiocy and incompetence that it makes one wonder how the woman got her job in the first place.
As the BBC, the New York Times and other outlets vacate the playing field of impartiality, audiences are driven into the dark arms of social media. This hasn't been going well, either. Six weeks on from the jihadi massacre of innocents, many now believe that Israel used Hamas's attacks – which they also seem to think were hardly all that serious – as a pretext to indulge its instinct for 'genocide'. The war in Gaza isn't about self-defence, apparently. It is about 'ethnic cleansing', they say. Some go even further: according to Piers Corbyn, 7 October was a 'false flag' operation orchestrated by Israel itself.
Yes, they're slippery, those Jews. They claim they are trying to avoid hitting civilians when the decapitators of Hamas have confirmed that tens of thousands have been killed. Plus, we've seen clips of the dead on television. Those Jews. They say they didn't bomb a hospital last month, but there's a big crater in the car park. They tell the world their babies were beheaded, but where's the proof? They don't even have the decency to parade the severed heads for us.
Anti-Semitism runs deep. In Medieval times, the eternal manipulators and bloodsuckers were blamed for killing Christian children by way of deceit. In the 20th century, they were held responsible for all the wars, misfortune and malignancy in the world – Die Juden sind unser Unglück! – even as they were dispossessed, marginalised, starved and herded into ghettos. One common Jewish joke from the period, beloved by Christopher Hitchens, has a Jew reading the Nazi propaganda paper, Der Stürmer. When asked why, he explains: 'I read Der Stürmer, and there's finally some good news. It seems that we Jews own and control the whole world!'
Nobody can look into a BBC newsreader's heart and divine her true motivations. But it is undeniable that Miller's mistake is part of a pattern. When an Islamic Jihad rocket fell short on al-Ahli Arab hospital last month, the BBC – along with most of the world's media – blamed it on Israel. In the aftermath of the strike, the reporter Jon Donnison offered a freewheeling burst of speculation on live television, concluding in his wisdom: 'It's hard to see what else this could be really, given the size of the explosion, other than an Israeli airstrike.' As the Jewish Chronicle later revealed, Donnison had form. In 2012, the BBC man had shared a picture of an injured girl in Syria while claiming that it was a 'heartbreaking' example of Israeli brutality in Gaza. He later apologised.
Look, under pressure, we all make mistakes. No BBC journalist sets out to bin impartiality. I know from my own experience how dealing with breaking news when you're on the ground is a high-stakes balancing act. But there does appear to be something of a pattern here, and not just in the corporation's English output.
Take BBC Arabic. Between January 2021 and July this year, the broadcaster was forced to issue more than 130 corrections on the channel, averaging more than one a week. Errors, if that's what they were, included using inflammatory anti-Israel terminology and parroting Hamas narratives. On one memorable occasion last year, a lifestyle programme hosted a man playing songs on an oud that openly glorified terrorism. 'Don't leave your weapon in its sheath', he warbled. 'From the Jerusalem mountains and from the plain, your blood, should it be shed on the earth, would make red freedom bloom.'
Although complaints to the BBC are supposed to be addressed within 10 working days, analysis last year revealed that it had taken the corporation an average of four months when it came to its Arabic service, with half of complaints simply ignored.
Executives at the BBC have told me that these are symptoms of the challenges of running a sprawling network, in many languages, under the relentless pressure of the 24-hour news cycle. I get that. But if it's not fit for purpose, what's the point? And if that is the whole story, why doesn't the BBC occasionally make mistakes in the other direction, painting the Israelis in too positive a light or wrongly ascribing deaths to Hamas?
It is hard to escape the conclusion that the problem is cultural. The BBC may champion diversity, but not when it comes to the politics of its staff. As at the BBC, so on the left more broadly, what's at work here is an assumption so deeply held that reality is often upended to conform to it. They see Israelis as the ones who target medical teams, not provide them. As the ones who bomb medical centres. As the ones who lie about terror tunnels under hospitals. They are the colonialists, the imperialists, the Nazis. After 2,000 years, it seems everyone knows as much, and to claim otherwise is disingenuous. In other words, never trust a Jew.
Jake Wallis Simons is a journalist and the author of Israelophobia: The Newest Version of the Oldest Hatred and What To Do About It.
To enquire about republishing spiked's content, a right to reply or to request a correction, please contact the managing editor, Viv Regan.