Why are young people sympathising with Hamas?
Generation Z has been raised to scorn the West and everything it stands for.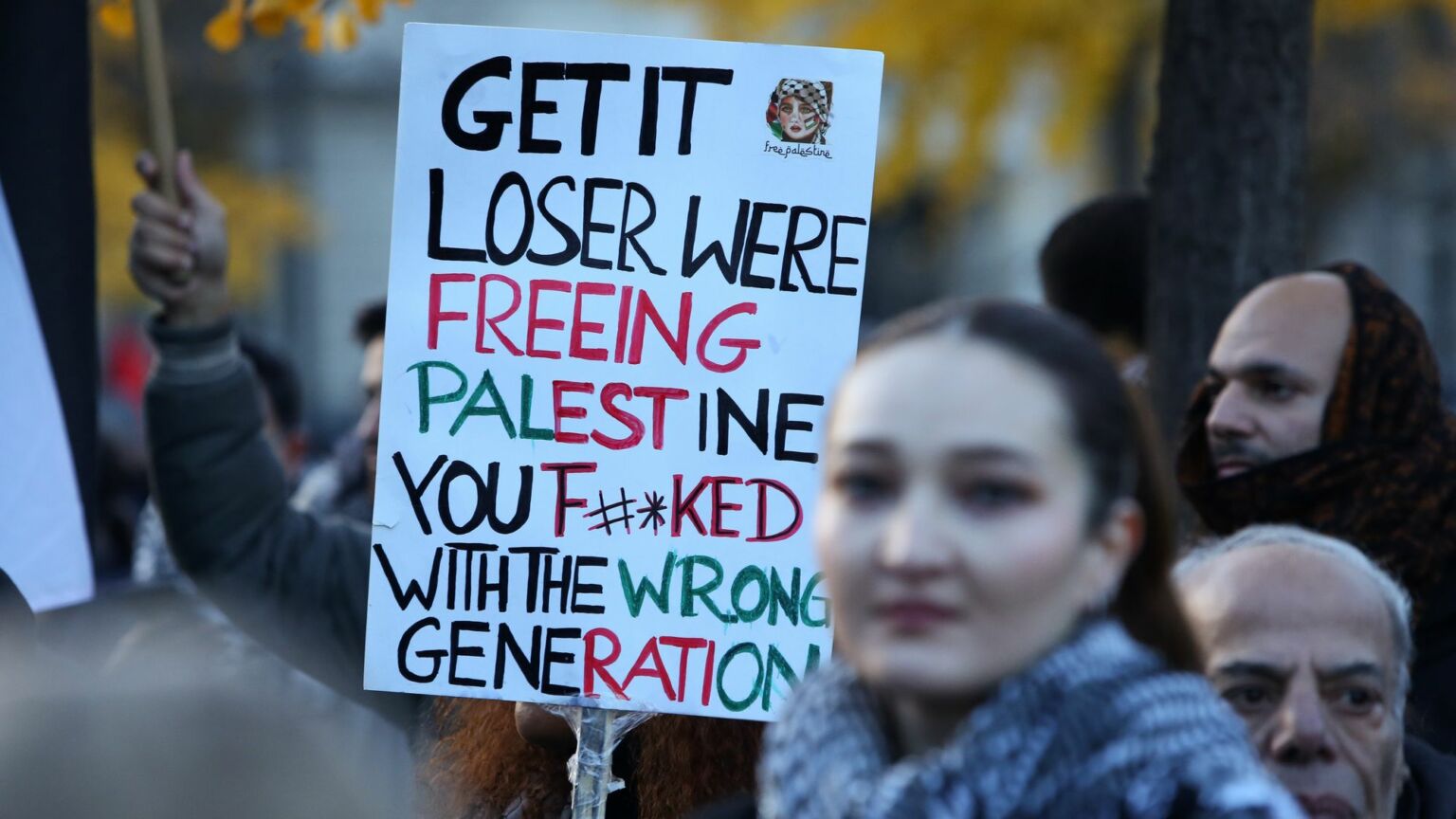 Compare the recent pro-Israel rallies with pro-Palestine marches in the US and the UK, and the differences are stark. The gatherings in defence of Israel have been fewer in number, less well-attended and have attracted a noticeably older crowd. The young, it seems, are more likely to demonstrate against Israel, even when that means marching alongside anti-Semites and supporters of Hamas.
This generational split is not new. A 2022 survey carried out by the Pew Research Center in the US showed that only 41 per cent of those aged 18 to 29 had a favourable view of Israel, compared with 69 per cent of those aged 65 or older. The 7 October pogrom has done little to change attitudes. A recent poll notes that less than half of Gen Z and millennials believe the US should publicly voice support for Israel, compared with 63 per cent of Gen Xers and 83 per cent of Baby Boomers born in the decades after the Second World War. It is the same story in the UK. A survey carried out earlier this month shows that British 18- to 24-year-olds are more likely to sympathise with Palestinians than with the Israelis (by 46 per cent to nine per cent), whereas these results were reversed for people over the age of 65.
Concern for the plight of Gazans is one thing. But in the wake of the 7 October pogrom, some young people have shown themselves to be outright apologists for Hamas or to have embraced explicitly anti-Semitic views. Anti-Semitism has exploded in the West in recent weeks, especially on university campuses. While UK universities have been urged to act 'firmly' in response, accounts of anti-Semitic abuse directed against Jewish students continue to emerge.
Even children have been targeted over the past few weeks. A London girls' school reportedly found anti-Semitic graffiti in its toilets. In Manchester, lit fireworks were thrown at young Jewish girls. In schools, just like on campus, Jewish kids are being attacked by their peers. We need to ask why anti-Semitism has taken hold among children and young adults.
One common explanation is the passing of time since the Holocaust. According to this argument, whereas the Holocaust served as a defining political moment for Boomers, younger people are just less familiar with what happened in the concentration camps. Again, surveys back up this narrative of historical ignorance. As far back as 2007, a poll showed that more than a quarter of young Britons did not know that the Holocaust happened. Sadly, these findings were replicated in a similar poll conducted this year in the Netherlands. It showed that one in four Dutch young people believe the Holocaust was a myth. Back in the UK, a 2019 survey revealed that 45 per cent of those polled did not know how many people were killed in the Holocaust, with one in five putting the figure at fewer than two million Jews.
This is not just down to poor history teaching. When young people are confronted with facts about the Holocaust, many appear to be suspicious and question whether what they are hearing is true. It emerged last week that an 88-year-old Holocaust survivor, who had been using TikTok to inform young people about the horrors he experienced, quit the platform after being bombarded with anti-Semitism and Holocaust denial.
Some hold social-media platforms responsible for the rise in anti-Semitism, with TikTok coming in for particular blame recently. Last week, comedian Sacha Baron Cohen accused TikTok of 'creating the biggest anti-Semitic movement since the Nazis'. There are now growing calls for it to be banned. But social media only reflects and amplifies the existing prejudices of users. Rather than simply calling for censorship, we need to ask why so many young people seem happy to remain ignorant about the Holocaust or turn abusive when confronted with the facts of what happened. Why is it that TikTok has become a force for promoting anti-Semitism, rather than opposition to Hamas?
The pernicious influence of identity politics, with its simplistic (and often false) racialisation of Jewish people as 'white' and therefore privileged, is now widely recognised as a serious problem. This is often combined with an erroneous reading of history that treats Palestinians as 'colonised' victims and Hamas as an anti-imperialist resistance movement whose actions should never be criticised.
Why have so many young people embraced this dangerous, identitarian worldview? Why is it that rather than feeling loyalty to their nation, or to a Judeo-Christian tradition more broadly, young people seem more likely to express profound contempt for Western history and society in the present? The current resurgence of interest in Osama bin Laden's 'Letter to America' provides horrible evidence of Gen Z's alienation from Western values.
Over recent decades, older generations have failed to inspire in children a positive vision of the West. Worse, education has often actively cultivated feelings of shame towards nations such as the UK, the US and Australia. Take the teaching of history. Far from promoting a positive account of the past – or even an objective or balanced account of the past – children today are often taught that everything that happened in the past was sinful. Both the school curriculum and popular children's television programmes damn British history as an unbroken story of slavery, colonialism and countless other acts of barbarism. This is a story without heroes or acts of redemption.
Western societies have created a generation of young people who are antagonistic to their own national history and profoundly alienated from Judeo-Christian culture. Many are willfully ignorant of the Holocaust and some even prefer to side with terrorists over slaughtered Israeli citizens. We need to be far more concerned about the numbers of young people happy to don a keffiyeh and turn a blind eye to anti-Semitism.
Joanna Williams is a spiked columnist and author of How Woke Won, which you can order here.
To enquire about republishing spiked's content, a right to reply or to request a correction, please contact the managing editor, Viv Regan.