The British police are institutionally woke
The Met Police chief's pledge to remove identity politics from policing rings utterly hollow.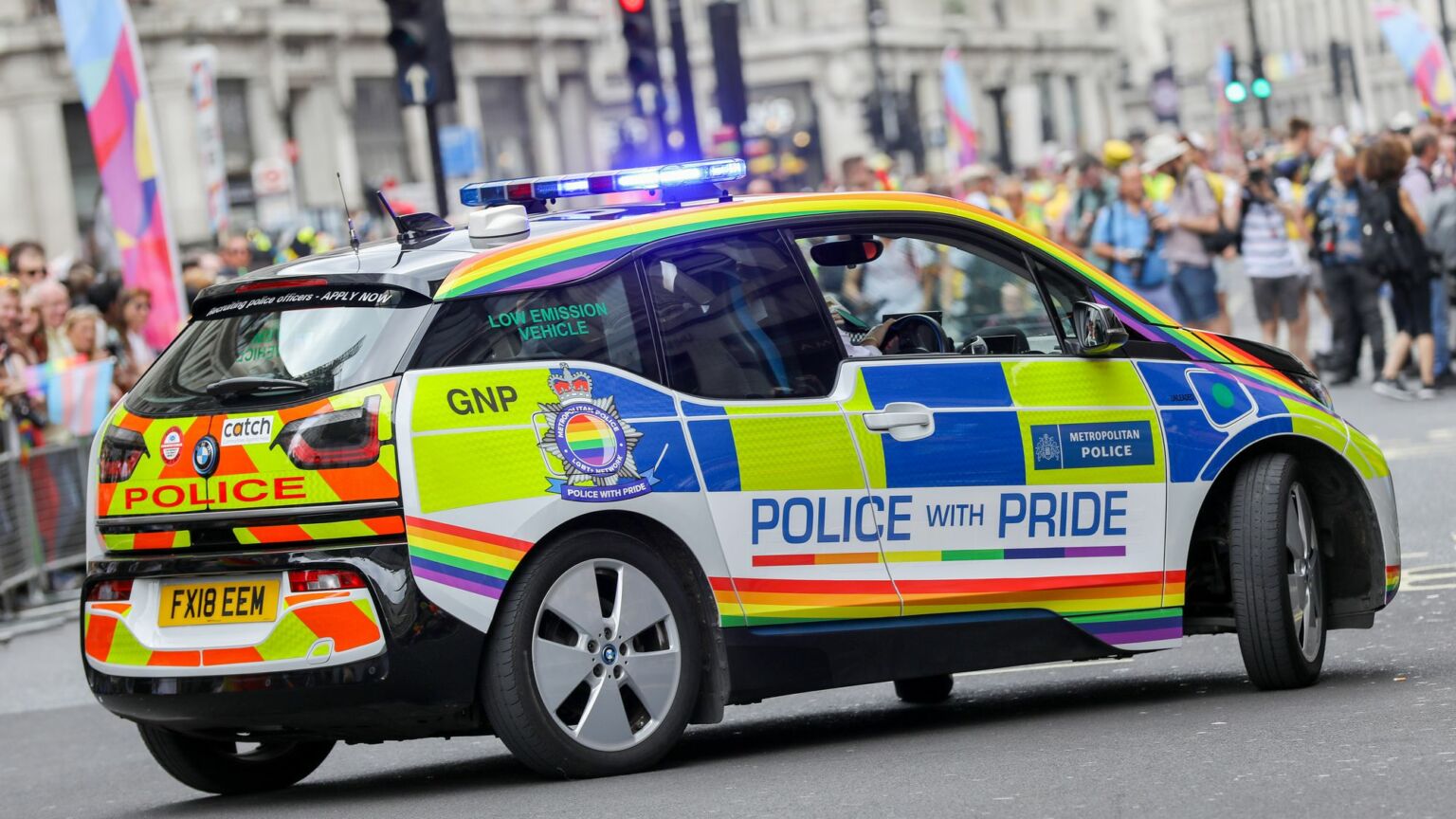 Sir Mark Rowley, the Metropolitan Police commissioner, has promised to cut wokeness out of policing. Speaking to the Telegraph earlier this week, he said there are 'very few causes policing should be attached to' and that officers should not express or act upon their political convictions while on duty.
On the surface, this sounds sensible. It marks a clear departure from his predecessor, Dame Cressida Dick, who seemed all too relaxed about officers openly associating themselves with fashionable political causes. Some officers memorably 'took the knee' during the Black Lives Matter protests of 2020. The year before, policemen were filmed dancing and skateboarding with Extinction Rebellion activists as they blockaded Waterloo Bridge. The Met also has patrol cars decked out in the rainbow colours of the Pride flag.
The politicisation of the police has serious consequences, beyond these symbolic gestures. Elsewhere in the UK, their embrace of identity politics has started to pose a serious threat to freedom of expression. It has led police forces to go out of their way to arrest or investigate individuals who dissent against woke orthodoxy.
For instance, in 2019, Humberside Police investigated ex-officer Harry Miller to 'check his thinking', after he tweeted a limerick that mocked trans ideology. In 2022, Gwent Police arrested feminist campaigner Jennifer Swayne for posting stickers on lampposts saying that men do not belong in women's prisons. Only last week, a Tory councillor was arrested for an alleged hate crime by Northamptonshire Police for sharing a video criticising the arrest of a Christian street preacher in London. If only officers showed the same enthusiasm for apprehending violent criminals as they do for arresting thoughtcriminals.
This is why Rowley's intervention is to be welcomed. But we shouldn't get ahead of ourselves. It follows similar promises from leading officers that have not translated into action. Back in 2018, Sara Thornton, then chair of the National Police Chiefs' Council, said the police should 'solve more burglaries and bear down on violence' instead of policing people's speech. In 2021, Andy Cooke, following his appointment as chief inspector of constabulary, told officers that 'we are not the thoughtpolice'. 'Those thoughts, unless they become actions, aren't an offence. The law is quite clear in relation to what is an offence and what isn't an offence', he told The Times.
Pleas from the government have similarly fallen on deaf ears. Prime minister Rishi Sunak and home secretary Suella Braverman have both vowed to stamp out woke policing. Yet all of this has been to no avail.
Perhaps it's time to admit that the British police are institutionally woke – and that nothing less than root-and-branch reform will change this.
Thomas Osborne is an intern at spiked.
To enquire about republishing spiked's content, a right to reply or to request a correction, please contact the managing editor, Viv Regan.