The Islamo-left is a menace to Jews and decency
The Western left's failure to denounce Hamas confirms its abandonment of secularism and reason.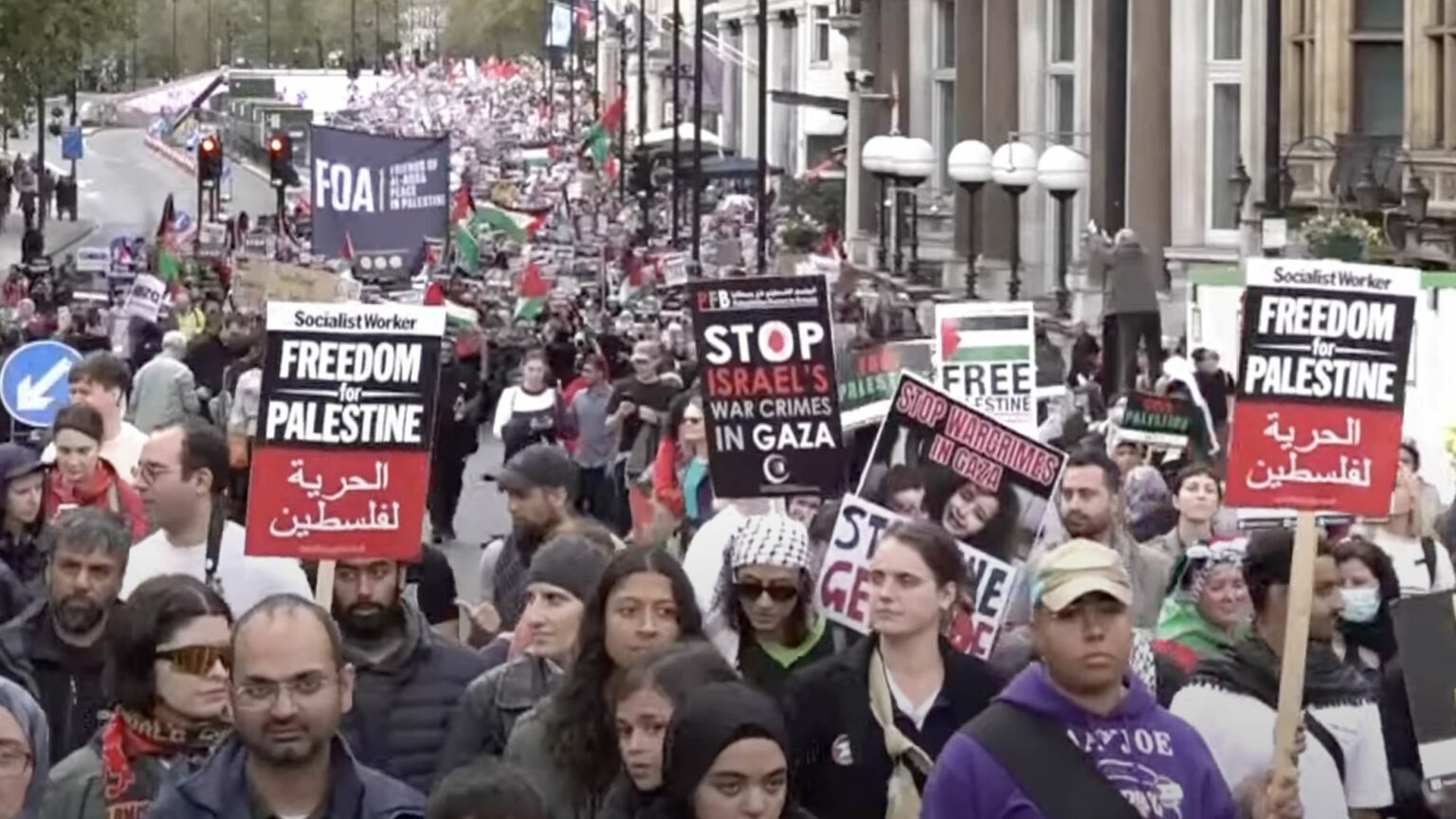 The more you think about it, the more horrendous it becomes. Yesterday, on the two-week anniversary of the worst slaughter of Jews since the Holocaust, thousands of people gathered in London to shout out the slogan of the killers. A mere fortnight after 1,400 men, women and children were massacred for the crime of being Jews in Israel, people amassed in central London to give voice to one of the mottos of the men who carried out that massacre. 'From the river to the sea, Palestine will be free', the protesters in London cried. It's a controversial call, to say the least, and it's one Hamas loves.
Just think about that. The world witnesses the bloodiest pogrom against Jews in 80 years and then central London shakes with the chant that the pogromists themselves will have used. Meanwhile, Trafalgar Square was rocked by hollers of 'Allahu Akbar', which will have been the last words some of those Jews in southern Israel heard before they were shot to death or burnt alive. A mob of Hizb ut-Tahrir members held an accompanying demo at which they chanted for 'Muslim armies' to invade the Jewish State. What is 'the solution' to the problem of Israel, a speaker asked? 'Jihad! Jihad! Jihad!', came the chilling reply.
It bears repeating: two weeks after a self-styled 'Muslim army' invaded southern Israel to commit 'jihad' against Jews, there were people in London calling for more Muslim armies, more jihad. Worse, both the state and the left turned a blind eye to these vile cries for further punishment of the nation that just lost more than a thousand of its people to the bombs, guns and knives of Hamas. The Metropolitan Police even offered up a kind of theological justification for Hizb ut-Tahrir's calls for holy war on Israel. Their use of the term jihad was okay, the Met essentially said.
'The word jihad has a number of meanings', it tweeted at us dumb Londoners horrified by the sight of a mob calling for jihad against the Jewish State. We 'know the public will most commonly associate [the word] with terrorism', its statement said, dripping with paternalism, but 'our specialist counter-terrorism officers' have 'particular knowledge in this area' and they have not 'identified any specific offences arising from the [chant for jihad]'. Yes, I'm sure Hizb ut-Tahrir, a cult so extreme it is banned in Germany, Saudi Arabia and Pakistan, a cult that referred to Hamas's invasion of southern Israel as 'a day of good news', was using the word jihad in the peaceful sense. Maybe its call for Muslim armies to commence holy war on Israel was code for holding peace talks?
The Met's behaviour yesterday was truly craven. Reading its Twitter account, I felt as if I'd been transported to some Houellebecqian dystopia in which the state does the bidding of radical Islam. When members of the public complained about the waving of black Islamic flags, and the possibility that this might feel threatening to London's Jews, the Met sniffily insisted that everyone calm down because the flags were 'not those of ISIS'. On the cries for the rising up of 'Muslim armies', the Met stroked its chin and said there are 'varying interpretations' of a phrase like that. No there aren't. A Muslim is a follower of the religion of Islam and an army is an organised military force equipped for fighting on land. The arrogance of the Met in dictating to London's Jews in particular that they should stop stressing over a few black flags and a few chants for jihad is astonishing. I have never felt so tempted to use the word 'filth' for the police.
Police forces in this country will knock on your door and lecture the hell out of you if you say women don't have penises. They feel the collars of gender-critical women who commit the blasphemous offence of 'misgendering'. And yet they're fine with mobs calling for jihad against the world's only Jewish nation. Police will happily refer to a bepenised rapist as 'she' but then flat-out deny that calling for a Muslim army to invade Israel is really calling for a Muslim army to invade Israel. Our police have been fully corrupted by ideology. They're all bent cops now – bent by woke.
Then there was the left and the other protesters. That leftists were happy to rub shoulders with radical Islamists in this orgy of hot hatred for a state that just suffered the worst act of racist terrorism of modern times tells you everything you need to know about it. 'The Zionist lies more than it breathes', said one placard. There were anti-Semitic caricatures of Netanyahu. A blood-stained banner expressed regret that the Arab world accepted the Jews as refugees after 'you were kicked out of every country in Europe'.
Other protesters waved placards likening Israel to the Nazis. 'Zionism is the new Nazism', said one. Another showed Hitler's face morphing into that of Benjamin Netanyahu. This is Jew-taunting. The aim is not merely to denounce Israel in the most hyperbolic fashion imaginable. It is also to rub the Jew's nose in his own historic suffering; to mock him with reminders of the industrialised slaughter of his race; to defame him as the heir to the evil unleashed against his own people. Any leftist who stands around as modern Jews are compared to the Nazis has lost all claim to the mantle of anti-racism. Or, indeed, who stands around as a masked woman holds up a placard saying 'Please keep the world clean' next to an image of a stick figure throwing the Star of David into a bin, as also happened in London yesterday.
We can now see just what a menace to Jewish people and everyday decency the Islamo-left has become. Islamo-gauchisme, as the French call it, is that section of the left that is willing to turn a blind eye to the regressive, reactionary, misogynistic, anti-Semitic and anti-human character of radical Islam in the belief that this fundamentalism can at times play a useful 'anti-imperialist' role. That is, they might be unpleasant, but they can sometimes be a sort of battering ram against our own states, our own rulers. As the veteran of British left politics Chris Harman put it in his mad book, The Prophet and the Proletariat (1999), Islamists are not 'our allies', no, but their 'feeling of revolt' can sometimes be 'tapped for progressive purposes'.
This suicide pact between desperate leftists and radical religionists that would string them up given half the chance has now reached an unspeakable nadir. A 'day of celebration' is how one of the editors at Novara Media described Hamas's invasion of Israel. 'Rejoice', said the newspaper of the Socialist Workers Party. Hamas's actions were 'invigorating', said a radical Cornell professor. And let's not forget the unspoken apologism of marching alongside extremists who chant 'Allahu Akbar' and call for 'holy war' on Israel. That, too, speaks to how thoroughly the left has accommodated to the carnival of lethal reaction that radical Islam represents.
'But Israel is bombing Gaza, do you really expect us to protest against Hamas?', leftists will ask. Yes. That is precisely what I expect you to do. A left that took seriously its Enlightenment traditions would absolutely be on the streets supporting the hammering of Hamas. Of this socially regressive, apocalyptically violent movement that is committed to killing Jews. And which is racist in the extreme. And which started the current war. And which is just as happy to sacrifice the lives of Palestinians as it is the lives of Israeli Jews – Hamas knew full well Gazans would die when it invaded Israel and murdered hundreds of its people. Opposing Hamas should be paramount for anyone who believes in secularism, freedom and peace for both Israel and Palestine.
The West's Islamo-left is playing the exact role allotted to it by Hamas. Hamas banked on getting the cultural elites of the West on to the streets in a frenzy of existential loathing for Israel, and it has got its way. What are a few thousand Israeli and Palestinian lives in comparison with the brilliant PR hit of goading the West's influencers and luvvies to take to the streets alongside Islamists to demand more punishment of Israel? Our witless chattering classes have no idea of the cog-like role they are playing in Hamas's vain and demented warmongering on Israel.
Here's the thing. If you are agitating against Israel's 'genocide' in Gaza but you have not condemned Hamas's genuinely genocidal terrorism against the Jews of southern Israel, it is possible you are anti-Semitic. If you march with Islamists who referred to Hamas's slaughter of Israeli Jews as a 'day of good news', it is possible you have sided with racial hatred. If you say 'ceasefire now' but you don't say 'release the hostages', it is possible you are demonstrating to the world that you value Jewish lives less than other lives. Solidarity with Jews is the priority of all true progressives right now, especially following yesterday's confirmation that our state, our institutions and the left have abandoned Jews in favour of the deathly embrace of radical Islam's 'feeling of revolt'.
To enquire about republishing spiked's content, a right to reply or to request a correction, please contact the managing editor, Viv Regan.