Don't ban the Islamists – speak up for Israelis
We must defend free speech for all, even the contemptible anti-Israel bigots.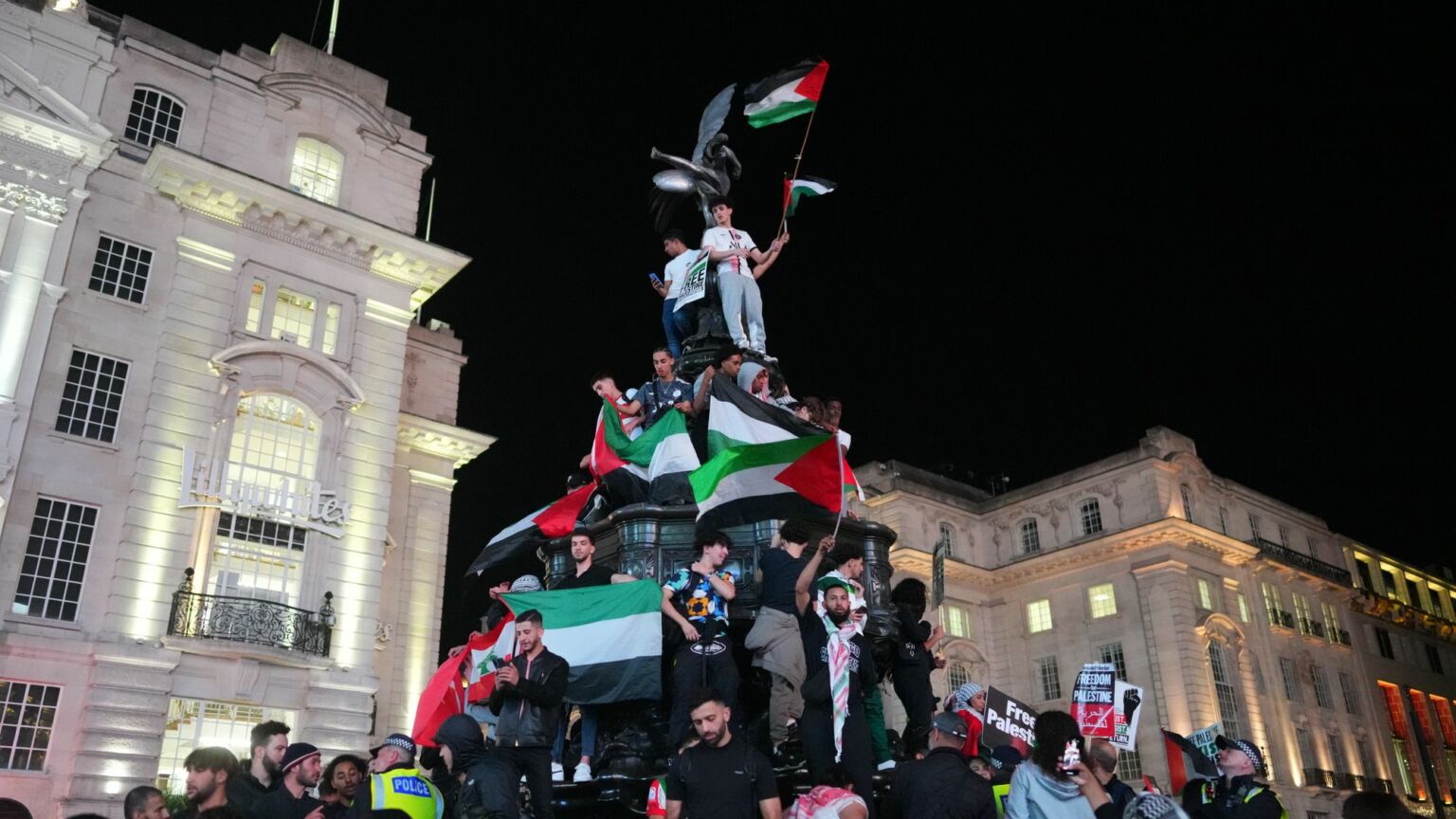 Two wars dominate the news now. One is Israel's life-and-death war against the barbaric anti-Semitic pogromists of Hamas and its allies in the Middle East. The other, largely undeclared war that confronts us today is here in Europe and America; a political and culture war against those who despise not only Jews but also Western society so much that they will side with genocidal Islamists. Like the Israelis, this is a battle we in the broader West cannot afford to lose.
If we are to stand up for our democratic civilisation, however, we need to defend its precious liberties. And the most important of those is freedom of speech. Whether we like it or not, that means allowing free speech even for our enemies, including those who try to defend the terrorist massacres in Israel. Not because we are really interested in defending the right of these scum to spout their filth. But primarily to uphold our right to hear them, judge them and know on which side everybody stands in this existential war.
There has been a lot of shock and outrage at the sight of pro-Hamas demonstrations on the streets of European and American cities, and at the wave of Israelophobic and anti-Semitic posts across social media. Many in the UK have rightly highlighted the double standards in British policing which mean, for example, that gender-critical feminists can be arrested for 'misgendering' a trans activist, but apologists for mass murder are largely left free to effectively dance and sing on Jewish graves. Voices in the mainstream media have therefore demanded that the authorities stop 'tiptoeing around hate merchants' and 'make arrests… hundreds if need be'.
Hamas is a proscribed terrorist organisation in the UK as it is elsewhere, so it is a crime to belong to Hamas or actively solicit others to join or support it. Tory home secretary Suella Braverman has now written to the chief constables of England and Wales, asking them to widen the scope for police action against demonstrators on the grounds of harassment or incitement. She suggests that, in current circumstances, chanting 'From the river to the sea, Palestine will be free' or even waving a Palestinian flag might be considered a 'racially aggravated public-order offence'.
The home secretary is right that 'context is crucial' in matters of free speech. Screaming anti-Semitic abuse in a Jewish family's face is not the same thing as chanting a slogan outside the Israeli embassy. It is most crucial, however, that we keep the definition of harassment or incitement as narrow as possible, and hold the line between words and deeds, between offensive speech and criminal offences.
There are principled and indeed practical reasons for defending freedom of speech even for the pro-Hamas, anti-Semitic elements. The principle is, of course, that free speech is an indivisible liberty that we defend for all or none at all. It must include the right to be offensive. Indeed, only speech deemed extreme or offensive needs defending, since the mainstream can look after itself.
Once you try to draw a line limiting free speech, the question is always: who decides? Handing the police, courts and other state authorities more power to control what can be said is a dangerous ploy that is sure to backfire. The cancel-culture warriors of the woke left, who are temporarily posing as champions of free speech for anti-Israeli activists, would truly love nothing better than for yet more restrictions to be imposed on anything that can be deemed 'hate speech'.
The practical reasons for not banning the anti-Israeli lobby seem even more important today. Let us allow these apologists for mass murder to expose themselves with their own words and actions. Bring them out of their dark corners in the open where, as the old saying goes, sunlight can be the best disinfectant. Then we will know where we all stand.
One side effect of the despicable reaction to the Hamas massacres has been to make clear where the new divide is in our politics and culture. Drawing such clear lines in the battlefield is a precondition for winning the war.
The alternative, to try to suppress views we find repugnant, is no solution at all. Banning something is not the same thing as beating it. The Islamists and their cheerleaders will still be there, beneath the surface, nursing a festering sense of martyrdom, waiting to strike again.
We might recall how the authorities tried to bury the growing tensions in multicultural Britain after the Islamist protests against Salman Rushdie's The Satanic Verses at the end of the 1980s. Those simmering tensions would finally burst through the placid veneer of British society with the terrorist bombings of the London transport system in 2005, and much that has happened since.
Now is the time not to try to ban the other side, but to take them on by speaking up loudly for the Israelis and for our civilisation. This will inevitably mean putting up with a lot of hateful filth. We need not be too soft about such things. There may be circumstances where, confronted by the cheerleaders for terror, some might feel the need to, as the Russian revolutionary Leon Trotsky said about an earlier generation of fascists, 'acquaint them with the pavement a few times'. But in general, we need to fight to win the war of words and worldviews.
We should stand with and speak up for the Israelis not only because they are in the right, but also because the left's reaction to the slaughter in Israel shows once and for all what we are up against in the West.
To enquire about republishing spiked's content, a right to reply or to request a correction, please contact the managing editor, Viv Regan.