The fall of Meghan's media empire
Even the Hollywood elites are tired of the Sussexes' tales of woe.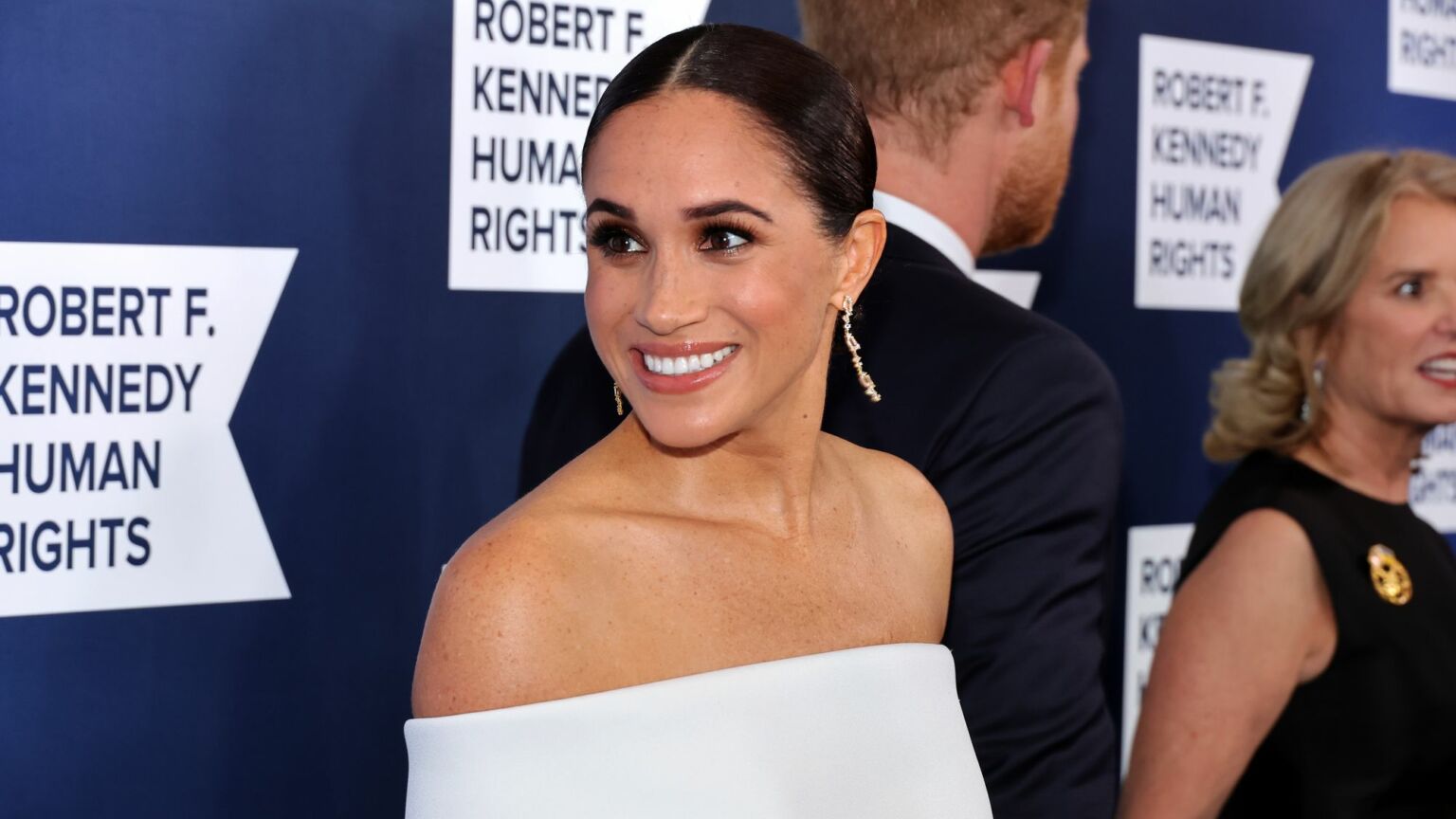 When Meghan Markle, the Duchess of Sussex, first appeared on the world stage, she felt to many of us like a bi-racial breath of fresh air, beloved by all but the most stuffy among us. That was until 'Megxit' in 2020, when she left the royal family at a trot, dragging the hapless Harry behind her, to spend the rest of her days in a gated community in California. Deals with Netflix, Spotify and book publishers flooded in soon after. Apparently, there was a huge, lucrative market for Harry and Meghan's 'insights'.
It now turns out that H&M may have just had their last big pay day for some time. The Telegraph reports this week that streaming service Spotify has made a £34million loss from its podcasting division. Among its biggest flops was its 'high-profile tie-up with the Duke and Duchess of Sussex'.
Last month, Spotify and Archewell Audio, Harry and Meghan's podcast-production company, tore up a £16million deal they had signed in 2020, after the Sussexes reportedly failed to meet performance targets. Archetypes, the only podcast that Harry and Meghan made for Spotify, was cancelled after just one series. 'We overpaid relative to what we should have done', admitted Spotify head Daniel Ek. Bill Simmons, an executive and podcast host at Spotify, was less diplomatic about the Sussexes. They're 'fucking grifters' was his verdict.
For the past two years, Markle and her russet lapdog have mercilessly monetised their emotions – some genuine, some less so – in interviews, documentaries and books. Their marketing strategy was to anoint themselves as the wounded prince and princess of moral superiority. They have portrayed themselves as victims of racism and press intrusion, 'hurting' all the way to the bank.
After all, sadness – rebooted as 'vulnerability' – is to the 2020s what happiness was in the 1960s (peace-and-love happy) and the 1980s (sexy-greedy happy). Sam Smith and Adele are the Romeo and Juliet of the crying game, monetising their weepiness into vast fortunes. Kim Kardashian's tears and troubles were as important as her bum in turning her into such a global phenomenon. Reality show Keeping Up with the Kardashians drew in the vital female audience who wouldn't have identified with someone who was merely a wealthy star of a sex tape. Showing sorrow in sumptuous surroundings has always made the rich look relatable, going right back to Dallas and Dynasty.
Unfortunately, we live in an age in which victimhood confers Good Person status. Meanwhile, those who are able to contain and master their emotions are suspected of repressing them at best, and being cold-hearted sociopaths at worst. It's a generational thing to some extent. Britain's most famous non-cryer was the Queen, who went so far as to have the palace inform the press that she did not sob when the royal yacht, Britannia, was decommissioned, rather that it was a breezy day and she had got something in her eye.
Although H&M's break from the royal family – what I called 'The Grabdication' – had offended a great number of Brits, it seemed to be paying off until recently in the Sussexes' adopted home of the US. This all seemed to change with the Harry and Meghan episode of South Park six months ago. The buzz generated by the skewering confirmed that the youngish, irreverent people who would have tended to be on the Sussexes' side were finally starting to see through them.
The South Park episode, 'The World-Wide Privacy Tour', pulls no punches. It shows the Prince of Canada (a clear parody of Harry) rubbing his genitals against the windows of main character Kyle's house, while demanding that Kyle respect his privacy. There is also a genuinely chilling moment when the prince suggests to his wife that they really could embrace a life of privacy and do good things, rather than just talk about how good they are. When she doesn't answer, he opens her head. It turns out she is hollow, like a Russian doll.
Meghan was reportedly 'upset and overwhelmed' by the episode, but no one cared. She wanted to be world famous and now she was.
Tom Peck, writing in the Independent, a newspaper not unsympathetic to the Sussexes, noted that 'The problem with South Park getting its claws into [Harry and Meghan] is not a small one. It makes it clear that they have turned themselves into a joke, both in their old home and their new one.'
Since then, nothing has gone right for the Sussexes. After Meghan parted from superstar PR firm Sunshine Sachs, her new agent, William Morris Endeavour, has had no happy announcement to make in more than three months. There was also Meghan's embarrassing bit of business with Dior, where a rumoured £20million sponsorship deal reportedly collapsed last month. Now she stands as much chance of being the next 'face of' as I do.
Besides, it's no wonder that Spotify has cut them loose, considering that Harry's big idea for his next plum podcast project was to interview Vladimir Putin about his childhood. (Why did we never think of asking Hitler how he felt when his hamster died? That would have stopped him invading Poland.) Perhaps even worse, one of the Sussexes' nixed ideas for Netflix was 'Emily in Paris – but about a man'.
Jeremy Zimmer, boss of the United Talent Agency, spoke for all of us earlier this year at Cannes. 'Turns out Meghan Markle was not a great audio talent, or necessarily any kind of talent', he said. 'And, you know, just because you're famous doesn't make you great at something.' This felt like an Emperors' New Clothes moment.
There is always comedy gold to be mined in the gaping chasm between what people believe they look like – in Meghan's case, a fearless fighter for freedom and justice – and how they appear to the rest of us: as queen of all the grifters.
Markle will be remembered not as an actress, a feminist role model or even a savvy businesswoman, but as the Doofus Duchess – arguably one of the great comic creations of our age, recalling variously Nigel Tufnel from Spinal Tap, David Brent from The Office and Alan Partridge in her delusions of adequacy. In keeping with the wokeness which she and Disney share, she stepped on to the world stage as the Little Mermaid and will leave it as a cross between Cruella de Vil and Pinocchio, to a chorus of comedy booing. Still, it certainly hasn't been boring.
Julie Burchill is a spiked columnist. Her book, Welcome To The Woke Trials: How #Identity Killed Progressive Politics, is published by Academica Press.
To enquire about republishing spiked's content, a right to reply or to request a correction, please contact the managing editor, Viv Regan.